21/06/10
Cyfarfod Blynyddol yn cadarnhau clybiau'r gynghrair at 2010/11 / AGM confirms league make-up for 2010/11

Yng nghyfarfod blynyddol y Cymru Alliance ddydd Sadwrn yn Gresffordd cadarnhawyd yr 16 clwb ar gyfer tymor 2010/11. Felly bydd y gynghrair yn cynnwys y saith clwb uchaf o'r Cymru Alliance yn 2009/10, y chwe clwb a gollodd eu lle yn UGC yn dilyn yr adrefnu yn ogystal a Rhydymwyn, Rhaeadr Gwy a Rhos Aelwyd y tri clwb a sicrhaodd ddyrchafiad. Deallwn na fu unrhyw sôn am wrthwynebiad -yn cael ei arwain gan glwb Bethesda- i dderbyn y chwe clwb o UGC.
Un rheol newydd ddiddorol a dderbyniwyd heb wrthwynebiad oedd un a gynigwyd gan glwb Llangefni. Roedd y newid yn caniatáu caeau 3G sydd yn dderbyniol gan FIFA –y math o gae y mae TNS eisoes yn ddefnyddio. Dywedodd Russ Austin byddai cae artiffisial ar Gae Bob Parry yn cynnig cyfleuster cymunedol gwerthfawr yn Llangefni.
Dyfarnwyd y gwobrau canlynol ar gyfer 2009/10 : Clwb y tymor: Llangefni, Rheolwr y tymor; Mike Barton Cegidfa, Chwaraewr y tymor: darren Thomas Llangefni, Rhaglen orau: Gresffordd, Gwobr Chwarae teg: Aberriw.

At Saturday's Cymru Alliance AGM the 16 member clubs for 2010/11were confirmed. This means that the league will consist of the top seven Cymru Alliance clubs in the 2009/10, the six clubs demoted in the WPL restructuring, together with promoted Rhydymwyn, Rhayader and Rhos Aelwyd. The Bethesda led revolt against accepting the six relegated Welsh Premier clubs into the league did not therefore materialise.
One interesting rule change which was unanimously accepted was proposed by Llangefni. This was to allow the use of FIFA-approved 3G pitches, similar to the one already in use by The New Saints in the Welsh Premier. Russ Austin said an artificial pitch would provide a valuable community facility at the Llangefni's Cae Bob Parry.
Awards for the 2009/2010 were also announced: Club of the season - Llangefni Town, Manager of the season - Mike Barton of Guilsfield, Player of the season - Darren Thomas Llangefni Town, Best Programme - Gresford Athletic, Fair Play award – Berriew.
---
20/06/10
11 Clwb yng Nghynghrair Ail Dimau Clwyd / Eleven clubs in Clwyd Reserve Premier League

Adroddwyd eisoes ar y wefan fod Ail Dîm Port y tymor nesaf, i chwarae yn Uwch Gynghrair Clwyd i Ail Dimau. Cyfyngir y gynghrair hon i Ail Dimau clybiau sydd yn UGC, y Cymru Alliance a'r Welsh Alliance a ni ddylid cymysgu'r cynghrair hon gyda Adran Ail Dimau Clwyd sydd hefyd yn bodoli. Bellach mae enwau'r 11 clwb fydd yn yr Uwch gynghrair ail dimau wedi'u henwi ac mae'n cynnwys ail dimau dau glwb o UGC a pump o'r Cymru Alliance.
Dyma'r rhestr llawn: Bangor, Cei Connah, Conwy, Cyffordd Llandudno, Dinbych, Fflint, Glan Conwy, Llandudno, Porthmadog, Prestatyn, Rhyl.
Bydd chwarae yn y gynghrair hon yn gam pellach yn y polisi o ddatblygu chwaraewyr ifanc y clwb.
Mae gan Cynghrair Clwyd wefan dda sydd yn cael eu diweddaru'n rheolaidd (gyda chanlyniadau a thablau yn ystod y tymor) http://www.clwydfootballleague.co.uk/

As has been previously reported on the website Porthmadog Reserves will be competing in the Clwyd Reserve Premier League next season. This league is for the reserve teams of clubs in the Welsh Premier, Cymru Alliance, and Welsh Alliance and should not be confused with the Clwyd Reserve Division. The 11 clubs taking part in the Reserve Premier League for next season have now been announced and include two WPL clubs and five from the Cymru Alliance.
The full list is: Bangor, Connah's Quay, Conwy United, Denbigh, Flint Town, , Glan Conwy, Llandudno, Llandudno Junction, Porthmadog, Prestatyn, Rhyl.
Playing in this league is another step in the club policy of developing young players.
The Clwyd League has a good website which is regularly updated (with results and tables during the season) http://www.clwydfootballleague.co.uk/
---
17/06/10
Cyfarfod Blynyddol y Cymru Alliance / Cymru Alliance AGM on Saturday
Gresffordd fydd y lleoliad ar gyfer Cyfarfod Blynyddol Cynghrair y Cymru Alliance sydd i'w gynnal ddydd Sadwrn (19 Mehefin). Bydd y cyfarfod yn dechrau am 2 o'r gloch.

Gresford is the venue for the Annual General Meeting of the Cymru Alliance League to be held next Saturday (19 June). The meeting will commence at 2 pm.
---
15/06/10
Hynt a helynt Ceri James / What's occurring with Ceri James?
Adroddwyd eisoes ar y wefan fod Ceri James, cyn chwaraewr Port, bellach yn chwarae i Melville United yng Nghynghrair y Gogledd yn Seland Newydd. Ar hyn o bryd mae'r clwb yn y 4ydd safle ar ôl chwarae 14 o gemau.
Mae'n ymddangos fod Ceri yn dal i gael rhywfaint o broblemau gyda dyfarnwyr! Mae'r capsiwn ar wefan clwb Melville yn dweud:
"I FFWRDD: Ceri James (Melville) methu credu pan gafodd gerdyn coch gan y dyfarnwr, Mark Vincent, yn y gêm ddarbi yn erbyn Wanderers. Munudau ynghynt sgoriodd James gôl wych i roi Melville ar y blaen.

We have previously reported that former Port player Ceri James is currently playing for Melville united FC in the Northern League in New Zealand. The club is currently placed 4th in the table with 14 games having been played.
It appears though that Ceri still has something of a problem with referees! The caption on the Melville website says:
"DISMISSED: Melville's Ceri James couldn't believe it when he copped a red card from referee Mark Vincent in the local derby v Wanderers. Just minutes earlier James has scored a brilliant goal to put Melville ahead."
---
13/06/10
Diolch a phob dymuniad da Chris / Thanks and best of luck Chris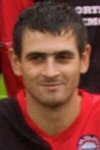 Wedi dau dymor ar y Traeth penderfynu gwnaeth Chris Jones, yr asgellwr creadigol a chyn chwaraewr Leeds, Bournemouth a Limerick dderbyn y cyfle i aros yn UGC drwy ymuno gyda Bangor ar gyfer 2010/11. Chwaraeodd Chris 64 (+10) o gemau cynghrair dros Port rhwng 2008 a 2010 gan sgorio 10 o goliau. Fo oedd prif sgoriwr Port y tymor diwethaf gyda 8 gôl (6 yn y gynghrair a dwy mewn gemau cwpan). Bob amser yn asgellwr peryglus gyda'r gallu i groesi'n gywir, roedd Chris ar ei orau yn y gemau ddiwedd y tymor diwethaf. Sgoriodd hat tric i ennill y gêm yn erbyn y Drenewydd gan fynd ymlaen i sgorio dwy arall yn erbyn Airbus. Roedd pob un o'r bedair gôl (y llall yn gic o'r smotyn) yn dangos Chris ar ei orau. Diolchir iddo am ei gyfraniad a dymunwn y dda iddo yn y dyfodol.

After two seasons at the Traeth the clever wingman has accepted the opportunity to remain in the WPL by joining Bangor for 2010/11. Chris a former player with Leeds, Bournemouth and Limerick made 64 (+10) appearances for Port between 2008 and 2010 scoring 10 league goals. He was the top scorer last season with 8 goals (6 in the league and 2 in cup games). Always a dangerous wideman and an excellent crosser of the ball, he was particularly impressive in the closing stages of last season. He scored a hat trick to win the game against Newtown and then went on to repeat the performance with two more at Airbus. All four goals (the other was a penalty) were superb strikes showing Chris at his best. We would like to thank Chris Jones and wish him well in the future.
---
10/06/10
Tomi yn ffarwelio / Tomi bids his farewell

Dywedodd Tomi Morgan wrth yr Herald fod gadael Porthmadog i fynd yn rheolwr yng Nghaerfyrddin yn benderfyniad anodd iawn. Byddai wedi bod yn fwy na hapus i arwain Port yn y Cymru Alliance y tymor nesaf, pe na fyddai Caerfyrddin wedi ei wahodd am ail gyfnod ar y Waundew.
"Yn y diwedd roedd y cyfle i aros yn rheolwr yn UGC yn gyfle rhy dda i'w droi lawr." meddai Tomi.
"Roedd yn benderfyniad anodd ond roedd y teithio yn ffactor gan fod Caerfyrddin yn dipyn nes at fy nghartref na Phorthmadog.
"Mae Porthmadog yn glwb ardderchog ac mae Phil yn gadeirydd penigamp.
"Y tymor nesaf fydd y Cymru Alliance mor gystadleuol ag Uwch Gynghrair Cymru. Bydd yna dimau da fel Llangefni, Fflint a Llandudno yn ogystal a thimau fel y Rhyl a Phorthmadog sydd wedi dod i lawr.
"Ni fyddai gennyf unrhyw amheuon am fod yn rhan o'r Cymru Alliance gyda Phorthmadog ond daeth y cynnig i fynd i Gaerfyrddin ac roedd gennyf benderfyniad anodd i'w wneud a gobeithio mod i wedi gwneud yr un iawn."
Am y Deuddeg Disglair meddai, "Wedi i'r llwch setlo fydd hi ddim yn hir iawn cyn fyddwn ni yn ôl i 16 clwb – yr hyn roedd y mwyafrif ohonom eisiau yn y lle cyntaf." "Er mod i'n mynd i reoli yn y 12 Disglair, rwy'n dal i gredu ei fod yn syniad na gafodd ei feddwl allan yn iawn, a bydd o ddim yn welliant i'r clybiau, chwaraewyr na chefnogwyr."

Tomi Morgan told the Herald that leaving Porthmadog FC to become the new manager of Carmarthen Town was a real wrench. He would have been more than happy to lead Port in the Cymru Alliance next term had Carmarthen not invited him to Richmond Park for a second stint.
"In the end, the lure of remaining a manager in the Welsh Premier proved too good an opportunity to turn down," said Tomi.
"It was a real wrench to leave Porthmadog, but the travelling was a factor in my decision too – I live so much nearer to Carmarthen than Porthmadog.
"Porthmadog is a great club and the chairman Phil (Jones) is a top bloke. "Next season the Cymru Alliance will be as competitive as the Welsh Premier itself. There will be some very good sides in it like Llangefni, Flint and Llandudno, as well as the teams who have come down from the Welsh Premier like Rhyl and Porthmadog.
"I would have had no qualms being part of the Cymru Alliance with Porthmadog, but the Carmarthen offer came along, I had a hard decision to make, and I hope I've made the right one."
Of the Super 12 he says "After the dust settles I reckon it won't be long before we're up to 16 clubs - which is what many of us wanted in the first place," he predicted.
"Even though I'll be managing in the Super 12, I still believe it is an ill-thought-out idea that will not work in the best interests of the clubs, the players or the supporters."
---
10/06/10
Gemau cyn dymor a gadarnhawyd / Pre-season fixtures confirmed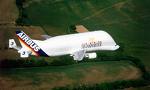 Mae yna newid i'r gemau cyn-dymor a gyhoeddwyd eisoes. Bellach mae'r gêm ar y Traeth yn erbyn y Drenewydd ar ddydd Sadwrn, 31 Gorffennaf wedi'i goirio gan fod y clwb o'r canolbarth yn chwarae Blackpool, y newydd ddyfodiaid i Uwch Gynghrair Lloegr, ar y diwrnod hwnnw. Gobeithir adrefnu'r gêm ar dyddiad arall.
Yn ogystal â'r gemau a gyhoeddwyd yn barod bydd Port yn ymweld â'r Bermo i chwarae'r clwb a gafodd dymor da iawn yn y Welsh Alliance.
Dyma'r dair gêm cyn-dymor syddwedi'u cadarnhau yn barod:
Sadwrn, 24 Gorffennaf, Porthmadog v Airbus Brychdyn 2.30pm
Mawrth, 27 Gorffennaf, Aberystwyth v Porthmadog 7.30pm
Mercher, 4 Awst, Bermo a Dyffryn v Porthmadog 6.30pm

There has been a change to the pre-season fixtures already announced. The proposed home match against Newtown on Saturday July 31st has now been postponed due to Newtown playing English Premier League newcomers Blackpool on that day. It is hoped that an alternative date for that match can be found.
In addition to the other matches announced Port will visit Barmouth to play the team who made a strong impression in last season's Welsh Alliance.
The three pre-season games which have been confirmed are:
Saturday July 24th Porthmadog v Airbus UK k.o. 2.30pm.
Tuesday July 27th Aberystwyth v Porthmadog k.o. 7.30pm.
Wednesday August 4th Barmouth & Dyffryn v Porthmadog k.o. 6.30pm.
---
10/06/10
Enillwyr y lotri wythnosol / Weekly Draw winners
Dyma'r rhestr diweddaraf o enillwyr y wobr o £100 yn lotri wythnosol Clwb Pêl-droed Porthmadog:
Wythnos 9, 137 Glenys Jones; Wythnos 20, 178 Wendy Langford; Wythnos 21, 46 Meryl Pike; Wythnos 22, 109 R Gwynfor Jones; Wythnos 23, 56 Jean Bigwood.

The latest winners of the £100 prize in the Porthmadog Football Club Weekly Draw:
Week 19, 137 Glenys Jones; Week 20, 178 Wendy Langford; Week 21, 46 Meryl Pike; Week 22, 109 R Gwynfor Jones; Week 23, 56 Jean Bigwood.
---
07/06/10
Port yn symud yn gyflym i benodi rheolwr newydd / Port move quickly to appoint a new manager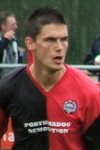 Ni wastraffodd Port fawr o amser cyn symud i apwyntio olynydd i Tomi Morgan sydd wedi symud i Barc Waundew.
Apwyntio o du fewn y clwb yw'r penderfyniad ac mae'r chwaraewr canol cae Gareth Parry wedi derbyn y gwahoddiad i symud i sedd y rheolwr ar y Traeth. Gyda'r ffenestr gofrestru yn agor yfory (8 Mehefin) roedd ychydig o frys i symud ymlaen.
Mae Gareth ar hyn o bryd yn cychwyn ar Drwydded Hyfforddi 'A' UEFA gan eu chwblhau mewn 12 mis. Mae ganddo beth profiad yn barod o gymryd gofal o'r tîm, gan mai fo oedd mewn gofal yn ystod gemau Cwpan yr Arfordir ar ddiwedd y tymor, gan sicrhau buddugoliaethau dros y Rhyl a Llandyrnog, cyn ennill y gwpan ym Mhrestatyn drwy guro Llandudno. Felly bydd yn cychwyn y gwaith gyda record cant y cant!
Mae'r newidiadau sydyn ar y Traeth wedi dod yn dipyn o sioc i Gareth gan fydd yn treulio'r dyddiau nesaf ar ddyletswyddau gwaith yn Minneapolis. "Beryg fydd yna dipyn o fil ar y ffôn symudol yn cysylltu efo'r hogiau o 'Merica!" jociodd. Mae'n gobeithio arwyddo nifer dda o garfan y llynedd ond mae'n fwy na pharod i weithredu polisi'r clwb o rhoi cyfle i chwaraewyr 'lleol'. "Mae gennym Academi wych," meddai "a dwi'n edrych ymlaen at helpu i ddatblygu'r chwaraewyr ifanc yma. Dwi'n mynd i roi cyfle i chwaraewyr fel Dylan Williams, Jack Jones, Cai Jones, Steve Jones ac eraill. Mae'r hogiau yma yn haeddu cael cyfle yn y Cymru Alliance. Wrth gwrs bydd y Cymru Alliance yma yn un wahanol iawn ac yn dipyn o sialens."
Mae Gareth wedi derbyn llaw driniaeth ar ei ffêr ac os bydd yn llwyddiannus mae'n gobeithio dal ymlaen i chwarae. Bydd yn apwyntio is-rheolwr sydd â'r math o brofiad fydd yn caniatáu i Gareth ddal ati i chwarae.
Mae'n bwriadu arwyddo un neu ddau o chwaraewyr newydd. Pob lwc iddo gyda'r gwaith.

Port have not wasted any time in moving to announce a replacement for Tomi Morgan who has departed for Richmond Park.
Port have taken the decision to appoint from within their own ranks, inviting midfield general Gareth Parry to take up the hot seat at the Traeth. With the registration window opening tomorrow (June 8th) there was a certain amount of urgency to move ahead to make an appointment.
Gareth is currently preparing for his UEFA 'A' Licence which he will complete in 12 months time. He has already had some experience of being in charge at Port, as he looked after the team in the North Wales Coast Cup ties at the end of the season, overseeing victories over Rhyl and Llandyrnog and, in the final at Prestatyn, the win over Llandudno. He therefore starts with a 100% record!
The sudden changes at the Traeth have taken Gareth by surprise as he will be spending the next few days on work duties in Minneapolis. "I will be running up a large mobile bill getting in touch with the lads from there!" he joked. He looks forward to re-signing a large number of last season's squad but is more than happy to operate the policy of giving 'local' players their opportunity. "We have an excellent Academy and I look forward to helping the development of these young players. I will be happy giving young players like Dylan Williams, Jack Jones, Cai Jones, Steve Jones and others -who have already proved their worth- the opportunity they deserve at Cymru Alliance level. But I am well aware that this will be a very different and challenging Cymru Alliance."
Gareth is recovering from an ankle operation and should this prove a success he hopes to continue playing. He hopes to announce the appointment of an assistant shortly who has the experience to allow him (Gareth) to continue playing.
Gareth looks to strengthen his squad. We wish him all the best in the task ahead.
---
07/06/10
Tomi yn gadael y Traeth am Gaerfyrddin / Tomi leaves the Traeth for Carmarthen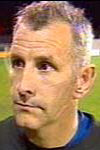 Mae Tomi Morgan wedi gadel swydd y rheolwr ym Mhorthmadog i ddychwelyd i Gaerfyrddin, un o'i gyn glybiau. Mae Tomi wedi bod yn rheolwr yn Port ers Ionawr 2009 ac mae ei ymadawiad yn dod yn dipyn o syndod.
"Er fod y penderfyniad yn naturiol yn siom," meddai'r cadeirydd, Phil Jones, "mae Tomi yn gadael y clwb ar y telerau gorau phosib. Rym yn diolch iddo am yr holl waith caled mae wedi'i wneud dros y pymtheg mis diwethaf ac yn dymuno'r gorau iddo yn ei swydd newydd."
Dywedodd Tomi mae cyndyn oedd i symud pan ddaeth y cynnig yn gyntaf gan ei fod wedi mwynhau ei gyfnod ar y Traeth ac wedi cydweithio'n hapus iawn gyda Phil Jones y cadeirydd a gyda'r swyddogion eraill y clwb.
Yn y diwedd mae'n siwr fod y cyfle i rheoli clwb ar y lefel uchaf o bêl-droed domestig wedi bod yn ormod o demtasiwn i'r profiadol Tomi Morgan, sydd yn dal Trwydded Hyfforddi Proffesiynol UEFA.
Bu Tomi ynghynt yn rheolwr ar Gaerfyrddin a hynny rhwng 1998-2003 gan arwain y clwb i rownd derfynol Cwpan Cymru cyn ennill lle yng nghwpan yr Inter Toto yn 2001 ar ôl gorffen yn y trydydd safle yn UGC.

In a surprise move Tomi Morgan has left the manager's role he has held at Porthmadog since January 2009. He returns to a former club Carmarthen Town.
Chairman Phil Jones says, "Though the decision naturally comes as a disappointment Tomi leaves the club on the most amicable terms. We thank him for all the hard work he has done over the last 15 months and wish him well in his new post"
As far as the Porthmadog club is concerned Tomi says that he was initially reluctant to leave a club where he has thoroughly enjoyed his time and where he established an excellent working relationship with the chairman, Phil Jones and other club officials.
In the end however the experienced Tomi Morgan, who holds an UEFA Pro Licence, undoubtedly found the offer of working at the highest level of domestic football in Wales too great a temptation to turn down.
Tomi previously managed Carmarthen from 1998-2003 where he led the club to the Welsh Cup final before qualifying for the Inter Toto Cup in 2001 as third-placed finishers in the WPL.
---
07/06/10
Dyddiadau Cwpan Cymru 2010/11 / Welsh Cup dates 2010/11

Cyhoeddwyd dyddiadau Cwpan Cymru ar gyfer 2010/11:
Os bydd angen cynhelir dwy rownd gymhwyso i glybiau llai -ar 14 Awst a 28 Awst
Rownd Un: Sadwrn, 11 Medi, 2010
Rownd Dau: Sadwrn 2 Hydref, 2010 (collwyr i dderbyn £750)
Rownd Tri: Sadwrn 6 Tachwedd,2010 (collwyr i dderbyn £1,500)
Rownd Pedwar: Sadwrn, 29 Ionawr, 2011 (collwyr i dderbyn £2,500)
Rownd Pump: Sadwrn, 26 Chwefror, 2011 (collwyr i dderbyn £6,000)
Rownd Cyn-derfynol: Sadwrn, 9 Ebrill, 2011 (collwyr i dderbyn £12,500)
Rownd Derfynol: Sadwrn, 7 Mai, 2011 (collwyr i dderbyn £20,000)
Bydd clybiau'r Cymru Alliance yn dechrau yn Rownd Un tra fydd clybiau UGC ddim yn dod i'r gystadleuaeth, y tro yma, tan Rownd Tri sydd yn golygu fod pob un o'r deuddeg clwb yn sicr o derbyn o leiaf £1,500.
Bydd gwerth y gwobrau ar gyfer y gystadleuaeth yn cynyddu o £132,000 i £167,000 os gaiff sêl bendith Cyngor y Gymdeithas. Bydd enillwyr Cwpan Cymru 2010/11 yn derbyn £30,000.

The Welsh Cup dates for 2010/2011 have been announced:
Two qualifying rounds if required will be played on August 14th and 28th
Round One: Saturday, September 11, 2010
Round Two: Saturday, October 2, 2010 (losers receive £750)
Round Three: Saturday, November 6, 2010 (losers receive £1500)
Round Four: Saturday, January 29, 2011 (losers receive £2500)
Round Five: Saturday, February 26, 2011 (losers receive £6,000)
Semi Final: Saturday, April 9, 2011 (losers receive £12,500)
Final: Saturday May 7 (losers receive £20,000)
Cymru Alliance clubs will enter the competition in Round One but WPL clubs will this year be exempt until Round Three which means that each of the 12 clubs will receive a minimum of £1,500.
Total prize money this year will be increased from £132,000 to £167,000 though final approval by the FAW Council is still needed. The Welsh Cup winners in 2010/11 will receive £30,000.
---
04/06/10
A gaiff geiriau call Osian eu troi yn help gwirioneddol i'r academi? / Will Osian's wise words be turned into concrete help for academies?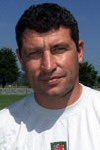 Yn dilyn sylwadau cadarnhaol gan Osian Roberts Cyfarwyddwr Technegol yr Ymddiriedolaeth Pêl-droed ynglyn â dyfodol academïau clybiau a gollodd eu lle yn UGC mae Gerallt Owen wedi gwneud datganiad ar ran y clwb:
"Mae academi Port wedi gwneud gwaith arbennig dros y blynyddoedd diwethaf a byddai'n drychineb os fyddai'r holl waith yn cael ei daflu ar allor y Deg Disglair.
"Mae Port yn bwriadu dal ati i gynnal yr academi y tymor nesaf ond mae'r arwyddion yn awgrymu mai dim ond hanner yr arian fydd ar gael i'w gymharu â'r flwyddyn bresennol. Bydd hyn yn gadael y gyllideb £4,000 yn brin. Bydd yr academi a chyfarwyddwyr y clwb yn cyfarfod yn ystod yr wythnosau nesaf i drafod y pwnc hwn ynghyd a materion eraill perthnasol.
"Gobeithio fydd teimladau Osian Roberts yn troi yn gymorth pendant i academi Port a hefyd y Rhyl a Ch--ei Conna gan sicrhau arian i fynd ymlaen â'r gwaith da sydd ar hyn o bryd yn cael eu wneud ar ychydig iawn o bres."
Codwyd gobeithion y clybiau yma gan eiriau Osian Roberts a ddywedodd, wrth siarad gyda'r Daily Post,
"Ni ddylem adael colli chwe clwb o Uwch Gynghrair Cymru effeithio ar ddatblygiad chwaraewyr rhyngwladol y dyfodol. Ni all datblygiad y chwaraewyr ifanc yma ddibynnu ar pa glybiau sydd yn UGC."
"Rym yn gweld gwahaniaeth bellach," meddai. "Roeddwn yn rowndiau terfynol yr academi yn y Drenewydd ac rwyf wedi nodi naw chwaraewr i ymuno â charfannau cenedlaethol."
"Roedd safon y chwarae yn ardderchog." "Mae'r chwaraewyr ifanc sy'n chwarae'n lleol i dimau ieuenctid yn mynd i'r academïau ac ymlaen i glybiau proffesiynol. O fan hyn ymlaen i garfan daleithiol ac i'r carfannau cenedlaethol.
"Mae'r academïau yma yn bwysig iawn inni." Ni fydd Osian wedi methu'r ffaith NA FYDD dwy o'r chwe academi a gyrhaeddodd y rowndiau terfynol (sef Cei Conna a Porthmadog) yn UGC y tymor nesaf. Bu'r ddwy academi yma, yn ogystal ac un y Rhyl, yn gyson ymysg yr academïau gorau yng Nghymru.

Following the positive comments made by Welsh Football Trust Technical Director, Osian Roberts, regarding the future of the club academies of relegated clubs Gerallt Owen has issued the following statement on behalf of the Porthmadog club:
"The work done by the Porthmadog Academy over the past few years is excellent and it would be a disaster if all that work were to be thrown away at the altar of the Super 12.
"Porthmadog FC are looking to continue to run the Academy next season but indications are that there will only be half the funds available next year compared to this year. That is a short fall of some £4,000. The Academy and the Porthmadog FC Directors are due to meet in the next couple of weeks to discuss this and related matters.
"Hopefully the sentiments of Osian Roberts will turn into concrete help for the Porthmadog Academy and also the likes of Rhyl and Connah's Quay and that money can be found to sustain the good work being done by the clubs with very little money." Speaking to the Daily Post Osian Roberts gave hope to these clubs when he said, "The loss of six Welsh Premier clubs must not be allowed to hamper the development of tomorrow's international players. The development of these kids can't be based on who's in the Welsh Premier."
"We're seeing a difference now," says Osian Roberts, "I was at the academy finals in Newtown and identified nine players to come into the national squads. The standard of play was excellent.
"The talented kids playing in junior teams in local leagues go into Welsh Premier academies and from there into the pro clubs. From there they go into the regional squads, north and south, and from there into the national squads.
"Those academies are really important for us."
It will not have escaped Osian's attention that two of the six academies that reached the finals –Connah's Quay and Porthmadog- will NOT be in next season's WPL. These two clubs together with Rhyl have been consistently among the best of the WPL academies in recent seasons.
---
04/06/10
Dwy gêm gyfeillgar arall / Two more friendlies
Trefnwyd dwy gêm gyfeillgar arall yn erbyn clybiau a gadwodd eu lle yn UGC. Ar nos Fawrth 27 Gorffennaf (7.30 pm) bydd Port yn ymweld ag Aberystwyth a fethodd allan ar sicrhau y trydydd lle yn y tabl o un pwynt. Yn dilyn ar ddydd Sadwrn 31 Gorffennaf (2.30 pm) bydd y Drenewydd yn ymweld â'r Traeth. Sicrhaodd y Drenewydd eu lle yn y deuddeg o ganlyniad i broblemau'r Rhyl.

Two more pre-season friendlies have been lined up against clubs who made the WPL cut. On Tuesday, July 27th (7.30 pm) Port are to visit Tomi Morgan's hometown club, Aberystwyth who missed out on a top three finish last season by a single point. Then on Saturday, July 31st (2.30pm) Newtown, who are the beneficiaries of Rhyl's problems, will visit the Traeth.
---
02/06/10
Lluniau o fuddugoliaeth y tîm Dan 12 / Photographs of the U-12 victory
Mae gan Gwyn Ellis un o hyfforddwyr yr Academi nifer fawr o luniau o fuddugoliaeth gofiadwy y tîm Dan12 yn y ffeinal yn y Drenewydd.
Gellir gweld y lluniau ar wefan Gwyn www.photoboxgallery.com/gwynellis
I'r rhai sydd eisiau llun i gofio'r achlysur mae'r lluniau ar gael i'w prynu. Mae yna gyfarwyddiadau ar y wefan.

Academy coach Gwyn Ellis has a large selection of photographs of the memorable U-12's victory in the Academy Final at Newtown.
They can be found on Gwyn's website www.photoboxgallery.com/gwynellis
They are available for purchase for those who would like a memento of the great day. There are instructions on how to buy on the website.
---
02/06/10
Gemau cyn-dymor a chofrestru chwaraewyr / Pre-season friendlies and player registration
A ninnau bellach ym mis Mehefin mae sylw yn troi at drefniadau gemau cyn-dymor ac at gofrestru chwaraewyr at y tymor sydd i ddod. Deellir fod dyddiad un gêm gyfeillgar -yn erbyn Airbus ar y Traeth ar 24 Gorffennaf (2.30pm)- eisoes wedi'i threfnu. Mae ffurflenni cofrestru hefyd bellach ar gael gyda'r ffenestr gofrestru yn agor ar 8 Mehefin.

As we enter the month of June attention turns to arranging pre-season friendlies together with the registration of players for the coming season. We understand that a friendly match against Airbus has been penciled in for Saturday July 24th (2.30pm). Registration forms are also available for 2010/11 and the registration window will open on June 8th.
---
01/06/10
Y Tote Misol / The Monthly Tote
Tynnwyd y rhifau o'r het ar gyfer y Tote Misol ddydd Gwener 28 Mai yn Y Ganolfan. Y rhifau a dynnwyd oedd 17 a 21 ac nid oes unrhyw enillwyr ar hyn o bryd. Bydd y £345 yn y gronfa wobrwyo yn mynd ymlaen i Tote mis Mehefin a fydd yn cael ei dynnu ddydd Gwener 25 Mehefin. Os ydych eisiau hawlio'r wobr, dylech wneud cyn 8.00pm ddydd Gwener 4 Mehefin.

The draw for the Monthly Tote took place on Friday 28th May at Y Ganolfan. The numbers drawn were 17 and 21 and subject to verification there were no correct entries. The prize pool of £345 will be carried over to the June Tote to be drawn on Friday 25th June. Any claims should be made before 8.00pm on Friday 4th June.
---
01/06/10
Mwy o ymateb i sylwadau'r Daily Post / More response to Daily Post Comment

Cafwyd ymateb i'r syniad o ail-lansio'r Cymru Alliance gan Dafydd Wyn Jones, un o swyddogion y clwb. Bu Dafydd yn canfasio manteision y syniad ers misoedd.
Mae yn gweld y sefyllfa "... yn gyfle gwych i ail lansio'r Cymru Alliance fel Pencampwriaeth y Gogledd a'r Canolbarth. Os ydym o ddifri fe all ddenu mwy o nawdd na'r WPL oherwydd y clwstwr o glybiau yn y rhanbarth. Megis dechrau yw penderfyniad y Daily Post –penderfyniad sydd wedi ei wneud ar sail masnachol. Mi fydd mwy o ddiddordeb mewn Port a'r Fflint, Bwcle, Llangefni a Rhyl nag oedd mewn Port a Hwlffordd, Port Talbot a hyd yn oed Llanelli a Chaerfyrddin. Safle we y Port yn dangos y ffordd ymlaen eto!"
Mae hefyd yn cydweld a'r feirniadaeth ddiweddar yn y Daily Post o'r 12 Disglair . "Mae diffyg gweledigaeth ac aneffeithiolrwydd y Gynghrair Bêl-droed yn hysbys i bawb ers blynyddoedd maith."
Ac wrth edrych i'r dyfodol a chynnig ateb i'r sefyllfa bresennol mae o'n dweud, "Dylid cofio hefyd bod CPD Porthmadog yn aelod o'r Gymdeithas Bêl-droed, fel cannoedd o glybiau bach a mawr ledled Cymru ac wedi bod yn poeni am ddyfodol y gêm yng Nghymru. Onid yw'n amser i ddechrau defnyddio ein grym a'n pleidleisiau ar y cyd er mwyn newid ein cynrychiolwyr a chwyldroi sut y caiff ein pêl-droed ei redeg? Mae angen corff o bobl gyda gweledigaeth fydd yn barod i edrych ar bob agwedd o'n pêl-droed o'r lleol iawn i'r rhyngwladol a chydweithio gyda cyrff fel y Cynulliad (sydd eisoes wedi dangos parodrwydd i gefnogi campau eraill fel golff a chwpan Ryder a Chwpan Rygbi'r Byd)."

A response has been received to the idea of re-branding the Cymru Alliance from club official Dafydd Wyn Jones. Dafydd has been canvassing the idea for some months now.
He says ".... the CA has an excellent opportunity to, increase its sponsorship opportunities and raise its profile by renaming itself the North and Mid Wales Championship. The Daily Post has already made its position clear and this, of course, on purely commercial grounds. It knows that its readers will be more interested in Port v Flint, Buckley, Llangefni and Rhyl than Port v Haverfordwest, Port Talbot and even Llanelli and Carmarthen. Similarly there are major firms based in north Wales which might find sponsoring a good quality and well exploited league much more appealing than the WPL. Port's web site once again carrying the beacon!"
He also backs the Daily Post's comments on the Super 12. "The FAW's lack of vision and inefficiency are well documented and has been for several years" he says.
Looking for a solution to the current situation he says, "We must also remember that Porthmadog FC, like hundreds of other clubs large and small, are members of this august body. Is it not now the time for ourselves and fellow clubs who have been concerned for years and fear for the future of Welsh Football to get together and use our influence -and votes!- to lead a revolution by getting rid of some of our representatives and establish an alternative which will lead to better times? We need a group of forward thinking and enterprising individuals who can espouse a new vision and work with others and especially the Welsh Assembly Government to draw much needed additional funds to the game. After all WAG has already shown its commitment to sport by actively supporting the Rugby World Cup and now the Ryder Cup.
---
28/05/10
Daily Post yn ymosod eto ar y 12 Disglair / Daily Post continues its Super 12 slating

Mae'r Daily Post wedi parhau eu hymosodiad chwyrn ar y Deg Disglair yn rhifyn heddiw (28 Mai) o'r papur. Mae llawer iawn o'r feirniadaeth yn cyd-fynd â'r hyn mae clwb Porthmadog, y rheolwr a'r wefan hon wedi dweud ers i'r prosiect anffodus hwn gychwyn Dyma flas o'r hyn mae'r erthygl yn dweud:
"The Super 12 was supposed to herald a new level of professional standards in Welsh football, but it has only served to expose the rank amateurism behind the scenes. With just over two months before the resumption of action, the division has yet to decide on the nature of next season's competition, let alone how many games it will be comprised of, meaning teams can't even begin to plan their budgets for the next campaign.
Such matters should have been sorted at least a year in advance. Who knows why anyone believed reducing the league to 10 or 12 sides would improve the standard of football or make the league more attractive to supporters? One of the great strengths of the league was the variety of teams it possessed.
But if that is what the FAW and Welsh Premier wanted there should have been a gradual reduction down from 18 members over the course of two or three years. This would have lessened the impact on the feeder leagues - who unforgivably had no say on the matter - and allowed sides a more realistic deadline to work towards attaining their domestic licence."
Mae'r wefan hon yn cytuno fod yna ddiffyg cynllunio ymlaen llaw wedi bod, a hyn yn arwain at sefyllfa wirion gyda clybiau yn cael eu symud i lawr y pyramid rhywsut, rhywsut. Dylai'r Gymdeithas Bêl-droed egluro pa griteria pêl-droed sy'n gyfiawnhad i dri chlwb gael yr hawl i neidio dros ben 10 ie 10 clwb Cymru Alliance a chael mynediad i'r gynghrair honno.
I weld y fersiwn gwefan o'r erthygl cliciwch yma

The Daily Post continues its stinging criticism of the Super 12 in today's edition of the paper (28 May). Much of what is said concurs with what the Porthmadog club, their manager and this website have maintained from the beginning of this ill-founded project. Here is a taste of what the article says:
"The Super 12 was supposed to herald a new level of professional standards in Welsh football, but it has only served to expose the rank amateurism behind the scenes. With just over two months before the resumption of action, the division has yet to decide on the nature of next season's competition, let alone how many games it will be comprised of, meaning teams can't even begin to plan their budgets for the next campaign.
Such matters should have been sorted at least a year in advance. Who knows why anyone believed reducing the league to 10 or 12 sides would improve the standard of football or make the league more attractive to supporters? One of the great strengths of the league was the variety of teams it possessed.
But if that is what the FAW and Welsh Premier wanted there should have been a gradual reduction down from 18 members over the course of two or three years. This would have lessened the impact on the feeder leagues - who unforgivably had no say on the matter - and allowed sides a more realistic deadline to work towards attaining their domestic licence."
This website agrees that there has been a total lack of forward planning which has resulted in a crazy situation where clubs are being relegated willy-nilly all the way down the North Wales pyramid. The FAW should tell us all by what footballing criteria three clubs can gain the right to clamber over 10 yes 10 Cymru Alliance clubs and gain promotion into that division!
For a full website version of the article click here
---
28/05/10
Cymru Alliance i gael proffil uwch yn y Daily Post / Cymru Alliance to be given higher profile by Daily Post

Mae'r Daily Post wedi addo mwy o sylw i'r Cymru Alliance y tymor nesaf.
Mae'n dweud "..gyda chlybiau fel y Rhyl bellach yn yr ail lefel bydd proffil uwch yn cael ei roi i'r Cymru Alliance ar ein tudalennau."
Bydd yn dal i roi sylw hefyd i'r pedwar clwb o'r gogledd (Bangor, Bala, Prestatyn ac Airbus) sydd yn y Deg Disglair.
Gallai hyn fod yn amser da iawn i ail-lansio'r Cymru Alliance i gymryd mantais o'r proffil uwch. Mewn cynghreiriau eraill pan fod adrefnu mawr mae ail-lansiad o'r ail lefel wedi dilyn – yn Lloegr y Bencampwriaeth, yn y Weriniaeth yr A Bencampwriaeth ac yng Ngogledd yr Iwerddon Pencampwriaeth IFA. Pam ddim Pencampwriaeth y Gogledd yng Nghymru? Oes gennych gynigion eraill?

The Daily Post has promised enhanced coverage for next season's Cymru Alliance.
It says ".... with the likes of Rhyl now in the second tier, the profile of the Cymru Alliance will be advanced in our pages."
It will continue to cover the games of the four north Wales clubs (Bangor, Prestatyn, Airbus and Bala) who will be in next season's Super 12.
This could well be an opportune time to relaunch the Cymru Alliance to take advantage of its higher profile. In other leagues where there has been major reorganisation a relaunch of the second tier of football has followed –in England we have the Championship and in the Republic of Ireland the A Championship and North of Ireland the IFA Championship. Why not the Northern Championship for us? Any other suggestions?
---
26/05/10
Tri o Port yn chwarae i Dan-18 yr Arfordir / Three from Port play for Coast U-18s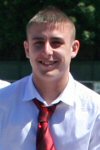 Roedd tri o chwaraewyr ifanc Porthmadog yng ngharfan Dan 18 Arfordir y Gogledd a chwaraeodd yn erbyn Canolbarth Cymru ar y Traeth neithiwr. Disgrifiodd rheolwr y tîm Chris Morrell gyfraniad Cai Jones, Dylan Williams a Meilir Ellis fel "clod arbennig i'w clwb ac i'r chwaraewyr eu hunain." Cyfartal 1-1 oedd y sgôr ar y diwedd gyda thîm yr Arfordir yn gwella'n arw ar ôl colli 5-0 mewn gêm flaenorol rhwng y ddau. O dan rheolwyr newydd cafwyd perfformiad arbennig gan bawb, gan ddal eu tir yn erbyn tîm profiadol. Gyda hogiau'r Arfordir yn chwarae y pêl-droed gorau, crëwyd nifer o gyfleoedd cynnar gyda Cai Jones o Borthmadog yn fygythiad cyson. Daeth y gôl gyntaf diolch i ergyd dda o 20 llath gan Luke Tyson i roi'r Arfordir ar y blaen. Gôl haeddiannol a dylent fod wedi ychwanegu un neu ddwy arall cyn yr egwyl. Yn yr ail hanner brwydrodd y canolbarth yn ôl gan ddod yn gyfartal pan sgoriodd Ross Frame. Aeth yr Arfordir ymlaen i greu sawl cyfle da ond yn y diwedd bu'n rhaid setlo am un pwynt ac o gofio fod y rhan fwyaf yn chwarae gyda'u gilydd am y tro cyntaf mae'n edrych yn addawol at y dyfodol.

Three young Port players were involved in last night's area representative U18s match between the North Wales Coast FA and Central Wales FA at the Traeth. Coast manager Chris Morrell, described the contribution of Cai Jones, Dylan Williams and Meilir Ellis as "an absolute credit to themselves and the club." The game ended 1-1 with the Coast team showing much improved form after going down 5-0 in a previous encounter with Central Wales. The Coast under new management were outstanding to a man and more than held their own against an experienced side. Playing far better football, Coast started with a flurry of chances and with the excellent Cai Jones of Porthmadog a constant threat, it wasn't too long before the deadlock was broken by a sweet struck 20-yarder from Luke Tyson. It was no more than Coast deserved indeed they should have gone into the break leading by a couple more. The second half saw Central Wales competing more and drew level when Ross Frame equalised. Coast continued to create chances but had to settle for an excellent point, and given that this was the first time a lot of these lads have played together, things look bright for the future.
---
26/05/10
Pwy fydd yn y Cymru Alliance yn 2010/11? / Who will form the 2010/11 Cymru Alliance?

Mae cynnwys y Cymru Alliance ar gyfer y tymor nesaf wedi dod yn glir yn dilyn cyhoeddi canlyniadau apêl y Drwydded Ddomestig. Bydd y Cymru Alliance yn 2010/11 yn gynghrair wahanol iawn i'r un a welwyd yn 2009/10. Bydd yn cynnwys y chwe tîm a gollodd eu lle yn UGC sef - Caersws, Derwyddon Cefn, Cei Conna, Porthmadog. Y Rhyl a'r Trallwng. Dim ond saith o'r clybiau a chwaraeodd yn y CA llynedd sy'n dal yno sef - Bwcle, Fflint, Cegidfa, Llandudno, Llangefni, Penrhyncoch a Rhuthun. Sicrhaodd tri chlwb ddyrchafiad i'r gynghrair newydd – Rhos Aelwyd o Gynghrair Ardal Wrecsam, Rhydymwyn o'r Welsh Alliance a Rhaeadr Gwy o'r Canolbarth.
Mae gan y Cymru Alliance wefan dda iawn sy'n cael ei diweddaru'n gyson ar http://cymru-alliance.pitchero.com

The make up of the 2010/11 Cymru Alliance League has now been clarified following the Domestic License Appeal. It is a very different league from the Cymru Alliance of 2009/10. It will consist of the six clubs relegated from the WPL –Caersws, Cefn Druids, Connah's Quay, Porthmadog, Rhyl and Welshpool. There are only seven remaining of last year's CA – Buckley Town, Flint Town, Guilsfield, Llandudno, Llangefni, Penrhyncoch and Ruthin Town. Three clubs have gained promotion to the new league Rhos Aelwyd from the Wrexham Area league, Rhydymwyn from the Welsh Alliance and Rhayader from Mid-Wales.
The Cymru Alliance has an excellent website which is updated regularly on http://cymru-alliance.pitchero.com
---
25/05/10
Port yng nghystadleuaeth Cwpan yr Arfordir / Port in the Coast Challenge Cup
Pan gododd Port Gwpan Her yr Arfordir ym Mhrestatyn ar 17 Mai hon oedd y seithfed tro iddynt wneud hynny yn 86 mlynedd hanes cystadleuaeth a gychwynnodd yn ôl yn nhymor 1923-24. Y tro diwethaf iddynt ennill y gystadleuaeth oedd 7 mlynedd yn ôl, gyda Llandudno eto yn wrthwynebwyr, yn nhymor cofiadwy dyrchafiad 2002-03. Sicrhaodd Port eu buddugoliaeth gyntaf yn y gystadleuaeth yn nhymor 1973-74 ac wedyn aethant ymlaen i ennill eto yn y flwyddyn ganlynol. Aeth un o'r timau mwyaf llwyddiannus yn hanes y clwb ymlaen i ennill y gwpan eto yn 1976-77 ac yn 1977-78 gan godi'r gwpan 4 gwaith mewn 5 mlynedd. I roi'r rhediad hwn yn ei gyd-destun dylid cofio fod Cwpan yr Arfordir yn un o brif gystadlaethau'r calendr pêl-droed yn y gogledd yn y cyfnod hwnnw. Roedd y tîm arbennig yna yn cynnwys sêr y cyfnod fel Ted Turner, Jimmy McCarthy, Roly Evans a Steve Bennie a sgoriodd yn syth gyda chic gornel yn ffeinal 1974-75. Erbyn heddiw mae'n anodd coelio'r torfeydd a ddenwyd i weld gemau Cwpan yr Arfordir yn y gorffennol gyda 9,200 ar Ffordd Ffarar yn ffeinal 1951-52 i weld Pwllheli yn herio Bangor.

When Port lifted the NWCFA Challenge Cup at Prestatyn on May 17th it was the 7th time they had done this in the 86 year history of a competition which started in season 1923-24. The last time they won the competiton was 7 years ago, when Llandudno were again the opponents, in the memorable promotion season of 2002-03. Their first ever triumph in this competition came in season 1973-74 and then Port promptly repeated their success in the following season and perhaps the most successful team in Port's history went on to win again in 1976-77 and 1977-78 which meant that they had lifted the trophy four times in five seasons and were losing finalists in 1975-76! To put this run in perspective it must be remembered that at this time the Coast Challenge Cup was a major competition in the North Wales football calendar. The successful team of the 1970s will be remembered for players like Ted Turner, Jimmy McCarthy, Roly Evans and Steve Bennie with his goal direct from a corner in the 1974-75 final. Today it is difficult to appreciate the pulling power of the Coast Cup with the 1951-52 final between Pwllheli and Bangor at Farrar Road attracting a 9,200 crowd.
---
24/05/10
Llyfr am hanes Cynghrair y Cambrian Coast / A new book recounts the History of the Cambrian Coast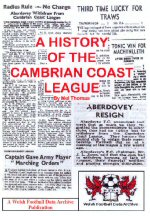 Bydd yna groeso gwresog gan y rhai sy'n dal i gofio hen gynghrair y Cambrian Coast a gan y rhai sy'n diddori mewn hanes pêl-droed yn yr ardal. Yr hanesydd pêl-droed ac ystadegydd swyddogol Uwch Gynghrair Cymru, Mel Thomas, ydy awdur "The Football Coast" sy'n adrodd stori'r Cambrian Coast o 1905 i 1963
Daeth y gynghrair yn rhan bwysig o hanes yr ardal. Ar hyd y blynyddoedd bu clybiau o Bwllheli i Borthmadog ac i Aberystwyth yn cystadlu yn y gynghrair ynghyd ag enwau rhyfeddach fel Cookes United, Tywyn Celtic, REME Tonfannau, 37th Heavy Anti-Aircraft ac RAF Llanbedr. Yn ystod cyfnod gwasanaeth milwrol ymddangosodd nifer o enwau amlwg Adran Gyntaf Cynghrair Lloegr yn y gynghrair.
Mae Mel Thomas yn adrodd hanes y gynghrair, a hynny am y tro cyntaf, o'r cychwyn simsan ymlaen drwy adrefnu gan y Gymdeithas Bêl-droed yn yr 1920au tan y diweddglo trist yn 1963. Mae atgofion melys o'r gynghrair gan nifer fawr o gefnogwyr a chyn-chwaraewyr a gadawodd y penderfyniad i ddod a hi i ben fwlch na gafodd ei lenwi'n foddhaol byth wedyn.
Mae'r llyfryn A5 yn cynnwys nifer fawr o luniau, tablau ac ystadegau. Dyma'r cyhoeddiad cyntaf gan y tîm sy'n torri tir newydd gyda'u gwaith i Archif Data Pêl-droed Cymru (www.wfda.co.uk) a bydd o ddiddordeb yn lleol yn ogystal a chefnogwyr ym mhob rhan o Gymru.
Mae'r llyfr ar gael o Siop Llyfrau Yr Hen Bost, Stryd Fawr, Blaenau Ffestiniog LL41 3AA. Y gost fydd £6 gyda £1.26 am bostio a phacio.
Am fwy o fanylion gellir cysylltu ar Mel@soccerfilewales.com

A newly published book will receive a warm welcome from those who still remember the Cambrian Coast League and those interested in the football history of the area. Written by football historian and official WPL statistician Mel Thomas of Soccerfile Wales "The Football Coast" tells the story of the Cambrian Coast League from 1905 to 1963.
The league became part of the local history. Over the years familiar clubs from Pwllheli and Porthmadog to Aberystwyth competed in the league, as well as some more unusual names such as Cookes United, Tywyn Celtic, REME Tonfannau, 37th Heavy Anti-Aircraft and RAF Llanbedr. During the era of National Service a number of prominent English League First Division players featured in the league.
Mel Thomas recounts the history of the Cambrian Coast League for the first time from its hesitant beginnings, through the FAW reorganisations of the leagues in the 1920s, to its sad demise in 1963. The league is still fondly remembered by many fans and ex-players and its closure left a gap that has never been adequately filled.
This A5 booklet is lavishly illustrated and includes league tables as well as a statistical section It is the first publication from the team behind the groundbreaking Welsh Football Data Archive (www.wfda.co.uk) and will be of considerable local interest as well as to soccer fans throughout Wales.
The book is available from Siop Llyfrau Yr Hen Bost, High Street, Blaenau Ffestiniog LL41 3AA at £6 plus £1.26 postage and packing.
For further details or enquiries contact Mel@soccerfilewales.com
---
20/05/10
Port yn ennill cwpan yr arfordir / Port win coast cup
Ar ôl tymor gwan arall a'r cadarnhad ddydd Llun mai yn y Cymru Alliance y bydd Port yn chwarae y tymor nesaf, cafwyd ychydig o newyddion gwell wrth i Port gipio Cwpan Her Arfordir y Gogledd drwy guro Llandudno yn y ffeinal ym Mhrestatyn neithiwr (nos Fercher). Roedd gôl wych gan Marcus Orlik yn yr hanner cyntaf yn ddigon i sicrhau y bydd enw Port yn cael ei ychwanegu at y cwpan unwaith eto. Cyhoeddwyd hefyd mai ymosodwr Porthmadog, Jamie Rogers, oedd chwaraewr y gystadleuaeth am eleni. Llongyfarchiadau.

After another disappointing season and the confirmation that Port will play their football in the Cymru Alliance next season, there was some consolation as they picked up the North Wales Coast Challenge Cup, beating Llandudno at last night's (Weds) final in Prestatyn. A superb first half goal by Marcus Orlik was enough to ensure that Port's name will be carved on the cup once again. It was also announced that Porthmadog striker, Jamie Rogers, was player of the competition for this year. Congratulations to him.
---
17/05/10
Y tîm dan 12 yn bencampwyr Cymru / The under 12s crowned Welsh champions
Llongyfarchiadau mawr i'r hogia dan 12 am ennill Cwpan Cymru yn y Drenewydd ddoe. Enillwyd y gêm mewn steil o bedair i un yn erbyn Hwllfordd. Joe Holt gyda dwy, Leo Smith a Sion Bradley oedd sgorwyr Port wrth i'r gwrthwynebwyr o Sir Benfro gael eu gwthio o'r neilltu. Adroddiad o'r gêm.


Huge congratulations to the under 12 lads for winning the Welsh Cup at Newtown yesterday. The game was won in style with Port scoring four to Haverfordwest's one. Joe Holt with two, Leo Smith and Sion Bradley were the goal scorers as the opponents were swept aside. Match report.
---
17/05/10
Port yn sicrau Trwydded Ddomestig / Port secure Domestic License

Fel y disgwyl, mae Port wedi llwyddo i gael Trwydded Ddomestig, wrth i'r Gymdeithas Bêl-droed gyhoeddi enwau'r clybiau sydd wedi llwyddo yn eu hapeliadau heddiw. Er na fydd hyn yn ddigon i sicrhau lle i Port yn yr Uwch Gynghrair y tymor nesaf, mae'n glod i Angela a'r tîm sydd wedi gweithio mor galed dros y tymor. Bydd hefyd yn golygu y bydd Port mewn sefyllfa gryf wrth anelu am ddyrchafiad o'r Cymru Alliance y tymor nesaf.
Sioc fwyaf y dydd oedd i'r Rhyl fethu yn eu hapêl nhw am resymau ariannol, sy'n golygu y bydd y Drenewydd yn cael eu harbed rhag y cwymp. Methu hefyd fu hanes y clybiau o'r cynghreiriau is, Llangefni ac Afan Lido, yn eu hapeliadau nhw. Er mai yn 15fed y gorffennodd Port, daethom yn agos at gynnal ein lle yn UGC, gan fod y Cei Connah, a orffennodd un safle uwch ein pennau, wedi methu cael trwydded.

As expected, Port have been given a Domestic License, as the FAW today announced the names of the clubs who have been successful in their appeals. Although this won't be enough to give Port a place in next season's Welsh Premier, it is testament to the hard work that Angela and the team have put in throughout the season. It also puts Port in a strong position as we aim for promotion form the Cymru Alliance next season.
The biggest shock of the day was that Rhyl have failed in their appeal for financial reasons, which means that Newtown have avoided the drop. Feeder league clubs, Llangefni and Afan Lido, also failed in their appeals. Although Port finished in 15th position, we came close to maintaining our place in the WPL, as Connah's Quay, who finished one place above us, failed to secure a license.
---