11/04/07
Rhagolwg: Cwmbrân a Hwlffordd / Preview: Cwmbrân and Haverfordwest

Yn dilyn dwy fuddugoliaeth dda dros benwythnos y Pasg, mae yna ddigon o reswm i fod yn optimistaidd am y ddwy gêm nesaf i ffwrdd yn erbyn Cwmbrân pnawn Sadwrn ac adref yn erbyn Hwlffordd nos Fawrth. Nid oes un o'r ddau wedi cael canlyniadau da yn ddiweddar gyda Cwmbrân wedi colli pump a dod yn gyfartal mewn un o'u chwe gêm ddiwethaf (heno yn croesawu TNS!) tra mae Hwlffordd ond ychydig yn well yn colli pedair ac ennill ond un o'u chwe gêm ddiwethaf. Ar ôl dweud hyn, mae hanes yn rhoi rhybudd amserol inni i beidio bod yn orhyderus gan ein bod wedi colli ar ein tri ymweliad diwethaf â Stadiwm Cwmbrân ac mae Hwlffordd wedi bod yn fuddugol ar eu tri ymweliad diwethaf â'r Traeth. Mae ein perfformiad ddydd Llun yn rhoi gobaith y medrwn newid yr ystadegau siomedig yma – ond dim ond os wnawn godi ein gêm eto. Mae'r ffaith fod Cwmbrân ar waelod y tabl yn golygu y byddant yn ymladd am y pwyntiau a bydd eu rheolwr Sean Wharton yn sicrhau eu bod yn barod amdanom. Bydd Hwlffordd fel Port angen y pwyntiau i sicrhau lle yng Nghwpan y BBC at y tymor nesaf. Mae dwy gêm galed yn ein haros felly.



Following two good wins over the weekend Porthmadog can well be optimistic about the next two games away at Cwmbran on Saturday and home to Haverfordwest on Tuesday evening. Neither of our opponents have been in particularly good form recently with Cwmbran's last six games showing five defeats and one draw (tonight they entertain TNS!) while Haverfordwest have only fared slightly better showing four defeats and one victory in their last six outings. Having said that, history certainly gives us a timely warning not to count our chickens -for we have been beaten in our last three visits to the Cwmbran Stadium and equally Haverfordwest have recorded wins on their last three visits to the Traeth. Our good form on Monday gives us hope that we can change these dismal statistics -but only if we are again at our best. The fact that Cwmbran are at the foot of the table and desperate for points means that manager Sean Wharton will have them up for it on Saturday and Haverfordwest like Porthmadog need points to ensure a place in next season's Premier Cup. Therefore tough games can be expected.
---
09/04/07
"Rhaid adeiladu ar y seiliau yma" / "We must build on this"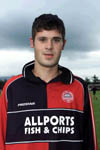 Yn dilyn dwy fuddugoliaeth wych yng Nghaersws a gartref i Gaerfyrddin, dim ond un peth sydd ar feddwl y rheolwr Osian Roberts – ennill y nesaf! Mae'r rheolwr yn teimlo fod angen ambell fuddugoliaeth arall er mwyn cyrraedd lle y dylai'r tîm gyrraedd y tymor yma.
"Chwaraeodd yr hogiau yn dda iawn ddydd Sadwrn; fe wnaethon nhw'r pethau bach yn dda iawn. Roedd yn bwysig iawn i ni gael y gôl gyntaf ac ar ôl hynny roeddem yn rheoli'r gêm, er i ni orfod amddiffyn ar adegau. Roeddwn yn falch i ni fynd yno a bod mor ddisgybledig a threfnus."
Dangosodd gêm Llun y Pasg ochr arall i gêm Port, pan gurwyd y gwrthwynebwyr â pasio da.
"Yn gyntaf roedd rhaid i ni amharu ar basio Caerfyrddin cyn rheoli'r ffordd y chwaraewyd y gêm. Fe wnaeth pob chwaraewr yr hyn a ofynnwyd ohonynt ac yn haeddiannol fe ddaeth y goliau."
Ar adeg ysgrifennu, roedd Roberts yn gallu cadarnhau fod y ddau amddiffynnwr canol allweddol Rhys Roberts a Ryan Davies wedi ail-arwyddo ar gyfer y tymor nesaf.
Yn sicr mae'r ddau chwaraewr yma'n rhan allweddol o'r tîm. Fe fyddwn yn siarad i'r holl chwaraewyr eraill dros yr ychydig wythnosau nesaf hefyd."
Mae'r clwb hefyd wedi cadarnhau fod y chwaraewr canol-cae, Gareth Parry, wedi gadael y clwb.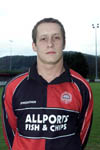 Two excellent wins at Caersws and at home to Carmarthen has left Manager Oisan Roberts with one quest – winning the next one! The Traeth boss feels that he needs another few wins to get where they need to be this year.
"The boys did very well on Saturday, they did the little things really well. It was all about the first goal, which we got, and after that we were always in control, despite having to defend at times. I was pleased we went there and were disciplined, organised and functional."
Easter Monday however demonstrated another side to Port's game, when they far excelled their visitors at the passing game.
"Firstly we had to disturb Carmarthen's passing game before imposing our own game on them. Each player did exactly what was asked of them and the goals deservedly followed."
At time of going to press Roberts was also able to confirm the re-signing of key central defensive partners Rhys Roberts and Ryan Davies for next season.
"There can be no doubt that these two are a key part of this football team. We shall be talking to all the others over the next couple of weeks as well."
The club has also announced that it has released midfielder Gareth Parry with immediate effect.
---
09/04/07
Trwydded UEFA i Port / Port gain UEFA Licence

Mae CPD Porthmadog yn un o wyth clwb sydd i dderbyn Trwydded UEFA i glybiau. Llongyfarchiadau i swyddogion y clwb am y gwaith caled sydd wedi sicrhau y drwydded bwysig yma. Y saith clwb arall i gyrraedd y nod hwn ydy Aberystwyth, Airbus, Cei Conna, Y Rhyl a'r Trallwng. Methodd Bangor, Y Drenewydd, Llanelli a TNS ar fater technegol ond maent yn debygol o dderbyn y drwydded pan fydd y panel yn cyfarfod nesaf. Gwnaed y penderfyniad ddydd Gwener mewn cyfarfod o Bwyllgor Trwyddedi'r Gymdeithas Bêl Droed. Gwrthodwyd y ceisiadau gan Gaernarfon, Caersws, Cwmbrân, Derwyddon Cefn NEWI a Port Talbot.
Mae gwefan swyddogol Uwch Gynghrair Cymru yn dweud:
Roedd yna ddau newydd wedi derbyn trwyddedau, a hyn ar eu pedwerydd tro yn ymgeisio, sef Porthmadog a Cei Conna. Mae'n gam pwysig i'r ddau glwb gan fod Cei Conna y gwthio am le yng nghystadleuaeth Intertoto a gallai Porthmadog, er braidd yn annhebygol, ganfod eu hunain yng Nghwpan UEFA drwy'r gystadleuaeth Chwarae Teg.

CPD Porthmadog is one of the eight clubs awarded their UEFA club licence. Club officials are to be congratulated for the hard work they have put in to achieve this goal. The other 7 clubs to gain a licence were Aberystwyth, Airbus, Connah's Quay Nomads, Rhyl and Welshpool. Four clubs, Bangor City, Newtown, Llanelli and TNS were turned down on a technicality and are likely to be awarded their licence at a later date. The clubs were awarded their licences by the FAW following a meeting of the First Instance Body which met on Friday. Caernarfon, Caersws, Cwmbran, NEWI Cefn Druids and Port Talbot were all turned down.
The Official Welsh Premier website reports:
There were two new Licensees, who at the fourth time of trying have gained their first UEFA Licence, these clubs being Porthmadog and Connah's Quay Nomads. This was an important step for the two clubs as the Nomads are pushing for third place and Intertoto Cup qualification and although unlikely, Porthmadog could be sneak a UEFA Cup spot through the Fair Play draw.
---
07/04/07
Ymddiheuriadau a llongyfarchiadau John / Apologies and congratulations to John Gwynfor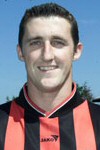 Ymddiheuriadau, ymddiheuriadau a mwy o ymddiheuriadau. John Gwynfor oedd y cyntaf i gyrraedd y cant o'r chwaraewyr diweddar sydd wedi cyrraedd y marc hwnnw. Cyrhaeddodd y nod un gêm o flaen Les a Carl yn erbyn Cei Conna nos Fawrth diwethaf. Wrth gwrs, dros Porthmadog mae bob un o'i gêmau wedi bod. Llongyfarchiadau –gyda'r addewid i fod yn fwy gofalus yn y dyfodol!! Ymlaen at yr ail gant.

Apologies, apologies and more apologies. John was in fact the first of the present crop of players to reach the magic century mark. He in fact reached the target one game ahead of Les and Carl reaching his century of WPL starts last Tuesday against Connah's Quay. All of John's appearances have been for Porthmadog. Congratulations and we promise more attention to detail in future!! Forward to the double century.
---
06/04/07
Cefnogwyr Cymru yn cefnogi Port – diolch! / Welsh supporters support Port – thanks!

Yn dilyn yr apêl ddiweddar am gyfraniadau tuag at y frwydr yn erbyn y gosb afresymol a osodwyd gan y Gymdeithas Bêl-droed, mae CPD Porthmadog yn falch iawn o dderbyn cefnogaeth gan gefnogwyr o leiaf ddau glwb arall yn Uwch-gynghrair Cymru. Mae cymdeithasau cefnogwyr Caernarfon a Rhyl wedi cyhoeddi y byddant yn cyfrannu tuag at y gost o gymryd y frwydr at y cymodwyr – diolch iddynt am sefyll ysgwydd yn ysgwydd yn erbyn gwallgofrwydd yr FAW!
Mae CPD Porthmadog yn teimlo fod yr FAW wedi camddehongli rheoli FIFA ac wedi cosbi'r clwb er ein bod wedi cymryd camau yn erbyn hiliaeth. Os na fydd y penderfyniad yn cael ei wyrdroi, fe all fod oblygiadau ariannol i unrhyw glwb yng Nghymru. Rydym felly'n galw eto ar i glybiau a chefnogwyr Cymru i ddilyn Rhyl a Chaernarfon drwy gyfrannu at y gronfa.
Roedd Paul Abbandonato - sydd ddim fel arfer yn gefnogwr mawr o Uwch-gynghrair Cymru(!) - yn gefnogol o safiad CPD Porthmadog mewn erthygl yn y Western Mail heddiw. I ddarllen yr erthygl gyfan, ymwelwch â'r dudalen erthyglau.
Dylai unrhyw un sy'n dymuno gwneud cyfraniad gysylltu â'r clwb ar 07920025338 neu anfon siec, wedi ei wneud allan i CPD Porthmadog, at Gerallt Owen, 56 Maes Gerddi, Porthmadog LL49 9LE. Byddai'r clwb yn ddiolchgar am bob cyfraniad beth bynnag ei faint.



Following the recent appeal for contributions to the 'fighting fund' for the battle against the FAW's unreasonable punishment, Porthmadog FC are grateful to receive the support of at least two other Welsh Premier clubs. Caernarfon and Rhyl's supporters associations have announced that they will be contributing towards the cost of taking the battle to the arbitrators – we thank them for their solidarity in the battle against the FAW's madness!
Porthmadog FC believe that the FAW have misinterpreted FIFA's regulations by punishing the club even though decisive action was taken against racism. If the punishment is not overturned, it could have dire financial implications for any club in Wales. We therefore call again on all Welsh clubs and supporters to follow Rhyl and Caernarfon's lead by contributing to the 'fighting fund'.
An article in today's Western Mail by Paul Abbandonato, not always the Welsh Premier's biggest supporter(!), was also suportive of Porthmadog FC's stance. Visit the articles page to read the full story.
Anyone wishing to make a donation should contact the club on 07920025338 or send a cheque, made out to Porthmadog FC, to Gerallt Owen, 56 Maes Gerddi, Porthmadog LL49 9LE. Any donation regardless of the amount will be most welcome.
---
06/04/07
Galwad yr Ysgrifennydd am Gyfiawnder /Secretary's plea for justice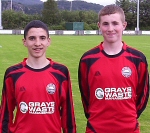 Isod gwelir rhai o sylwadau Gerallt Owen, ysgrifennydd y clwb, a wnaed mewn erthygl yn rhaglen y gêm yn erbyn Cei Conna.

Porthmadog secretary Gerallt Owen, in his recent match programme article, gave vent to the seething anger and injustice felt by officials and supporters of the club following the FAW Appeals Panel decision. He writes of having "…..the feeling that ….. the decision had been made before the hearing started." He goes on to say "The appeal panel would not accept our claim that ONE spectator shouting out a racist comment was at the lower end of the spectrum of seriousness. They insisted that it was towards the upper end of the scale and as such should be severely punished." Gerallt inquires "How can one person's stupidity be so high up the scale –this is ridiculous."
Gerallt's interpretation of this heavy handed action is that it is meant "…to set a bench mark." This he said was also confirmed by Porthmadog Chairman Phil Jones and legal representative Nic Parry. "We are the scapegoats; we are the first case since the new regulations were introduced and they want to set the benchmark as high as possible as a deterrent. However the points deduction also allows the situation to be abused."
Amazingly he reveals the Appeals Panel insisted that Porthmadog were themselves partly to blame for the severity of the original punishment. "The reasoning goes like this. Had Porthmadog attended the original hearing, sent legal representation and fought the matter then the punishment would have been less. Again this is madness."
What accounts for the belligerent stance of the FAW? Well Gerallt asks "Is it because so many on the FAW Council still despise the WPL and love to knock the competition which is supposed to be the flagship competition in Wales?" And the solution for Gerallt is "…major and comprehensive reform of the FAW …. before this organisation kills football in Wales…" He goes on to urge all clubs in Wales to "…consider the ramifications of this decision," and to "…donate £50 towards a fighting fund to take the matter to Arbitration because … you will be next if justice and a sense of proportion is not forthcoming." Gerallt ends by asking whether these FAW Councillors have any conception of "… what is involved for a club like Porthmadog to raise such a sum of money." The costs he says will include "…having to fork out £3,000 in exorbitant legal costs to the FAW." Clearly we have not heard the last of FAW versus Porthmadog FC.
---
05/04/07
Dau yn Cyrraedd y Cant / Two reach their Century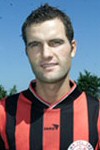 Bydd Carl Owen a Les Davies yn chwarae eu canfed gêm UGC os byddant yn dechrau ddydd Sadwrn yn Caersws. Dechreuodd Carl saith gêm i Fangor cyn ymuno â chlwb Y Traeth ac felly bydd yn gwneud ymddangosiad 93 (dim eilydd) dros Port os bydd yn dechrau yn Caersws ddydd Sadwrn. Mae Carl wedi sgorio 42 o goliau yn ystod y cyfnod yma. Dechreuodd Les 42 o weithiau i Fangor cyn ymuno â Port a 29 yw ei gyfanswm goliau. Chwaraewr arall sydd ar fin cyrraedd y cant ydy Gareth Caughter sydd wedi dechrau 98 o weithiau i Port yn UGC. Felly gallai Gareth, os bydd wedi dechrau yn Caersws, gyrraedd y cant ar Y Traeth ddydd Llun. Mae Gareth wedi sgorio 15 gôl yn y gynghrair dros y cyfnod.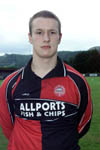 Carl Owen and Les Davies will, providing they start at Caersws on Saturday, both make their hundredth WPL appearance (not sub). Carl made seven starts for Bangor City before joining Port and will, if he appears on Saturday, have made 93 WPL starts for Porthmadog. Carl has up to date scored 42 goals in 99 starts. Les made 43 starts for Bangor City before joining Port and has scored 29 goals in his 99 appearances. Another Porthmadog player on the verge of his century of appearances is Gareth Caughter. Gareth has up to the present made 98 WPL starts and so if he plays at Caersws on Saturday he could reach his century on Monday at the Traeth against Carmarthen Town. He has scored 15 goals.



---
05/04/07
Rhagolwg o Gemau'r Penwythnos / Preview of Weekend Games.

Ar ôl colli nos Fawrth, mae'n bwysig iawn ennill pwyntiau yn erbyn Caersws a Chaerfyrddin. Mae Caersws mewn sefyllfa debyg i ni ac felly bydd yna awyrgylch gêm gwpan –efallai bydd hyn yn ein siwtio! I Gaersws bydd Graham Evans yn ôl ei arfer yn wrthwynebydd peryglus ac yn sgoriwr cyson ond bydd Port heb Rhys Roberts, Clayton Blackmore ac, ar ôl nos Fawrth, Carl Jones hefyd. Bydd angen inni fod ar ein gorau ac mae angen dechrau cymryd y cyfleoedd gan nad yw un gôl yn aml yn ddigon i sicrhau y tri phwynt. Ar ddydd Llun y Pasg, Caerfyrddin fydd y gwrthwynebwyr a gobeithiwn am dorf sylweddol i fynd tu ôl i'r hogiau. Eisoes cawsom ddwy gêm gyfartal yn eu herbyn a felly gwyddom yn dda am beryg chwaraewyr fel Kaid Mohammed a Nathan Cotterall. Medrwn ni ddim dibynnu ar i'r timau o'n cwmpas ddal i golli pwyntiau ac felly mae codi pwyntiau dros y penwythnos yn holl bwysig i ddyfodol y clwb yn UGC. Ar 6l ddydd Llun, dim ond pedair gêm fydd yn weddill.



After Tuesday's defeat, Port need to pick up points against Caersws and Carmarthen. Caersws are in a similar predicament to Porthmadog so this could prove something of a cup tie situation –which hopefully will suit us! The Caersws danger man as ever will be regular goal scorer Graham Evans but Porthmadog will be without Rhys Roberts, Clayton Blackmore and, after Tuesday, Carl Jones as well. We will need to be at our best and must start taking our chances. One goal is rarely enough to clinch a victory. On Easter Monday, Carmarthen are the visitors and let's hope for a bumper holiday crowd to get behind the lads. We have had two close contests against them already and know the kind o danger players like Kaid Mohammed and Nathan Cotterall can cause. We are fortunate the teams around us have not been picking up points either but we cannot rely on this continuing. These are vital fixtures for after Monday we have only four games left.
---
04/04/07
Ymlaen â'r frwydr / The fight goes on.
Wedi llawer o bwyso a mesur ynglyn â'r goblygiadau ariannol, mae CPD Porthmadog wedi penderfynu herio dyfarniad y Pwyllgor Apêl o flaen Pwyllgor Cymodi. Talwyd y ffi angenrheidiol i'r Gymdeithas Bêl Droed eisoes. Ers ddydd Gwener, mae Cyfarwyddwyr CPD Porthmadog wedi cynnal cyfres o gyfarfodydd cyn iddynt benderfynu symud ymlaen. Dywedodd Gerallt Owen, ysgrifennydd y clwb, "Rym yn sylweddoli fod yna risg yn mynd â'r mater at gymodwr ond credwn yn siwr y cawn wrandawiad tecach gan Gymodwr Annibynnol nag a gawsom gan y Gymdeithas Bêl Droed. Mae'r Gymdeithas wedi methu neu yn anfodlon derbyn ein dadleuon. Teimlwn fod y Gymdeithas wedi gweithredu'n ddialgar ac wedi gosod cosb sydd yn bell o fod yn gymesur â'r drosedd. Teimlwn hefyd fod hwn yn achos prawf ac os adawn i'r dyfarniad sefyll allai fod yn un ag arwyddocâd enfawr i holl glybiau Cymru." Mae'r clwb wedi sefydlu Cronfa Apêl i helpu gyda chost yr Apêl newydd.
Dylai unrhyw un sy'n dymuno gwneud cyfraniad gysylltu â'r clwb ar 07920025338 neu anfon siec, wedi ei wneud allan i CPD Porthmadog, at Gerallt Owen, 56 Maes Gerddi, Porthmadog LL49 9LE. Byddai'r clwb yn ddiolchgar am bob cyfraniad beth bynnag ei faint.

After much soul searching into the financial implications, Porthmadog Football Club have decided to take last Friday's Appeals Panel decision to Arbitration. The necessary fee has been lodged with the FAW. Porthmadog Directors have held a series of meetings since Friday before deciding to go ahead. Club Secretary Gerallt Owen said "We are aware that there is a risk in taking the matter to arbitration but we sincerely believe we will get a fairer hearing from an independent Arbitrator than from the FAW themselves who have been unable or unwilling to accept our arguments. We feel that the FAW have been vindictive and disproportionate in the punishment that has been handed down to us and we feel that this is a test case which, if it was allowed to stand, would have had massive implications for all clubs in Wales."The Club has set up an Appeal Fund to assist with the financial implications of the Appeal.
Anyone wishing to make a donation should contact the club on 07920025338 or send a cheque, made out to Porthmadog FC, to Gerallt Owen, 56 Maes Gerddi, Porthmadog LL49 9LE. Any donation regardless of the amount will be most welcome.
---
02/04/07
Apêl dros gyfiawnder / Appeal to fight injustice
Mae'r clwb wedi penderfynu lansio apêl i godi arian i'w galluogi i fynd â'u hachos at y Pwyllgor Cymodi. Bydd cefnogwyr Porthmadog a gwir gefnogwyr ym mhob man yn teimlo'n flin iawn ac yn rhwystredig yn dilyn penderfyniad Pwyllgor Apêl y Gymdeithas Bêl Droed. Mae'n benderfyniad sydd yn mynd yn erbyn synnwyr cyffredin a chyfiawnder naturiol. Yr unig lwybr sydd yn agor i CPD Porthmadog ydy drwy'r pwyllgor cymodi. Er mwyn mynd ar hyd y llwybr yma, bydd rhaid talu ffi o £1,462.90 ac ar ben hynny, wrth gwrs, talu costau cyfreithiwr y clwb sef Nic Parry. Yn barod, mae'n rhaid talu ffein o £1,000 a chostau cyfreithiol y Gymdeithas Bêl Droed sydd yn £3,000. Felly byddai'r costau i gyd yn dod i tua £7,000. Pe byddai'r apêl hon yn llwyddiannus, byddai'r costau yn lleihau. Os bydd yna ymateb da, wrth bob un sydd yn credu mewn tegwch, bydd yn bosib i'r clwb symud ymlaen. Felly mae hi i fyny i ni.
Pe byddai'r clwb yn methu symud ymlaen wedyn bydd y cyfraniadau yn cael eu dychwelyd.
Gellir anfon cyfraniadau at Gerallt Owen, 56 Maes Gerddi, Porthmadog. Neu os hoffech gysylltu â Gerallt -Ffôn 07920025338 Diolch am eich cefnogaeth.

Darllennwch farn cefnogwr ar benderfynniad yr FAW ar y dudalen erthyglau.

---
The club has decided to launch an Appeal for financial backing to enable it to move ahead to arbitration. All Porthmadog supporters and genuine football supporters everywhere will feel extremely angry and frustrated by an inexplicable FAW Appeals Committee decision. It is a decision which appears to fly in the face of both common sense and natural justice. The only avenue now open to Porthmadog FC is via arbitration. To follow this path will first of all involve paying an arbitration fee of £1,462.90 and on top of that the club would, of course, need to pay the costs of their legal representative Nic Parry. Already there is the fine of £1000 and FAW legal costs of £3000. The total cost to the club could therefore amount to £7,000. Of course should the appeal be successful then those costs could be reduced. If there is a good response from all who believe in fair play then the club can proceed. So it's up to us.
Should the club decide not to proceed, then any donations will be returned to the donor.
Donations can be sent to: Gerallt Owen, 56 Maes Gerddi, Porthmadog or if you wish to contact Gerallt Tel: 07920025338. Thanks for your support.

Read a fan's view on the FAW's decision on the articles page.
---
01/04/07
A fydd y cymodwr yn 'annibynnol'? / Will the arbitrator be 'independent'?
Yn dilyn cyfarfod brys o'r Bwrdd Rheoli ar ddydd Sul Ebill 1af, mae Clwb Pêl-droed Porthmadog yn ystyried mynd i drafodaethau cymodi pellach ynglŷn â phenderfyniad panel apelio Cymdeithas Bêl-droed Cymru ddydd Gwener diwethaf. Prif bryderon y Cyfarwyddwyr yw:
O dan reol 27.3, Ysgrifennydd Cyffredinol Cymdeithas Bêl-droed Cymru fydd yn dewis y cymodwr annibynnol – ffaith yr ydym yn teimlo a fydd yn gwneud pethau yn anodd iawn i ni gan nad yw'n ddigon annibynnol



Y ffactor arall yw'r gost debygol o fynd â'r mater ymhellach, oherwydd costau annerbyniol ac afresymol cyfreithwyr Cymdeithas Bêl-droed Cymru yn ystod yr apêl gyntaf – mae'n rhaid i Borthmadog dalu £3,000 o'r gost lawn o £4,000. Mae CPD Porthmadog yn gofyn am gofnodion llawn o gyfarfod dydd Gwener, yn ogystal ac esboniad llawn o gostau cyfreithiol y Gymdeithas Bêl-droed.
Ar ôl y cyfarfod, dywedodd ysgrifennydd CPD Porthmadog, Gerallt Owen, "Rydym yn cymryd y mater yma yn ddifrifol iawn oherwydd yr oblygiadau difrifol a phell-gyrhaeddol y penderfyniad ar y clwb a phob clwb arall yng Nghymru".
Disgwylir cyfarfodydd pellach yr wythnos hon er mwyn cael parhau â'r trafod ar ôl derbyn cyngor cyfreithiol.


---

Following an emergency Board Meeting on Sunday April 1st, Porthmadog Football Club are considering going to arbitration against the decision of the FAW Appeals panel last Friday. The Directors main concerns are:
Further to rule 27.3 it is the General Secretary of the FAW who selects the independent arbitrator, a fact which we feel will weight heavily against us and is not sufficiently independent



The other factor is the potential expense of pursuing the matter given the unreasonable and extortionate costs of the FAW Solicitors in the first appeal which was £4,000 of which Porthmadog have to pay £3,000. Porthmadog FC are requesting a full transcript of last Friday's hearing and a full break down of the FAW legal costs.
Porthmadog FC Secretary Gerallt Owen commented after the meeting "We take this matter extremely seriously due to the serious and far reaching implications of the judgement for ourselves and for all other clubs in Wales".
Further meetings are planned this week to discuss the matter further after receiving legal advice.
---
01/04/07
Rhagolwg: Cei Conna / Preview: Connah's Quay

Mae penderfyniad gwarthus y Gymdeithas Bêl droed i docio tri phwynt yn golygu fod mwy eto o arwyddocâd i weddill y rhaglen gêmau. Cynt roeddem yn poeni ynglŷn â sicrhau lle yng Nghwpan y BBC ond erbyn hyn ein poen ydy aros yn UGC. Ar ôl dweud hynny, mae gennym gêmau mewn llaw a dim ond inni ddal i godi pwyntiau ni ddylai sicrhau safle 11eg fod tu hwnt inni. Nos Fawrth byddwn yn wynebu Cei Conna tîm sydd wedi bod ar rediad da ac heb golli yn eu chwe gêm ddiwethaf. Maent wedi cael tymor rhagorol gyda chwaraewyr ifanc fel Adam Dickenson yn denu sylw Royal Antwerp, y clwb o wlad Belg. Hefyd mae Tommy Mutton, y prif sgoriwr, wedi bod yn chwarae'n dda ac mae angen cadw golwg allan am giciau rhydd peryglus Marc Limbert. Cafwyd perfformiad da gan Porthmadog ar Ffordd Ffarar ac roeddent yn anlwcus iawn i beidio cael o leiaf un pwynt. Mae angen cefnogaeth ar yr hogiau nos Fawrth felly dewch allan a da chi peidiwch a gadael i'r Gymdeithas Bêl droed eich sathru dan draed.

The disgraceful FAW decision to dock three points means that the fixture programme to the end of the season has assumed even greater significance. Whereas previously we were concerned about or Premier Cup place, we now have to worry about our survival in the WPL. Having said that we do have games in hand and, as long as we keep picking up points, should still gain that 11th spot. On Tuesday we take on Connah's Quay at the Traeth with the Deeside club on a run of six games without defeat. They have enjoyed a successful season and players like Adam Dickenson have sprung to prominence having been on trial at the Belgian club Royal Antwerp. The ever dangerous Tommy Mutton has also been on a good run of form and we must always be prepared for Marc Limbert a free kick specialist. Port showed good form last time out at Bangor where they were very unlucky not to come away with at least a point. Come out in strength on Tuesday, the boys need your support more than ever. Don't let the FAW grind you down.
---
31/03/07
Gwaharddiad Rhys / Rhys's Suspension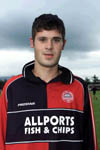 Mae amddiffynnwr canol Port, Rhys Roberts, wedi cael gwaharddiad o ddwy gêm yn dilyn y cerdyn coch a dderbyniodd gan y dyfarnwr Maldwyn Williams mewn amgylchiadau dadleuol iawn ar Ffordd Ffarar nos Wener. Golyga hyn y bydd yn methu'r gêm adref yn erbyn Cei Conna a'r gêm ganlynol yn erbyn Caersws . Fel arfer, mae cerdyn goch syth yn golygu gwaharddiad o dair gêm, felly mae'n rhyw ychydig o ollyngdod gyda gemau sy mor bwysig i sicrhau lle yng Nghwpan y BBC yn eu wynebu. Siom ydy colli allan fel hyn a fo heb fethu gêm y tymor hwn. Mae ei bartneriaeth gyda Ryan Davies wedi bod yn un o lwyddiannau mawr y tymor.

Port central defender, Rhys Roberts, who was red carded in highly controversial circumstances at Farrar Road last Friday by referee Maldwyn Williams has received a two match ban. This means that he will miss the next home game against Connah's Quay and the following game at Caersws. A straight red card usually results in a three match ban so there is some slight relief there with vital games for Premier Cup qualification coming up. It is very disappointing, however, that an ever present with such a good disciplinary record should miss out in this way. His partnership with Ryan Davies, at the heart of the defence, has been one of the outstanding features of Porthmadog's season.
---
30/03/07
Penderfyniad anhygoel arall gan yr FAW / Another astonishing decision by the FAW
Yn dilyn penderfyniad anhygoel arall gan Gymdeithas Bêl-droed Cymru yn gynharach y p'nawn yma dyma ddatganiad swyddogol y clwb:

Penderfyniad Panel Apêl Cymdeithas Bêl-droed Cymru 30/3/07
1. dirwy o £1,000 – Penderyniad yn sefyll
2. dirwy wedi'i gohirio o £12,200 – Gwirdroi'r penderfyniad
3. Colli 3 pwynt cynghrair – Penderfyniad yn sefyll
4. Cyfraniad o £3,000 tuag at gostau ymateb

Mae'r clwb wedi cadarnhau y bydd yn apelio yn erbyn y penderfyniad


---

Following another astonishing decision by the Football Association of Wales earlier this afternoon here's the club's official statement:

Decision of FAW Appeal Panel 30/3/07
1. £1,000 fine – Upheld
2. £12,200 suspended fine – Overturned
3. Deduction of 3 points – Upheld
4. Contribution of £3,000 towards respondent's costs

The club confirmed it would be appealing the decision.
---
27/03/07
Iwan Williams yn marathon Llundain / Iwan Williams in the London marathon

Bydd ymwelwyr cyson â tudalen-wê CPD Porthmadog yn gwybod fod Iwan Williams, sy'n chwarae i'r ail-dîm, yn gobeithio cwblhau marathon Llundain er mwyn casglu arian ar gyfer Plant gyda Leukaemia. Os ydych am gefnogi Iwan a chyfannu ar yr achos da yma, ymwelwch â safle gwê Iwan: www.bmycharity.com/V2/iwanwilliamsportfc. Pob lwc Iwan!

Regular visitors to Porthmadog FC's website will know that Iwan Williams, who plays for the reserves, is hoping to complete the London marathon to rais money for Children with Leukaemia. If you wish to support Iwan and contribute towards this good cause, visit Iwan's website: www.bmycharity.com/V2/iwanwilliamsportfc. Good luck Iwan!
---
26/03/07
Osian Roberts yn cymryd golwg ar bethau / Osian Roberts gives an insight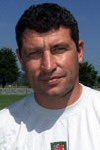 Rŵan a fo bellach â'r cyfrifoldeb am glwb Y Traeth cymrodd Osian Roberts ychydig o amser i fyfyrio am y gorffennol cyn edrych at ddyfodol CPD Porthmadog . Cynt roedd wedi treulio sawl blwyddyn yn edrych ar chwaraewyr Academi yn Lloegr yn ei rôl fel Hyfforddwr Ieuenctid Cenedlaethol Cymru. Er ei fod yn cael hyn yn brofiad gwerth chweil, gweld chwaraewyr fel Bellamy, Gabbidon, Earnshaw a Collins yn chwarae i'w dimau, roedd yn methu'r profiad o hyfforddi yn rheolaidd o wythnos i wythnos.
Roedd yn syndod i Roberts, a fo yn Swyddog Datblygu Pêl droed dros Ynys Môn, na chafodd ei wahodd i gynorthwyo un o brif glybiau'r ynys, er fod yna wahoddiadau wedi dod ers iddo ymuno a Port.
"Pan ofynnodd Viv i mi ymuno a fo roedd yn rhaid imi dderbyn y sialens. Byddaf o hyd yn ddiolchgar i Viv am roi'r cyfle hwn imi ac rwy'n teimlo ein bod wedi gweithio'n dda efo'n gilydd. Mater o ysgubo popeth o'n blaenau oedd hi yn y Cymru Alliance cyn sefydlu ein hunain yn gyfforddus yng nghanol y tabl ac yn dîm sydd yn medru curo unrhyw un yn UGC ar ein dydd."
"Roedd yn hynod o bwysig bod Viv yn aros gyda ni yn y clwb. Ydan rydan ni wedi newid ychydig ar rôl y ddau ohonom ond gyda lwc medrwn ddatblygu a symud ymlaen.. Fy mlaenoriaeth cyntaf ydy cael pethau'n barod at y tymor nesaf a gwneud yn siŵr fod yna welliant ar berfformiadau'r tymor yma. Er ein bod wedi gwneud yn reit dda yn y cwpanau yn erbyn ceffylau blaen y gynghrair, yn bendant nid yw'n perfformiadau cynghrair wedi bod yn ddigon da, a bydd rhaid iddynt wella tymor nesaf."

Now in sole charge at The Traeth, Osian Roberts took time out to reflect on the past before looking to the future at Porthmadog Football Club. Previously he had spent several years going to watch Academy players in England in his role as Wales' National Youth Coach. Even though he found it very rewarding to see players like Bellamy, Gabbidon, Earnshaw and Collins come through his teams, he did miss the cutting edge of managing and coaching week in week out.
As Football Development Officer for Anglesey for over 10 years Roberts was surprised he was never invited to assist by any of the leading Clubs on the island, although offers have been received since he joined Port.
"When Viv asked me to join him I knew I had to take up the challenge. I will always be grateful to Viv for giving me this opportunity and I think we've done well together. We swept all before us at a canter in the Cymru Alliance a few years ago before establishing ourselves as a comfortable mid-table team who can beat anyone on our day in the Welsh Premier."
"It was really important to me that Viv stayed with us at the Club. Yes we've changed roles slightly but hopefully now we can move forward and progress. My first priority is getting things ready for next season and making sure we improve on the current campaign. Although I think we've done reasonably well in the Cups and against the top teams, I'm certainly not satisfied with our League form and we must do better next season."
---
26/03/07
Caniatâd cynllunio i'r 'Clubhouse' / Clubhouse receives Planning Consent

Mae'r clwb wedi derbyn caniatâd cynllunio llawn ar gyfer adeiladu 'Clubhouse' ar Y Traeth. Bu peth arafwch cyn derbyn y caniatâd oherwydd pryder Asiantaeth yr Amgylchedd ynglŷn â'r posibilrwydd o lifogydd. Yn dilyn trafodaethau rhwng yr Asiantaeth, Cyngor Gwynedd a penseiri'r clwb penderfynwyd codi llawr yr adeilad 600mm yn uwch i osgoi'r posibilrwydd o lifogydd. Bydd y newidiadau yma yn golygu adeiladu rampiau ar gyfer mynediad i'r adeilad a bydd hyn yn ychwanegu peth at y costau. Gall y gwaith gychwyn yn fuan unwaith i'r cynlluniau terfynol gael eu cwblhau.
Mae'r Gronfa Apêl wedi cyrraedd ychydig dros £2,300 a byddai'r clwb yn ddiolchgar am fwy o gyfraniadau gan fod pethau erbyn hyn yn symud yn eu blaen yn dda. Yn ogystal â chefnogaeth ariannol, byddai modd lleihau costau pe byddai cefnogwyr yn barod i wirfoddoli ar gyfer crefftau fel plastro, peintio, gwaith coed neu gwaith plymar. Efallai fod eraill yn barod i gyfrannu deunyddiau a fyddai eto yn lleihau costau'r gwaith. Os medrwch gyfrannu mewn unrhyw ffordd cysylltwch ag un o swyddogion y clwb. Rhagwelir y clubhouse yn cael ei ddefnyddio yn rheolaidd erbyn yr haf, ar gyfer amrywiol weithgareddau yn ogystal â defnydd ar ddiwrnod gêm.

Porthmadog F.C. has received full planning permission to build a clubhouse at the Traeth. Consent had been delayed due to Environment Agency concerns about possible flooding. Following consultations between the Agency, Gwynedd Council and club architects, it has been decided to raise the building 600 mm to avoid potential flooding. The changes will entail erecting ramps for access and will involve some extra costs. Plans can now be finalised so that work can commence in the very near future.
The Appeal Fund now stands at a little over £2,300 and further donations would be most welcome. In addition to financial support, costs could be reduced if some of the joinery, plastering, painting or plumbing could be carried out by club supporters. Others might wish to donate materials, which would further reduce costs to the club. Contact a club official if you are able to contribute in any way. It is envisaged that the clubhouse will be up and running by the summer and it is hoped that it will be an excellent venue for regular events in addition to its use on match days.
---
22/03/07
Ysgol Bêl Droed Y Pasg / Easter Soccer School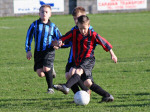 Mae CPD Porthmadog, mewn cydweithrediad â Chlwb Chwaraeon Madog, yn cynnal Ysgol Bêl droed yn ystod gwyliau'r Pasg. Croesawir pêl droedwyr ifanc yn hogiau a genethod rhwng 5 a 12 oed i ddod i'r ysgol bêl droed. Cynhelir yr hyfforddiant dros ddau ddiwrnod sef dydd Iau Ebrill 12fed a dydd Gwener Ebrill 13eg yng Nghlwb Chwaraeon Madog rhwng 10.30 am a 2.30pm. Bydd Academi CPD Porthmadog yn darparu hyfforddwyr ar gyfer yr ysgol gyda rhai o dîm cyntaf Porthmadog yn debygol o gynorthwyo gyda'r hyfforddiant. Dywedodd Gerallt Owen, gweinyddwr yr Academi "Cafwyd nifer o Ysgolion Pêl droed llwyddiannus yn y gorffennol a gobeithio y bydd yr Ysgol Basg hon hefyd yn boblogaidd gyda'r chwaraewyr ifanc." Ychwanegodd "Mae CPD Porthmadog yn awyddus i gynnal y math yma o weithgaredd er mwyn datblygu chwaraewyr ifanc yn ardal Porthmadog gan gynnig hyfforddiant o safon dda iddynt, a hynny o oed ifanc." Mae ffurflenni cais ar gael yn Siop Kaleidoscope, Chwaraeon Llŷn Sports a CPD Porthmadog. Am wybodaeth pellach, cysylltwch â Steven ar 01766 512055 neu 07824 393165.

Porthmadog Football Club, in association with Clwb Chwaraeon Madog, are holding a Soccer School during the Easter Holidays. Young footballers, both girls and boys, between the ages of 5 and 12 are welcome to attend the 2 day soccer school on Thursday April 12th and Friday April 13th at Clwb Chwaraeon Madog between 10.30am and 2.30pm. The Porthmadog FC Academy will provide coaches for the event with some of the Porthmadog first team likely to assist with coaching. Gerallt Owen, Porthmadog Academy Administrator, said "We have had highly successful Soccer Schools in the past and we hope the Easter school will prove equally popular with the youngsters". He added "Porthmadog Academy are keen to promote events like this to develop young players in the Porthmadog area and give them the chance to access good quality coaching from a young age". Application forms for the Soccer School are available from Kaleidoscope, Llŷn Sports and Porthmadog FC. Anyone wishing further information should call Steven on 01766 512055 or 07824 393165.
---
21/03/07
Ail-drefnu gemau diwedd tymor / End of season fixtures re-arranged
Heddiw cyhoeddodd Uwch-gynghrair Cymru galendr newydd ar gyfer gemau diwedd y tymor. Mae hyn yn cynnwys ymestyn y tymor o un wythnos yn dilyn gohiriadau diweddar oherwydd tywydd drwg. Bydd amryw o newidiadau i gemau nesaf Porthmadog - gan gynnwys symud y gêm gartref yn erbyn Caerfyrddin i ddydd Llun y Pasg (09/04/07) yn ogystal a thaith anodd i Lanelli ar Sadwrn olaf y tymor (28/04/07). Mae'r manylion llawn ar dudalen gemau.

The Welsh Premier today announced the new fixture calendar for the end of the season. This includes extending the season by a week as a result of recent bad weather. Porthmadog face a number of changes to their up-coming games - including moving the home game against Carmarthen to Easter Monday (09/04/07) as well as the difficult journey to Llanelli on the last Saturday of the season (28/04/07). All the details can be found on the fixtures page.
---
21/03/07
Rhagolwg: Bangor / Preview: Bangor City

Bydd Porthmadog yn ymweld â Ffordd Ffarar nos Wener ar gyfer y gêm UGC yn erbyn yr hen elyn Bangor. Ers i'r ddau glwb gyfarfod ddiwethaf, mae llawer wedi newid ar Ffordd Ffarar yn dilyn apwyntiad Steve Beasdale, cyn rheolwr Peterborough. Bu'r apwyntiad yn gatalydd i lawer o newidiadau gyda rhai ohonynt hefyd yn effeithio Port. Gwelwyd Clayton Blackmore yn trosglwyddo i'r Traeth gan ddod yn chwaraewr allweddol yng nghanol cae gyda Lee Webber, cyn gapten Porthmadog, yn symud i'r cyfeiriad arall ac yn dod yn gapten ar Fangor. Yn ogystal, ymunodd Carl Jones â Port er mwyn cael y cyfle i ddangos ei ddoniau. Bydd gan Carl Owen, Les Davies a Ryan Davies bwynt hefyd i brofi yn erbyn clwb eu tref enedigol. Bydd hyn i gyd yn ychwanegu sbeis at ornest sydd ddim fel arfer yn un i'r gwan galon. Er nad ydynt yn gyson yn eu chwarae, fel y dangoswyd wrth iddynt golli'n drwm yn erbyn Airbus, mae yna welliant pendant wedi bod ar Ffordd Ffarar o dan Bleasdale. Maent wedi ennill pedair o'u chwe gêm ddiwethaf. Bydd hon yn gêm anodd arall i Borthmadog wrth iddynt frwydro i gasglu pwyntiau cynghrair holl bwysig.

Porthmadog visit Farrar Road on Friday for the WPL game against old rivals Bangor City. Much has changed at Bangor since the two clubs last met with the appointment of Steve Beasdale, the former Peterborough Utd manager, being the catalyst for something of a revolution at Farrar Road. Some of these changes have also had an effect on Porthmadog. Clayton Blackmore has become a key player in midfield for Port while Lee Webber, the former Porthmadog skipper, has moved the other way and is now the Bangor captain. In addition, Carl Jones has also moved to Porthmadog where he is now being given an opportunity to show his undoubted skill. Carl Owen, Les Davies and Ryan Davies will also have a point to prove against their home town club. All of this adds spice to a contest which is rarely for the fainthearted. Though not consistent in their form, as the heavy defeat at Airbus showed, there has been a distinct improvement at Bangor under Beasdale and they have recorded four wins in their last six outings. This will be another tough challenge for Port as the battle to pick up vital league points continues.
---
20/03/07
Gêm Caerfyrddin i'w hadrefnu / Carmarthen game to be rearranged

Gan fod Caerfyrddin yn chwarae yn rownd cyn derfynol Cwpan Cymru ar 31 Mawrth, bydd rhaid adrefnu'r gêm oedd i fod i'w chwarae ar Y Traeth ar y dyddiad hwnnw. Mae'n bosib' bydd y newid yma yn arwain at newidiadau pellach i'r rhestr gêmau ac unwaith y byddant wedi'u penderfynu'n derfynol fe'i cewch ar y wefan.

As Carmarthen will be playing their Welsh Cup semi-final on 31 March, the game at the Traeth on that date will have to be re-scheduled. This could lead to further fixture changes and these changes will be announced on the website as soon as they have been finalised.
---
20/03/07
Dymuniadau Gorau Dilwyn / Best wishes Dilwyn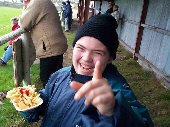 Dros y penwythnos roedd Dilwyn Parry yn dathlu ei ben-blwydd yn un ar hugain oed. Mae Dilwyn wedi cefnogi'r clwb yn selog ers cychwyn y gynghrair nôl yn 1992 pan oedd ond yn chwech oed. Ers y dyddiau hynny, mae wedi dod yn adnabyddus ar hyd a lled Cymru wrth iddo gefnogi'r clwb adre' ac ar eu teithiau i ffwrdd. Dilwyn mae'n siŵr ydy'r cefnogwr mwyaf enwog sydd yn y gynghrair yn cael ei gydnabod gan bawb o Ken McKenna i lawr! Pen blwydd hapus Dilwyn a dymuniadau gorau at y dyfodol.

Over the weekend Dilwyn Parry celebrated his twenty first birthday. Dilwyn has staunchly supported the club since the start of the WPL back in 1992 when he was a mere six year old. Since those days he has become well known throughout Wales at all the grounds of WPL clubs. He has supported the club home and away rarely missing a game and has become probably the most famous of WPL supporters -being acknowledged by all from Ken McKenna down! We hope Dilwyn had a very happy birthday and we wish him well for the future.
---
18/03/07
Viv ac Osian mewn rôl newydd / New roles for Viv and Osian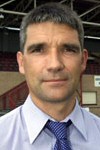 Cyhoeddodd Porthmadog newidiadau yn strwythur rheolaethol y clwb. Mae'r newidiadau yn dilyn trafodaethau rhwng y cyd reolwyr, Viv Williams ac Osian Roberts, y cadeirydd Phil Jones a'r bwrdd. Bydd y newidiadau yn golygu fod Osian Roberts yn dod yn rheolwr y clwb a Viv Williams yn gweithredu fel rheolwr cynorthwyol. Cyn i neb neidio i unrhyw gasgliadau byrbwyll, mae Viv yn pwysleisio, "Fy mhenderfyniad i ydy hwn a does dim wedi digwydd yn yr wythnosau diwethaf, dim ffrae a dim anghytuno. Rwy'n awyddus iawn i aros gyda'r clwb ond yn teimlo ar ôl saith mlynedd fel rheolwr ac wedyn fel cyd rheolwr fod yr amser yn addas i gael newid. Prin wnaiff y cefnogwyr sylwi fod yna newid, heblaw am rywfaint o newid mewn rôl a hefyd teitlau'r swyddi."
Efallai fod y newid yn syndod i gefnogwyr ond yn ffodus nid amser i ddechrau sgwennu teyrngedau ydy hwn ond rhaid dweud fod y saith mlynedd yma wedi trawsnewid y clwb gyda'r bartneriaeth bresennol yn sicrhau dyrchafiad i UGC ac wedyn yn sicrhau fod y clwb yn aros yn y gynghrair honno heb ormod o drafferth. Mae Viv yn ychwanegu "Rwy'n teimlo'n hollol fodlon fod y clwb yn nwylo diogel rheolwr rhagorol" ac yn mynd ymlaen i ddisgrifio Osian fel "....yr un gorau imi erioed arwyddo." Yn amlwg mae Viv yn edrych ymlaen at ei rôl newydd gan ddweud "Rwy'n cymryd cam yn ôl ac yn newid fy rôl o fewn y clwb a bydd hyn yn rhoi bywyd newydd imi a bydd hefyd yn fanteisiol i'r clwb."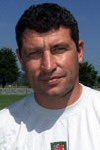 Porthmadog have announced a change in their management structure following discussions between the joint managers, Viv Williams and Osian Roberts, the chairman Phil Jones and the board. The changes will see Osian Roberts take over as the club manager with Viv Williams taking the role of assistant manager. Before anyone jumps to any hasty conclusions Viv stresses "This is my own decision, nothing has happened in the past couple of weeks, there has been no falling out or disagreement. I am keen to remain at the club but merely feel that after seven years as manager and then as joint manager the time is right for a change. As far as supporters will be concerned there will be little noticeable change other than a change of roles and a change of titles."
The decision might have caught supporters by surprise but it is fortunately not the time to be writing any final tributes though it must be said that those seven years transformed the club, with the present partnership regaining a place in the WPL and then going on maintain a safe and solid presence in that league. Viv adds "I am content in the knowledge that the club is safe in the hands of an excellent manager," and goes on to describe Osian as "…the best signing I ever made." Clearly looking forward to his new role he says "I am taking a step back and will take up a different role which I am sure will give me a new lease of life and will be of benefit to the club."
---