15/12/05
Goliau Dwbl / At the Double

Nododd Gerallt Owen yn ei sylwadau golygyddol at y rhaglen ar gyfer y gêm yn erbyn Cwmbrân mai dwy gôl Carl Owen, yn y gêm yn erbyn Caernarfon, oedd y tro cyntaf i chwaraewr o Port sgorio dwy gôl mewn gêm am bron i flwyddyn. Hwn oedd y tro cyntaf ers i Ritchie Owen sgorio dwy yn erbyn Caerfyrddin ar Ragfyr 4ydd 2004. A beth sydd wedi digwydd ers hynny tybed? Mae'n union fel aros am y bws diarhebol hwnnw am oes a wedyn mae tri yn dod efo'i gilydd!Yn erbyn Cwmbrân, sgoriodd Gareth Parry ddwy gôl a'r gêm nesaf yn erbyn Airbus roedd Carl Owen wrthi eto yn sgorio dwy! Ymchwil pellach i Gerallt felly. Pryd sgoriodd chwaraewr unigol o Port ddwy gôl mewn tair gêm yn olynol?

Gerallt Owen noted in his editorial comments in the match programme for the Cwmbran game that Carl Owen's two goals against Caernarfon were the first time for an individual player to score two goals in a game for almost a year. This was the first time since Ritchie Owen scored twice against Carmarthen on December 4th 2004. And what happens next I wonder? It's just like waiting for that proverbial bus for an age and then three turn up together! Against Cwmbran in the next game Gareth Parry scored two and then against Airbus Carl Owen was at it again scoring twice! Some further research for Gerallt therefore. When did an individual player last score two goals in a game in three successive matches?
---
15/12/05
Cynghrair dan-21: Port 0, Y Drenewydd 1 / Under 21 League: Port 0, Newtown 1

Nos Fawrth Rhagfyr 13
Cyn i amddiffyn Port gael eu traed o danynt, cafodd canlyniad y gêm hon ei phenderfynu gyda dim ond 30 eiliad wedi mynd, a hyn pan ddawnsiodd Andrew Webb, ymosodwr Y Drenewydd, rhwng y ddau amddiffynnwr canol i sgorio o bymtheg llathen. Gwnaeth Y Drenewydd, tîm trefnus a pheryglus, hefyd greu nifer o gyfleoedd eraill yn ystod gweddill y gêm ond rhwystrwyd hwy gan amddiffyn da ac un neu ddau o arbedion da gan y golwr Dylan Edwards. Yn ystod cyfnod o 25 munud naill ochr i'r hanner, daeth Port fwyfwy i'r gêm gan greu nifer fawr o gyfleoedd. Cafodd Ywain Gwynedd y ddau gyfle gorau tra methwyd cyfleoedd hefyd gan Mark Cook a Tom Roberts. Roedd yn gêm i ddifyrru'r cefnogwyr a gallai'r canlyniad fod wedi mynd o blaid y naill dîm neu'r llall. Unwaith eto roedd yn hysbyseb dda i'r gynghrair newydd dan 21. Chwaraewr y gêm i Port oedd Geraint Mitchell a oedd, unwaith eto, yn arbennig yn yr amddiffyn.

Tuesday December 13th
The result of this match was settled after only 30 seconds when the Porthmadog defence were caught cold by Newtown striker Andrew Webb who danced in between the two Porthmadog centre halves to score from 15 yards. Newtown who were well organised and dangerous throughout created a number of chances during the rest of the game, but there was some good defending and one or two good saves from Dylan Edwards. However Porthmadog did get into the match and during a 25 minute period either side of half time. Porthmadog created a host of chances with the best two falling to Ywain Gwynedd while others were missed by Mark Cook and Tom Hughes. This was an entertaining game, which could have gone either way but again it was a good advertisement for the newly formed under 21 league. Porthmadog Man of the Match: Geraint Mitchell (Outstanding in defence yet again).

Gerallt Owen
---
29/11/05
Cynghrair dan-21: Port 6, Cei Connah 3 / Under 21 League: Port 6, Connah's Quay 3.

Sicrhaodd Port eu buddugoliaeth gyntaf yn y gynghrair newydd mewn gêm fywiog gyda digon o goliau. Aeth Port ar y blaen ar ôl dau funud pan fanteisiodd Iestyn Woolaway ar y bêl rhydd ar ôl i Mark Cook saethu. Daeth yr ymwelwyr yn gyfartal ar ôl chwarter awr diolch i Chris Guy ond gwnaeth y fantais barhau ond am gwta funud cyn i Mark Cook roi Port yn ôl ar y blaen. Daeth yna gyfnod arall o ddwy gôl mewn munud cyn yr hanner pan sgoriodd James Gambino i Gei Conna ond gwnaeth Declan Williams ymateb yn syth i roi mantais o 3-2 i Port ar yr egwyl.
Yr ymwelwyr oedd yn rheoli pethau ar ddechrau'r ail hanner a daethant yn gyfartal ar ôl 61 munud wrth i David Bamford droi'n dda yn y bocs a churo Dylan Edwards. Pum munud yn ddiweddarach sgoriodd Gareth Caughter gyda pheniad o gic gornel. Arhosodd y sgôr yn 4-3 tan y munudau olaf pan sgoriodd y ddau flaenwr peryglus Iestyn Woolaway a Mark Cook ail gôl yr un. Gêm ddifyr gyda'r ddau dîm yn chwilio pob cyfle i sgorio. Roedd yna nifer o berfformiadau da i Port a neb gwell na Gavin Davies yng nghanol y cae.

Port secured their first win in the new league in an entertaining and free scoring game. Port went ahead after only two minutes when Iestyn Woolaway reacted quickly in the box after Mark Cook's shot had been blocked. The visitors drew level after 15 minutes thanks to a Chris Guy goal following a corner. The scores remained level for less than a minute when Mark Cook restored the home side's advantage. There was a second bout of tit for tat goal scoring just before half time when James Gambino's goal for the Nomads was cancelled out by Declan Williams' close range goal.
The Nomads controlled the early stages of the second half and drew level after 61 minutes when Dave Bamford turned well in the box to score. Five minutes later and Port were ahead again thanks to a Gareth Caughter header following a corner. The score remained at 4-3 until the last ten minutes when Iestyn Woolaway and Mark Cook, who had formed a dangerous partnership at the front for Port, each added their second goal. This was an enjoyable match with both sides intent on attack. There were several good Port performances and one who caught the eye was Gavin Davies in midfield.
---
29/11/05
Arian ar gael / Grant available

Mae swyddogion Port wedi symud yn gyflym er mwyn gwneud cais am gyfran o arian grant sydd ar gael i glybiau o Uwch Gynghrair Cymru. Derbyniodd y gynghrair swm o £300,000 oddi wrth y Gymdeithas Bêl Droed i wella caeau. Galwodd ysgrifennydd y gynghrair, John Deakin, ar glybiau i gyflwyno cynlluniau, ac mae'r swyddogion wedi cyflwyno tri chynnig. Bwriad yr arian, yn ôl John Deakin, ydy i ddod â chaeau i fyny i safonau Ewropeaidd. Hei lwc y cawn weld gwelliannau pellach ar y Traeth.

Port officials have moved quickly to make an application for a share of the grant aid which has been made available to clubs in the Welsh Premier. The league has received a sum of £300,000 from the FAW so that clubs can improve their grounds. The league secretary, John Deakin has called on clubs to put forward projects for consideration and Port officials have submitted three proposals. According to John Deakin, the money is intended to bring grounds up to European standards. With luck we hope to see further improvements at the Traeth.
---
28/11/05
Cofis yn cael eu Gwrthod / Cofis Rejected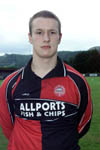 Cafodd cais Caernarfon i arwyddo Les Davies ei wrthod gan y chwaraewr sydd wedi datgan ei fod yn mwynhau chwarae i Port ac yn dymuno aros ar y Traeth. Bydd ei benderfyniad i aros, yn cael ei groesawu gan y cefnogwyr am ei fod eisoes wedi dod yn ffefryn ar y Traeth ac wedi gwneud cyfraniad allweddol i'r ddwy fuddugoliaeth ddiweddar yn erbyn Caernarfon a Chwmbrân. Mae'r canlyniadau yma wedi codi Port i'r 10fed safle yn y tabl.

Les Davies, who has been the subject of overtures by Caernarfon Town to team up with them, has turned down the offer declaring himself more than happy to remain with Port as he enjoys playing for the Traeth club. His decision to remain with Port will be greeted with delight by supporters as Les is already a firm favourite at the Traeth and has been in outstanding form especially in the victory against Caernarfon and in Saturday's win against Cwmbran Town. These results have lifted them into 10th position in the table.
---
27/11/05
Dan 21/Under 21

Dydd Mawrth nesaf, Tachwedd 29ain, bydd Port yn chwarae gêm dan 21 yn erbyn Cei Conna, ar y Traeth, gyda'r gic gyntaf am 7.30 p.m. Bydd Port yn gobeithio chwarae gêm gyflawn y tro yma ar ôl trychinebau y ddwy gêm ddiwethaf yn erbyn TNS a'r Trallwng pan 'roedd rhaid gohirio'r gêmau cyn cyrraedd hanner amser.

Next Tuesday, November 29th Port will play an under 21 fixture against Connah's Quay Nomads at Y Traeth with a 7.30 kick off. Port will be hoping for a full game following the disasters of the last two fixtures against TNS and Welshpool with both games being abandoned before half-time.
---
23/11/05
Port U21.....0 Trallwng/Welshpool U21.....1

(Gohiriwyd ar ôl 35 munud)


Tarodd melltith y Gynghrair dan 21 eto nos Fawrth wrth i ail gêm dan 21 Port yn olynol gael ei gohirio. Ar noson oer iawn ar y Traeth creodd Port dau gyfle cynnar da . Ar ôl 6 munud rhyddhawyd Mark Cook gan bêl dda o ganol cae, curodd amddiffynnwr ond aeth ei ergyd heibio i'r postyn. Saith munud yn ddiweddarach Cook a greodd y tro yma gan rhyddhau Jason Harvey ond aeth ei ergyd o'r chwith ar draws wyneb y gôl. Ar ôl 16 munud, ac yn erbyn rhediad y chwarae, cafodd y Trallwng anrheg o gôl. Rhuthrodd golwr Port, Dylan Edwards allan o'i gôl ond methodd ei gic yn llwyr gan roi cyfle hawdd i William Thomas sgorio o 8 llathen. Daeth y digwyddiad tyngedfennol ar ôl 35 munud gyda tacl fyrbwyll amddiffynnwr Port, Iwan Williams, yn torri coes Sam Griffiths, chwaraewr canol cae Y Trallwng. Galwyd am ambiwlans a cafodd y chwaraewr ei drin ar y cae am 25 munud cyn ei symud. Oherwydd hyn penderfynodd y dyfarnwr ohirio'r gêm. Pan ffoniodd swyddogion Port yr ysbyty heddiw (dydd Mercher) deellir fod Sam Griffiths wedi torri dau asgwrn yn ei goes. Dymuna chwaraewyr, swyddogion a chefnogwyr Port yn dda i'r chwaraewr ifanc hwn gan obeithio y bydd yn cael gwellhad llwyr a buan.

(Abandoned after 35 mins)
The curse of the Welsh Premier U21 League struck again on Tuesday night as Port's second consecutive under 21 match was abandoned. On a bitterly cold night at Y Traeth Porthmadog created two good early chances. On 6 minutes Mark Cook was released with a fine ball from midfield, he held off the defender but put his shot from 15 yards wide of the left hand post. Seven minutes later and Cook turned creator as his flick header released Jason Harvey but his shot from left of the goal flew across the face of goal. On 16 minutes against the run of play Welshpool were gifted a goal. Port goalkeeper Dylan Edwards raced from goal to clear a shot but completely missed the ball giving attacker William Thomas the simplest of tasks to score from 8 yards. The defining moment of the match occurred on 35 minutes when a rash challenge by Porthmadog defender Iwan Williams broke the leg of Welshpool midfielder Sam Griffiths. An ambulance was called and after a 25 minute delay to remove the injured Griffiths the match official decided to abandon the game. Porthmadog officials phoned Bangor hospital on Wednesday and it appears that Griffiths has broken two bones in his leg. Players, officials and supporters at Porthmadog wish this young player a speedy and complete recovery.

Gerallt Owen.
---
16/11/05
Academi/Academy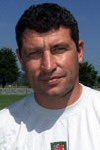 Roedd yn dda deall fod Academi pêl droed y clwb wedi ail ddechrau ar nos Lun, Tachwedd 7fed o dan y cyfarwyddwr newydd sef Osian Roberts cyd rheolwr Port. Dengys hyn yn glir fesur ymrwymiad y rheolwyr i'r clwb. Nid oes angen atgoffa pawb o gymwysterau a phrofiad Osian ym maes hyfforddi pêl droed. Roedd Osian wedi'i blesio gyda'r ymateb i'r sesiwn gyntaf gyda 23 o chwaraewyr ifanc yn bresennol ar noson o wynt mawr a glaw trwm. Bydd yna bump o sesiynau rhwng rŵan â'r Nadolig. Wedyn yn dilyn toriad, bydd yr Academi yn cychwyn eto yn Ionawr gan barhau tan yn hwyr yn y gwanwyn. Mae tri grŵp oed wedi'u cychwyn sef Dan 12, Dan 14 a Dan 16 a gobeithir dechrau fwy o grwpiau oed yn yr wythnosau nesaf. Os ydy'ch plentyn yn un o'r grwpiau oed uchod ac yn dymuno chwarae cysylltwch â Gerallt Owen, gweinyddwr yr academi, ar 07920025338 neu dowch i'r Clwb Chwaraeon ar nos Lun erbyn 7 o'r gloch.

It was good to see that the club's Academy restarting on Monday November 7th under the new academy director Osian Roberts, Port's joint manager. This clearly indicates his commitment to the club. No one needs to be reminded of Osian's qualifications and experience as a football coach. He was very pleased with the turnout at the first session with 23 young players present on a night of strong wind and heavy rain. There will be five more sessions before Christmas. Then following a break the academy will restart in January and continue until the late spring. Three age groups have started U12, U14 and U16 and it is hoped to extend this to more age groups during the next few weeks. If your child falls into the above age categories and wishes to play then contact Gerallt Owen, the academy administrator, on 07920025338 or come along to Clwb Chwaraeon on Monday by 7 p.m.
---
15/11/05
Dim Golau / Light Failure.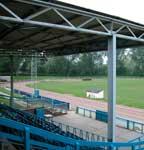 Bu achos arall o'r llifoleuadau'n methu ac yn effeithio ar un o dimau Port. Daeth atgofion o'r gêm ar y Traeth yn erbyn Caerfyrddin i'r meddwl wrth i'r golau fynd allan ar y tîm Dan 21 a oedd yn chwarae tîm Dan 21 TNS ar gae Parkhall yng Nghroesoswallt neithiwr. Gyda'r sgôr yn dal yn 0-0, bu'n rhaid gohirio'r gêm ar ôl chwarae am hanner awr yn unig. Roedd hyn er hynny yn ddigon o amser i Geraint Mitchell ddangos ei ddawn a chafodd ganmoliaeth am ei berfformiad gan Mike Smith (Citizen's Choice) a oedd yn bresennol yn y gêm. Nid oes unrhyw newyddion ar hyn o bryd ynglyn â threfniadau i ail chwarae'r gêm.

A case of floodlight failure came back to haunt a Port team once again last night. With the floodlight failure at the Traeth for the visit of Carmarthen still fresh in the memory, there was a repeat performance but this time at the Parkhall Ground in Oswestry where Port Under 21's were playing their TNS counterparts. Half an hour of the game had been played when the lights went out with the score remaining on 0-0. There was enough time however for Geraint Mitchell to create an impression earning the praise of Mike Smith (Citizen's Choice) who was at the match. There is no news as yet as to arrangements for re-playing the game.
---
08/11/05
Cae o dan ddwr / Waterlogged pitch.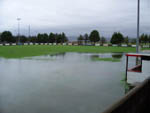 Bu'n rhaid gohirio'r gêm rhwng Port a Chaerfyrddin heddiw. Dyma'r ail dro y tymor hwn i gêm rhwng y clybiau hyn gael ei ohirio. Fel y gwelwch o'r lluniau hyn, mae cryn dipyn o ddwr ar draws rhan ganol y cae. Doedd dim dewis felly ond galw'r gêm i ffwrdd am 10 o'r gloch y bore 'ma, cyn i Gaerfyrddin ddechrau ar eu taith hir tua'r gogledd. Does dim dyddiad newydd wedi'i drefnu hyd yn hyn. Cliciwch ar y lluniau yma am luniau llawn.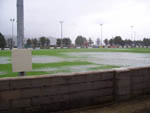 The match between Port and Carmarthen had to be called off today. This was the second time this season a match between these clubs has had to be postponed. As you can see from these photos, the pitch in front of the main stand is under water. There was therefore no alternative other than calling the match off this morning at 10am, before Carmarthen started on their long journey northwards. No new date has been set for this fixture. Click on these pictures for full pictures.


---
08/11/05
Gwelliannau i'r cyfleusterau / Continuing Improvements.

Glywsoch chi Dafydd Wyn yn cyhoeddi ddydd Sadwrn? Naddo ? Wel doeddech chi ddim yn gwrando oherwydd roedd ei lais a hefyd y gerddoriaeth yn hollol glir diolch i'r system sain newydd mae'r clwb wedi'i brynu. Fel y dywedodd Gerallt yn y rhaglen, yr hen system oedd yr un a ddefnyddiodd Noa i ddidoli'r anifeiliaid yn yr Arch ers talwm!
Datblygiad arall ydy'r un yn stafell y cyfarwyddwyr lle mae'r ystafell wedi'i haddasu i gynnwys bar a bydd hwn yn agored i gefnogwyr cyn gêmau, yn ystod hanner amser ac ar ôl y gêm. Er bod lle yn brin yno, bu nifer o gefnogwyr yn edrych ar gêm Cymru a Seland Newydd yno yn dilyn y gêm gwpan rhwng Port a Chaernarfon.
Llongyfarchiadau i'r Bwrdd am barhau â'r gwelliannau sydd eisoes yn cynnwys goleuadau o safon uwch, tarmac yn y maes parcio ac ail hadu'r cae dros yr haf.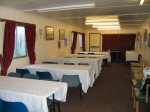 Did you hear Dafydd Wyn making his half –time announcements on Saturday? No? Well in that case you were not listening as his voice and the music came over loud and clear thanks to the new tannoy system that has been installed at the ground. As Gerallt said in the match programme, the old system was apparently the one used by Noah to arrange the animals on the Ark!
Another development has taken place in the Boardroom where a bar area has been formed and this new facility will be available to supporters before games, during half-time and after matches. Though space is limited, a number of supporters availed themselves of the new facilities to watch the Wales v New Zealand match following the cup match between Port and Caernarfon.
Congratulations to the board on the continuing development of facilities at the Traeth. The latest changes come on top of the recent developments which have brought improved floodlighting, tarmac in the car park and re-seeding the playing surface.
---
04/11/05
Colli'r Fantais Gynnar / Early goals bring little benefit.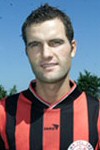 Mae tymor Port hyd yma yn dangos dwy fuddugoliaeth yn unig, un yn y gynghrair ac un yng Nghwpan Cymru. Yn ddigon rhyfedd, maent wedi mynd ar y blaen mewn wyth o'r un ar ddeg gêm yn y gynghrair a'r cwpanau eleni. Yng Nghwpan y Gynghrair yn erbyn Airbus ym mis Awst, rhoddodd Gareth Caughter hwy ar y blaen ar ôl 12 munud cyn iddynt golli'r gêm yn yr ail hanner. Digwyddodd yr un fath wedyn yn erbyn TNS yn y Gynghrair gyda gôl Carl Owen ar ôl deg munud yn rhoi'r cychwyn gorau posib iddynt a cafwyd perfformiad da a gêm gyfartal haeddiannol. Digwyddodd yr un fath mewn gêmau cynghrair wedyn yn erbyn Cefn, Bangor, Y Rhyl, Caersws ac hefyd ddydd Sadwrn diwethaf yn Y Drenewydd pan roddodd gôl Les Davies hwy ar y blaen. Yr unig un o'r gêmau hyn lle llwyddodd yr hogiau gadw'r fantais oedd yn erbyn Y Rhyl ar Y Traeth ar Fedi 25ain. Enillwyd y gêm yng Nghwpan Cymru yn erbyn Gresffordd ar ôl bod tu ôl am gyfnod tra yn y ddwy gêm gynghrair arall llwyddwyd i sgorio goliau hwyr yn erbyn Hwlffordd a Port Talbot gan ennill pwynt.
Ymddengys felly mai problem Port eleni ydy cadw'r fantais gan adeiladu ar y goliau cynnar.

The season so far shows two wins only, one in the league and one in the Welsh Cup. Surprisingly however Port have scored first in eight of their eleven games in league and cup competitions this season. In the League Cup against Airbus back in August, Gareth Caughter put them ahead after 12 minutes but they went on to lose the game in the second-half. The same thing happened against TNS in the league when Carl Owen's goal after 10 minutes gave them the best possible start but on this occasion an excellent performance earned them a deserved point. It happened again against Cefn and also against Bangor, Rhyl, Caersws and last Saturday against Newtown when Les Davies put them ahead. The only one of these games where Port turned out to be the winners was against Rhyl at the Traeth on September 25th. The game against Gresford in the Welsh Cup ended in a victory for Port after they had been behind for a period, whilst in the other two league games late goals were scored to earn valuable points against Port Talbot and Haverfordwest.
It therefore seems that Port's problem this season is maintaining their advantage and building on their early goals.
---
01/11/05
Dechrau am 2 o'r gloch / 2 o'clock kick off.

Dylai cefnogwyr nodi bydd y gêm yng Nghwpan Cymru ar y Traeth ddydd Sadwrn nesaf, Tachwedd 5ed, yn cychwyn am 2 o'r gloch ac nid yr 2.30 pm. arferol. Mae hyn ar gais y BBC gan mai'r gêm rhwng Port a Chaernarfon fydd prif gêm ar y Clwb Pêl Droed ar S4C nos Sadwrn. Bydd y rhaglen yn dechrau am 7.10 pm.
Digon o amser felly i ddod i wylio Port cyn dilyn yr wy (os oes rhaid!).

Supporters please note that Saturday's Welsh Cup tie (November 5th) against Caernarfon Town at the Traeth will kick off at 2.00 pm and not at the usual time of 2.30 pm. This is at the request of the BBC as the tie will be the main match on S4C's 'Y Clwb Pêl Droed' on Saturday evening commencing at 7.10pm.
Time enough therefore to support Port before chasing the egg (if you must!).
---
31/10/05
Cwpan Ieuenctid, Rownd 1: Trallwng 0:3 Port / Youth Cup, Round 1: Welshpool 0:3 Port.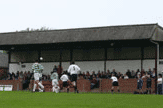 Cyfarfu'r ddau glwb yma yn yr un rownd o'r gystadleuaeth y llynedd. Y tro hwnnw roedd angen amser ychwanegol i guro tîm cystadleuol Y Trallwng ar Faes-y-Dre ond ddoe (Hydref 30) enillodd Port yn gymharol hawdd. Port oedd yn rheoli'r gêm gyda'i golwr Dylan Edwards yn gwneud fawr fwy na gwylio'r gêm. Tarodd Tom Hughes y postyn ar ôl 10 munud yn dilyn cyffyrddiad o dafliad hir. Saith munud yn ddiweddarach, daeth y gôl gyntaf. Ar ôl dipyn o flerwch yn amddiffyn Y Trallwng, daeth y bêl yn rhydd i chwaraewr y gêm Gavin Davies a sgoriodd hwnnw gydag ergyd lân o 10 llathen. Bu ond y dim i Mark Cook ddyblu'r fantais ddwy funud yn ddiweddarach yn dilyn rhediad unigol da ond arbedodd golwr Y Trallwng yn dda. Arhosodd y sgôr yn 1-0 tan yr hanner ond yn yr ail gyfnod tanlinellodd Port eu goruchafiaeth gyda dwy gôl arall. Daeth y cyntaf ar ôl awr diolch i'r dyfarnwr JB Roberts a rhoddodd gic o'r smotyn i Port fel canlyniad i dacl digon diniwed. Manteisiodd Tom Hughes ar y sefyllfa gan yrru'r golwr i'r cyfeiriad anghywir. Daeth y drydedd ar ôl 76 munud gyda symudiad da yn rhoi'r cyfle i'r eilydd Ben Chippendale i guro'r amddiffynnwr a sgorio o 12 llath. Yn munudau olaf y gêm, daeth rhyw ychydig o fywyd i chwarae'r Trallwng a churwyd Dylan Edwards ond arbedwyd wyneb wrth i'r bêl daro'r postyn chwith. Buddugoliaeth dda felly i'r hogiau ifanc gyda nifer ohonynt yn denu sylw –yn enwedig Gavin Davies, sydd ond yn un ar bymtheg, gyda'i basio graenus a Liam Watson a ddangosodd gryfder yn y cefn. Y llynedd cyrhaeddodd Port rownd yr wyth olaf cyn colli ar giciau o'r smotyn yn erbyn Casnewydd –enillwyr y gystadleuaeth. Gobeithio fedrwn wneud cam neu ddau yn bellach y tro yma.

These two teams met in the same round of the same competition last season. Then Porthmadog needed extra-time to get past an useful Welshpool side at Maes y Dre but yesterday (Sunday) Porthmadog cruised past a poor Welshpool side. It was Porthmadog who dominated matters with Porthmadog keeper Dylan Edwards a spectator for much of the game. Tom Hughes hit the post after only 10 minutes following a flick on from a long throw. The opening goal came seven minutes later. A bit of a scramble in the Welshpool and the ball fell for man of the match Gavin Davies to score with a crisp shot from 10 yards. Mark Cook almost doubled the advantage two minutes later when his fine run and shot forced the capable Welshpool keeper into a fine save. The score remained 1-0 until half-time, but Porthmadog underlined their ascendancy with two second half goals. The first on the hour was gifted by referee J.B. Roberts who awarded Porthmadog a penalty after an innocuous looking challenge in the box. Tom Hughes needed no second chance and scored sending the keeper the wrong way. The third came on 76 minutes with good build up setting up substitute Ben Chippendale to beat the last defender and fire home from 12 yards. In the dying seconds Welshpool did stir into life and Dylan Edwards was beaten but the left hand post saved his blushes. So a good win for the youngsters with a number of players catching the eye, midfielder Gavin Davies who is only 16 was outstanding with his passing and Liam Watson had a strong game in defence. Porthmadog reached the quarter finals last season going out to the eventual winners Newport County on penalties so let's hope they can go one better this season.

Gerallt Owen
---
25/10/05
Trallwng yn ymuno a'r Cynghrair dan-21 / Welshpool join under-21 League

Caniatawyd i'r Trallwng gael mynediad i adran y gogledd o'r Gynghrair Dan-21. Er nad oeddynt ymysg y clybiau gwreiddiol, byddant yn cael cymryd rhestr gemau Caernarfon sydd wedi tynnu allan o'r gynghrair. Roedd Port i chwarae Caernarfon ar Y Traeth ar Hydref 4ydd. Yn ôl John Deakin bydd yn bosib cwblhau'r gêmau na chwaraewyd erbyn y Nadolig. Bydd y clybiau eraill yn croesawu'r Trallwng gan y bydd yn dod â'r adran yn ôl i chwe clwb. Nid oes gan Port gêm i fod tan ddydd Llun, Tachwedd 14eg pan fyddant yn ymweld â TNS.

Welshpool Town have been given permission to make a late entry into the northern section of the Under-21 League. Though they were not among the original entries, they will take over the fixtures allocated to Caernarfon who have withdrawn from the league. Port were to have played Caernarfon at Y Traeth on October 4th. According to John Deakin, the small fixture backlog can be dealt with before Christmas. Clubs will no doubt welcome this move as it will bring the league up to six clubs. Port are not scheduled to play again until Monday, November 14th when they are due to visit TNS.
---
20/10/05
Newid i gêm ddydd Sadwrn / Saturday's fixture change

Bu newid i'r gêm oedd wedi'i threfnu ddydd Sadwrn yma ar y Traeth yn erbyn Caerfyrddin yn Uwch Gynghrair Cymru. Bydd gêm dydd Sadwrn (Hydref 22ain) nawr yn gêm Cwpan Genedlaethol yn erbyn yr un tîm, ac mae'r gêm Gynghrair wedi cael ei symud i nos Fawrth, Tachwedd 8fed. Methwyd chwarae'r gêm Cwpan Genedlaethol wreiddiol oherwydd diffyg ar y llif oleuadau.

There has been a change to Saturday's scheduled Welsh Premier fixture against Carmarthen Town at the Traeth. Saturday's game (October 22nd) will now be a Premier Cup tie between the same two clubs with the League fixture being switched to Tuesday, November 8th. The original Premier Cup fixture last week was called off due to floodlight failure.
---
19/10/05
Gêm gyntaf dan-21 / First Under-21match

Gôl ar ôl 88 munud a roddodd y fuddugoliaeth i Fangor pan chwaraeodd Port eu gêm gyntaf yn y Gynghrair dan 21 nos Lun ar Ffordd Ffarar. Gôl Mark Jones i'r tîm cartref oedd unig gôl y gêm. Cafodd y chwaraewr profiadol Chris McGinn (dde) ei gynnwys yn nhîm Bangor ac hefyd yr ymosodwr tîm cyntaf Michael Burke. Yn nhîm Port yr oedd Jason Harvey, a sgoriodd y gôl a roddodd gêm gyfartal i Port yn Hwlffordd ddydd Sadwrn. Cafwyd perfformiadau da gan Geraint Mitchell ac Iwan Thomas yn yr amddiffyn ac roedd cyflymder Ceri Roberts yn achosi problemau i amddiffyn Bangor ond, yn anffodus, ni lwyddodd i sgorio. Roedd presenoldeb Viv Williams a Peter Davenport ar Ffordd Ffarar yn dangos fod y ddau reolwr yn rhoi y pwysigrwydd mwyaf i gemau ar y lefel yma.
Tîm Port: Dylan Edwards, Arwel Evans, Steve Owen, Liam Watson,, Geraint Mitchell, Iwan Thomas, Jason Harvey, Matthew Webber, Ceri Roberts, Tom Hughes, Carwyn Edwards. Eilyddion: Iestyn Holloway, Iwan Williams, Steve Cope, Gary Hughes.

A goal after 88 minutes gave Bangor City the win when Port played their first Under-21 League game at Farrar Road on Monday. Included in the Bangor team were the experienced Chris McGinn (above) and first team forward Michael Burke. Jason Harvey, last Saturday's scorer in the game at Haverfordwest, was included in the Port line-up. Geraint Mitchell and Iwan Thomas performed well in the Port defence whilst the pace of Ceri Roberts gave the home defence problems but unfortunately he did not manage an all important goal. The presence of Viv Williams and Peter Davenport at Farrar Road indicates the importance that both managers attach to matches at this level.
Port Squad: Dylan Edwards, Arwel Evans, Steve Owen, Liam Watson,, Geraint Mitchell, Iwan Thomas, Jason Harvey, Matthew Webber, Ceri Roberts, Tom Hughes, Carwyn Edwards. Subs: Iestyn Holloway, Iwan Williams, Steve Cope, Gary Hughes.
---
19/10/05
Hwlffordd yn cwyno / Haverfordwest voice concern

Ymunodd Hwlffordd, trwy John Hughes golygydd eu rhaglen, â'r lleisiau a fynegodd siom gyda'r penderfyniad i chwarae gemau ar Hydref 8fed a hynny yn cystadlu â gêm Cymru yn erbyn Gogledd Iwerddon. Yn y rhaglen ddydd Sadwrn, dywedodd John Hughes:
"Dyma ein trydydd gêm adref yn olynol ac nid yw'r gefnogaeth wedi bod yn dda o gwbl. Mae tu hwnt imi pam oedd yn rhaid inni chwarae ein gêm Sadwrn diwethaf pan oedd Cymru yn chwarae Gogledd Iwerddon a honno yn fyw ar y teledu."
Mae'n amlwg felly, wrth i glybiau frwydro yn erbyn prinder arian, edrychant i gyfeiriad y rhai sydd mewn awdurdod i ddangos ychydig fwy o ddealltwriaeth o'r sefyllfa a wynebir gan glybiau.
Ta waith, cafodd John Deakin un peth o leiaf yn iawn Sadwrn diwethaf. Sylwais y canlynol yn ei ragolygon yn y 'Back Page': "Dyna y pedwerydd tro mewn chwe gêm i Port gael gêm gyfartal ac mae'n bosib iawn y cawn y bumed wrth deithio i'r de i gyfarfod Hwlffordd sydd wedi dod yn gyfartal pedair gwaith yn eu saith gêm hyd yn hyn."

Haverfordwest, through their programme editor, joined the voices expressing concern at the decision to go ahead with October 8th's programme of matches in direct competition with the game against Northern Ireland. In last Saturday's programme, John Hughes said:
"This is our third Saturday home game on the trot, and the attendances have not been very good at all really. It is beyond me why we had to play at home last Saturday when Wales were playing N. Ireland and that was televised live."
Clearly clubs are always aware of financial constraints upon them and they would welcome a little more understanding of their situation by the powers that be.
Talking about the powers that be -John Deakin did get one thing right last Saturday though for I notice in his 'Back Page' contribution he forecasts: "That was the fourth draw in six outings for Port and they may well get number five when they travel south to take on Haverfordwest County who have drawn four of their seven matches so far."
---
14/10/05
Ad-drefnu gêm dan-21 / Under-21 match re-scheduled.

Bydd y gêm dan-21 yn erbyn Bangor a oedd i'w chwarae wythnos diwethaf rwan yn cael ei chwarae nos Lun nesaf ar Ffordd Ffarar (Hydref 17eg) gyda'r gic gyntaf am 7.30 pm.

The under-21 game against Bangor City which was scheduled for last week will now be played next Monday evening (October 17th) at Farrar Road with a 7.30 pm. Kick off.





---
14/10/05
Diffyg Trefn y Gemau / Fixture Chaos.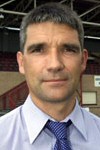 Mae Viv Williams yn dweud yn ei nodiadau yn rhaglen y gêm at ddydd Sadwrn:
"... mae'n wirion inni fod yn chwarae ar yr un amser ag y mae Cymru yn chwarae mewn gêm ragbrofol yng Nghwpan y Byd. Mae'n rhaid bod gêmau Cymru yn hysbys deunaw mis yn ôl ac ni ddylai gemau Uwch Gynghrair Cymru gael eu trefnu i gystadlu â hwy ond o'u cwmpas."
Cydymdeimlwn â Viv - nid yw'n ddigon da i'r rhai mewn awdurdod weld bai ar y clybiau am beidio ad-drefnu gemau gan eu bod yn hollol sicr na ddylai'r gêmau yma fod wedi'u trefnu ar ddyddiad pan oedd y tîm cenedlaethol yn chwarae. Dylid cofio fod y tymor i glybiau Uwch Gynghrair Cymru yn gorffen yn anhygoel o gynnar ar Ebrill 22ain ac nid oedd problem felly mewn sicrhau Sadwrn gwag ar Hydref 8fed. Cafodd Port gefnogaeth dda iawn eleni ac er ei fod yn syndod fod gymaint â 167 wedi dod i'r gêm 'roedd yn siom nad oedd yn bosib parhau'r rhediad da o dorfeydd. Wedi'r cyfan, torfeydd isel ydy gwendid pennaf cynghrair sydd yn ceisio datblygu a siom ydy mai trefniadaeth y gynghrair ei hun sy'n achosi'r broblem.
Bu cawlach efo dyddiadau'r gynghrair dan-21 a hyn yn ychwanegu at broblemau'r gynghrair newydd honno. Cafodd gêmau eu trefnu ar yr un noson â gêm Cymru yn erbyn Azerbaijan a hynny yn groes i gyfarwyddyd y Gymdeithas Bel droed. Trefniadaeth amaturaidd ydy hyn sydd yn gwneud y gynghrair yn gyff gwawd.

Viv Williams says in his programme notes before Saturday's game:
"… it is crazy that we should be playing at the same time as Wales are playing a World Cup qualifier. Surely the Wales fixtures were known 18 months ago and Welsh Premier matches should be scheduled around them and not in direct competition."
We share Viv's concerns - it really is not good enough for those in authority to blame the clubs for not re-scheduling games as they should clearly have not been fixed on a date when Wales were playing. After all the Welsh Premier season finishes incredibly early on April 22nd so it was perfectly possible to have a free Saturday on October 8th. Port have enjoyed excellent gates so far this season and though it was surprising to see as many as 167 at the game it is disappointing that the good run of attendances could not be continued. Poor attendances have been identified as a major weakness of the Welsh Premier as it tries to progress and it is disappointing when we shoot ourselves in the foot in this way.
A similar date muddle has added to the difficulties of the under-21 league with matches unbelievably scheduled for the same evening as the Wales v Azerbaijan game. Does this not contravene an FAW directive that games should not clash with home internationals? This is very amateurish organisation and makes our league a laughing stock.
---
14/10/05
Chwaraewyr Newydd / New Players.

Yn ogystal ag arwyddo Neil Thomas, a chwaraeodd ran allweddol yn ei gêm gyntaf i Port ddydd Sadwrn yn erbyn Caersws gan sgorio gôl bwysig a phasio yn gelfydd, mae dau chwaraewr arall wedi arwyddo i'r clwb yn ddiweddar. Ymddangosodd un o'r chwaraewyr yma sef Jason Harvey yn erbyn Caersws ddydd Sadwrn gan ddod o'r fainc a chyfrannu cic gornel arbennig i'r postyn pellaf ac arweiniodd hon at y drydedd gôl yn erbyn Caersws sef yr un gan Les Davies . Bu Jason allan yn yr Unol Daleithiau am dair blynedd gan ddychwelyd yn ddiweddar. Y chwaraewr arall ydy Michael Innes golwr o Gaergybi a fydd yn eilydd i Richard Harvey sydd wedi chwarae mor dda ers dychwelyd i'r clwb.

Further signings have been made in addition to Neil Thomas who played a key part in the draw against Caersws scoring the second goal and contributing some telling passes. One of these newcomers also showed up well on Saturday. Jason Harvey came from the bench to provide an excellent far post corner which lead to Les Davies' goal against Caersws. Prior to joining Port, Jason returned from a three year spell in the United States. The other player is goalkeeper Michael Innes from Holyhead who will provide cover for Richard Harvey who has been in such excellent form since returning to the club.
---
11/10/05
Gêm y Cwpan Cenedlaethol i Ffwrdd / Premier Cup match off.

Heno, gohiriwyd gêm gyntaf Port yn y Gwpan Cenedlaethol, a oedd i fod yn erbyn Caerfyrddin. Ond yn syndod i bawb, nid y glaw ofnadwy yn ystod y dydd a achosodd y gohiriad ond oherwydd i'r llifoleuadau fethu ar un ochr y cae! Nid yw'n sicr pryd y bydd y gêm yn cael ei aildrefnu.

Port's first ever game in the Premier Cup, which should have been against Carmarthen, was tonight cancelled. However, this was not due to the extremely heavy rain today but due to a floodlight failure on one side of the ground! It is not yet known when the game will be re-arranged for.
---
10/10/05
Gêm dan 21 Ffwrdd / Under 21 match off.

Bu'n rhaid gohirio'r ail gêm yn y gynghrair dan 21 sef honno a oedd i'w chwarae heno (Hydref 11eg) yn erbyn Bangor ar Ffordd Ffarar. Bydd Port yn chwarae Caerfyrddin yn y Gwpan Genedlaethol heno (Hydref 11eg am 7 o'r gloch) ac felly nid oedd yn bosib' codi tîm ar gyfer y gêm dan 21 hefyd ar yr un noson.

The under 21 match, due to be played at Ffarar Road against Bangor City tonight, (October 11th) has had to be postponed. This is the second under 21 league game that has had to be postponed and this time, because of the Premier Cup clash between Port and Carmarthen scheduled for the same evening, (October 11th k.o 7pm). Port have not been able to fulfil both fixtures on the same evening.
---
07/10/05
Neil Thomas yn arwyddo i Port / Port sign Neil Thomas.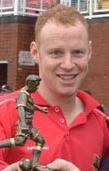 Mae Port wedi arwyddo chwaraewr canol cae Llanelli, Neil Thomas. Chwaraeodd Neil ran allweddol wrth i Lanelli osgoi mynd i lawr llynedd. Yn dilyn cyfnod diweddar allan yn Irac gyda'r RAF, mae Thomas wedi dychwelyd i Gymru. Bydd Thomas, sy'n dod yn wreiddiol o ardal Dyffryn Nantlle, yn ychwanegiad gwych i'r garfan. Llwyddodd i gadw ei le yn nhîm Llanelli ar ddechrau'r tymor er bod cymaint o chwaraewyr proffesiynol wedi'u harwyddo. Enillodd wobr chwaraewr y mis wrth chwarae i Lanelli fis Rhagfyr diwethaf. Mae wedi cynrychioli tîm yr RAF a'r Lluoedd Arfog. Mae'n debyg y bydd yn dechrau yn erbyn Caersws ddydd Sadwrn.

Port have signed Llanelli midfielder Neil Thomas. Neil played a vital part in Llanelli's escape from the drop last season. Following a spell out in Iraq with the RAF Thomas has returned to Wales. Thomas, who is originally from the Dyffryn Nantlle area will be an excellent addition to the squad. He managed to keep his place in the Llanelli line-up early in the season despite the arrival of many professional players. He picked up the player of the month award last December while at Llanelli. He has represented the RAF and Combined Forces football teams. He is expected to start against Caersws on Saturday.
---
04/10/05
Gol Les Davies yn erbyn TNS / Les Davies' goal against TNS.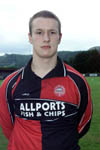 Llongyfarchiadau i Les Davies wedi i'w gôl yn erbyn TNS gael ei gynnwys ar restr fer o 6 yng nghystadleuaeth Gôl y Mis ar raglen 'Y Clwb Pel-droed' S4C. Malcolm Allen fydd yn penderfynu ar yr enillydd, ond byddai'n beth rhyfedd iawn os na fydd y gôl hon yn mynd ymlaen i gael ei hystyried yng nghystadleuaeth gôl y tymor.

Congratulations to Les Davies after his goal against TNS was included on the shortlist of 6 for the Goal of the Month competition on S4C's 'Y Clwb Pel-droed'. The winner will be chosen by Malcolm Allen, but it would be quite a shock if this goal does not go on to be considered in the competition for the goal of the season.



---