Adrefnwyd y gêm yn Penrhyncoch ar gyfer Sadwrn 15 Ebrill gyda'r gic gyntaf am 2.30 pm.

The postponed fixture at Penrhyncoch has been re-arranged for Saturday, 15 April with a 2.30pm kick off.
---

Mae Port yn y Gymuned yn cynnal Ysgolion Pêl-droed ar Y Traeth yn ystod gwyliau'r Pasg ar y dyddiadau canlynol:
Dydd Mawrth 11eg a Dydd Iau 13eg o Ebrill
Dydd Mawrth 18fed a Dydd Iau 20fed o Ebrill
10 am -1 pm £7 y person. Age 6-11

Dewch yn eich gwisg pêl-droed a dewch a dillad cynnes pecyn bwyd hefyd.
Bydd yr hyfforddiant gan staff cymwysiedig, proffesiynol.
I SICRHAU LLE (nifer yn gyfyngiedig)
GETHIN JONES 07974033552 neu GI-jones@hotmail.co.uk

Port FC in the Community will hold a Soccer School at the Traeth during the Easter holidays on the following dates:
Tuesday 11th and Thursday 13th of April.
Tuesday 18th and Thursday 20th of April.
10 am – 1pm £7 per person. Oed 6-11

Come in your football kit and bring warm clothing and a packed lunch.
Coaching will be by Professional, Qualified Coaches
TO BOOK (limited places)
GETHIN JONES 07974033552 or GI-jones@hotmail.co.uk
---

Os hoffech chi ychydig o ddarllen gwerthchweil, darllen sydd a CPD Porthmadog yn y canol, cliciwch ar y blog arbennig yma: gibbos92.wordpress.com Mae'n mynd a ni yn ôl i'r gêm ddarbi rhwng Port a Chaernarfon ym mis Awst. Yna cewch dipyn mwy na sylwadau am y gêm, hanes diwrnod allan i grwp o 'sboncwyr caeau' os ydy hynny'n addas am groundhopper! Clywn am daith o 120 o filltiroedd i weld gêm yn y gogledd orllewin, gan gymryd golwg ar y dref a'i hanes, y tafarnau a'r bwytai. Ceir sylwadau doniol, tafod yn y boch, am y lle ac am eu hunain, a byddwch wrth eich bodd yn darllen am y drafodaeth ynglyn â lle i fynd ar y dydd, gyda Gibbo yn dweud, "For me, there was only going to be one winner and that was Porthmadog". Neu eto "Y Traeth is a cracking little ground" a "Porthmadog are a great little club and definitely worth a visit if you are ever in that part of the world." Ond llai o'r bach plîs!
Mae yna oriel luniau dda iawn hefyd, gyda baner Seimon mewn dau ohonynt. Cawn syniad o'r hyn sy'n gyrru'r 'groundhopper' i deithio i bob cwr, a gorau oll dwedwn i os wnaiff mwy o ddilynwyr y gêm droi at bêl-droed go-iawn, a throi cefn ar gêm y sglein artiffisial, y prisiau afresymol a'r heip. Mwynhewch y darllen.

If you would like a good read with a CPD Porthmadog involvement try this really brilliant blog gibbos92.wordpress.com. The blog takes us back to the local derby between Port and Caernarfon at the Traeth last August. But it is far more than an account of a football match, it is a groundhopper's 120 mile day trip to north west Wales; takes a look at the town its pubs and its history. There are some great tongue in cheek comments and don't we just love it when Gibbo, following the 'where to go' debate says, "For me, there was only going to be one winner and that was Porthmadog". Or again, "Y Traeth is a cracking little ground" and "Porthmadog are a great little club and definitely worth a visit if you are ever in the part of the world." Hey less of the little!
There is a good picture gallery as well with even Simon's flag captured in two of them. We get a good insight into the way groundhoppers think and operate and indeed the more of us who turn to 'real' football the better before the polished, sanitised, expensive, over-glamourised version overtakes us all. Enjoy it.
---

Bu'n rhaid gohirio'r gêm, a oedd i'w chwarae heno yn Penrhynoch, oherwydd cyflwr Cae Baker yn dilyn y glaw trwm.

Tonight's game against Penrhyncoch has been postponed as the Cae Baker ground is waterlogged.
---

Deallwn bydd gwaith ar yr A 487 rhwng Porthmadog ac Aberystwyth yn effeithio taith chwaraewyr a chefnogwyr yn ôl o'r gêm rhwng Penrhyncoch a Port nos yfory (22 Mawrth).
Bydd y ffordd AR GAU yn Derwenlas, i'r de o Fachynlleth, rhwng 8 pm a 6.30 am y bore wedyn. Yn anffodus bydd y daith yn ôl yn cael ei dargyfeirio drwy Llangurig, Llanidloes, Caersws a Cemaes Road; taith o 96 milltir o Benrhyncoch i Borthmadog. Bydd hyn yn ychwanegu 40 milltir at y daith adref.
Dywedodd Craig hefyd fod yna farc cwestiwn ynglyn a chyflwr y cae, felly edrychwch ar y wefan a'r Trydar am y wybodaeth ddiweddaraf.

It has come to light that work being carried out on the A 487 road between Porthmadog and Aberystwyth could seriously affect the return journey of players and supporters from the Penrhyncoch v Porthmadog game tomorrow night (22 March)
The road will be CLOSED at Derwenlas south of Machynlleth at 8pm and remain closed until 6.30 am on the following morning. Unfortunately there is no reasonable diversion and the suggested route is via Llangurig, Llanidloes. Caersws and Cemaes Road, a journey of 96 miles from Penrhyncoch to Porthmadog. The detour will mean an additional 40 miles.
Craig reports that at the moment there is a question mark over the state of the pitch so please check on this website and on Twitter.
---

Mae'r Clwb am atgoffa y rhai hynny sydd yn gefnogol i'r ymgais i geisio sicrhau grantiau ar gyfer datblygu y Ganolfan Sgiliau at y Traeth bod angen iddynt arwyddo y ffurflen bwrpasol cyn gynted a phosib gan bod rhaid cyflwyno'r ceisiadau erbyn dyddiad olaf y mis hwn. Mae ffurflen ar gael oddiwrth dafyddwynjones@hotmail.co.yk neu ffonio 01766 76 2775 / 07810057444, gan rhai o'r gwirfoddolwyr neu Siop Kaleidoscope. Y mwyaf o enwau a gesglir y goreu!

The Club would like to remind those that support its attempts to secure grant aid towards developing the Skills Centre project that, if they haven't already done so, could they sign the relevant form. The closing date for applications is the 31st of this month. If you want a copy of the relevant form please contact dafyddwynjones@hotmail.co.uk or telephone 01766 76 2775 / 07810057444. It is also available from some of the Club's volunteers or at Kaleidoscope, Madoc Street. The more signatures the better!
---

Gydag ond pedair gêm o'r tymor yn weddill bydd Port yn teithio i Gresffordd pnawn Sadwrn. Mae'r clwb o Wrecsam wedi cael tymor da iawn ac yn y 3ydd safle yn y tabl. Ar ôl bod ar rhediad o chwe buddugoliaeth yn olynol mae Gresffordd wedi colli eu dwy gem ddiwethaf yn erbyn Caersws a Prestatyn. Ond ers i Steve Halliwell gymryd yr awenau yn Clappers Lane mae Gresffordd wedi bod dringo'r tabl ac wedi mwynhau tymor arbennig. Cychwynnodd Halliwell ei gyfnod fel rheolwr gyda dwy gêm ar y Traeth gyda Port yn ennill y gêm gwpan ond Gresffordd yn sicrhau 3 phwynt yn y gêm gynghrair, diolch i gôl hwyr Jack Challinor.
Gyda Port yn y 5ed safle a 5 pwynt tu ôl i Gresffordd, bydd angen iddynt godi eu gêm yn dilyn colli tair o'u pedair gêm ddiwethaf. Byddant yn awyddus i wneud yn iawn yn dilyn colli yn erbyn Caersws y Sadwrn diwethaf, wrth i'r clwb o'r canolbarth sgorio ddwywaith yn yr amser ychwanegol. Felly amdani Port!

With just four games of the season remaining Port travel to third placed Gresford Athletic on Saturday. Following a run of six straight wins Gresford have lost their last two matches against Caersws and Prestatyn. The Wrexham area club have, however, had a great season and have enjoyed a great run of form since Steve Halliwell was promoted to the role of manager. His first two games in charge were both at the Traeth back in November. Port were winners of the Welsh Cup tie on penalties but Gresford won the league encounter thanks to a late goal from Jack Challinor.
With Port in 5th place five points now separate the two clubs and to maintain a fifth place or better Port will need to shake off recent form of three league defeats in the last four games. They will be especially eager to put things right after seeing three points disappear in added time against Caersws. So C'mon Port!
---

Bydd BBC Radio Cymru yn recordio ei raglen hynod boblogaidd 'TALWRN y BEIRDD' yn y Clwb Cymdeithasol ar nos Fawrth 25ain o Ebrill. Bydd mynediad yn RHAD AC AM DDIM ond bwriadai'r clwb argraffu tocynnau maes o law er mwyn sicrhau bod pawb sydd a gwir ddiddordeb yn cael sedd.
Am fwy o wybodaeth dafyddwynjones@hotmail.co.uk neu ffonio 07810057444 / 01766 76 2775

BBC Radio Cymru will be recording one of its most popular programmes, "Talwrn y Beirdd", at the Traeth Clubhouse on Tuesday evening 25th. of April with free entry. However, the Club will be issuing tickets to make sure everyone with a real interest can book their seats. "Talwrn y Beirdd" is a contest between teams of bards and is unique to Wales. The series is one of the most popular on Welsh radio. At times It can be serious but mostly it is very light hearted covering a multitude of issues especially current events and affairs.
More information from dafyddwynjones@hotmail.co.uk or telephone 07810057444 / 01766 76 2775
---
Byddwn yn croesawu Caersws i'r Traeth pnawn Sadwrn. Yn dilyn y gêm hon, does ond un gêm arall ar ôl ar Y Traeth y tymor hwn. Fel bob amser, byddwn yn disgwyl gêm gystadleuol. Mae'r ddau glwb eisoes wedi cyfarfod ddwywaith, gan sicrhau buddugoliaeth yr un. Enillodd Port yn gyfforddus o 4-0 yng nghwpan Cymru gyda'r Sws yn talu'r pwyth yn ôl ar Y Rec o 3-1.
Roedd gan Caersws gêm yng nghanol wythnos, yn colli gartref o 3-0 yn erbyn Penrhyncoch ac yn gorffen y gêm gyda 9 chwaraewr yn unig yn dal ar y cae. Cafodd Will Thomas a Paul Grant gardiau coch. Bu Caersws ar rediad anodd o gemau yn ddiweddar yn chwarae'r tri uchaf yn y gynghrair; yn colli mewn brwydrau agos yn erbyn Prestatyn a Caernarfon ond, yn curo Gresffordd o 5-3. I danlinellu anghysondeb Caersws y tymor hwn, collwyd yn Rhuthun o 6-1.
Cymysg bu canlyniadau diweddar Port hefyd. Cafwyd perfformiad amddiffynnol cry' yng Nghaergybi ond methu creu fawr ddim ym mhen arall y cae. Gyda 5 gêm yn weddill rhaid edrych i glosio at Fflint a Gresfordd gan gadw'r pwysau ar Gresffordd, ein gwrthwynebwyr y Sadwrn nesaf.
Erbyn hyn mae Gareth Jones Evans wedi derbyn llaw driniaeth i'w droed. Dymunwn yn dda iddo, gan edrych ymlaen at ei weld yn ôl ar ddechrau'r tymor nesaf. C'mon Port!

Caersws were in league action in midweek going down 3-0 at home to mid-Wales rivals Penrhyncoch and had just 9 players on the pitch at the end of the 90 minutes. Both Will Thomas and Paul Grant received their marching orders. Our opponents have had a tough run of fixtures recently, playing the top three in the league; going down in close games to Prestatyn and Caernarfon but but gaining a good 5-3 win at Gresford. Underlining the inconsistency of Sws performances they went down 6-1 at Ruthin.
Port's recent form has also been very mixed. There was a good defensive performance at Holyhead in the League Cup but few chances were created at the other end. With 5 games left Port will be looking to close the gap on the two clubs above them and a win will put pressure on 3rd placed Gresford who will be our opponents next weekend.
We wish Gareth Jones Evans a good recovery following his operation for a long term ankle injury and look forward to seeing him back in top form next season. C'mon Port!
We welcome Caersws to the Traeth on Saturday for a league fixture. After this game we have just one fixture remaining at the Traeth before the curtain comes down for another season. The old rivals from Welsh Prem days always provide a competitive game. The two clubs have already met twice this season, sharing the spoils. Port were comfortable 4-0 winners in the Welsh Cup tie at the Traeth with the Sws winners at the Rec by 3-1.
---

Ers ei agor ddiwedd mis Medi llynedd mae'r Ganolfan Sgiliau ar y Traeth wedi mwy na ennill ei phlwy fel gwasanaeth hyfforddi ar gyfer y gymuned. Cynhaliwyd tri cwrs Technoleg Gwybodaeth llwyddiannus rhwng dechrau Hydref a'r Nadolig llynedd a'r un yw'r sefyllfa ers ail ddechrau'r rhaglen ym mis Ionawr. Bellach ychwanegwyd pedwerydd cwrs ar fore Llun. Mae 43 o bobl wedi cymryd y cyfle i ddatblygu eu sgiliau technegol. Yn ogystal, mae Addysg Oedolion Cymru (Cymdeithas Addysg y Gweithwyr cynt) yn rhedeg cwrs 10 wythnos sydd yn helpu pobl diwaith i ddatblygu eu sgiliau er mwyn gwella eu siawns o sicrhau swydd. Mynychir y cwrs gan 11 o bobol.
Mae Cyngor Ar Bopeth yn cynnig cyngor amrywiol a chyfrinachol ar pob math o bynciau pob bore Mercher.
Ar y 31ain o Fawrth cynhelir cwrs un dydd i fusnesau ar ddefnyddio y cyfryngau cymdeithasol i farchnata eu gwasanaeth a'u nwyddau a'r gobaith yw y bydd yn un o nifer o gyrsiau caiff eu darparu ar gyfer busnesau lleol. Mae'r cwrs a gynhelir at y 31ain o Fawrth eisoes wedi ei lenwi.
Yn sgîl y llwyddiant hwn bwriadai'r Clwb yn awr gyflwyno cais am grantiau ar gyfer helpu datblygu y gwasanaeth a'r arlwy dros y blynyddoedd nesaf gyda'r nod o helpu cyn gymaint a phosib o bobl leol i ddatblygu eu sgiliau a gwella eu cyfleoedd gyrfaol. Ond os am lwyddo bydd angen cefnogaeth ein cefnogwyr ac eraill yn yr ardal. I'r perwyl hwn, paratowyd ffurflen arbennig a gofynir i'r rhai sydd yn awyddus i gefnogi'r fenter, yn ogystal a'i teuluoedd a'u ffrindiau, i arwyddo honno. Caiff hon ei ddosbarthu yn ystod ein gêm yn erbyn Caersws ddydd Sadwrn gan rhai o wirfoddolwyr y clwb, mewn siopau lleol ac mae ar gael hefyd yn electroneg oddiwrth dafyddwynjones@hotmail.co.uk 01766 76 2775 neu 07810057444

Since it opened its doors last September the Traeth's Skill Centre is already proving in demand with local people. Three IT courses were held between the beginning of October and Christmas last year and the new programme, launched in January, is just as successful. Indeed another IT course has been added every Monday morning since last month. 43 have registered for these courses over the period. Adult Learning Wales (previously the Workers Education Association) has started a 10 week course to help unemployed people develop skills that can assist them in securing a job. 11 people are currently attending.
Citizen's Advice hold regular confidential advice sessions on a range of issues every Wednesday morning between 10am and 1pm.
Scheduled for the 31st. March is a one day course for businesses that want to promote their goods and services through using social media and is already filled. This, hopefully, will be the first of many opportunities aimed at local businesses.
As a consequence of this demand the Club is now preparing a grant application to help secure funding that will help to develop more comprehensive training services and target more people looking to enhance their career opportunities within the area that are looking to develop and enhance their skills. If it is to succeed then the help of its supporters is essential. A special form has been produced to show support for the project and all that supporters need to do is to sign their names and addresses and encourage friends and family to do so also. No other commitment! The forms will be available at the game against Caersws on Saturday from some of the Club's volunteers, local shops or electronically from dafyddwynjones@hotmail.co.uk 01766 76 2775 or 07810057444
---

Cyhoeddwyd bod agoriad swyddogol y Ganolfan Sgiliau wedi ei drefnu ar gyfer Gwener 21ain o Ebrill a hynny gan Osian Roberts, Dirprwy Reolwr Tim Peldroed Cenedlaethol Cymru. Yn wir penderfynodd y Clwb ei fod am enwi'r ganolfan ar ol ei gyn reolwr a 'Canolfan Sgiliau Osian Roberts' fydd yr enw newydd o hynny ymlaen.
Yn ôl y Cadeirydd, Phil Jones, "'Roedd cyfnod rheolaeth Osian a Viv Williams ar y Traeth yn un o'r rhai mwyaf cyffrous yn ein hanes. Ac fe sefydlwyd safonau a phroffesiynoldeb sydd wedi parhau hyd heddiw. 'Roedd yn amlwg adeg hynny y byddai Osian yn gwneud marc ar y byd pêl-droed yng Nghymru ac, bellach, mae ei enw i lawr mewn hanes ein cenedl".
Cyhoeddir mwy o wybodaeth am yr achlysur maes o law.

It has been announced that the official opening of the Skills Centre at the Traeth will be undertaken on Friday 21st April by Wales assistant manager, Osian Roberts, a former manager at the Club. In fact the Club has resolved that the centre be named 'The Osian Roberts Skills Centre'.
Chairman Phil Jones said, "Probably one of the most exciting periods in our history was when we had Osian and Viv Williams as a management team at the Club. A thoroughly professional attitude was established based on proper coaching and skills development. Gladly this attitude prevails today. It was obvious at that time that Osian would make a significant mark and contribution to football in Wales and he has secured his place in the history of our nation".
There will be more information available about the arrangements soon.
DWJ
---

Llongyfarchiadau mawr i Sion Bradley sydd wedi'i enwi yn Chwaraewr y Mis yn Nghynghrair Huws Gray am fis Chwefror.Noddwyr y wobr ydy Gwaith Brics Wrecsam. Cafwyd perfformiadau arbennig gan Sion yn ystod y mis gan ennill iddo y nifer fwyaf o enwebiadau chwaraewr. Mae'r chwaraewr ifanc o Flaenau Ffestiniog ar fenthyg o Fangor ac yn barod yn ffefryn ar Y Traeth gyda'i berfformiadau bywiog, dawnus. Dal Ati Sion!!
Yn anffodus oherwydd rheol bisâr sy'n rhwystro chwaraewyr sydd wedi chwarae yng Nghwpan Cynghrair y WPL, i chwarae yng Nghwpan Cynghrair Huws Gray, nid oedd Sion ar gael i chwarae yn y gêm yng Nghaergybi!!
Llongyfarchiadau hefyd i Steve Halliwell o Gresffordd yn Rheolwr y Mis. Mae ganddo record arbennig er cymryd yr awenau ar Clappers Lane.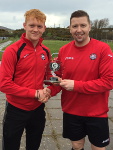 Congratulations to Sion Bradley, who is the Huws Gray Player of the Month for February. The award is sponsored by Wrexham Brickwork. Impressive performances from Sion have earned him the highest number of Man of the Match awards during the month. The young player from Blaenau Ffestiniog is currently on loan from Bangor City and has quickly made himself a Traeth favourite with his energetic and skilful performances. Keep up the good work Sion!
Unfortunately Sion was cup-tied and ruled out of the Legue Cup tie at Holyhead due to a bizarre ruling that players who have already played in the WPL League Cup cannot play inthe HGA League Cup!!
Well done also to Steve Halliwell of Gresford the Manager of the Month who has a remarkable record since taking over at Clappers Lane.
---

Pnawn Sadwrn bydd Port yn teithio i Gaergybi am y gêm yng Nghwpan Huws Gray. Bydd y gic gyntaf am 2 o'r gloch. Er yn cael tymor braidd yn anghyson; ar ei dydd pan yn chwarae adref maent yn wrthwynebwyr peryglus iawn. Dangoswyd hyn wrth iddynt guro Caernarfon o 3-1 yn ddiweddar er i'r Cofis fod heb eu golwr Alex Ramsey a yrrwyd o'r cae wedi 30 munud. Cafodd eu gêm yr wythnos ddiwethaf yng Nghaersws ei ohirio oherwydd cyflwr y cae. Port aeth a hi yn y ddwy gêm gynghrair rhwng y ddau glwb; 3-1 yng Nghaergybi a 3-0 ar Y Traeth. Ond gêm Gwpan fydd hon gyda'r ddau glwb yn awyddus i barhau â'u diddordeb yn y gystadleuaeth. Bydd yr enillwyr adref yn erbyn Caernarfon ar nos Fercher, 16 Mawrth.

On Saturday Port travel to Holyhead for a Huws Gray Cup tie which will kick off at 2pm. Hotspurs are having an inconsistent season but clearly on their day and on their own ground can be very difficult opponents. They proved this with a 3-1 win over Caernarfon a month ago though the Cofis had their keeper Alex Ramsey sent off after 30 minutes. Their fixture last weekend at Caersws was postponed due to a waterlogged ground. Port have won the two league encounters 3-1 at Holyhead and 3-0 at the Traeth. But on Saturday both clubs will be looking to continue their challenge for the Huws Gray Cup and look to extend interest in the current season The winners will entertain Caernarfon Town on Wednesday, 16 March.
---

Mae yna newyddion positif am y garfan wrth inni edrych ymlaen at y gêm yng Nghaergybi. Dywedodd Craig Papirnyk:
"Bydd Gareth Jones Evans yn dychwelyd i'r garfan gan fod ei law driniaeth wedi'i ohirio ac mae Ceri James a Joe Williams wedi gwella. Roedd Tom Clarke yn ymarfer neithiwr ac heb gael unrhyw broblem gyda'r anaf i linyn y gar. Bydd hyn yn cryfhau'r garfan gan gynnig gwell opsiynau. Ond mae Gruff John yn dal i wella ond heb fod yn ddigon ffit at bnawn Sadwrn.
"Cafwyd buddugoliaeth dda iawn wrth inni ddal ati a brwydro yn erbyn Y Fflint. Roeddwn yn falch iawn o'r 11eg chwaraewr ar gael pnawn Sadwrn. Yng Nghaergybi, sydd yn le digon anodd, bydd angen dangos yr un cymeriad gan rhoi'r cyfan. Mae'n gêm sydd yn rhoi y cyfle inni groesawu Caernarfon yn y rownd cynderfynol. I wneud hyn bydd angen cymryd y cam pwysig pnawn Sadwrn. Rym wedi bod yn edrych ymlaen at y gêm ers dipyn ac mae'r hogiau yn awchu am lwyddiant y tymor hwn. C'mon PORT!!"

We have some positive squad news ahead of Holyhead fixture. Craig Papirnyk reports:
"Gareth Jones-Evans will return as his ankle operation has been postponed, Ceri James and Joe Williams are over their illnesses and Tom Clarke trained last night with no problems following on from his Hamstring strain, this will strengthen the squad really well and give us good options. Gruff John however is still struggling and will not be available for selection.
"Saturday was a great win and battling performance at Flint, I was very proud of the X1 players we had available. This coming weekend we will need to show the same character and give it our all at Holyhead, never an easy place to go. It is a quarter final with an opportunity of hosting Caernarfon for the winner at home in the semi final, so we will give everything we have to make sure we get one step closer to the final this coming weekend. We have been looking forward to this game for some time and I know the lads are hungry for some success this season . COME ON PORT !"
---

Mae Craig Papirnyk wedi ymddiheurio i gefnogwyr fydd yn cael trafferth i deithio i Penrhyncoch, ar noson yng nghanol wythnos, yn dilyn adrefnu'r gêm o'r pnawn Sadwrn (25 Mawrth) i'r nos Fercher cynt, 22 Mawrth.
Eglurodd Craig, "Roedd y gêm wedi'i threfnu'n wreddiol ar yr un penwythnos a'r gêm gymhwyso Cwpan y Byd rhwng Iwerddon a Chymru ac mae nifer o chwaraewyr o'r ddau glwb yn bwriadu teithio i Ddulyn. Felly mae'r clybiau wedi cytuno i newid y dyddiad."

Craig Papirnyk has apologised to supporters for the change of date for the Penrhyncoch fixture. He explains,
"It was scheduled for the same weekend as Ireland v Wales World Cup Qualifier on Saturday 25th March and we have a few players going over as do Penrhyncoch so we have agreed to re-arrange to switch the fixture for March 22nd, a Wednesday evening.
"I'd like to apologise to the supporters for this change as I realise it will not be easy for most of you to travel late midweek and I understand it may cause difficulties for our faithful fans to attend."
---