Bydd Sion Tudor yn ymuno â Port wedi cyfnod llwyddianus yn rheoli Llanuwchllyn ym mhrif adran y WNL
Yn chwaraewr ifanc bu gyda Bala a Chorwen a chafodd gyfnod hefyd gyda Chaer. Oherwydd anafiadau daeth ei yrfa fel chwaraewr i ben pan oedd ond yn 26 oed ar ôl chwarae yn bennaf i Ail Dîm Y Bala Roedd un o'r tymhorau hyn o dan Guy Handscombe fel rheolwr a cafodd ei enwi yn chwaraewr y tymor ganddo! Cyn rhoi'r gorau i'w yrfa cafodd un tymor yn y Cymru Alliance gyda Rhuthun.
Yn dilyn hyn bu blynyddoed llwyddianus yn rheoli Ail Dîm Bala gyda Andrew Parry. Cafodd gyfle hefyd i weithio yn Academi'r Bala gan ennill ei fathodynnau hyfforddi. Mae ganddo dystysgrif hyfforddi 'B' ac yn ddiolchgar iawn i glwb Y Bala am y cyfle.
Ers 2014, a tan 2018, bu yn rheoli CPD Llanuwchllyn gan fynd â'r clwb i Brif Adran y WNL Yno bu'r clwb yn gystadleuol iawn gan ddod yn agos iawn at ddyrchafiad i'r Huws Gray Alliance. Mae'n gadael y clwb mewn sefyllfa gref.
Ond bellach meddai, "Rwy'n symud ymlaen gan edrych am sialens newydd gyda Porthmadog"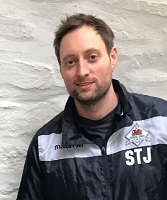 Sion Tudor joins Port following a very successful period managing CPD Llanuwchllynin the WNL Premier Division.
As a young player he represented Corwen and Bala and also spent two seasons with Chester City. Due to serious injury problems his playing career came to an end when he was 26 years old after mainly playing for Bala Town Reserves. One of these seasons was under Guy Handxconge as manager and Sion was named player of the season by Guy! Before his career ended however he had a season with Ruthin Town in the Cymru Alliance.
Following this he enjoyed several successful seasons managing Bala Town Reserves together with Andrew Parry. He also helped with the Academy at the club where he took the opportunity to work for his coaching badges and currently holds a 'B' Licence. Sion says that he will always be grateful to the Bala club for this opportunity.
From 2014 to the end of last season he managed CPD Llanuwchllyn, taking the club into the WNL Premier Division where they had some very competitive seasons, coming close to gaining promotion to the Huws Gray Alliamce. Sion leaves the club in a strong position.
But now he says," I move on and look forward to a new challenge with Porthmadog"
---

Yn dilyn dod a hyfforddwr newydd a golwr mae Craig wedi symud i gryfhau ei garfan ymhellach gan ddod â'r chwaraewr ifanc ochr chwith, Ryan Taylor sydd yn ymuno o Hotspyr Caergybi.
Isod gweler sylwadau Craig yn dilyn cwblhau arwyddo Ryan.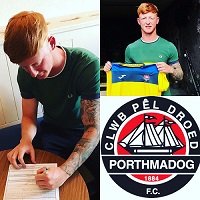 Having brought in a new coach and a goalkeeper Craig has now moved to further strengthen his squad bringing in Ryan Taylor a young left sided player who joins Port from Holyhead Hotspur.
Here are Craig's comments following the completion of the signing.

"I'm delighted that Ryan has joined the club, he is an energetic left sided player who wants to succeed in football. He's a winner and will bring more strength down our left hand side of the field.
"Ryan performed very well against us last season for Holyhead and I've seen him play in the past for Bodedern and I've always rated him as a player. He's a really exciting signing.
"Ryan has also travelled to New Zealand so he comes with quite a lot of playing experience and still at a young age. He's a great lad and will fit in very well in our squad. His pace , energy and quality will be a real threat for us this season.
"Welcome to Port Ry !"
---

Symudodd Craig Papirnyk yn sydyn i gael hyd i hyfforddwr newydd yn dilyn ymadawiad Mark Orme. Croeso i Sion Tudor cyn rheolwr gyda CPD Llanuwchyllyn, Isod gwelwn sylwadau Craig wrth groesawu Sion i'r clwb.

Craig Papirnyk has moved smartly to find a rep;lacement for coach Mark Orme. The club now extends a warm welcome to Sion Tudor who was manager at CPD Llanuwchllyn last season. Below are Craig's comments as he welcomes Sion to the club.

"I'm delighted to announce that we have managed to get Sion Tudor on board with the management team, Sion recently resigned as Manager at Llanuwchlyn where he has done a terrific job.
"I picked up the phone immediately after hearing the news of this and asked Sion about what was next for him. At the time he didn't really know as everything was raw but I know how popular and well respected he is, so for me there was no time to waste as others would be offering him opportunities at their clubs !
"Myself and Guy met Sion in person and went through everything about this club and our ambitions going forward, Sion was impressed and our ambitions met his with what he wants to achieve in football, which was great and he agreed to come on board.
"I've known Sion for many years and as a person he's a genuine , honest and top man and these are just some of the traits that I respect about him most, his footballing knowledge and own beliefs which are similar to mine and that will make his transition into our club a lot easier. He will be a positive impact to the dressing room, that I have no doubts about.
"Sion will fit right in just as Ormey did and bring more strength to our back room team which is more important than most realise, I'm looking forward to working with him , he will bring experience , a fresh voice and more importantly he's a born winner.
"Welcome to Port Tudor , looking forward to the season ahead."
---

Mae'r cylchgrawn 'Welsh Football' wedi enwi enillwyr eu 'Gwobrau Rhaglenni' am dymor 2017/18. Y newyddion da ydy fod rhaglen Port wedi'i henwi y gorau yn Nghynghrair Huws Gray. Dyma sylw'r beirniad:
"Porthmadog come clearly out on top of the Huws Gray Alliance issues I saw with Holyhead Hotspur and Holywell Town issues also appealing."
Llongyfarchiadau mawr i'r Golygydd, Rhydian Morgan, ar y llwyddiant yn ei dymor cyntaf yn y swydd. Mae'n werth nodi fod yna gystadleuaeth gref yn yr HGA, gyda nifer o glybiau yn cynhyrchu rhaglenni o safon.
Bu'n rhaid i Rhydian gynhyrchu nifer fwy na'r arfer o rhaglenni gan fod pob gêm Gwpan, heblaw am un, wedi bod yn gemau cartref. Hefyd cynhyrchwyd y rhaglen yn erbyn cefndir o ohiriadau diri -hunlle' i olygydd.
Llwyddodd Rhydian i oroesi hyn i gyd a chynhyrchu rhaglen o safon – tipyn o gamp.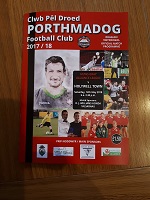 The 'Welsh Football' Magazine has named the winners in its Programme Awards for 2017/18. The Port programme has been named the best in the Huws Gray Alliance with the following judgement.
"Porthmadog come clearly out on top of the Huws Gray Alliance issues I saw with Holyhead Hotspur and Holywell Town issues also appealing."
Congratulations to programme editor Rhydian Morgan on this considerable achievement in his first season in the role. It is worth noting that the competition in the HGA is very strong with several clubs producing excellent programmes.
Rhydian has had to produce, what must be, a record number of programmes as all cup games, apart from one, were 'home draws'. The programme was also produced against a background of multiple postponements which added to the programme editor's nightmare.
Rhydian has survived all of this to produce an award winning programme -quite qn achievement.
---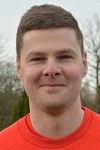 Yn anffodus bydd yr hyfforddwr Mark Orme yn gadael y clwb. Yn ddiweddar derbyniodd Mark swydd rheoli tîm Dan 19 Llandudno. Dywedodd Craig Papirnyk heddiw:
"Yn wreiddiol roedd Mark wedi ystyried gwneud y ddwy swydd ond bellach mae'r ddau ohonom wedi cytuno na fyddai hyn yn bosib' gan fydd ganddo lawer i'w wneud. Yn ddiweddar, hefyd, mae Mark wedi cychwyn ar ei Drwydded Hyfforddi 'A' Uefa a bydd hyn yn cymryd llawer o'i amser yn ystod y 12 mis nesaf.
"Carwn ddiolch iddo am ei gyfryniadau dros y cyfnod byr y bu efo ni, mae'n berson ffantastig ac rwy'n sicr y bydd yn rheolwr llwyddianus yn y dyfodol. Pob lwc Ormey!"
Bydd yna gyhoeddiad am hyfforddwr newydd yn fuan.

Unfortunately Mark Orme will be leaving us as a coach, Mark has recently taken on the role of Manager of Llandudno u19s. Speaking today manager Craig Papirnyk said:
"At first Mark considered staying on and doing a dual role but we have both agreed that this wouldn't be possible as he has a lot on , Mark has also begun his UEFA A licence which will take a up a lot of his time in the coming 12 months.
"I would like to thank him for his contributions during his short spell with us , he's a fantastic guy and I have no doubts he will go on to be a successful manager in the future. All the best Ormey."
An announcement will be made shortly regarding a new coach joining the management team.
---

Noson cyflwyno gwobrau 2017/18 i'r Tîm Cyntaf a'r Tîm llwyddianus Dan 18
Cynhelir y noson wobrywo yn Clwb y Traeth
NOS WENER, MEHEFIN 8 am 7.30pm
Croeso cynnes i GEFNOGWYR y clwb.

A joint presentation evening for First team and the highly successful Under 18s
At the Traeth Clubhouse
FRIDAY, JUNE 8th at 7,30pm
A warm welcome to all SUPPORTERS
---

Rhoddwyd yr hufen ar gacen tymor o lwyddiant arbennig, wrth i'r tîm Dan 18 codi Cwpan Aefordir y Gogledd gyda buddugoliaeth o 6-0 dros Bae Penrhyn ar Barc Meurig, Bethesda heddiw. Gyda theitl Cynghrair Dyffryn Clwyd eisoes yn eu meddiant gan ennill bob gêm, aethant ymlaen heddiw i gwblhau'r dwbl.
Roedd yna sawl perfformiad nodedig gan gynnwys hatric i Rhys Hughes a'r golwr Morgan Jones yn arbed cic o'r smotyn.
Cyn i 20 munud basio roedd Port dwy gôl ar y blaen, diolch i Rhys Hughes a Sion Roberts. Dilynodd Sion hyn gan ergydio cic rhydd i gornel ucha'r rhwyd a'i gwneud yn 3-0 ar 26 munud. Er fod Port yn rheoli bu'n rhaid i'r golwr Morgan Jones arbed yn wych i'w chadw yn 3-0. Cyn cyrraedd yr hanner ffordd roedd Rhys Hughes wedi rhwydo'i ail gyda ergyd isel mewn sefyllfa un i un.. 4-0 ar yr egwyl.
Yn gynnar yn yr ail hanner roedd Morgan Jones yn brysur eto a'r tro yma yn arbed cic o'r smotyn. Ychydig wedi'r awr aeth Port 5-0 ar y blaen gyda Cai Henshaw yn creu i Aled Rhun Williams, a'r amddiffynwr yn canfod t rhwyd. Ar ôl 76 munud cwblhaodd Rhys Hughes ei hatric gan sicrhau y fuddugoliaeth a'r Cwpan i hogiau Port. Pan ddaeth y chwiban olaf roedd y dathliadau yn cychwyn o ddifri.
CHWARAEWR y GÊM: Sol Kempster.:


The U18s put the icing on their season's cake this afternoon winning the NWCFA Youth Cup, beating Penrhyn Bay 6-0 in the final at Parc Meurig, Bethesda. Having already won the Vale of Clwyd Youth League with a 100% record, they went on today, to complete the double.
There were several notable performances including a hat-trick for Rhys Hughes and a penalty save from keeper Morgan Jones.
Port were two goals up before 20 minutes had elapsed, thanks to Rhys Hughes and Sion Roberts with Sion following that up with a free kick into the top corner to make it 3-0 after 26 minutes. Though Port were on top keeper Morgan Jones was required to make an outstanding point blank save to keep the score at 3-0. Before half-time was reached Rhys Hughes had netted his second, firing low in a 1 on 1 situation.to make the score 4-0 at half-time.
Early in the second period keeper Morgan Jones was in the action again, this time keeping out a penalty. Just past the hour mark Port went 5-0 up, when Cai Henshaw put Aled Rhun Williams in on goal and the defender added the finishing touch. On 76 minutes Rhys Hughes completed his hat-trick making it a convincing victory. When the final whistle blew the deserved celabrations could commence.
MAN of the MATCH Award: Sol Kempster.
---

Bydd Acsdemi'r clwb yn cynnal TREIALON AGORED ar y Traeth, ar gyfer chwaraewyr newydd yn ogystal a'r rhai presennol ar NOS LUN, Mehefin 11eg:
Dan10 & Dan 11: 6pm-7pm
Dan 12: 6pm-7pm
Dan13: 7pm-8pm
Dan 14 & Dan16: 7pm-8.30pm
Dewch lawr i'r Traeth a byddwch yn rhan o'r cychwyn newydd gyda'r hyfforddwyr newydd, timau newydd a'r strwythur newydd.
Os oes gennych gwestiwn pellach cysylltwch â Colin Dukes ysgrifennnydd yr Academi ar 07863348589.
C'mon Port!

The club's Academy will be holding OPEN TRIALS for new and current players on MONDAY, JUNE 11th at the Traeth at the following times:
U10 & U11s: 6pm -7pm
U12s: 6pm-7pm
U13s: 7pm-8pm
U14s & U16s: 7pm-8.30pm.
Come along and be part of the fresh start with new coaches, new teams and new structure. C'mon Port! If you have any queries contact the Academy Secretary, Colin Dukes, on 07863348589.
C'mon Port!
---

Arwyddo golwr, i ddilyn Richard Harvey rhwng y pyst ar Y Traeth, oedd blaenoriaeth cyntaf Craig Papirnyk Mae wedi cymryd cam allweddol wrth ddod â'r golwr profiadol Paul Pritchard i'r clwb. Mae Paul yn golwr talentog ac ymysg ei gyn glybiau mae Hotspyrs Caerbybi a Chaernarfon.
Bydd yna groeso mawr iddo ar Y Traeth ac yn amlwg mae Craig yn teimlo ei fod wedi arwyddo'r dyn iawn.
Isod gwelir sylwadau Craig.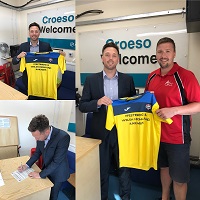 Craig Papirnyk has made his first signing of the season. Replacing Richard Harvey was always going to be difficult but Craig has made a key signing by bringing in Paul Pritchard the former Holyhead Hotspurs and Caernarfon Town keeper.
Craig clearly feels that he has made the right decision and his feelings will be echoed by Traeth supporters. Welcoming Paul to the Traeth Craig said:

"I am delighted to bring Paul Pritchard to the club, Pritch is a well known and highly respected Goal Keeper.
"For me it was very important to find a keeper that could come in after Harvey.
" Rich was for so long was our No.1 and I felt we would need to find experience as well as the quality needed to help push us forward after him.
"It wouldn't be an easy feat to come in and replace Harvey but Pritch has all the qualities needed in abundance. He's been there and done it but, more importantly, he still has the hunger and drive to want more from his career and after meeting him I knew he was the right person to come in for us and thankfully he felt exactly the same way !!
"He will wear No.13, a squad number he has had for a long time. Welcome to Port Pritch!!"
---

Bydd Ffeinal hir ddisgwyliedig Cwpan Ieuenctid Arfordir y Gogledd yn cael ei chwarae pnawn Sul nesaf (3 Mehefin). Bydd yr hogiau yn chwarae Bae Penrhyn yn y Ffeinal. Chwareir y gêm ar Barc Meurig, Bethesda gyda'r gic gyntaf am 2pm.
Dewch I gefnogi'r hogiau a gorffen y tymor ar nodyn uchel. C'mon Port!

The long-delayed NWCFA Youth Cup Final will take place next Sunday, ( 3rd June). The U18s take on Penrhyn Bay in the Final. The game will be played at Parc Meurig , Bethesda and will kick off at 2pm.
Come and cheer the lads on and end the season on a high. C'mon Port !
---

Roedd gêm ddiwethaf Richard Harvey pnawn Sadwrn hefyd yn ddiwedd ar y berthynas hir a fu rhwng clwb Port â gohebydd y Cambrian News Keith Evans. O Sadwrn i Sadwrn dros gyfnod maith, a mwy o dymhorau na fyddai am ei cofio, mae'r newyddiadurwr proffesiynol hwn wedi adrodd ar gemau CPD Porthmadog.
Cychwynodd ar y dyletswyddau yma ar fyr rhybudd wedi i'r diweddar Herbert Thomas, aelod o staff y Cambrian News wedi'i leoli ym Mhorthmadog, ymddeol ac, ers hynny fo sydd wedi cyflawni'r dyletwyddau yma.
Mae Keith Evans wedi mwynhau y cysylltiadau gorau posib gyda swyddogion clwb Port ac mae'r clwb, ar hyd y blynyddoedd, wedi gwerthfawrogi ei adroddiadau teg a chytbwys.
Penderfyniad y Cambrian News bellach ydy hepgor adroddiadau gan y newyddiadurwr profiadol ac, o'r tymor nesaf, ymwneud a gemau Port o'u swyddfa yn Aberystwyth. Mae hyn yn arwydd o'r amserau ond yn dristwch wrth inni weld diwedd cyfnod yn newyddiaduraeth print â phapur newydd yn gorfod chwilio am ffordd wahanol o ohebu ar bêl-droed lleol gyda'r llais annibynnol efallai'n diflannu.
Estynnwn ein diolch i Keith Evans gan ddymuno'n dda iddo.

Richard Harvey's last game in Saturday's clash between Port and Holywell Town also marked the end of the club's long association with Cambrian News correspondent Keith Evans. Week in week out during more season's than he cares to remember this highly professional journalist has reported on CPD Porthmadog's fixtures.
At very short notice he took over these duties from the late Herbert Thomas, who was the Cambrian News' staff man based at Porthmadog, and he has been carrying out those duties ever since.
Keith Evans has always enjoyed excellent relations with club officials at the Traeth and the club has always appreciated his fair and balanced match coverage.
The Cambrian News, rather than continue with reports by an independent experienced journalist, have taken the decision to deal with Porthmadog match coverage 'in-house' next season. Though a sign of the times we live in, it is a sad day and marks the end of an era in print journalism when a newspaper has to find an alternative to an independent voice in local football.
Our thanks and best wishes to Keith Evans.
---

Roedd cic o'r smotyn, yn hwyr yn y gêm, yn erbyn Brickfield, yn ddigon I roi'r pwynt oedd angen ar Bwcle i ennill Cynghrair Wrecsam a'u lle yn ôl yr HGA.
Byddant yn ymuno â Chonwy a Llanrhaeadr-ym-Mochnant, y clybiau eraill sydd wedi sicrhau dyrchafiad o'r adranau is.
Bydd Prestatyn a Bangor yn disgyn o UGC gyda chlwb Nantporth yn rhoi'r gorau i herio penderfyniad y Gymdeithas Bêl-droed.
Bydd yr HGA hefyd dychwelyd i fod yn 16 o glybiau gyda FC Queens Park, Cyffordd Llandudno a Chaersws yn gadael y gynghrair.
Felly medrwn ddisgwyl cynghrair hynod o gry' yn 2018/19.

A late penalty secured the final place in next season's HGA for Buckley Town. It gave the point they needed to ward off Brickfield's challenge for promotion from the Wrexham area league.
They now join Conwy Borough and Llanrhaeadr-ym-Mochnant as promoted clubs from the three feeder leagues. Llanrhaeadr will play their home matches at the former TNS ground at Llansantffraid.
Prestatyn and Bangor City are demoted from the WPL and the Nantporth club have now decided not to take their licence dispute with the FAW any further.
The HGA will now be restored to 16 clubs and FC Queens Park, Llandudno Junction and Caersws will depart the league.
All of which means an even stronger HGA than ever before and a mighty challenge for all.
---

Holl dderbyniadau diwrnod gem (ag eithro y bar) 31% i fyny ar y tymor diwethaf / 41% i fyny ar 2015/6. Dim cyd-ddigwyddiad mai dim ond 3 gem gynghrair a gollwyd gartref tymor diwethaf, 3 yn gyfartal ac ennill 9. Colli dwy mewn cwpanau ac ennill 4 (3 x Cwpan Cymru a un Cwpan y Gynghrair). Ffaith ein bod wedi ennill 13 yn gyfangwbl, 3 yn gyfartal a cholli 5 wedi ei adlewyrchu yn yr ystadegau.
Diolch am eich cefnpgaeth yn ystod 2017/18 ac edrychwn ymlaen at lwyddiant yn 2018/19

Total takings on match days (gate, canteen and shop but not bar) last season up 31% on previous season and 41% up on 2015/6. Not a coincidence that we only lost 3 matches at home in the league, drew 3 and won 9. Lost 2 in cups but won four (3 in Welsh Cup and 1 in League Cup). Perhaps the fact that we won a total of 13 at the Traeth, drew 3 and lost 5 is reflected in these figures.
Thanks for your support in 2017/18 and we look forward to success im 2018/19
Dafydd Wyn
---

Cewch fwy o luniau o gêm olaf Richard Harvey, Port v Treffynnon, ar y wefan. Gwasgwch 'Lluniau' yn y Fwydlen a wedyn dewiswch gêm Treffynnon. Diolch I Andrew Kime a Lge Kelly am yr holl luniau.

There are more photos of Richard Harvey's final game, Port v Holywell Town, on the site. Press 'Photos' in the Menu and then select the game Treffynnon / Holywell. Thanks to Andrew Kime and Lge Kelly for the photographs.
---

Wrth i Richard Harvey chwarae ei gêm olaf yn erbyn Treffynnon dyma ystadegau terfynol ei yrfa ddisglair fel golwr.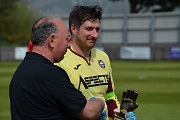 With Richard Harvey playing his final game against Holywell Town here are the final stats of his illustrious goalkeeping career.


| Tymor/ Season | WP / HGA | WC | LC | Arall/ Other |
| --- | --- | --- | --- | --- |
| 2002/03 | CA: 7 | WC: 2 | LC: | |
| 2005/06 | WP: 34 | WC: 2 | LC: 1 | NWCFA: 1; PC: 1 |
| 2006/07 | WP: 31 | WC: 4 | LC: 9 | PC 3 |
| 2007/08 | WP: 27 | WC: 0 | LC: 2 | |
| 2008/09 | WP: 12 | WC: 1 | LC: 1 | |
| 2009/10 | WP: 6 | WC: 1 | LC: 2 | |
| 2010/11 | HGA: 30 | WC: 3 | HGC: 4 | NWCFA: 2 |
| 2011/12 | HGA: 25 | WC: 2 | HGC: 1 | |
| 2012/13 | HGA: 30 | WC: 1 | HGC: 1 | WPLC: 1 |
| 2013/14 | HGA: 8 | WC: 2 | HGC: 0 | |
| 2014/15 | HGA: 27 | WC: 1 | HGC: 1 | |
| 2015/16 | HGA: 27 | WC: 2 | HGC: 1 | |
| 2016/17 | HGA: 22 | WC: 0 | HGC: 1 | MGC: 0 |
| 2017/18 | HGA: 27 | WC: 4 | HGC: 2 | MGC: 1 |
| Cyfanswm/Total | 313 | 25 | 26 | 9 |
---

Dyma deyrnged gynnes i Richard Harvey gan cyn reolwr Port, Viv Williams, ac un a fu'n rheolwr ar Richard yn ystod cyfnod llwyddianus yn Uwch Gynghrair Cymru.
"Carwn dalu teyrnged bersonol i Richard Harvey drwy rannu ychydig o atgofion sydd gen i, rwan mae Richard wedi cyhoeddi ei ymddeoliad.
Cyrhaeddodd yn hwyr at gêm yn Airbus un flwyddyn, a hynny'n golygu fod yn rhaid imi ddechrau yn y gôl ac wedyn cael fy eilyddio ar ôl 20 munud. Meddyliodd Rich fod ganddo amser i gynhesu fyny, hynny yw, tan imi ddweud wrtho ei fod yn well golwr na mi hyd yn oed heb gynhesu !
Cafodd ei gêm gyntaf yn Uwch Gynghrair Cymru yn erbyn TNS yn syth ar ôl iddynt golli i Lerpwl yn rownd gymhwyso Cynghrair y Pencampwyr. Cafodd gêm arbennig a roddodd yr hyder iddo, fod ganddo'r gallu i chwarae ar y lefel yma o bêl-droed.
Fy atgof diwethaf ydy honno o Richard, oddi cartref yn Llanell yn erbyn eu tîm llawn-amser, yn chwarae'r gêm orau erioed imi weld gan golwr.
Yn olaf ac yn bwysicach, Richard Harvey ydy un o'r bobl mwyaf dymunol y gwnewch ei gyfarfod ac rwy'n dymuno'n dda iddo yn ei ymddeoliad ac yn gobeithio y bydd Rich yn cael ei wobrwyo gyda tysteb am ei amser gyda'r clwb arbennig yma.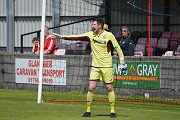 Here is a warm tribute to Richard Harvey by former Port manager Viv Williams and one who managed Richard during a sucessful spell in the Welsh Prem.
"I would like to pay my own tribute to Richard Harvey by sharing a few memories I have now that he has announced his retirement.
He turned up late for a game at Airbus one year which meant that I had to start in goal and was substituted after 20 minutes. Rich thought he had time for a warm up until I told him that he was a better keeper than I was even without the warm up!
"His first game in the Welsh Premier happened to be against TNS, who had just been knocked out by Liverpool in the qualifying round of the Champions League. He had an outstanding game which gave him the confidence of knowing he was not out of place at that level of football.
"My last memory is of Richard playing the best game I ever saw by a goalkeeper and that was away against the then full time team of Llanelli.
"Finally, and more importantly, Richard Harvey is one of the nicest people you will ever meet and I wish him well in his retirement and hope that Rich is rewarded for his time at this great club with a testimonial."
---

Hoffwn ddiolch i'n prif noddwyr, AGWEDDAU ERYRI, RHEILFFYRDD FFESTINIOG AC ERYRI A COLIN JONES (ROCK ENGINEERING) CYF. am eu cefnogaeth yn ystod tymor 2017-18.
Mae'r Clwb yn ddiolchgar dros ben i Andrew Kime, Clare Britton a David Jones am eu cefnogaeth parod a rheolaidd.
Hefyd fyswn i'n hoffi diolch i'r holl noddwyr a hysbysebwyr sydd wedi cefnogi y clwb dros y tymor. Heb y gefnogaeth hyn byddai'n llwm iawn arnom. Gobeithio bydd pob cefnogwr yn cefnogi'r busnesau hyn er lles yr ardal yn gyffredinol.
Os oes rhywun a diddordeb noddi,hysbysebu neu drwy gyfrannu'n ariannol neu mewn unrhyw ffordd arall, cysylltwch a fi:Dylan Rees - Swyddog Marchnata
07900512345 rees48wesla@gmail.com


The club would like to acknowledge Andrew Kime, Clare Britton and David Jones for their readiness to support the club.
I would also like to thank all the other sponsors and advertisers who have kindly supported the club this season, it would be a much harder task to sustain the club at this level. Please support our advertisers for our mutual benefit.
If anyone is interested in sponsoring, advertising or helping the club financially, or in any other way, please contact me:
Dylan Rees - Marketing Officer
07900512345 rees48wesla@gmail.com
---