Noddwr / Match Sponsor: RJ WILLIAMS HONDA Talsarnau.

Daw tymor Port i ben pnawn Sadwrn wrth groesawu Treffynnon I'r Traeth. I'r mwyafrif o'r cefnogwyr, cyfle i ddiolch i Richard Harvey am flynyddoedd o wasanaeth i'r clwb, fydd pnawn Sadwrn. Erbyn 4.20 pm bydd y golwr wedi chwarae 373 o gemau dros y clwb. Dyna ichi gyfraniad werthchweil!!
Bydd yn ddiwrnod mawr o ddiolchiadau i bob cyfeiriad gan y gêm hon hefyd, fydd gêm olaf rheolwr yr ymwelwyr, John Haselden. Cafodd ddylanwad mawr dros y blynyddoedd diweddar, gan adfer y dyddiau da i'r clwb.
Am y gêm ei hun, gêm fydd hi rhwng y 5ed a'r 7fed yn y tabl ac yr un o'r ddau yn gallu symud i fyny neu i lawr, beth bynnag y sgôr terfynol heddiw. Yn y cyfnod diweddar, tynn a chystadleuol iawn bu'r gemau rhwng y ddau, a medrwn ddisgwyl rhywbeth tebyg heddiw mae'n siwr. C'mon Port!

Port's season ends on Saturday with the visit of Holywell Town to the Traeth but for home supporters, the game itself will be overshadowed by the need to say thanks and goodbye to Richard Harvey for his tremendous service to the club. By 4.20 on Saturday he will have played 373 league and cup games for the club. What a massive clubman!!
It will be a day of big thankyous all-round, as it will also be the last game in charge for our visitors' manager John Haselden. He has had a huge impact on the Holywell club restoring the fortunes of the Flintshire club.
As far as the game itself is concerned it will be a game between 5th and 7th placed clubs with neither able to move up or down whatever the result today. But in the recent past games between the two clubs have been tight and competitive and we can expect the same on Saturday. C'mon Port!
---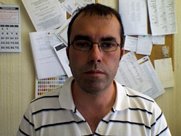 Gyda un gêm yn weddill o dymor 2017/18, mae'n bryd cymryd golwg yn ôl dros dymor braidd yn siomedig. Mae gorffen yn y 7fed safle yn gam yn ôl ar y 4ydd safle'r llynedd.
Bu rhai yn dweud mae'r garfan hon ydy'r gorau a welwyd ar Y Traeth ers gryn amser, ond rhwystrwyd datblygiad y tîm gan anafiadau a diffyg argaeledd, gan hefyd greu aml gur pen wrth ddewis y tîm.
Yn amlwg aeth y canlyniadau ar i lawr ar ôl troad y flwyddyn, a gyda ond un gêm gynghrair yn cael ei chwarae yn ystod Ionawr a Chwefror yn fawr o gymorth. Pan gurwyd Caergybi ar 14 Mawrth roedd gennym 33 pwynt, ond ers hynny, dim ond 10 pwynt enillwyd yn y 7 gêm ddiwethaf ac un fuddugoliaeth yn y 5 gêm olaf yn tanlinellu'r ffordd mae pethau wedi mynd ar i lawr.
Ond eto, cafwyd sawl uchafbwynt. Y 69 o goliau a sgoriwyd ydy'r mwyaf ers y tymor 2002/03 pan enillwyd y Bencampwriaeth. Peth digon prin ydy un o flaenwyr Port yn cyrraedd 20 gôl am y tymor a gyda un gêm yn weddill mae Joe Chaplin wedi cyrraedd 20 gôl a dim ond Josh Davies yn 2014/15 gyda 21 sydd yn medru cymharu a'i record. Yn wir mae Joe a Sion Bradley wedi cyrraedd ffigurau dwbl a rhaid mynd yn ôl cyn belled a 2005/06 am gamp debyg, gyda Carl Owen (16) a Les Davies (11) yn llwyddo ond roedd hynny yn yr Uwch Gynghrair.
Ar ben arall y cae nid yw'r record cystal, gyda 45 o goliau yn cael ei gadael i fewn ar gyfartaledd o 1.666 y gêm. Ond, er hynny, hwn yw'r record 3ydd orau yn yr wyth tymor diwethaf ers inni ddychwelyd i'r Cymru Alliance. Rhaid inni ystyried yr ystadegyn hwn gan gofio ein bod wedi chwarae dwy gêm yn llai, i'w gymharu a'r wyth tymor yna.
Methu cyfres o gyfleoedd oedd ein hanes yn y cwpanau. Roedd colledion siomedig yn erbyn Caergybi yng Nghwpan Nathaniel MG a Chwpan y Gynghrair. Yng Nghwpan Cymru crewyd dipyn o hanes wrth guro Penley 10-0 ond yn y pendraw mynd allan o'r gwpan i enillwyr y gystadleuaeth; Cei Conna.
Felly mae'n debyg mae, "Digon o botensial ond yn medru gwneud yn well", fydd y neges yn yr adroddiad diwedd tymor.
Mwynhewch yr haf a cawn eich gweld ym mis Awst.

With only one game left of the 2017-18 season it's time to look back at what has been a rather disappointing season. Finishing in seventh place in the Huws Gray Alliance is a step back from last season's fourth place.
Some had proclaimed the current squad as the best seen at the Traeth for some time, but injuries and unavailability have hampered the team's progress and has created selection headaches on occasion.
Clearly we have tailed off badly since the turn of the year, not helped by having only one League game in both January and February due to postponements. When we beat Holyhead on the 14th of March we got to 33 points since then we have only picked up 10 points in the last seven games and only won once in the last five games which underlines the recent desperate decline.
However there have been some real bright spots. The 69 goals we have scored in the League is the most we have scored since our winning season of 2002/03. Its rare for a Port striker to reach 20 League goals in a season, with one to go Joe Chaplin has reached 20 and only Josh Davies in 2014/15 with 21 can compare with his record. Indeed both Joe and Sion Bradley have got to double figures and you have to go back to 2005/2006 for a similar feat when Carl Owen (16) and Les Davies (11) managed it albeit in the Welsh Premier.
At the other end of the pitch the record is not so good. We have conceded 45 goals in 27 games, an average of 1.666 per game. That is still the third best in the past eight seasons since our return to the Cymru Alliance, but that statistic has to be considered in reference to the fact that we will have played two less games this season compared to those eight season's.
Our Cup exploits have been a series of missed opportunities. Lacklustre defeats to Holyhead in the Nathaniel MG Cup and the League Cup were disappointing. In the Welsh Cup we created a bit of history with a record win against Penley and were eventually put out by the eventual winners Connah's Quay Nomads. So the final school report would probably read "Has potential but could do better".
Well enjoy the summer and see you in August.
Gerallt Owen
---

Noddwyr/Match Sponsors: CARIAD CARE HOMES

Bydd Fflint yn ymweld â'r Traeth bnawn Llun Gwyl Fai gyda'r gic gyntaf am 2.30pm. Dim ond un gêm fydd yn weddill ar ôl hon ac yn gyfle i'r ddau glwb orffen ar nodyn cadarnhaol.
Bydd Port yn edrych i wella ar y canlyniad diweddar a gafwyd yn erbyn Y Fflint ar Gae y Castell gyda'r tîm cartref yn ennill o 2-0. Pnawn Sadwrn enillodd y Fflint Gwpan Huws Gray, a llongyfarchiadau iddynt yn curo Gresffordd ar giciau o'r smotyn.
Bydd y gêm hefyd yn bwysig wrth i gyfnod Richard Harvey dynnu at y terfyn ac felly yn rheswm da am berfformiad mawr. Cmon Port!

Flint will be the visitors to the Traeth on Holiday Monday afternoon with a 2.30pm kick off. This is the penultimate fixture for Port and an opportunity for both teams to end the season with a positive result.
Port will look to improve on the recent meeting between the two clubs when Flint were 2-0 winners at Cae y Castell. Flint come to the Traeth as Huws Gray Cup winners and congratulations to them on their win over Gresford after a penalty shoot-out.
The game will be important as Richard Harvey's time at the Traeth draws to a close and another good reason for a big performance. C;mon Port!
---

Wrth i Richard Harvey baratoi i roi ei fenyg yn y to, dyma ei ystadegau o ran ymddangosiadau rhwng pyst y Traeth dros yr 14 tymor mae wedi cynrychioli'r clwb. Gyda dwy gêm yn weddill o'r tymor hwn, mae wedi ymddangos i'r clwb mewn 310 o gemau Cynghrair, a dros 50 o gemau cwpan, dros y cyfnod hwnnw:

As Richard Harvey prepares to draw down the curtain on his goalkeeping career, here are his apperance stats between the Traeth posts over the 14 seasons he has represented the club. With two games remaining this season, he has appeared for the club in 310 league games, and over 50 cup ties, over that period:


| Tymor/ Season | WP / HGA | WC | LC | Arall/ Other |
| --- | --- | --- | --- | --- |
| 2002/03 | CA: 7 | WC: 2 | LC: | |
| 2005/06 | WP: 34 | WC: 2 | LC: 1 | NWCFA: 1; PC: 1 |
| 2006/07 | WP: 31 | WC: 4 | LC: 9 | PC 3 |
| 2007/08 | WP: 27 | WC: 0 | LC: 2 | |
| 2008/09 | WP: 12 | WC: 1 | LC: 1 | |
| 2009/10 | WP: 6 | WC: 1 | LC: 2 | |
| 2010/11 | HGA: 30 | WC: 3 | HGC: 4 | NWCFA: 2 |
| 2011/12 | HGA: 25 | WC: 2 | HGC: 1 | |
| 2012/13 | HGA: 30 | WC: 1 | HGC: 1 | WPLC: 1 |
| 2013/14 | HGA: 8 | WC: 2 | HGC: 0 | |
| 2014/15 | HGA: 27 | WC: 1 | HGC: 1 | |
| 2015/16 | HGA: 27 | WC: 2 | HGC: 1 | |
| 2016/17 | HGA: 22 | WC: 0 | HGC: 1 | MGC: 0 |
| 2017/18 | HGA: 26 | WC: 4 | HGC: 2 | MGC: 1 |
| Cyfanswm/Total | 312 | 25 | 26 | 9 |
---

Yn ddiweddar ymwelodd Gethin Jones, swyddog Peldroed yn y Gymuned Clwb Peldroed Porthmadog, a Turf Moor, cartref clwb peldroed Burnley o Uwch Gynghrair Lloegr. Derbynwyd y gwahoddiad oddiwrth Gwilym Jones, gynt o Chwilog ond sydd bellach yn un o dim 'Peldroed yn y Gymuned' yn Burnley.
Yn ystod yr ymweliad cafodd Gethin y cyfle i weld yr holl waith a oedd y clwb yn ei wneud yn y gymuned. "'Roedd yn agoriad llygaid o ddifri" meddai Gethin "gyda chyfanswm o 60 o bobol yn gweithio ar yr ochr gymunedol. Mae'r gwaith yn cynnwys amrywiaeth o brosiectau a chyrsiau ar gyfer y diwaith a'r anghenus, yn ogystal a threfnu gweithgareddau ar gyfer plant a phobl ifanc. Mae'r clwb yn derbyn arian sylweddol oddiwrth Uwch Gynghrair Lloegr tuag at y gwaith ac mae amryw o fusnesau lleol hefyd yn cyfrannu". Nid yw gweithgareddau o'r fath yn ddiethr i Gethin a'i dim bychan yn y Port, wrth gwrs, gan iddynt drefnu nifer o brosiectau a chyrsiau llwyddiannus yn ne Gwynedd dros y ddwy flynedd ddiwethaf.
"'Roedd ymweld a'r clwb yn ysbrydiolaeth ac anodd oedd dygymod a maint y gwaith cymunedol sydd yn cael ei gyflawni a'r gwahaniaeth mae yn wneud i fywydau pobol gyffredin yn ardal Burnley. Bellach mae'r ddau glwb am drafod sut y gallem gydweithio gyda'n gilydd yma yng ngogledd Cymru yn y dyfodol a gwir obeithiwn y gallwn sefydlu Partneriaeth gwerth chweil"

Recently Gethin Jones, Porthmadog FC's 'Football in the Community' officer was invited to Turf Moor, home of Burnley FC of the English Premiership. The invitation came from Gwilym Jones, originally from Chwilog near Pwllheli who is one of the Premiership's 'Football in the Community' Programme implementation team.
During the visit Gethin had the opportunity to see at first hand the work the Club is doing in the community. "It was an eye opener to say the least" said Gethin "with 60 people working on the community programme alone. The work involves a number of projects and courses to support the unemployed and disadvantaged, as well, of course, as children and young people. It receives substantial funding from the English Premiership but is also well supported by a myriad of local businesses". Such projects are, of course, not new to Gethin as he and his small team have run a number of events and courses that have been very successful in the south of Gwynedd over the last two years.
"Visiting Burnley FC was inspirational" added Gethin "it was very hard to comprehend all that is going on for the benefit of the community that is making such a difference to the lives of ordinary people in that area. Both clubs are now looking as to how we could work together in north Wales and establish a worthwhile partnership"
---

Cafodd y tîm Dan 18 y cychwyn gorau posib', yn Ffeinal Cwpan Cynghrair Dyffryn Clwyn yn Bethesda heddiw. Sgoriodd Reece Evans ar ôl 3 munud i'w rhoi ar y blaen.
Ond cyn y gêm roeddent yn sylweddoli y byddai'r gêm hon yn fwy o sialens na llawer o'u gemau diweddar a dyna ddigwyddodd. Dwywaith yn ystod yr hanner cyntaf daeth Llanberis yn agos i'w gwneud yn gyfartal; yn taro'r bar ac hefyd rhwydo ond ar ôl i'r bêl gael ei llawio.
Roedd yn dal yn 1-0 i Port ar yr hanner ond sgoriodd Llanberis ar ôl 67 munud i'w gwneud yn gyfartal. Dyna sgôr hefyd ar ôl y 90 munud er i'r ddau dîm ddod yn agos yn yr amser anafiadau. Rhys Hughes heb lwyddo i rwydo mewn sefyllfa 1-ar-1 a Llanberis yn taro'r postyn. Roedd yn aros yn gyfartal wedi'r hanner awr ychwanegol er i Lanberis orffen efo 10 chwaraewr.
Ymlaen at y ciciau o'r smotyn, a siom i Port wedi tymor mor ffantastig yn colli 4-3. Cyfle arall Sul nesaf yn Ffeinal Cwpan Ieuenctid yr Arfordir yn erbyn Bae Penrhyn. C'mon Port!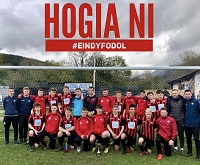 Port U18s got off to a flying start in the Vale of Clwyd League Cup Final at Bethesda today going ahead after just 3 minutes with Reece Evans putting them ahead.
But they knew that this game would be far more difficult than some of their recent fixtures and that certainly proved to be the case. Llanberis twice came close to levelling the scores; hitting the crossbar and a minute later putting the ball in the net only for it to be disallowed.
It remained 1-0 at the interval. In the 67th minute Llanberis drew level and that is how it remained to the end of the 90 minutes. Both teams had however. came close in added time with Rhys Hughes not manging to convert in a 1-on-1 situation and Llanberis striking the post. The scores were still level 1-1 at the end of extra time though by then Llanberis had been reduced to 10 players.
On to penalties and it was disappointment for Port after a fantastic season, going down 4-3. But there is another opportunity next Sunday in the NWCFA Youth Final against Penrhyn Bay. C'mon Port!
---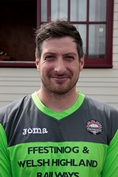 Yn dilyn y newyddion am fwriad Richard Harvey i alw digon ar ei yrfa bêl-droed mae Craig Papirnyk wedi talu'r deyrnged arbennig hon i'r golwr.

Following the announcement of Richard Harvey's intention to call it a day on his outstanding football career Craig Papirnyk has paid this special tribute to the keeper.

"Rich has been an outstanding servant for the club over the last 12yrs and is rightly hailed as a Port legend for his commitment to the club, he has always given everything to the cause and that has shown by the level he's reached as a player and says a lot about his character to maintain it for such a long period of time.
"Rich has long been known as one of the best goal keepers to come out of the area and has proved this year after year, by giving outstanding and consistent performances.
"He is rightly respected amongst his peers because of his talent between the sticks !
"I am extremely grateful to have been able to play alongside Rich and manage him as a player, his experience has helped me while in charge.
"Off the field he is also one of the nicest people I know and he will be missed in the dressing room. "I would like to personally thank him for the years he's given me , for all the hard work he puts in and the pain he has gone through to continue wearing the shirt. I can't put in words the appreciation and respect I have for him.
"You're a top man Harvey , let's finish this season on a high with some positive results! All the best mate. "
---

Bydd Richard Harvey yn ymddeol o bêl-droed ar ddiwedd y tymor presennol ac yn gadael gwagle mawr ar ei ôl. Bydd angen golwr arbennig i lenwi y lle rhwng y pyst ar Y Traeth. Diolch Richard.
isod gwler ei ddatganiad a dderbyniwyd heddiw.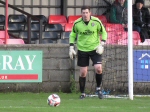 Richard Harvey is to retire from football at the end of the present season and he will leave a huge void to fill. It will need a special keeper to replace him between the sticks at the Traeth.
Below is the statement he has released today.

"I would like to announce my retirement from football at the end of this season. 20 years of throwing myself around on the pitch and two hip operations have finally caught up with me. I feel my body can no longer sustain the hard training that is required to be the goalkeeper at this great club. I have been very lucky in fulfilling my dream of playing for the club I supported as a boy and to have been able to wear the shirt for 12 season gives me great pride.
"I would like to thank all the players and coaching staff I have worked with over the years who have helped me, in particular the goalkeeping coaches Mervyn Williams, Mike Innes, Steve Owen, Tex and Stan. The fans for their tremendous support through the years who always turn out in numbers home and away. I would also like to give a special mention to all the devoted staff and committee members who do a fantastic job at the club. Since I have been involved with Porthmadog I have seen massive progression on and off the pitch to improve the facilities and keep the club moving forward.
"Thank you for the special memories and I will look forward to supporting the team in the future."
---

Gyda nhw esioes wedi sicrhau tetl Cynghrair Dyffryn Clwyd a Chonwy, y Sul nesaf, 29 Ebrill, bydd y tîm Dan 18 yn chwarae yn FFEINAL CWPAN y GYNGHRAIR ar BARC MEURIG, BETHESDA yn erbyn Llanberis. Bydd y gic gyntaf am 1.30pm.
Gan fod Llanberis wedi gorffen yn ail yn y gynghrair, bydd yr hogiau'n disgwyl am dipyn o sialens unwaith eto.
Dyma'r ail gymal o beth allai fod yn hatric o dlysau i'r hogiau; gyda teitl y gynghrair yn barod wedi'i ennill a dwy ffeinal i ddod. Byddant yn ôl ar Barc Meurig ar Sul, 6 Mai ar gyfer Ffeinal Cwpan Ieuenctid yr Arfordir yn erbyn Bae Penrhyn.
Amdani hogia' gwnewch hwn yn dymor i'w gofio. C'mon Port.

Having secured the Vale of Clwyd and Conwy U18s League title last Sunday, one week on (Sunday, April 29th) they play in the fINAL of the LEAGUE CUP taking on Llanberis at PARC MEURIG, BETHESDA with a 1.30pm kick off.
Llanberis finished the season in 2nd place in the league and will be tough opponents.
This is the second leg of what could be a treble winning season with a league title and two Cup Finals to be played. They will be back at Parc Meurig on Sunday, 6th May for the Final of the NWCFA Youth Cup against Penrhyn Bay.
Go for it lads and make it a season to remember. C'mon Port!
---

Y rhifau lwcus yn TOTE mis Ebrill oedd 12 a 36. Roedd un enillydd. B Wiliamson, Peterborough yn ennill y wobr o £280.
Bydd rhaid gwneud unrhyw gais erbyn 8 y.h. nos Wener, 4 Mai. Bydd y rhifau ar gyfer y Tote nesaf yn cael ei dynnu nos Wener, 25ain o fis Mai, yn sesiwn Bingo Clwb Cymdeithasol, Clwb Pêl-Droed Porthmadog yn Y Ganolfan.
Amlenni Tote ar gael o Kaleidoscope, Y Ganolfan, Clwb Pêl-droed Porthmadog neu Dylan 07900512345.

The winning numbers in the March TOTE were 12 and 36. There was one winner B Williamson, Peterborough who wins a prize of £280.
Any claims must be made by 8pm on Friday, 4th May. The next Tote will be drawn on Friday, 25th May at the Porthmadog FC Social Club Bingo held at Y Ganolfan.
Tote envelopes available from Kaleidoscope, Y Ganolfan, Porthmadog F C Clubhouse or Dylan 07900512345
---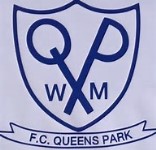 Bydd Port yn teithio I Wrecsam pnawn Sadwrn ar gyfer gêm Gynghrair. Atgoffir cefnogwyr fod FC Queens Park yn chwarae yn Parc Stansty (LL11 4YF) cae Lex XI.
I ddefnyddwyr Sat Nav y Côd Post ydy LL11 4YF. Rhaid gadael Ffordd Osgoi Wrecsam ar Gyffordd 5, wedyn cymrwch y droad gyntaf ar y cylchdro i Ffordd Summerhill a fe welwch y cae heb fod ymhell ar hyd y ffordd honno.
Bydd ein gwrthwynebwyr mewn ysbryd da wedi iddynt guro Caersws nos Fercher dim ond eu hail fuddugoliaeth o'r tymor.
Er fod Port wedi brwydro'n galed nos Fercher, methu canfod y rhwyd oedd yr hanes ac unwaith eto ac am y 4ydd gêm yn olynol, felly pnawn Sadwrn bydd yna gyfle arall i brofi pwynt. C'mon Port!

Port travel to Wrexham on Saturday for a HGA fixture. Supporters are reminded that our opponents, FC Queens Park, play at Stansty Park the ground of Lex XI.
For Sat Nav users The POST Code of the ground is LL11 4YF. Leave the Wrexham by-pass at Junction 5 and take the first turning off the roundabout onto Summerhill Road and the ground is a short distance along that road.
Our opponents have had a very difficult season but will be buoyed by only their second win of the season on Wednesday evening at home to Caersws.
Port, despite a performance which showed plenty of spirit and effort, once again failed to find the net so will certainly have a point to prove on Saturday. C'mon Port!
---

Nos Fercher fydd Port yn teithio i Benrhyncoch gyda phwynt i'w brofi wedi'r siomedigaethau diweddar a 'run fwy na cholli yng Nghwpan Huws Gray, canlyniad sy'n golygu colli tair yn olynnol a'r tair heb sgorio gôl. O ystyried mor rheolaidd bu'r blaenwyr yn canfod y rhwyd mae'n sefyllfa anodd i'w ddeall. Mae yna bedair gêm yn weddill i orffen y tymor ar nodyn uchel.
Lle digon anodd i gael canlyniad ydy Cae Baker, a bellach mae'r clwb o Geredigion ar rhediad da, heb golli yn eu chwe gêm ddiwethaf. Y Sadwrn diwethaf sicrhawyd tri phwynt arall gyda buddugoliaeth dros Rhuthun. Erbyn hyn maent yn 11eg yn y tabl gyda 30 pwynt.
Bydd Port yn ceisio ail ddarganfod y math o chwarae a welwyd yn erbyn Cegidfa, perfformiad gorau'rtymor, yn ennill er chwarae efo 10 dyn am hanner y gêm. Roedd y fuddugoliaeth honno yn rhan o rhediad o dair fuddugoliaeth yn olynnol gyda Sion Bradley yn sgorio 6 gôl. Bu'r garfan yn wannach yn diweddar drwy anafiadau a nifer o chwaraewyr hefyd yn chwarae ymlaen efo'u hanaf. Er waethaf y problemau, gobeithio cawn weld y tîm yn ôl ar ei orau nos Fercher. C'mon Port!

On Wednesday evening Port travel to Penrhyncoch with a point to prove after recent disappointments, none more then their dismissal from the Huws Gray Cup, a result which makes it three consecutive defeats and three games without scoring. Given the regularity with which the strikers have been finding the net this goal famine is difficult to explain away. The team now have four games remaining where they can end the season on a high.
Cae Baker is never an easy place to go and the home club are in a good run of form, undefeated in their last six games. On Saturday they gained another good 3 points away at Ruthin Town. This win lifts them into 11th place with 30 points.
Port must now look to the kind of form they showed at Guilsfield where they gave one of the best performances of the season, winning despite being down to 10 men for half the game. That win was part of a run of three straight wins with Sion Bradley bagging six goals. The squad has been depleted recently by injuries and several have been playing on despite carrying injuries. Despite the problems let's hope for return to form on Wednesday. C'mon Port!
---

Coronwyd tymor arbennig y Tîm Dan 18 wrth iddynt sicrhau teitl Cynghrair Dyffryn Clwyd a Chonwy gyda buddugoliaeth dros Cyffordd Llandudno heddiw. Gyda un gêm gynghrair yn weddill ni fydd Llanberis eu gwrthwynebwyr agosaf yn medru eu dal.
Cadwodd Port eu record diguro gyda buddugoliaeth o 7-0. Cawsant gychwyn ardderchog gyda Carl O'Hara yn rhwydo wedi 7 munud. Daeth dwy gôl mewn dau funud i'w gwneud yn 3-0 -gôl i rhwyd eu hunain a tap o ychydig lathenni gan Elis Thomas. Roedd yn dal yn 3-0 ar hanner-amser. Ar ôl 10 munud o'r ail hanner mellten o beniad gan Sol Kempster yn rhoi Port ar y blaen o 4-0. Ar ôl 72 munud, sgoriodd Reece Evans efo ergyd o ymyl y bocs i'w gwneud yn 5-0. Daeth dwy gôl hwyr, gôl gan Rhys Hughes ac un Cai Henshaw, y gôl hon wedi'i chreu gan Rhys a Siôn Roberts.
Cyn ddiwedd y tymor bydd gan yr hogiau gyfle i ennill dau dlws arall wrth chwarae mewn dwy ffeinal.
Sul 29 Ebrill: Ffeinal Cwpan y Gynghrair – Port v Llanberis, Parc Meurig, Bethesda, 1.30pm
Sul 6 Mai: Ffeinal Cwpan Ieuenctid yr Arfordir – Port v Bae Penrhyn. Parc Meurig, Bethesda.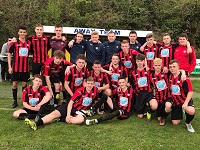 The U18s crowned what has been a remarkable season by clinching the Vale of Clwyd and Conwy League with a win this afternoon at Llandudno Junction. This means, with just one league game remaining, they cannot be caught by their nearest rivals Llanberis.
They maintained their unbeaten record with a convincing 7-0 victory. They got away to a good start with Carl O'Hara netting after just 7 minutes. Two goals in two minutes extended the Port lead with an own goal followed by an Elis Thomas tap in. The score remained 3-0 at the interval. 10 minutes into the second period a Sol Kempster bullet header made it 4-0. It became 5-0 after 72 minutes when Reece Evans fired in from the edge of the box. Two late goals completed the scoring, a Rhys Hughes tap in followed by an assist from the same player with Cai Henshaw netting.
Port, having already qualified for two Cup Finals, will therefore have the opportunity to collect further silverware before the season is out.
Sunday 29th April League Cup Final Port v Llanberis.Parc Meurig, Bethesda. 1.30pm
Sunday May 6th NWCFA Youth Cup Port v Penrhyn Bay. Parc Meurig, Bethesda.
---