Canslwyd y Gêm gyfeillgar ar y Belle Vue yn erbyn Rhyl.

The friendly fixture with Rhyl FC at the Belle Vue is now OFF.
---

Gyda nifer o'i garfan yn methu chwarae oherwydd gwaharddiad neu anaf, roedd yn dda gweld y rheolwr Craig Papirnyk, yn rhoi lle i dri o chwaraewyr yr Academi ar y fainc yn Bwcle. Cafodd Gwion John Williams ei gyfle cyntaf yn yr HGA, gan ddod i'r cae am y 10 munud olaf. Ar y fainc hefyd roedd Meilir Edwards a Rhys Hughes -a Sion Eirian, rheolwr y tîm Dan 19 yn trydar:
Delighted to see 3 of my 19s boys on the @CPDPorthmadogFC 1st team bench today. Congrats to @Gwion_John on his debut! #hogiaport #mwyiddod pic.twitter.com/24bjz1TK9u
Y tymor hwn mae wedi bod yn dda gweld gymaint o chwaraewyr a gychwynnodd yn yr Academi ar y Traeth yn gwneud eu marc. Yn barod mae hogiau Blaenau, Tyler French a Sion Bradley, wedi creu dipyn o argraff. Maent yn dilyn llwybr Cai Jones, Iddon Price a heb anghofio Richard Harvey i gyd wedi cychwyn yn ifanc ar Y Traeth.
Mae hyn i gyd yn tanlinellu pwysigrwydd yr Academi a penderfyniad dewr y Bwrdd i lenwi'r gap amlwg yn y dilyniant, a cael tîm yn y Gynghrair Ddatblygol, gan gynnig llwybr drwodd i'r tîm cyntaf i chwaraewyr ifanc,a hynny heb iddynt orfod gadael i gael profiad efo clybiau eraill.
Un oedd yn edrych ar y cyfan yn Bwcle gyda balchder oedd Eddie Blackburn a rhoddodd wasanaeth mawr i'r Academi fel Gweinyddwr. Mae'r cyfan y gadael y cwestiwn, "Pam nad yw'r Gymdeithas Bêl-droed yn barod i roi cefnogaeth ariannol i Academi lwyddianus fel un Port?"

With a number of his squad unavailable through supension and injury it was good to see manager Craig Papirnyk include three of the club's Academy U19s on the bench at Buckley. Gwion J Williams was given his first HGA opportunity with a 10 minute sub appearance. Also on the bench at Globe Way were Meilir Edwards and Rhys Hughes prompting U19s coach Sion Eifion to tweet:
Delighted to see 3 of my 19s boys on the @CPDPorthmadogFC 1st team bench today. Congrats to @Gwion_John on his debut! #hogiaport #mwyiddod pic.twitter.com/24bjz1TK9u
It is great this season to see so many players who have come through the Academy and Youth system at the Traeth, making their mark. Tyler French, and now the returning Sion Bradley have made a real impression already. They follow in the footsteps of Cai Jones, Iddon Price and not forgetting Richard Harvey who have all come through the ranks.
All of this underlines the importance of the Academy system and the brave decision of the Board to plug the obvious gap in the system and enter a team in the WP Development League, so that players have a pathway to the first team, without having to leave and find their feet elsewhere.
Looking on with justifiable pride at Buckley was Eddie Blackburn who gave so much to the growth and success of the Academy in his time as Administrator. It leaves us asking the question. "Why does the FAW not support successful Academies like Ours."
---

Mae Cwmni First Hydro wedi noddi Academi Clwb Peldroed Porthmadog fel y gall brynu Gôl Ymarfer newydd sbon. Cafodd y Gôl groeso mawr gan Tîm Dan 12 oed yr Academi yn ystod ei noson ymarfer yn ddiweddar.
Wrth ddiolch i First Hydro dywedodd Gethin Jones, Hyfforddwr y tîm o Dan 12 oed a sydd hefyd yn gyfrifol am gynllun 'Pêl-droed yn y Gymuned y Clwb:
"Nid yw'r clwb yn derbyn unrhyw nawdd gan yr awdurdodau pêl-droed tuag at yr Academi ac felly ers rhai blynyddoedd bellach bu rhaid i ni ariannu pob agwedd o'r gweithgareddau. Felly croesawn yn dwym galon gyfraniadau fel hwn gan First Hydro."
Mae'r Academi yn cynnig cyfleon a hyfforddiant o safon i dros 100 o beldroediwyr disgleiriaf de Gwynedd rhwng 7 a 16 oed bellach. Os oes unrhyw unigolyn neu fusnes fuasai'n hoffi cefnogi'r gwaith mae croeso i chwi gysylltu a chyfarwyddwr y clwb @ dafyddwynjones@hotmail.co.uk 07810057444

The FIRST HYDRO company has sponsored Porthmadog Football Club's Academy allowing it to purchase a brand new Practice Goal. The under 12 team celebrated its new acquisition at a recent training session!
Thanking First Hydro for its generous support Gethin Jones, the Academy's Under 12's coach who also runs the Club's 'Football in the Community' programme, said:
"As a second tier club we do not receive any financial support whatsoever from the football authorities and, therefore, we have to generate the income to run and sustain the Academy. We are indebted to organisations like First Hydro for their willing support."
The Academy offers opportunities and quality coaching for over a 100 talented young people in the south of Gwynedd between 7 and 16 years old. If any individual, business or organisation wishes to financially support the Academy they are welcome to contact:
Club director dafyddwynjones@hotmail.co.uk or 07810057444.
---

Pnawn Sadwrn bydd Port yn teithio i Globe Way, Bwcle. Yn dilyn y fuddugolaieth dros Llanfair, a'r canlyniadau eraill hefyd yn mynd o'u plaid, mae Port wedi codi i'r 4ydd safle. Gall buddugoliaeth osod mwy o bwysau ar Fflint sy'n 3ydd.
Dros nifer o dymhorau cafodd Port dipyn o drafferth yn erbyn Bwcle, ond y tymor diwethaf llwyddwyd i wneud y dwbl drostynt, a Port hefyd enillodd y gêm rhwng y ddau ar Y Traeth ynghynt yn y tymor.
Ar hyn o bryd mae Bwcle yn cael eu hunain yn nhri gwaelod y tabl ar ôl colli eu chwe gêm ddiwethaf, gyda 50 o goliau wedi'i sgorio yn eu herbyn yn ystood y tymor. Ond y penwythnos diwethaf buont yn anlwcus i golli o 1-0 yn Caersws. Dan Moore oedd y rheolwr dros dro yn cymryd lle Ben Chamberlain sydd wedi ymddiswyddo.
Bydd y ddau glwb yn colli chwaraewyr oherwydd gwharddiad. Dan Roberts ac Iddon Price yn methu i Port, a cyn chwaraewr Port Asa Hamilton yn methu i Bwcle.

Saturday Port travel to Buckley for a league fixture and, with the win against Llanfair as well as other results going in their favour, they are now in 4th place in the table. They will therefore look to maintain pressure on Flint in third place.
Over recent seasons Buckley have very much been Port's bogey side so it was something of a relief to do the double over them last season. Port were also winners at the Traeth earlier this season.
Currently Buckley find themselves in the bottom three and are on a run of six straight league defeats, with their plight being mainly down to defensive problems which has seen them concede a total of 50 goals so far this season. But last weekend, under caretaker manager Dan Moore they were unlucky do go down 1-0 at Caersws.
Both clubs will lose players to suspensions on Saturday with Dan Roberts (2 yellows last Saturday) and Iddon Price (totting up process ) both missing out as will former Port forward Asa Hamilton now playing for Buckley.
---

Dywedodd Craig Papirnyk heno fod y blaenwr Jamie McDaid wedi penderfynu gadael y clwb er mwyn chwarae yn fwy rheolaidd. Meddai Craig:
"Mae Jamie wedi gadael y clwb. Bu'n gyfnod anodd iddo ac mae'n awyddus i chwarae'n fwy rheolaidd. Mae wedi gadael ar delerau da ac rwy'n dymuno'n dda iddo yn y dyfodol.
"Byddwn yn cario 'mlaen fel arfer. Mae gennym garfan ardderchog a bydd angen i bawb gyd dynnu. Mae fy merthynas i gyda'r chwaraewyr i gyd yn un agored a gonest. Mae pawb yn deall mae'r garfan sy'n bwysig imi a hynny o rhif 1-18 ac nid 1-11.
Gwelsom pnawn Sadwrn mor bwysig ydy cael dyfnder yn y garfan, a nid yn unig yr XI sy'n cychwyn. Bob amser wedyn bydd gennym opsiynau i gryfhau pan fod angen fel y digwyddodd gyda Josh Davies a Sion Bradley yn erbyn Llanfair.
Sadwrn nesaf byddwn yn teithio i Fwcle gan anelu i ennill eto. Mae'n bwysig inni sicrhau'r 3 phwynt yr holl ffordd hyd ddiwedd y tymor. C'mon Port!!

Craig Papirnyk reports that forward Jamie McDaid has left the club in search of more regular football. Craig said
"Jamie McDaid as parted ways with the club, it has been a difficult period for him and he wants to play more football. He has left on good terms and I wish him all the best in the future .
"For us we carry on as normal as we have an excellent squad and we need everyone pulling together. I have an open and honest relationship with all my players. They all understand that for me it's about the squad and that involves 1-18 not 1-11 .
"We have witnessed 1st hand on the weekend how influential having strength in depth is and no matter what the starting X1 I pick, we will always have options to strengthen when changes are needed, just like Josh Davies and Sion Bradley did for us on the weekend!
"Saturday we will travel to Buckley looking to continue our winning ways. It's important for us to keep picking up maximum points all the way until the end of the season !! C'mon Port"
---

Yn ystod y tymor mae Tommie Collins wedi cynyrchu nifer o gyfweliadau ardderchog gyda'r diweddaraf yn gyfweliad gyda'r rheolwr Craig Papirnyk yn dilyn y fuddugoliaeth dros Llanfair. Ar ddechrau 2017 mae'n cael yr ymateb arferol gonest, traed ar y ddaear, gan Craig. Mae yna gyfweliadau eraill yn adlewyrchu agweddau eraill o'r clwb: safbwynt y chwaraewr, yr hyfforddwr a hefyd, profiad sydd mor aml yn cael ei anwybyddu, hwnnw sy'n digwydd tu ôl i'r llenni a cewch glywed am gyfraniad un sydd ar yr un pryd yn wirfoddolwr/cefnogwr a swyddog clwb. Er mwyn cael golwg ar y gwaith, yr ymdrech a'r proffesiynoldeb sydd eu hangen i drefnu clwb, gwrandewch ar y cyfweliadau yma.
Felly yn ogystal â'r cyfweliad gyda Craig cewch un gyda'r golwr Richard Harvey yn rhoi golwg inni o safbwynt y chwaraewr, gyda'i uchelgais yn y gêm, yr uchelfannau, y cyfnodau isel a rhwystredig oherwydd anafiadau. Gyda Guy Handscombe cawn glywed am waith hyfforddwr proffesiynol gyda'r Ymddiriedolaeth Bêl-droed yn ogystal ac am ei waith gyda Port. Os nad ydych eto wedi clywed y cyfweliad cewch agoriad llygad wrth i Tommie holi Dylan Rees, Swyddog Marchnata'r clwb. Teg dweud mae'n siwr nad oes fawr o swyddogion marchnata yn treulio'u hamser yn gwagio'r biniau o gwmpas y cae yn dilyn gêm!!
Diolch Tommie a dal ati a diolch hefyd i'r rhai hynny a gytunodd i gael eu cyfweld gan ymateb mor glir ac agored. Cewch y cyfelwadau i gyda ar soundcloud.com/tommie-collins-1

Tommie Collins has recorded a number of excellent interviews during the current season with the latest being a post match interview with manager Craig Papirnyk following the home fixture against Llanfair United. As usual he gets another honest. realistic assessment from Craig at the turn of the year. Other interviews have covered other aspects of the life of the club: from a player's point of view, a coach's view and the often neglected behind the scenes experiences of an all rolled into one; volunteer/supporter/club official. For a real insight into the work, effort and professionalism that goes into running a club these interviews will provide it.
In addition to the interview with Craig there are interviews with long serving keeper Richard Harvey giving a real insight into the playing side with its ambitions, its ups and downs as well as its injury frustrations. Assistant Manager Guy Handscombe tells followers about his work as a coach with the FAW Trust as well as with Port . If you haven't already heard it, a real eye opener for many will be the one with Marketing Officer Dylan Rees. It is fair to say that not many Marketing officers also spend their post match time clearing the bins at the Traeth!!
Thanks Tommie keep them commg and thanks to the excellent subjects of the interviews who have responded in such a clear and open way. All interviews can be found on: soundcloud.com/tommie-collins-1
---

Bydd cyrsiau TG chwarter cyntaf 2017 yn cychwyn dydd Mawrth nesaf 17eg o Ionawr yn y Ganolfan Sgiliau ar y Traeth ac yn parhau dros 10 wythnos. Bydd cwrs ar gyfer y rhai sydd megis dechrau rhwng 12.30pm a 3pm, dod i adnabod eich tabled neu I-Pad yn well rhwng 3.30pm a 5.30pm a chwrs a canolradd rhwng 6pm a 8.30pm.
Os am sicrhau eich lle ar y cyrsiau sydd yn rhad ac am ddim cysylltwch a dafyddwynjones@hotmail.co.uk neu 07810057444/01766 76 2775. Neu Wendy Cleaver yng ngholeg Meirion Dwyfor ar 01341 422 827 estyniad 8418.
Bu'r cyrsiau cyntaf a drefnwyd ar ôl agor y Ganolfan Sgiliau ym mis Medi llynedd yn llwyddiant ysgubol gyda 23 o bobol yn eu mynychu. Felly os oes ganddoch ddiddordeb cysylltwch rhagblaen!

The new programme of IT courses commences next Tuesday 17th January at the Traeth's Skills Centre. Between 12.30pm and 3pm there is a course for beginners, between 3.30pm and 5.30pm getting to know your tablet or I-Pad better and then an intermediate course for those who have the basics but need to develop their skills, between 6pm and 8.30pm.
All the courses are FREE and last over 10 weeks. To book a place on any of the courses contact dafyddwynjones@hotmail.co.uk or 07810057444/ 01766 76 2775. Alternatively contact Wendy Cleaver at Coleg Meirion Dwyfor on 01341 422 827 extension 8418.
The first courses held after the opening of the Skills Centre last September attracted 23 participants. Therefore, to be sure of your place please contact us as soon as possible!
---

Yn y diweddaraf o'i gyfweliadau, mae Tommie Collins yn siarad efo Craig Papyrnik yn dilyn y fuddigoliaeth yn erbyn Llanfair Utd. Y pynciau sy'n cael eu trafod yw gêm Llanfair, Siôn Bradley ag ymweliad wythnos nesaf â Bwcle.
In the latest of his podcast interviews, Tommie Collins spekas to Craig Papyrnik following the win against Llanfair Utd. Amongst the topics of conversation are the Llanfair win, new signing Siôn Bradley and the upcoming fixture at Buckley.
---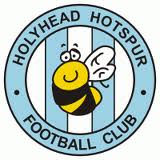 Erbyn hyn mae gennym ddyddiad ar gyfer Rownd 2 o Gwpan Huws Gray pan fydd Port yn teithio i Gaergybi. Chwareir y gêm ar Sadwrn 4 Mawrth yn Y Stadiwm Newydd yng Nghaergybi.
Ar y dyddiad hwn roedd yr Hotspyrs fod i chwarae gêm gynghrair ar Y Traeth ond mae'r gêm honno wedi'i symud i'r Nos Fercher, 8 Chwefror am 7.45 pm.
Roedd angen y newid oherwydd diffyg goleuadau ar hyn o bryd ar gae'r Hotspyrs.
Bydd enillwyr y gêm gwpan ar 4 Mawrth yn ymuno â Caernarfon, Y Fflint a Prestatyn yn y rownd gynderfynol.

We now have a date for the Huws Gray Cup Round 2 tie when we visit Holyhead. It will be played on Saturday, 4 March at the New Stadium. Holyhead.
On this date the Hotspurs were due to visit Port for a League match but this game has now been brought forward to Wednesday, 8 February with a 7.45 kick off.
This change was necessary as the Hotspurs floodlights are currently out of action.
The winners of the tie on 8 March will join Caernarfon, Flint and Prestatyn in the semi-final.
---

Bydd y tîm Dan 19 yn chwarae yn y Gynghrair Ddatblygol yfory (pnawn Sul) ac yn ymweld â Maesdu am y gêm yn erbyn Llandudno. Dyma weddill gemau mis Ionawr:

15 Ionawr: Port v Y Drenewydd
22 Ionawr: Derwyddon Cefn v Port
29 Ionawr: Port v Fflint
Bydd y gic gyntaf ym mhob gêm am 2pm.

The U19s return to Development League action tomorrow (Sunday) when they visit Maesdu to play Llandudno. The remaining January fixtures are:

15 January: Port v Newtown
22 January: Cefn Druids v Port
29 January: Port v Flint Town United
All games kick off at 2pm.
---

Y rhifau lwcus yn Tote Rhagfyr oedd 6 a 12. Roedd yna 2 enillydd, I.Williams, Gellilydan a Caren Williams Llanrug, yn rhannu'r wobr o £992.
Bydd rhaid gwneud unrhyw gais erbyn 8 y.h. nos Wener, 13 Ionawr. Bydd y rhifau ar gyfer y Tote nesaf yn cael eu tynnu nos Wener, 27 Ionawr, yn sesiwn Bingo wythnosol Clwb Cymdeithasol, Clwb Pêl-Droed Porthmadog yn Y Ganolfan.
Amlenni Tote ar gael o Kaleidoscope, Y Ganolfan, Clwb Pêl-Droed Porthmadog neu Dylan 07900512345.

The winning numbers in the December Tote were 6 and 12. There were two winners, I Williams, Gellilydan and Caren Williams, Llanrug sharing a total prize of £992.
Any claims must be made by 8pm on Friday 13 January. The next Tote will be drawn on Friday 27 January at the weekly Porthmadog FC Social Club Bingo held at Y Ganolfan.
Tote envelopes available from Kaleidoscope, Y Ganolfan, Porthmadog F C Clubhouse or Dylan 07900512345.
---

Mae Craig Papirnyk wedi cadarnhau fod Sion Bradley, y chwaraewr ifanc o Flaenau Ffestiniog a chyn chwaraewr gyda Academi Port, wedi ymuno ar fenthyg o Fangor tan ddiwedd y tymor.

Craig Papirnyk has confirmed the signing of Siôn Bradley on loan. Craig says:

"I would like to welcome Sion Bradley to the club who joins until the end of the season from Bangor City.
"Sion is familiar to us as he was a Port Academy product before moving on to representing Bala and Bangor. He has senior experience for Blaenau Ffestiniog and Penrhyndeudraeth and he has also featured for Bangor 1sts this season.
"Sion is a very talented young local man and I am really pleased he decided to come to Port and work with us for the reminder of the season , I have watched him since he was a young boy and know him well , I have always admired him as a player and tried to get him here earlier this season.
"We currently have a few injuries with Ceri James and Yws Gwynedd out with Gruff John and Julian Williams both carrying knocks while Gareth Jones Evans is due an ankle operation this month. Siôn will come in and strengthen us in the area most needed across midfield, He can play either side and has the ability to use both feet.
"I am really looking forward to seeing how he progresses with us and he will come straight into tomorrow's squad . C'mon Port!"
---

Bydd TOTE mis Rhagfyr yn cael ei dynnu nos yfory (6 Ionawr)
Bydd yna wobr DDWBL o tua £950
Manteisiwch ar y cyfle hwn; cewch eich amlen o Kaleidoscope (514343) neu yn y Sesiwn Bingo yn y GANOLFAN.

The December Tote will be drawn tomorrow night (6 January)
There will be a bumper prize of approximately £950.
Don't miss this opportunity; get your TOTE envelope from Kaleidoscope (514343) or at the Bigo Night at the GANOLFAN
---

Mae Academi Port yn dymuno recriwtio hyfforddywr sydd â chymwysterau'r Gymdeithas i weithio gyda'r tîm hyfforddi presennol. Bydd yna gyfleoedd i gefnogi y grwpiau oed rhwng 10 ac 19.
Bydd y cyfrifoldebau yn cynnwys darparu sesiynau hyfforddi, cefnogi ar ddyddiau pan fydd yna gemau a recriwtio chwaraewyr yn unol â rheolau'r Gymdeithas. Tan ddiwedd y tymor bydd yr hyfforddiant ar nosweithiau Llun a gemau ar ddydd Sul.
Unwaith y cewch eich derbyn i staff yr Academi cewch swydd ddisgrifiad fydd yn cydymffurfio ag argymhellion y Gymdeithas.
PRIF YSTYRIAETHAU wrth wneud cais:
-profiad hyfforddi ymarferol
-cymhwyster hyfforddi'r Gymdeithas
-DBS cyfredol
-tystysgrif Cymorth Cyntaf cyfredol
-y gallu i gynllunio a threfnu gyda sgiliau sylwi da
-sgiliau cyfathrebu ardderchog
-trwydded yrru
-car i deithio
Darperir treuliau yn unol a'ch profiad hyfforddi. Byddwn hefyd yn sicrhau'r cyllid ar gyfer hyfforddwyr sydd yn dymuno datblygu eu sgiliau.
Byddwch hefyd yn DERBYN:
-pecyn cit llawn
-pecyn offer llawn ar gyfer sesiynau hyfforddi a gemau
-mynediad di-dal i holl gemau CPD Porthmadog
GWNEUD CAIS:
Bydd hwn yn gyfle da i hyfforddwraig neu hyfforddwr i ddatblygu sgiliau mewn awyrgylch Academi swyddogol. I wneud eich cais gyrrwch eich CV at guyhandscombe@hotmail.co.uk

CPD Porthmadog Academy are looking to recruit FAW qualified coaches to work alongside our current coaching team. There are opportunities to support age groups between the age of 10-19.
Roles and responsibilities will include delivering training sessions, supporting Academy match days for your age group and player recruitment in line with FAW regulations. Training nights are currently on Mondays until the end of the season, with fixtures on Sundays.
Upon acceptance to our Academy staff structure, a job description for your role will be provided in line with FAW Academy guidelines.
KEY CONSIDERATIONS when applying:
-Practical experience of coaching football
-FAW Qualified
-Valid DBS
-Valid First Aid certificate
-Able to plan, organise and have good observational skills
-Excellent communication skills with players and parents
-Full driving licence
-Vehicle to commute
Expenses will be provided for your role dependent on current coaching qualification. We will also provide funding for coach education for any aspiring coaches looking to develop.
You will also gain:
– Full Academy kit pack
– Full Equipment pack for training sessions & match days
– Continuous CPD throughout the season
– Free entrance to CPD Porthmadog home fixtures

HOW to APPLY:
This is a great opportunity for male and female coaches looking to develop within an FAW Academy environment. To apply please send a copy of your CV to guyhandscombe@hotmail.co.uk
---

Pnawn Sadwrn byddwn adre am y tro cyntaf ers 26 Tachwedd, pan croesawyd Penrhyncoch i'r Traeth. Y tro yma Llanfair fydd yr ymwelwyr i'r Traeth. Yn y cyfnod hwn gwelwyd buddugoliaethau dros Dinbych a Rhuthun ond hefyd aethom allan o Gwpan Cymru ac efallai mwy siomedig i'r criw mawr a deithiodd i'r Oval, colli eto yn y gêm ddarbi. Cawsom ddigonedd o'r meddiant ond yn colli gôl i gic rhydd a wedyn un arall i wrth ymosodiad, a hynny yn erbyn rhediad y chwarae. Yn ôl ar Y Traeth bydd Port am wella eu perfformiadau adre, yn ennill ond 3 gêm a cholli pedair.
Ar ôl colli eu tair gêm ddiwethaf mae Llanfair wedi llithro i'r 12fed safle. Byddant felly yn chwilio am bwyntiau gan sylweddoli'r posibilrwydd y bydd pedwar clwb yn disgyn ar ddiwedd y tymor. Yn eu 2ail dymor yn yr HGA mae Llanfair eisoes wedi achosi mwy o siocs na mae'r rhan fwyaf o glybiau yn creu mewn degawd gyda Port, Prestatyn a Caernarfon i gyd wedi dioddef! Curwyd y Cofis 4-2, dau fis yn ôl ar yr Oval.
Yn y gêm lawr yn Llanfair Caereinion, Port enillodd o 2-0 gyda Jamie McDaid a Chris Jones yn sgorio.Y diwrnod hwnnw teithiwyd i'r canolbarth drwy law difrifol ond diolch i'r gwaith draenio ar y cae yn ystod yr haf, chwaraewyd y gêm heb drafferth. Anodd rhagweld pa Lanfair fydd yn teithio i'r Traeth ond mae gan y tîm y ddawn i newid gêm mewn ychydig o funudau o wrth ymosod ysbrydoledig. Cymysgfa o fuddugoliaethau da a colledion reit drwm fu y tymor hwn i Llanfair. Eto eleni, James Davies yw eu prif sgoriwr ac yn cael cefnogaeth gan Paul Griffiths ac Andrew Hughes. Edrych yn ôl i'r gêm ar Y Traeth llynedd cafwyd buddugoliaeth o 6-1 gyda Julian Williams yn sgorio hatric. C'mon Port.

On Saturday we play our first home fixture since we entertained Penrhyncoch on the 26th November when we welcome Llanfair United to the Traeth. In this period there were wins at Denbigh and Ruthin but it also saw us go out of the Welsh Cup but perhaps most disappointing to the huge following who travelled to the Oval, was another derby defeat to Caernarfon. Looking back at that loss we had more than a fair share of possession but unfortunately conceded from a set piece and were then hit by a breakaway goal. Back at the Traeth again Port will be looking to improve their home form which has seen them win just three times while losing four games.
Our opponents from Llanfair Caereinion have slipped to 12th in the table following three straight defeats. They will come looking for points well aware that four clubs could face the drop this season. But in only their second season in the HGA, Llanfair have caused more shocks than most cause in a decade. Port, Prestatyn and Caernarfon have all suffered at their hands with the Cofis being beaten 4-2 at the Oval just a couple of months back.
In this season's corresponding game at Llanfair Caerenion, Port were winners by 2-0 with Jamie McDaid and Chris Jones the scorers. The journey down to Llanfair was made through torrential rain but the new drainage at Mount Field ensured that the game was played and no problem. Llanfair Utd can be unpredictable turning apparent losing situations in a few minutes of inspired counter attacking. Their season so far is a mixture of quite heavy defeaIs and stunning victories. This season again James Davies is their leading scorer well supported by Paul Griffiths and Andrew Hughes. In last season's encounter Port ran out winners by a margin of 6-1 with Julian Williams getting a hat-trick. C'mon Port!
---

Os oes gennych broblem o unrhyw fath, neu y gwyddwch am rhywun arall sydd a phroblem, cofiwch bod CYNGOR AR BOPETH ar gael yn y GANOLFAN SGILIAU yn y Traeth pob dydd Mercher rhwng 10am a 1pm. Mae'r gwasanaeth proffeshiynol hwn yn rhad ac am ddim, ac ar gael ar gyfer ystod eang o broblemau boed yn ariannol, cyfreithiol, statudol neu arall. Nid oes angen trefnu apwyntiad dim ond galw heibio. Mae'r gwasanaeth yn un hollol gyfrinachol. Mae rhannu problem yn rhannu'r boen ac yn gallu datrys y cyfryw!

If you have a problem, or know of someone else who has one, then please remember that CITIZEN's ADVICE is available every Wednesday at the SKILLS CENTRE, Y Traeth, Porthmadog Football Club between 10am and 1pm. This is a FREE professional service and can include advice on a whole multitude of issues be they financial, legal, statutory or other. You do not need an appointment, simply drop in. This is a confidential service. Sometimes sharing a problem can lead to solving a problem!
---

Bydd chwaraewr ifanc, â ymunodd a Port yn ddiweddar, yn ymddanogos mewn drama gomedi ar S4C yn ystod yr wythnos hon.
Ymunodd Gwion John Williams â Port o glwb Bangor ar ddechrau mis Rhagfyr ac mae'n chwarae i'r tîm Dan 19. Ond dywedodd mewn cyfweliad gyda 'Golwg' ei fod yn anelu i chwarae i'r tîm cyntaf erbyn diwedd y tymor. Mae Gwion yn fyfyriwr Lefel 'A' 17 oed ac yn frawd i amddiffynwr Port, Gruff John Williams. Ei dad ydy'r actor adnabyddus Maldwyn John o Rownd a Rownd.
Bydd Gwion yn actio rhan Darren yn y ddrama Darren Drws Nesa gyda'r rhaglen yn cael ei darlledu nos Wener. Ionawr 5ed am 8.25 pm.

A young player who joined Port recently will star in a comedi drama on S4C during this week.
Gwion John Williams joined Port from Bangor City in early December and plays for the U19 Development squad. Talking to 'Golwg' he says by the end of the season he would like to be challenging for a first team place. The 17 year old 'A'level student is the brother of first team defender Gruff John Williams. . His father is the well known actor Maldwyn John.
Gwion will play the part of Darren in the drama 'Darren Drws Nesa' with the programme being broadcast next Friday January 5th at 8.25pm.
---

Caergybi fydd gwrthwynebwyr Port yn Rownd 2 o Gwpan Huws Gray ar ddyddiad i'w drefnu. Curwyd Bwcle gan Gaergybi o 2-1 yn y rownd gyntaf heddiw.
Mel McGuiness sgoriodd y ddwy gôl i'r Hotspyrs yn ystod yr ail hanner, gyda ergyd Asa Hamilton, i Bwcle, yn taro Mike Cronshaw ar ei ffordd i'r rhwyd.

Holyhead Hotspurs will be Port's opponents in Rownd 2 of the Huws Gray Cup on a date to be decided.
Mel McGuiness netted two as Holyhead Hotspur won a round one tie at home to Buckley Town, After a goalless first half McGuiness opened the scoring after seventy minutes. Buckley levelled with four minutes remaining when a As a Hamilton shot was deflected in off Mike Cronshaw but McGuiness had the last say as he scored his second goal in added on time.
---

Pnawn Sadwrn 31 Rhagfyr bydd chwech o glybiau yn chwarae yn Rownd 2 Cwpan Huws Gray. Ond bydd rhaid i Port aros tan fydd y gêm olaf yn Rownd 1 rhwng Caergybi a Bwcle, hefyd pnawn Sadwrn, wedi'i chwarae cyn gwybod pwy fydd ein gwrthwynebwyr yn Rownd 2.
Felly bydd gan Port Sadwrn rhydd.

Next Saturday, 31 December, six clubs will be involved in Round 2 of the Huws Gray Cup. With Port's opponents in Round 2 yet to be decided we will have to wait on the result of Saturday's remaining Round 1 fixture between Holyhead Hotspur and Buckley Town.
Next Saturday will therfore be a free Saturday for Port.
---

Y pwnc trafod mawr yn dilyn Darbi Gwynedd ddydd Mawrth oedd maint y dorf. Roedd yna 1247 ar yr Oval a mae hynny wedi arwain at drafodaeth bwysig gan godi cwestiynau am agweddau'r rhai sy'n trefnu'r cynghreiriau yng Nghymru. Er waethaf y dystiolaeth o ddiflastod efo'r uwch gynghrair 12 clwb mae'r penaethiaid wedi ail ddatgan eu ffydd yn y cynllun amhoblogaidd.
379 aeth i weld TNS yn dod yn gyfartal a record byd am rhediad o fudugoliaethau a hyn yn tueddu i gadarhau diffyg apêl y gynghrair. Mae torf o 658 yn Nantporth ar Wyl San Steffan i weld Darbi'r A55 rhwng Bangor a Llandudno yn awgrymu fod cefnogwyr ffyddlon Bangor wedi cael digon o'r fformat presennol hefyd.
Mae llawer o gefnogwyr clybiau'r HGA, er yn awyddus i weld eu clybiau yn ennill y gynghrair, yn cael mwy o bleser tu allan i'r WPL ymysg y clybiau cymunedol go-iawn.
Am fwy ar y pwnc hwn ewch i p425.wordpress.com lle mae Simon Brooks yn deud ei ddweud.

The big talking point after the Gwynedd Derby on Tuesday has proved to be the size of the crowd. 1.247 spectators at the Oval, now that has set the tongues wagging and raises some very serious questions for those entrusted with running the domestic game. At present these people have, despite all the evidence to the contrary, confirmed their faith in a 12 club WPL.
379 to see TNS equal a world record winning run seems to confirm a lack of appeal, While the Bangor v Llandudno, A55 derby, attracted 658 which suggests that even followers of well supported Bangor City are giving up on the 12-club WPL.
Many HGA supporters, though they would like to see their club winning the title, prefer life outside the WPL, in a league which is competitive and has genuine community clubs.
For more on the subject you can read Simon Brooks's views on p425.wordpress.com
---

Bydd y ffyrdd i gyd yn arwain at un lle pnawn Mawrth nesaf; yr Oval yng Nghaernarfon ydy'r lle i fod, a dewch yn gynnar gan fydd yna dorf fawr yno.
Bydd y speis arferol yn Derby Fawr Gwynedd, pan fydd yr ail yng Nghynghrair Huws Gray yn chwarae'e 4ydd. I gynnal eu sialens ar y brig bydd y Cofis yn edrych am y 3 phwynt, tra fydd Port yn ceisio cynnal y rhediad diweddar sydd wedi ei gweld yn symud i fyny'r tabl.
Os ydy hanes diweddar yn cyfri am rhywbeth bydd y Cofis yn llawn hyder i ail adrodd y fuddugoliaeth o 2-1 ar y Traeth ynghynt yn y tymor. Yn wir mae Caernarfon wedi ennill y 5 gêm ddiweddaf rhwng y ddau glwb, gyda pedair yn gorffen yn 2-1 a'r llall yn 1-0. Ond gyda'r canlyniadau mor agos ydy hi'n bryd i lwc Port newid? Bydd Port yn cadw mewn cof fod y cychwyn araf ar Y Traeth wedi costio'r gêm iddyn nhw, gyda Nathan Craig a Jamie Breeze y sgorio goliau cynnar, y gyntaf mewn llai na munud!
Pnawn Sadwrn diwethaf colli gêm agos yn Prestatyn oedd hanes Caernarfon a hyn yn ei gadael 9 pwynt tu ôl yn yr ail safle. Bydd Port yn gobeithio parhau a'u fform oddi cartref; y fuddugoliaeth glos yn Rhuthun oedd eu 6ed buddugoliaeth mewn 8 gêm. Hefyd cafwyd gêm gyfartal yn Prestatyn tra yn Caersws roedd yr unig siom. Edrychwn ymlaen at gêm Ddarbi gyffrous a C'mon Port!!

It's Derby Day Tuesday on 27 December when all roads will be leading to the Oval and you better get there early as a huge crowd is expected!
This is a game between 2nd and 4th in the HGA and is a must win game for the Cofi promotion challenge and will also be a test for Port's recent surge up the table.
If recent history is anything to go by then Caernarfon Town will be confident of another win to follow the 2-1 victory at the Traeth earlier in the season. Caernarfon have won the last five league encounters four of which ended with the same 2-1 scoreline and the other was 1-0. But having been such close encounters Port will feel maybe it's high time for a change of fortunes.
Port will be aware that their slow start cost them dearly back in August with dangermen Nathan Craig and Jamie Breeze putting the Cofis in the driving seat with two early goals, one in the 1st minute of the game!
Caernarfon come to the game on the back of a narrow defeat to promotion rivals and this has opened a gap of 9 pts at the top of the table. Port will hope that their form on the road will continue; the last minute win at Ruthin being their sixth away victory in 8 games. There was also a hard fought 1-1 draw at Prestatyn while at Caersws came the only away disappointment.
Let's hope for an entertaining action packed Derby and C'mon Port!!
---

Isod mae Craig Papirnyk yn cymryd golwg ymlaen at y gêm ddarbi ar yr Oval ac yn ôl i'r 6ed fuddugoliaeth o'r tymor oddi cartref.

Craig Papirnyk looks ahead to the local derby at the Oval next Tuesday and back to the 6th away win of the season.

"We approach the game like any other , however there is always an element of excitement before this CA Gwynedd Derby, it's a pleasure to part of it ! The importance of any fixture is always high but I must say it is slightly greater for this game as we are both up there competing at the top end of the league and the 3 points is massive for both of us at this stage of the season , especially with Prestatyn having such a big lead.
"We are two big clubs within Gwynedd and have a mutual respect for one another. Past games have always been played in good spirits and of the highest quality , They are great games, we have had some really close ones most ending by the odd goal, the crowds have always been fantastic and the Coffi's have a great supporters group as do we at Port, both sets of fans are very passionate about their clubs and it makes for a great atmosphere. I expect no different Tuesday afternoon and I am really looking forward to it ! Iwan is doing a great job at Caernarfon and we know how difficult of an ask it will be for us to bring another 3pts home but we will give it everything as we have nothing to lose.
"Looking back to the Ruthin game, it was a great way to win it with the last kick if the game, the dressing room was buzzing at the end and that's a great feeling. I was proud of my team, they give me everything in the games we play and will always work until the last whistle. I have a great bunch of lads who believe in each other and have a real togetherness, we have a great changing room. It is always a difficult time to play after the Xmas break as you want your players to enjoy their day, the lads are not full time bu , they do understand the importance of preparing right for any game. We have trained this week and I trust my players to be responsible but enjoy their time over the holidays.
"Rob is going to be a massive miss for us as he has really come into form of late and he is disappointed to be missing the fixture. The sending off was the right decision but thankfully didn't effect us getting the 3pts ! Yws Gwynedd is still injured but will be looking to train in the new year. Ceri James is a doubt after picking up a knock in training but Gareth Jones Evans and Paul Lewis will both return to the squad.
"We want to win every game and I believe I have a squad that is good enough to compete week in week out for the points against anyone. Though we dipped in form in November we have just started to build momentum again and the points on offer at the Oval are massive for us. It will be of huge importance to come away with the win and continue to close the gap on those above us.
"I would like to wish all of our supporters a very Merry Christmas , I hope you all have a lovely day and will be there in good spirits at Caernarfon on Tuesday to support us once again!!"

COME ON PORT !
Paps
---

Diddorol hefyd oedd clywed O J Jones, perchennog cwmni loriau O J Jones, Porthmadog, yn cael ei gyfweld gan Dylan Jones ar y Post Cyntaf heddiw. Sefydlwyd y cwmni ganddo yn y 60au ac erbyn hyn, yn 83 oed ac yn dal i weithio bob dydd gan gynnwys diwrnod 'Dolig, fo ydy gyrrwr lori hynaf Prydain!
Mae Cwmni O J Jones yn un arall o gwmnïau hael yr ardal sy'n barod eu cefnogaeth i CPD Porthmadog. Y Cwmni ydy noddwyr y peli drwy gydol y tymor hwn. Diolch yn fawr am eu haelioni.

All connected with the club were interested to hear O J Jones owner of OJ Jones Haulage who was interviewed this by Dylan Jones on this morning news programme 'Y Post Cyntaf'. He established the company back in the 60's and now at the age of 83 he still works every day including Christmas Day and is the oldest working lorry driver in Britain.
O J Jones Haulage areanother local company who have generously supported CPD Porthmadog. They are this season's match ball sponsors, sponsoring all the club's match balls throughout the current season. Thanks to O J Jones Haulage for their generosity.
---

Diddorol oedd gweld, ar y Daily Post, Treflyn Jones yn gwneud ei ddewis o'r tîm gorau a welodd, fel cefnogwr brwd. dros y blynyddoedd. Mae ei ddewis yn siwr o ddod ac atgofion o gyffro'r gorffennol.
Yn y gôl Gareth Hughes yw'r dewis, 'chydig ar y blaen i Ifor Pritchard a Tim Humphries.
Y cefnwyr ydy'r Cofi amryddawn Haydn Jones a'r hogyn lleol Mike Foster a chwaraeodd 377 o gemau UGC. Yng nghanol yr amddiffyn rhaid oedd enwi Mel Charles ac wrth ei ochr y digyfaddawd Roly Evans o ardal Wrecsam.
Hogyn lleol arall Aled Owen yng nghanol cae gyda Gwyn Williams yn ffurfio partneriaeth greadigol. Ar yr asgell Jimmy McCarthy a ddaeth i'r Traeth gyda chriw Lerpwl y 70au.
Yn y blaen mae'n dewis sgorio clinigol Colin Gwinneth i fynd efo pasio cywir J O Williams. Yn cwblhau'r tîm mae Steve Woodin a aeth ymlaen i gynrychioli Seland Newydd yng Nghwpan y Byd 1982.
Ei dri wrth gefn oedd Adrian Jones (Twm), Ifor Pritchard a Pat Laverty.

It was interesting to see Treflyn Jones's selection of his best all-time Porthmadog XI in the Daily Post. Treflyn is a long term Port supporter and here is a team to bring back memories of past triumphs.
In goal he plumps for Gareth Hughes narrowly ahead of Ifor Pritchard and Tim Humphries.
The full backs are Haydn Jones the play anywhere Cofi and local boy Mike Foster who made 377 WPL appearances. While in central defence he has to go for Mel Charles with the no messing Roly Evans from Wrexham alongside.
Another local boy Aled Owen and Gwyn Willliams form a creative midfield with winger Jimmy McCarthy who came in with the Liverpool contingent of the 70's.
Up front he has the lethal finisher Colin Gwinneth and excellent passer J O Williams. Steve Woodin, who was later capped for New Zealand, completes his team.
His three subs are Adrian Jones (Twm), Ifor Pritchard (gk) and Pat Laverty.
---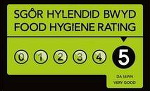 Yn ddiweddar mae'r gegin/cantîn newydd sydd yn rhan o'r estyniad newydd a gwblhawyd dros yr haf wedi cael arolwg gan Cyngor Gwynedda derbyniodd y gradd uchaf am hylendid bwyd gyda sgôr o 5.
Llongyfarchiadau mawr a diolch i staff y cantîn am eu gwaith caled.

The brand new kitchen/canteen which forms part of the new extension built over the summer has been inspected by Gwynedd Council and has received the top rating for food hygiene with a score of 5.
Thanks and well done to the canteen staff for all their hard work.
---

Os oes gennych broblem o unrhyw fath mae Cyngor ar Bopeth ar gael pob bore Mercher yng Nghanolfan Sgiliau ar Y Traeth CPD Porthmadog. Am ddim!
Mae hyn yn unol a pholisi'r clwb i sicrhau fod cyfleusterau'r clwb ar gael i helpu a gwasanaethu'r gymuned yn lleol.

If you have a problem why not take advantage of the Advice which is readily available every Wednesday morning in the Skills Centre at the Traeth, Porthmadog FC. This advice is free!
This forms part of club polisi to make its facilties available to help and support the local community.
---

Yn dilyn y fuddugoliaeth dros Ddinbych pnawn Sadwrn lle bu yn tywallt goliau, deg i gyd, bydd Port yn teithio i'r un cyfeiriad eto, y tro yma i Rhuthun. Bydd y gêm hon yn cychwyn am 2 o'r gloch. Y Sadwrn diwethaf gwnaeth Rhuthun greu dipyn o sioc wrth guro tîm cryf Treffynnon ac ennill ond am yr eildro y tymor hwn. Bydd y canlyniad hwn yn un amserol iawn ac yn rybudd i Port y gallai hon fod yn gêm arall anodd.
Bydd y gêm hon hefyd yn gychwyn ar ail hanner y tymor. Mae'r ddau glwb wedi cyfarfod o'r blaen yn ôl ym mis Awst. Y tro yna enillodd Port o 3-1 gyda Julian Williams, Cai Jones a Gruff Williams yn sgorio dros Port a Llyr Morris dros Rhuthun.
Roedd canlyniadau y Sadwrn diwethaf yn symud Port i fyny dau le yn y tabl a teithiwn yn chwilio am ganlyniad da eto pnawn Sadwrn, cyn y gêm Ddarbi fawr ar yr Oval.

Following Saturday's 10 goal spree at Denbigh Port travel in the same direction on Saturday, this time to play Ruthin Town for a game which kicks off at 2pm. Last weekend Ruthin recorded only their second win of the season, but it was quite a shock result, as they notched up a 2-1 win over a strong Holywell Town team. This result will be a timely warning to Port to prepare for another hard game, as are most games in the HGA.
This match marks the start of the second half of the season and will be the second meeting between the two clubs. Back in August Port won the game at the Traeth with a 3-1 victory, with all four goals coming in the opening half. The scorers for Port were Julian Williams, Cai Jones and Gruff Williams. Llyr Morris responded for Ruthin.
Port, having moved up two places in the table following the results of last weekend, will be looking to make further progress ahead of the Holiday Derby at the Oval. C'mon Port!
---

Sylwer bydd y gic gyntaf yn y gêm yn Rhuthun pnawn Sadwrn nesaf (Rhagfyr17) am 2 o'r gloch.

Supporters should note that the game at Ruthin on Saturday (17 December) will kick off at 2 pm.
---

Pnawn Sadwrn, yn erbyn ei glwb cartref, sgoriodd Josh Davies bedair gwaith; yr ail chwaraewr o Port i gyflawni'r gamp hon y tymor hwn. Cafodd partneriaeth Josh a Joe Williams bnawn i'w gofio yn erbyn Dinbych wrth i Port sgorio 5 gôl yn yr hanner cyntaf. Rhywdodd Josh hatric yn yr hanner cyntaf gyda Joe hefyd yn rhwydo a Rob Evans yn ymuno yn yr hwyl gan sgorio gôl wych ar y foli o 20 llath. Aeth Josh ymlaen i sgorio ei 4ydd gôl yn yr ail hanner gyda cic o'r smotyn.
Julian Williams oedd y llall i wneud yr un gamp, a hynny yn y gêm gyntaf o'r tymor yn erbyn Y Wyddgrug. Yn y gêm honno Julian a Jamie McDaid cyfunodd yn y blaen. Gwnaeth y ddau greu y gôl wych gyda Julian yn penio i'r rhwyd ar y postyn cefn.

On Saturday, and against his hometown club, Josh Davies became the second Port player in the current season to score four goals in a game. The new partnership between Josh and joe Williams prospered as Port netted five times in the opening half. Josh netted a first half hatrick with partner Joe also scoring and Rob Evans getting in on the act with a 20 yard screamer. Josh then completed his four goal tally from the penalty spot in the second half.
Julian Williams also achieved the same feat in the opening game of the season, scoring four against Mold Alex. On that occasion it was Julian and Jamie McDaid who did the damage with the two also combining to create the opening for Julian's super diving header.
---

Mae Craig Papirnyk wedi gwneud ychwanegiad pwysig i'w dîm hyfforddi gyda'r hyfforddwr Ioan Llywelyn yn ymuno. Eisoes mae'r hyfforddwr, sy'n dal trwydded hyfforddi 'A' UEFA, wedi cael dwy sesiwn dda gyda'r clwb. Mae'n gyfarwydd gyda nifer o'r chwaraewyr o'i gyfnod gyda clwb Bangor.
Isod gwelir sylwadau Paps am y datblygiad. Croeso Ioan!

Craig Papirnyk has made an important addition to his coaching staff with the following announcement that the experienced coach Ioan Llewelyn will be joining his management staff.
"I am delighted that we have secured Ioan Llywelyn as a coach for us at Porthmadog FC.
This week he has attended both training sessions and has had a positive impact on the players.
Ioan is familiar with some of the squad from his Bangor City days and this has helped him to settle in very quickly with us. He has plenty of experience and understands the game well and also believes in my way of how the game should be played, which is great.
"Ioan will come in and work alongside myself and Guy, he will take sessions and help with match day warm ups.
"It is great for me knowing that I have Guy and Ioan who are both UEFA 'A' licensed coaches to lead on my philosophy in training. This will allow me more time to focus on managing the players and helping them develop and play the way I want.
"It is exciting times for us , we are developing very well off the field and we must now start to put all the hard work off the pitch into positive results on it !!
"There where other clubs interested in signing him but, after meeting with him and also plenty of phone calls, I am pleased to announce that he has chosen to be part of what we are building at Port. Come on Port!"
---

Atgoffir cefnogwyr i ddod a'u syniadau am lysenw ymlaen- syniadau sy'n codi o hanes neu nodweddion arbennig yr ardal; ac mae yna ddigon ohonynt!
Yn barod mae sylwadau a cynigion yn cyrraedd ac yn cael eu gwerthfawrogi. Dymuniad y swyddogion ydy cynnwys y cefnogwyr selog yn y penderfyniad. Felly dewch a'ch syniadau, gan ei gyrru at gwefeistr@cpdporthmadog.com neu philjones.portfc@yahoo.co.uk
Cofiwch fod yna wobr. Diolch i haelioni Andrew Kimes cewch ddewis rhwng Print A3 neu cynfas 26 X 16 o'r Oriel. Cewch eu gweld ar wefan Oriel y Castell sef: imagesofsnowdonia.com
Bydd y cynnig gorau yn cael ei dderbyn yn swyddogol gan y clwb.

A reminder to supporters to bring forward their ideas for a Port nickname -one which arises from the the history or features in the local area and there are plenty!
Suggestions and comments are already coming in and are much appreciated by the club. Club officials wish to involve loyal fans in the process so keep them coming. Send your ideas to gwefeistr@cpdporthmadog.com or philjones.portfc@yahoo.co.uk
Remember there is a prize. Thanks to the generosity of Andrew Kimes there is a choice of an A3 print or a 24 x 16 canvas from his gallery. These can be found on the Castle Gallery's website imagesofsnowdonia.com
The best suggestion could then be officially adopted by the club.
---

Pnawn Sadwrn bydd Port yn ymweld â Dinbych. Bydd y gêm yn un allweddol wedi i'r tîm dan gyflawni dros yr wythnosau diwetha Bu'r canlyniadau ar Y Traeth yn siomedig. Ar y llaw arall, oddi cartref, dim ond un gêm a gollwyd, a bydd yn bwysig gweld yr adfywiad yn dechrau pnawn Sadwrn. Bydd angen dangos ychydig o'r hyder a'r chwarae deniadol a welwyd ar ddechrau'r tymor.
Cafodd Dinbych dymor rhagorol yn 2015/16 gyda Gareth Thomas yn rheoli, gan orffen yn y 3ydd safle.Ni brofwyd yr un llwyddiant eleni. Erbyn hyn mae Gareth Thomas wedi gadael ac apwyntiwyd Eddie Maurice Jones, un o reolwyr ifanc addawol y gynghrair, un a brofodd lwyddiant gyda Gresffordd. Ers iddo ddod cafodd y clwb gêm gyfartal 1-1, yr un fath â Port yn erbyn Penrhyncoch a buddugoliaeth dros Caersws, diolch i gôl hwyr Alan Bull. Bellach mae Dinbych dau le yn is na Port yn y tabl gyda 9 phwynt yn llai.
Gêm pnawn Sadwrn fydd y 15fed o'r tymor, sef hanner ffordd drwy'r tymor. Gyda Port wedi llithro i'r 8 fed safle yn y tabl bydd angen anghofio'r gêm yng Nghwpan Cymru a chanolbwyntio ar ddringo'r tabl a phrofi fod sylw Craig Papirnyk (".... dyma'r garfan orau inni hel at eu gilydd ers i mi fod a chyfrifoldeb amdani") yn un cywir. C'mon Port!

On Saturday Port return to league action with a visit to Central Park, Denbigh. This is a key fixture as Port have been under achieving of late, with home form a worry. In contrast they have only been beaten once on the road and at Denbigh they will be aiming to rekindle the kind of form they showed in the early part of the season.
Denbigh had a great season in 2015/16 under Gareth Thomas, finishing in 3rd place but this season they have not had the best of times. The club parted company with Gareth Thomas and appointed Eddie Maurice Jones, one of the HGA's up and coming managers who enjoyed considerable success with at Gresford. Since his arrival Denbigh, like Port, drew 1-1 with Penrhyncoch and, last time out they defeated Caersws with a late winner from Alan Bull. Denbigh now lie two places below Port with 9 points fewer.
Saturday's game is the 15th of the season and marks the half way mark in season 2016/17. Port have slipped to 8th place and will need to forget last week's Welsh Cup defeat and once again start to fulfill manager Craig Papirnyk's assertion "... it is the best squad we've assembled at the club during my reign in charge." C'mon Port!.
---

Roedd ymuno â Chynghrair Ddatblygol UGC am y tro cyntaf, ar ddechrau'r tymor hwn, yn gam anodd i garfan Dan 19 Port. Wedi'r cyfan roedd y clybiau eraill wedi cael sawl blwyddyn i addasu a datblygu. Ond ar ôl cyfnod anodd iawn mae yna arwyddion fod pethau ar i fyny.
Mae'r ddwy gêm yn erbyn TNS -clwb llawn amser efo Academi safonol- yn linyn mesur da iawn o'r datblygiad hwn. Y tro cyntaf i'r ddwy garfan Dan 19 gyfarfod yn ôl ym mis Awst, collodd tîm ifanc Port yn drwm iawn, ond pnawn Sul diwethaf gwelwyd newid pendant. Er i TNS ennill eto, y tro yma cafwyd gêm gystadleuol â'r sgôr ar y diwedd yn 2-4.
Roedd addasu i'r sialens fawr yma yn galw am ddyfalbarhad ac ymdrech fawr gan y chwaraewyr a'r hyfforddwyr. Diolch i waith caled y rheolwr Sion Eifion erbyn hyn mae pethau ar y cae yn dechrau troi.
"Medrwn i ddim fod yn fwy balch o'r hogiau Dan19 nac oeddwn heddiw. Colli 4-2 i Academi TNS ond wedi datblygu cymaint mewn ychydig o fisoedd," oedd sylw'r rheolwr ar ddiwedd y gêm pnawn Sul.
Er fod llawer yn dal i'w wneud mae'r chwaraewyr newydd, arwyddwyd gan y rheolwr, yn amlwg yn cryfhau'r garfan. Roedd y canlyniad hwn yn dilyn gêm gyfartal yn erbyn Conwy a phob dymuniad da i'r hogiau. Gyda lwc a parhau â'r gwaith caled, bydd gemau cyfartal a canlyniadau da yn troi yn fuddugoliaethau. C'mon Port!

When Port entered a U19 team in the Welsh Premier League for the first time at the start of the current season, it was always going to be a tough ask. Most of the other clubs had several years to adapt to this league but, after a very difficult start, the signs of progress are there to be seen.
The two games against TNS -a full time club with a highly regarded Academy- are a good barometer of this progress. The first time the two clubs met at U19 level, back in August, the very young Port side shipped in goals but Sunday's encounter showed a marked change. Despite ending in another win for TNS, this time it was a very competitive 2-4 scoreline.
Adapting to this new and difficult challenge has required reslience and a massive effort from the players on the field as well as the coaching staff. Manager Sion Eifion is to be congratulated for his determined efforts and must have been delighted that progress is being reflected on the pitch.
"Couldn't be prouder of my Port Academy U 19s boys today. Lost 4-2 to TNS Academy but they've come such a long way in a couple of months," was the comment of a very pleased Sion Eifion following Sunday's game.
There is work still to be done but Sion Eifion is beginning to reap the rewards of his actions, bringing in new players to strengthen his squad. The good result against TNS followed a home draw with Conwy Borough and we wish the squad the best of luck in the games to come when draws and good results will surely turn to victories. Keep going lads C'mon Port!
---

Isod mae Craig yn cymryd golwg yn ôl ar y gêm yn 3edd Rownd Cwpan Cymru gyda'i onestrwydd realistig arferol.

Craig Papirnyk takes a look back at Saturday's Welsh Cup tie with his usual down to earth honesty and realism.

"I just wanted to say a few words regarding the game Saturday
"Firstly, my I thank all of the travelling supporters who made the long journey down south to support us! It was tremendous seeing them turn up in high spirits and really enjoying the occasion of being there to get behind us. I take my hat off to everyone of them, it really is appreciated by myself and my the team.
"It saddens me still today that we lost after they've given up a whole day to support us.
"The game itself we knew was going to be difficult, Met are a very well organised and a fit side. They have their pick of the best players from the university and the facilities at their disposal are of the highest quality . I must admit I was envious of their set up, the facility , their staff behind the scenes, it was all very impressive .
"We however had prepared extremely well for the game , and I was confident we could get something from it if we played to our best . Unfortunately,and still it hurts today, knowing that the players didn't quite reach the level they can. I am not being over critical of my players , I have an honest and open relationship with them and they are all in agreement that on the day we didn't perform well enough or to our potential ! We didn't keep the ball moving like I know we can , we allowed Met to come at us and we didn't do enough to take control of the game .
"We gave Cardiff Met the respect they deserved but during the 90mins we didn't give ourselves enough respect to believe that we could win the game , I take nothing away from Met who were the worthy winners and best team on the day .
"In all fairness they are the fittest team I have witnessed live at this level and that's credit to them. We now will take the positives from the experience, it has been a good one for us. We know now where we need to be in terms of the players' individual fitness levels.
"I believe we have the quality in this squad, and it is the best squad we've assembled at the club during my reign in charge. Met was a wake up for us and we will now look to push on with the league campaign and finish as high as we possibly can .
"We also have the league cup quarter final to look forward too and that now becomes a high priority for us to try and bring the success that the fans and club deserves .
"We move on now, Denbigh is our next challenge and the squad know how important a game it is for us . We are again under achieving in the league and we must begin to pick up points .
"I will ensure the lads are ready for the game this coming weekend and we will look to bounce back and send a positive message out, that we are still here and fighting . "

COME ON PORT !
Paps
---

"Cawn droi fyny i'r gêm ddydd Sadwrn mewn steil!!" meddai y Cadeirydd, Phil Jones. Roedd yn ddyn hapus iawn wrth iddo gymryd perchnogaeth o fws-mini newydd. Ond mae hefyd yn awyddus iawn i ddiolch i ddau gefnogwr hael, sef Meirion Evans, Terfynnau a John David Owen o Gest View Van Sales.
Dywedodd Phil, "Er y byddwn yn talu am y bws-mini dros gyfnod o 4 blynedd ni fuasai wedi bod yn bosib o gwbl heb eu cyfraniad sylweddol nhw.
"Dwi'n gobeithio y bydd pawb,yn enwedig y chwaraewyr, yn gwerthfawrogi'r bws newydd -sydd dwi'n meddwl yn edrych yn smart iawn.
"Mae y ddau gefnogwr wedi bod yn andros o ffeind a mae'r clwb eitha' bach yma yn eithriadol o lwcus i gael ffasiwn gefnogwyr, a mawr iawn yw ein diolch iddynt - y cwbwl mae y ddau yn gofyn mewn ad-daliad ydi llwyddiant ar y cae. Felly dewch hogia !! C'mon Port"

The players will be turing up for Saturday's game in some style. Club Chairman, Phil Jones, was a happy man as he took possession of a new mini-bus ahead of the visit to Cardiff Met. He also emphasised how indebted the club was to two generous supporters. Meirion Evans. Terfynnau and Jhn David Owen. Gest View Van Sales.
Phil revealed. "Although we will be paying for the mini-bus over a 4 year period it would not have been possible to go ahead without their substantial contribution.
"I hope that everyone, but especially the players, will appreciate the new bus – which looks very smart. The two supporters have shown great generosity .
"This relatively small club is extremely fortunate to have such supporters and we are very grateful to them – all they ask for in return is some success on the pitch. So over to you lads and C'mon Port!
---

Yn ei podcast diweddaraf mae Tommie Collins yn siarad efo'n hyfforddwr, Guy Handscombe. Mae Guy hefyd yn sôn am ei waith gyda Chymdeithas Bêl-droed Cymru a'i brofiad fel hyfforddwr.
In his latest podcast, Tommie Collins speaks to our coach Guy Handscombe. Guy also talks about his role with the Football Association of Wales and his experience as a coach.
---

Bore Sadwrn bydd Port yn teithio lawr yr A470 i daclo gwrthwynebwyr o'r Uwch Gynghrair yn Rownd 3 Cwpan Cymru. Mae Met Caerdydd ar rhediad arbennig yn ddiweddar a bydd yn gêm anodd iawn ar y cae 3G ar Gampws Cyncoed. Wedi iddynt ddod dros y gemau cyntaf ar y lefel uwch, mae'r clwb wedi dringo'r tabl yn gyson, a bellach yn y 5ed safle ac yn debygol iawn o orffen yn y rhan uchaf cyn bydd y gynghrair yn rhannu. Bydd eu llygad wedyn ar Ewrop. Mae'r Met bellach heb golli adref yn y 7 gêm ddiwethaf.
Fel rhan o'i ddyletswyddau gyda 'Sgorio' mae Tommie Collins wedi gweld Y Met nifer o weithiau. Dyma ddywedodd amdanynt yn y rhaglen swyddogol " .... they are proving to be formidable opponents..... Jordan Lam looked impressive with his pace and trickey .... Emlyn Lewis is a rugged no nonsense centre half ... they work for each other, press and are extremely fit....... Port will need to be on top form to take anything from the tie."
Y Met fydd y ffefrynnau bnawn Sadwrn ac wedi iddynt dan gyflawni yn eu gemau diweddar bydd angen i Port godi eu gêm a phrofi mae rhywbeth dros dro fu hyn. Wedi'r cyfan mae digon o dalent yn y garfan. Efallai mae newid o gemau cynghrair i gyffro'r cwpan fydd y sbardun gorau i'r tîm. Mae llwyddiant yn y gwpan yn dod i glybiau sy'n medru codi eu gêm ar y dydd, felly C'mon Port!!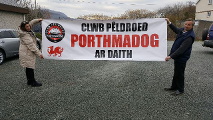 On Saturday Port will travel down the A470 to take on Welsh Premier opposition in the Welsh Cup Round 3. Cardiff Met are a form team and will provide stiff opposition on their 3G pitch at the Cyncoed Campus. After taking the first few games to settle in, the club have steadily climbed the table and now lie in 5th place with the likelihood of a top half finish ahead of the split. Their eye will then be on possible European qualification. They are unbeaten at Cyncoed in their last 7 league fixtures.
Tommie Collins has seen the Met several times this season as part of his 'Sgorio' duties. Writing in the Match Programme he says " .... they are proving to be formidable opponents..... Jordan Lam looked impressive with his pace and trickery .... Emlyn Lewis is a rugged no nonsense centre half ... they work for each other, press and are extremely fit....... Port will need to be on top form to take anything from the tie."
Clearly Port will start as underdogs and after under achieving over the last few games they will need to prove that this is a temporary thing and that they can spring back to form. There is plenty of talent in the squad. A break from the league could be the ideal time to reproduce some of the early season form. This is a Welsh Cup tie and progress in this competition will come to the teams who raise their game and perform on the day so C'mon Port!!
---

Mae gan nifer o glybiau lysenwau neu hoff enw, yn bennaf yn cyfieirio at nodwedd arbennig yn yr ardal leol ee Caergybi /Harbourmen, Prestatyn / Seasiders Treffynnon / Wellmen neu weithiau gall ddod o liw y crysau mae clwb yn wisgo ee Caernarfon / Caneris. Ond does gan CPD Porthmadog ddim enw o'r fath yma, er mai 'Port' y defnyddir Fel ddywedodd y cadeirydd, Phil Jones, "Nid llysenw ydy Port ond fersiwn byr o'r enw. Byddwn wrth fy modd i'n gweld â llysenw sydd yn ein cysylltu ag un o'r nifer fawr o nodweddion addas yn yr ardal."
Cychwynnodd y diddordeb wedi sgwrs anffurfiol yn y clwb yn dilyn gêm. Gwnaed y cynnig fod y clwb yn gofyn i gefnogwyr am eu syniadau. Aeth y peth ymhellach wrth i un o noddwyr y clwb, Andrew Kimes o gwmni Agweddau ar Eryri, gynnig gwobr am y cynnig gorau a hwnnw wedyn yn cael ei dderbyn yn swyddogol gan y clwb. Cewch gyfle i feddwl am y peth ar y siwrnai hir i lawr yr A470!
Diolch i haelioni Andrew Kimes bydd yna ddewis i'r ennillydd rhwng Print A3 neu cynfas 26 X 16 o'r Oriel. Cewch eu gweld ar wefan Oriel y Castell sef: imagesofsnowdonia.com
Dewch a'ch syniadau a gyrrwch nhw at gwefeistr@cpdporthmadog.com neu philjones.portfc@yahoo.co.uk erbyn diwedd Rhagfyr. Byddai'n bosib wedyn gyhoeddi enillydd erbyn y gêm ar Y Traeth ar 7 Ionawr.

Many clubs have nicknames or favourite names which usually refer to a feature of their local area eg Holyhead / Harbourmen, Prestatyn / Seasiders. Holywell Town / The Wellmen or alternatively perhaps a reference to the colours worn by the club eg Caernarfon / Canaries. CPD Porthmadog has no real current nickname, though it is usually given as 'Port' but, as chairman Phil Jones says, "Port is not really nickname, more a shortened form of the name but I really would like to see the club adopt a nickname which refers to one of the many suitable features in the local area."
Interest in the topic has taken off after an impromtu discussion in the clubhouse following a recent match. A suggestion was made that it should be thrown open to supporters to bring forward their ideas.The matter was given further legs following Andrew Kimes, of Aspects of Snowdonia and joint main sponsor of the club, offering a prize to the best suggestion which could be then be officially adopted by the club. The long journey to Cardiff Met might well give you a chance to think about it! The prize on offer, thanks to the generosity of Andrew Kimes, is a choice of an A3 print or a 24 x 16 canvas from his gallery. These can be found on the Castle Gallery's website imagesofsnowdonia.com
Get thinking and bring forward your suggestions by the end of December to gwefeistr@cpdporthmadog.com or philjones.portfc@yahoo.co.uk
An announcement could then be made by the time of the next home game on 7 January to a club official or e-mail
---

Bydd y bws i'r gêm yn erbyn Met Caerdydd yn gadael y Stesion, Porthmadog am 8 am yn brydlon!! C'mon Port.
Mae 'na ychydig o seddi yn dal ar gael. Os oes gennych ddiddordeb mewn teithio, cysylltwch â Phil Jones yn Kaleidoscope 01766 514343 NEU Dylan Rees 07900512345.

The coach on Saturday, for Cardiff Met, will leave the Station, Porthmadog at 8 am prompt!! C'mon Port!
There are a small number of places still available. If you are interested in travelling please contact Phil Jones at Kaleidoscope 01766 514343 OR Dylan Rees 07900512345.
---

Y rhifau lwcus yn Tote misTachwedd oedd 33 ac 38. Nid oedd enillydd. Bydd y wobr o £642 yn cael ei gario drosodd i tote mis Rhagfyr. Bydd rhaid gwneud unrhyw gais erbyn 8 y.h. nos Wener, 2 Rhagfyr. Bydd y rhifau ar gyfer y Tote nesaf yn cael eu tynnu nos Wener, 6 Ionawr, yn sesiwn Bingo wythnosol Clwb Cymdeithasol, Clwb Pêl-Droed Porthmadog yn Y Ganolfan.
Amlenni Tote ar gael o Kaleidoscope, Y Ganolfan, Clwb Pêl-Droed Porthmadog neu Dylan 07900512345.

The winning numbers in the Porthmadog Football Social Club monthly Tote for November were 33 and 38. Subject to confirmation there were no winners.The prize of £642 will be carried over and added to the December Tote. Any claims must be made by 8pm on Friday 2 December. The next Tote will be drawn on Friday 6 January at the weekly Porthmadog FC Social Club Bingo held at Y Ganolfan.
Tote envelopes available from Kaleidoscope, Y Ganolfan, Porthmadog F C Clubhouse or Dylan 07900512345.
---

Pnawn Sadwrn nesaf byddwn yn croesawu CPD Penrhyncoch i'r Traeth. Hon fydd ein gêm olaf ar y Traeth yn 2016, gyda'r nesa' ddim tan y 7fed Ionawr 2017!! Dyma'r tro cyntaf i Benrhyncoch ymweld ers iddynt ad-ennill eu lle yn yr HGA fel pencampwyr Cynghrair y Canolbarth 2015/16. Ni fydd yn gêm hawdd gan fod clwb Cae Baker bob amser yn wrthwynebwyr cystadleuol.
Canlyniadau cymysg mae Penrhyn wedi cael hyd yma, yn ennill tair o'u 13 gêm . Cafwyd y canlyniad gorau wrth roi curfa o 7-1 i'r Wyddgrug. Daeth y ddwy fuddugolieth arall yn erbyn Rhuthun a, rhybudd i Port, dros Gresffordd. Hefyd yn ddiweddar cafwyd perfformiadau da, er yn colli yn erbyn ceffylau blaen y gynghrair; Prestatyn a'r Fflint. Fel Port mae Penrhyncoch wedi cyrraedd Rownd 3 o Gwpan Cymru ac fel Port hefyd yn gorfod teithio, yn eu hachos nhw i'r Rhyl.
Yng ngharfan Penrhyn eleni mae Mark Gornall a Siôn Meredith, dau â chwaraeodd dros Port yng nghyfnod Tomi Morgan ar y Traeth. Hefyd mae gan y glwb gysylltiadau efo clwb Aberystwyth gyda Gari Lewis, cyn chwaraewr Aber, yn rheoli Penrhyncoch a Siôn James ac Antonio Corbisiero yn y garfan.
Siomedig oedd colli yn erbyn Gresffordd – y 4ydd tro i golli ar y Traeth y tymor hwn- yn enwedig â'r talent amlwg sydd yn y garfan. Bydd Port yn awyddus i daro 'nol pnawn Sadwrn gyda'r gêm Gwpan yn dilyn wythnos nesaf. C'mon Port!

Next Saturday Penrhyncoch FC will be the visitors to the Traeth. This will be our last home game of 2016 and we will not play at home again until 7 January 2017!! We welcome the Roosters back to the Traeth for the first time for two seasons. They regained their HGA status being promoted as Spar Mid-Wales champions. The Aberystwyth area club have always been tough opponents and nothing is likely to change this time round either.
Penrhyn have had mixed results so far in their come-back season, winning three of their 13 league games. Their best result was a 7-1 thumping of Mold Alex, with their other wins coming over Ruthin Town and, last week's winners at the Traeth, Gresford Athletic. They have however put in two good recent performnces against in-form opponents, Prestatyn Town and Flint town United, unlucky to lose by the odd goal in five on both occasions. Like Port, Penrhyncoch have progressed to the 3rd Round of the JD Welsh Cup. In Round 3 they, like Port, will have to take on WPL opponents, in their case, Rhyl FC.
In the Penrhyn squad are Mark Gornall and Sion Meredith, who also appeared for Port during Tomi Morgan's stint as Port manager. The club also has close connections with Aberystwyth Town and they are managed by former Aberystwyth Town regular, Gari Lewis while among the former Town players in the current squad at Cae Baker are Antonio Cobisiero and Sion James.
Last week's disappointing home defeat to Gresford makes it a total four defeats at the Traeth which is difficult to explain away given the talent in the squad. Next Saturday's game will now asume even greater importance, especially with the Welsh Cup tie at Cardiff Met now looming. C'mon Port
---

Mae'r bws i Gaerdydd ar 3 Rhagfyr, ar gyfer y gêm yn Cwpan Cymru, yn llenwi. Oes ydych am fwcio sedd ar y bws cysylltwch â Phil Jones yn Kaleidoscope 01766 514343 NEU Dylan Rees 07900512345

The coach to Cardiff for the Welsh Cup tie, on Saturday 3 December, is filling up. If you are interested in travelling please contact Phil Jones at Kaleidoscope 01766 514343 OR Dylan Rees 07900512345
---