Edrychwn ymlaen at groesawu Cei Conna i'r Traeth pnawn Sadwrn (25 Gorffennaf) mewn gêm cyn dymor a fydd yn rhoi dipyn o brawf ar Port.
Cafodd Cei Conna dymor da iawn yn 2014/15 yn cyrraedd gemau ail gyfle UGC ar gyfer Ewrop, wedi iddynt orffen yn 7fed yn y tabl. Rheolwr y clwb ydy Allan Bickerstaff a fu'n hyfforddwr ar Y Traeth yn nhymor 2007/08.
Mae Cei Conna wedi gwneud nifer o ychwanegiadau at eu carfan ar gyfer 2015/16 gan gynnwys Callum Morris, chwaraewr y tymor ym Mangor y tymor diwethaf, Nick Ashton, sydd yn ymuno o Wrecsam, a Michael Wilson o glwb Wigan. Chwaraewr i gadw golwg allan amdano ydy Sean Miller, prif sgoriwr y tymor diwethaf a chwaraewr y tymor yn ogystal a chael ei enwi'n Chwaraewr Ifanc y Tymor Uwch Gynghrair Cymru.
Y tro diwethaf i'r ddau glwb gyfarfod oedd yn 2012, gêm gyfartal 1-1 gyda Chris Williams yn rhwydo dros Port. Roedd y gêm hefyd yn nodweddiadol am i Richard Harvey dderbyn cerdyn coch a bu'n rhaid i Merfyn Williams cymryd ei le rhwng y pyst. Ond am y gêm fwyaf rhyfeddol rhwng y ddau glwb rhaid edrych yn ôl i 2008 pan ddaeth Port, wedi iddynt fod 1-4 i lawr, yn ôl i ennill y gêm UGC o 6-5 gan rhwydo pedair gwaith yn yr 19 munud olaf. Byddai ail adrodd hynny pnawn Sadwrn yn plesio cefnogwyr Port!!

We look forward to entertaining Connah's Quay at the Traeth on Saturday (25 July) in what will be a testing pre-season fixture.
The Nomads enjoyed a successful season in 2014/15 reaching the WPL's Europa League Play off places after finishing in 7th place. They are managed by Allan Bickerstaff who spent a season as coach at the Traeth in 2007/08.
The club have made several additions to the squad including Callum Morris who last season won player of season award with Bangor City, Nick Ashton who joins from Wrexham and Michael Watson formerly with Wigan Athletic. A player to keep an eye out for is Sean Miller last season's top scorer and Nomads' player of the season and WPL's Young Player of the Season.
The last time the two clubs met was in 2012 a game which ended 1-1 with Chris Williams netting for Port. The game was also notable for Richard Harvey's red card with Merfyn Williams taking over in goal. But for the most memorable and remarkable game between the two clubs we must look back to 2008 when Port came back from 4-1 down at the interval to win the WPL clash 6-5, netting four times in the last 19 minutes. A repeat on Saturday would go down well!!
---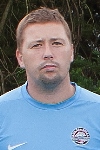 Dyma sylwadau Craig wrth iddo edrych yn ôl ar y cyfnod cyn dymor hyd yma.

Here are Craig's thoughts on pre-season so far.
Pre-season so far has seen us travel down to Dolgellau, home to Barmouth & Penrhyn before heading away to Carno this coming Saturday, these early fixtures are arranged so that the squad can gain valuable minutes leading up to the start of the season. The results will not determine how we will begin our campaign and at this stage we are purely gaining minutes during these fixtures.
We visited Carno last season, which is a great club and gave us a very warm welcome, Carno like to play football and get the ball down and simply just play which is a change for us as most teams sit and defend!! I am looking forward to the game and seeing the lads enjoy more minutes, we will look to be a lot tidier in our play, against Penrhyn we were wasteful in possession, particularly second half and again struggled in front of goal!! But this is what pre-season games are all about, to learn, adapt and move forward together as one team.
Inevitably we will see progression in our performances leading up to the kick off against Rhayader , the intensity and tempo will improve each week ensuring that when that 1st league game arrives we will be more than ready.
The squad will undoubtedly change and new faces will continue to come in before we kick off, I am happy with the nucleus of the squad which has remained from last season and will add to positions where we need strengthening.
It is always tough to get the entire squad together at this time of year, holidays & work effect players availability , we will be without Aron, Ceri , Ilan , Gruff & Leon this coming weekend but this will allow other players more minutes during tomorrow's game at Carno.
Our preparations are going accordingly and I am happy with things that I have learnt so far. I would like to thank Phil and all of the volunteers for getting the Traeth looking great again this season, the hard standing and new dugouts look fantastic.

Paps .
---

Wythnos hon bydd Port yn chwarae dwy gêm cyn dymor. Nos yfory (nos Fawrth)bydd CPD Penrhyndeudraeth yn ymweld â'r Traeth lle gobeithio cawn weld gêm debyg i'r un ddeniadol a gafwyd llynedd a honno yn cael ei chwarae yn yr un ysbryd da gyda torf dda unwaith eto –ond gwahanol ganlyniad!!! Cafodd Penrhyn dymor ardderchog llynedd yn gorffen yn 5ed yn y Welsh Alliance ac yn cyrraedd ffeinal Tlws Y Gymdeithas Bêl-droed.
Pnawn Sadwrn bydd Port yn teithio i Carno gan ddisgwyl gêm baratoi ddefnyddiol arall. Cafodd Carno dymor da iawn llynedd yng Nghynghrair Y Canolbarth gan orffen yn y 4ydd safle tu ôl i Llanfair, Penrhyncoch a Llanrhaeadr.

This week Port play two more pre-season fixtures. Tomorrow night (Tuesday) CPD Penrhyndeudraeth will visit the Traeth for a repeat of last season's entertaining friendly. Let's hope for another exciting game played in good spirits with another good spectator turn out but a different result!!!. Penrhyn enjoyed an excellent season in 2014/15 finishing 5th in the Welsh Alliance and reaching the final of the FAW Trophy.
On Saturday Port will travel to Carno for the second consecutive year expecting another valuable preparatory game. Carno enjoyed a very good season in 2014/15 finishing in 4th place in the Mid Wales League Table behind Llanfair, Penrhyncoch and Llanrhaeadr.
---

Mae'r enwau wedi dod o'r het ar gyfer Rownd 1 o Gwpan Huws Gray (Cwpan y Gynghrair). Bydd Port yn teithio i Brestatyn am y gêm ar Sadwrn, 12 Medi.

The draw has been made for the First Round of the Huws Gray Cup (League Cup). Port will travel to Prestatyn and the game will be played on Saturday, 12 September.
---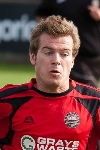 Dywedodd Craig Papirnyk heddiw, "Mae'n bleser cyhoeddi fod Leon Newell ac Eilir Edwards wedi arwyddo, ac yn dychwelyd i'r clwb. Rwy'n hapus iawn gan fod min eithriadol wedi bod ar chwarae'r ddau yn y cyfnod cyn dymor."
Mae Leon yn dychwelyd ar ôl iddo ddilyn ôl troed Ceri James, a chwarae i glwb Melville United yn Seland Newydd. Cyfrannodd at lwyddiant y clwb hwnnw yn ennill dyrchafiad i'r Northern Premier League. Dywedodd y papur lleol Y 'Waikato Times' amdano:
"Daeth dyfodiad y Cymro Leon Newell .... a goliau, chwa o hyder ac esgyniad i fyny'r tabl."
Treuliodd Eilir, chwaraewr y tymor yn 2013/14, rhan olaf y tymor diwethaf gyda CPD Llanuwchllyn wedi tymor a effeithiwyd yn fawr gan anafiadau. Mae yna groeso 'nôl i'r ddau.
Yn ymuno am eu tymor cyntaf ar Y Traeth mae Ilan Hughes a Jack Davies. Mae Ilan, sy'n gefnder i Gwydion Ifan, yn ymuno o Rhuthun ac mae'n chwaraewr canol cae amddiffynnol.
Hogyn lleol o Port ydy Jack, ac wedi bod yn chwaraewr ifanc gyda Wrexham. Dywed Craig amdano;
"Mae Jack wedi creu argraff ar chwaraewyr hyn y clwb, am chwaraewr 18 oed mae'n hunan feddiannol iawn ac yn dechnegol, mae'n ardderchog."
Croeso i'r ddau newydd yn rhan o garfan mae Craig yn rhoi at ei gilydd dipyn wrth dipyn.

Craig Papirnyk said today, "I am pleased to say that Leon Newell and Eilir Edwards have both signed on and return to Port. I'm delighted as both players have looked exceptionally sharp this pre-season."
Leon returns having left to follow in the footsteps of Ceri James playing for New Zealand club, Melville United in 2014. He helped them gain promotion to the Northern Premier League. The local paper the 'Waikato Times' said of him:
"The arrival of Welsh import Leon Newell ..... brought goals, a surge in confidence and a rise up the table."
Eilir, player of the season in 2013/14, spent the latter part of last season with CPD Llanuwchllyn after what had been an injury hit season. The return of both will be welcomed by all at the club.
Also joining for their first season with Port are Ilan Hughes and Jack Davies. Ilan, who is a cousin of full back Gwydion Ifan, joins from Ruthin Town and plays defensive midfield.
Jack is a Port lad who has played his youth football at Wrexham and Craig says of him:
"Jack has really impressed the senior players, for an 18yr old lad he has great composure and technically is excellent."
We welcome them all as part of the squad which Craig is gradually piecing together.
---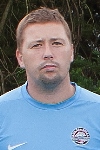 Dyma sylwadau Craig ynglyn â'r Ail Dîm/Carfan ddatblygu newydd.

Rwyf yn gredwr mewn datblygu ieuenctid a bydd sefydlu'r ail dîm yn agor llwybr clir i fewn i'r prif dîm i chwaraewyr academi a chwaraewyr lleol talentog. Yn ddelfrydol bydd yr ail dîm yn cynnwys chwaraewyr ifanc fydd yn dod yn rhan o ddyfodol y clwb. Yn rhy aml mae chwaraewyr ifanc yn rhoi'r gorau i'r gêm wrth iddynt fethu camu yn syth i gêm y dynion –mae'n gam enfawr. Ar hyn o bryd mae yna chwaraewyr Dan 19 eithriadol yn yr ardal ac wrth sefydlu ail dîm byddwn yn hybu datblygiad y chwaraewyr ifanc gorau, a bydd hyn yn llesol i'r clwb a'r gymuned yn y dyfodol.
Bydd yna gyfle, trwy gydol y tymor, i'r ieuenctid chwarae i'r tîm cyntaf; hefyd bydd yr ail dîm yn chwarae rhan allweddol o wythnos i wythnos yn helpu cynnal carfan gryf. Os bydd chwaraewr tîm cyntaf angen adeiladu ffitrwydd gyda'r ail dîm wedyn bydd hyn yn caniatáu i chwaraewr ifanc gymryd ei le gyda'r tîm cyntaf.
Bydd yr Ail Dîm yn ymarfer ochr yn ochr â'r tîm cyntaf gan gymysgu mewn rhai o'r sesiynau. Bydd hyn yn bwysig i ddatblygiad y chwaraewyr ifanc a bydd y steil o chwarae yn mynd o'r tîm Dan 10 drwodd i'r prif dîm. Bydd hyn yn sicrhau, blwyddyn ar ôl blwyddyn, fod y chwaraewyr lleol talentog yn dal i ddatblygu ac yn cynrychioli'r clwb, gan wneud y camau o'r academi i'r tîm cyntaf yn haws. Bydd Guy, Steve a minnau yn cefnogi Dan a'r ail dîm o'r dechrau'n deg, maent yn rhan holl bwysig i ddyfodol y clwb.
Paps

In light of having a reserves / Youth development squad I would like to make some observations.
I have always believed in youth development and by having a newly established reserves side, will now allow our academy players and local young talented footballers a clear pathway into the senior game. Ideally the reserves will be made up of youth players who will become the future of the club. So often is the case that youth players stop playing because they cannot immediately step into senior football, as it is a massive step up for most – there are currently a crop of exceptional U19 players within the area and by establishing a reserves side we are aiding in the development of the best young players around which will benefit the community and club in the future.
There will be opportunities for the youth players to represent the 1st team throughout the season; also the reserves will play a crucial part in maintaining a strong squad week in week out. If a 1st team player needs fitness then he will join the reserves for a game which will allow a young player to take his position in the 1st team.
The reserves will train alongside the 1st team and will mix during some sessions. This is important for the development of the young players, the philosophy and style of play will run from our U10s side in the academy right through to the senior sides. It will ensure that year upon year local talented players will continue to develop and represent the club in one way and will make the transition from side to side all that easier. Myself, Guy & Steve will be supporting Dan and the reserves from the get go, they are a crucial part of our club's future.
Paps
---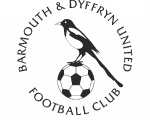 Bydd yn braf croesawu'r fy nghlwb cartref i'r Traeth pnawn Sadwrn. Bydd Llyr Hughes eu rheolwr newydd yn dod a tîm cryf ac rwy'n disgwyl gêm ddarbi galed. Mae gan Llyr ddigonedd o brofiad gyda Penrhyncoch yn y Cymru Alliance ac rwy'n siwr fydd ganddo agwedd broffesiynol iawn a bydd ei dîm yn drefnus iawn. Rwy'n dymuno'n dda iddo yn ystod y tymor ac rwy'n teimlo'n siwr fydd Y Bermo y glwb i achosi sioc yn y Welsh Alliance eleni a fydd Llyr yn gwthio am ddyrchafiad.
Bydd Ceri James a Gwydion Ifan yn dychwelyd i'r garfan ond byddwn heb Josh Banks a Josh Hartrick. Byddaf yn disgwyl i'r hogiau ennill ffitrwydd o'r gêm yn ogystal a perfformio i'r safon da ni'n ei ddisgwyl yn y clwb. Byddwn yn dal ati i chwarae'r math o bêl-droed a welwyd ar y Traeth yn ystod y tymhorau diweddar ond hefyd yn edrych i ymosod yn fwy penderfynol. Mae Leon Newell, sydd newydd arwyddo, wedi edrych yn wych hyd yma a bydd yn edrych ymlaen i chwarae ar Y Traeth unwaith eto.
Mae'r gemau cyn dymor yn gyfle i sicrhau ffitrwydd yr hogiau a chwythu peth o'r gwe pry cop i ffwrdd ac adeiladu hyder y garfan.

It will be nice to welcome my home town club to the Traeth Saturday. Newly appointed Manager Llyr Hughes will be bringing a good team with him and I am expecting a tough derby game. Llyr has lots of experience in the Cymru Alliance with Penrhyncoch and I am sure his management styles will be very professional and his side will be very well organised. I wish him well for the season ahead, I honestly think Barmouth will be the dark horses of the welsh alliance next season under his management and will be pushing for promotion.
Ceri James and Gwydion Ifan will return to the squad but Josh Hartrick and Josh Banks will be unavailable. I will be expecting the lads to gain fitness from the game as well as performing to the level required and set by our own standards, we will continue to play the style of football that we have seen on the Traeth over the past few seasons but also looking to attack with more conviction. Newly signed Leon Newell has looked great so far and he'll be relishing the opportunity of playing on the Traeth again.
Pre-season games are all about getting the lads match fit, blowing the cob-webs away (as they say) and building confidence amongst the squad.
---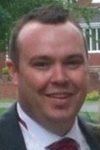 Mae Daniel Ashby, a gafodd ei apwyntio'n Rheolwr yr Ail Dîm ddoe, wedi rhyddhau'r datganiad canlynol:
"Rwy'n teimlo balchder mawr wrth gael fy enwi'n rheolwr newydd Ail Dîm Porthmadog, mae'n anrhydedd i gael fy nghysylltu â chlwb sydd ac enw mor dda ym mhêl-droed Cymru. Carwn ddiolch i Craig Papirnyk, i Guy Handscombe ac i'r Bwrdd am eu hyder yn fy ngallu, a chynnig y swydd hon imi.
"Fel rheolwr i'r Ail Dîm rwy'n ymroddedig i ddatblygu y gorau o'r talent ifanc yn yr ardal gan helpu i ddod a chwaraewyr drwyddo ac yn y pendraw chwarae i'r tîm cyntaf a felly gwneud fy rhan yn yr ymdrech i fynd yn ôl i Uwch Gynghrair Cymru.
"Rwy'n teimlo hefyd fod y cysylltiad sydd gennyf gyda'r Academi yn help i adnabod y talent gorau, a hynny yn ifanc iawn, a byddai gweld y chwaraewyr yma yn datblygu gan ymuno yng ngharfan yr ail dîm yn achos balchder imi. Rwy'n edrych ymlaen at gychwyn y paratoadau cyn dymor ac at ddod a cymaint o lwyddiant a phosib i'r clwb."

Daniel Ashby, the Porthmadog Academy coach, who was yesterday announced as the new Reserve Team manager has issued the following statement:
"I am extremely proud to be named as the new Porthmadog FC Reserves Manager, it is a privilege to be associated with a club that has such a high standing within the Welsh game, I would personally like to thank Craig Papirnyk, Guy Handscombe and the Board for having the confidence in my ability to give me the position.
"As the Reserves Manager I am dedicated to developing the very best youth talent in the area and help bring players through the ranks to ultimately break into the first team and play my part in our drive to get back into the Welsh Premier League.
"I also feel that my current links with the academy will help myself and the club to identify the very best talent coming through at a young age and watching these players develop and join my squad in the coming seasons will be a proud moment. I am looking forward to getting pre season underway and bringing as much success to the club as possible."
---

Mae CPD Porthmadog yn hapus iawn i gyhoeddi fod Daniel Ashby wedi'i apwyntio'n Rheolwr i'r Ail Dîm.
Bu Dan yn gysylltiedig â'r clwb ers Hydref 2014 pan oedd yn hyfforddi'r tîm Dan-16 yr Academi. Ar hyn o bryd mae'n hyfforddi tîm Dan-10 a bydd yn parhau i wneud hyn ochr yn ochr a'i rôl newydd. Mae Dan yn Rheolwr/Hyfforddwr o gymhelliad cryf sydd yn mynnu dim llai na 100% oddi wrth ei chwaraewyr; mae ganddo ddiddordeb mawr mewn datblygiad ieuenctid ac yn hyfforddi plant o bob oed tu allan i'r clwb. Yn anffodus oherwydd anaf drwg iawn pan yn 15 oed daeth ei yrfa fel chwaraewr i ben cyn iddo gychwyn o ddifri.
Yn ystod y tymor bydd Dan yn cwblhau tystysgrif "C" y Gymdeithas Bêl-droed ac yn bwriadu mynd ymlaen drwy'r bathodynnau, i wella'i wybodaeth a'i ddealltwriaeth o'r gêm.
Roedd Craig Papirnyk wedi'i blesio'n arw a dywedodd, "Rwy'n hapus iawn fod Dan wedi'i apwyntio i swydd rheolwr yr Ail Dîm. Mae Dan wedi gweithio i'r clwb dros y 12 mis diwethaf ac mae ganddo ddealltwriaeth dda o'r athroniaeth a'r steil o chwarae rym yn annog yn Port, bydd yn ychwanegiad ardderchog i'r brif dîm ac rwy'n ei groesawu i'r tîm."

Porthmadog FC are very pleased to announce that Daniel Ashby has been appointed Reserve Team Manager.
Dan has been involved with the Porthmadog FC Academy since October 2014 joining as the U16's coach and is currently the coach for the U10's Academy side this season alongside his new role. Dan is a highly motivated Manager/Coach who demands nothing but 100% from his players; he has a passion for player development and developing youth to the point that he coaches children of all ages outside of the club. Sadly a serious knee injury at the age of 15 ended Dan's playing days before they had really begun.
Dan is an FAW "C" certificate candidate which he will be completing over the course of this season and wants to progress through his badges to improve his knowledge & understanding of the game.
A pleased Craig Papirnyk said, "I am happy that Dan has been appointed for the reserves manager position, Dan has been working within the club the past 12 months and has a very good understanding of the philosophy and style of play that we are trying to promote at Port, he will be a great addition to the senior sides and I would like to welcome to the team."
---

Pnawn Sadwrn (11 Gorffennaf) bydd Craig Papirnyk yn wynebu ei gyn glwb a'i glwb cartref yn y gêm gyntaf o'r tymor ar Y Traeth. Yr ymwelwyr fydd Y Bermo sy'n chwarae yn y Welsh Alliance. Mae'r ddau glwb wedi chwarae nifer o gemau cyfeillgar yn erbyn eu gilydd dros y tymhorau diwethaf ac edrychwn ymlaen i'w croesawu i'r Traeth. Bydd y gêm yn gyfle arall i baratoi at y tymor newydd ac i'r chwaraewyr adeiladu eu ffitrwydd. Bydd y gic gyntaf am 2.30pm.

Craig Papirnyk will face his hometown club when Port play their first home pre-season game at the Traeth on Saturday (11 July). The visitors will be Welsh Alliance club Barmouth and Dyffryn. The two clubs have played several friendly fixtures against each other over recent seasons and we look forward to once more welcoming them to the Traeth. The game will provide another good opportunity to get a game under their belts and build up match fitness. The game will kick off at 2.30pm.
---

Mae gan y Swyddog Marchnata, Dylan Rees, newyddion da ynglyn â'r ymateb i'r cyfleoedd hysbysebu a Noddi. Erbyn hyn mae'r lle hysbysebu i gyd wedi'i gymryd ar y Rhaglen Swyddogol ac ar y Cerdyn Rhestr Gemau. Diolch yn fawr iawn i'r busnesau i gyd am eu cefnogaeth.
Mae cyfle yn dal i unigolion a busnesau gefnogi'r Clwb drwy hysbysebu a noddi :
Noddi Gem £60
Noddi Pêl - £30 y gem neu £400 am y tymor.
Noddi Chwaraewr £30
Noddi Goliau - Unrhyw swm (e.e.£1 y gol)
Hysbysfwrdd ar ochr y cae £100 + (£70 Costau cynhyrchu am y tymor 1af yn unig.)
Os oes gennych ddiddordeb yna cysylltwch a Dylan Rees (Swyddog Marchnata) drwy e-bost rees48wesla@gmail.com neu drwy ffonio 07900512345.

Marketing Officer Dylan Rees has good news on the take up of sponsorship and advertising opportunities. All the space in both the Match Programme and the Fixture Card is now completely full. Thanks to local businesses for their generous support.
However opportunities remain for individuals and businesses to support the Club through Advertising and Sponsorship in the following ways:
Sponsoring a Game £60
Match Ball Sponsorship £30 per match or £400 for the season.
Player Sponsorship £30
Sponsor a Goal - Any sum (e.g. £1 per Goal)
Perimeter Advertising Board £100 + (£70 one-off Production costs)
If interested please contact Dylan Rees (Marketing Officer) by e-mail rees48wesla@gmail.com or by phone 07900512345.
---

Bydd Port yn cychwyn y tymor ar nos Wener 14 Awst gyda gêm ar Y Traeth yn erbyn Rhaeadr . Yn dilyn hyn bydd ymweliad â Chaersws a wedyn Y Wyddgrug yn ymweld â'r Traeth. Dwy gêm anodd oddi cartref lle fydd Port yn ymweld â Chaergybi a Cefn mewn cyfnod o 5 niwrnod. Yn dilyn dwy gêm oddi cartref mae yna drydydd yn ymweld â'r newydd ddyfodiaid, Llanfair.
Ar nos Fawrth 6 Hydref bydd Caernarfon yn ymweld â'r Traeth. Ein gwrthwynebwyr dros y 'Dolig fydd Caergybi ar Y Traeth ar 28 Rhagfyr. Mae'r rhestr llawn ar gael yma.

Port will open the season with a Friday night home fixture against Rhayader Town. This is followed by a visit to Caersws and a home fixture against Mold Alex. Then come two tricky away fixtures at Holyhead and against Cefn Druids. These two away fixtures within 5 days are followed by yet another away game against league newcomers Llanfair United.
The home fixture against Caernarfon will be played on Tuesday, 6 October while in the Christmas Holiday fixture on 28 December it will be Holyhead Hotspur who visit the Traeth. The full fixtures are availableMae'r rhestr llawn ar gael here.
---

Mae'r datblygiadau ar y Traeth yn symud yn eu blaen yn dda, gyda'r wyneb caled newydd o flaen y prif eisteddle bellach yn ei le. Hefyd mae'r 'dug-outs' plastig oedd wedi dechrau dirywio dros y tymhorau diwethaf wrthi'n cael eu disodli gan rai concrit, ac fel y gwelwch chi o'r llun isod, mae'r gwaith yn siapio'n dda.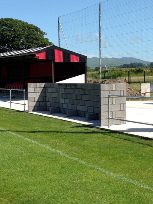 Developments at the Traeth are moving along well, with the new hard standing in front of the main stand now in its place. Also the plastic dug-outs that had started to deteriorate over the past few seasons are being replaced by concrete ones, and as you see from the above photo, the replacement dug-outs are taking their shape.
---

Mae Craig Papirnyk wedi ychwanegu gêm arall at y cynlluniau cyn dymor a bydd Port yn teithio i Ddyffryn Nantlle ar nos Fawrth, 28 Gorffennaf, cic gyntaf am 7.15 pm.

Craig Papirnyk has added another fixture to the pre-season schedule and Port will travel to Nantlle Vale on Tuesday the 28th July . 7.15pm kick off.
---

Yn dilyn noson gyflwyno llwyddiannus enwyd carfan Dan-16 o ugain chwaraewr ar gyfer 2015/16. Mae'r garfan yn cynnwys chwaraewyr yn eu blwyddyn olaf o dan 16 oed yn ogystal â hogiau o garfan llwyddiannus llynedd, Dan-14.
Bydd y garfan hefyd yn cynnwys tri chwaraewr ifanc, Aled Williams, Osian Jones a Celt Fôn Owen a gynrychiolodd Canolbarth Cymru yn y Cymru Cup yn Parc y Ddraig y tymor diwethaf. Pob hwyl i bawb am 2015/16. Am fanylion llawn gwasgwch 'Academi' yn y fwydlen.

Following a successful Induction Evening a U-16 squad of 20 players has been named. The squad is composed of players in their final year at U-16 level together with players from last season's successful U-14 squad.
These include the three young players, Aled Williams, Osian Jones and Celt Fôn Owen who played for the Central Wales representative squad in last season's Cymru Cup at Dragon Park Newport. Best of luck to all of the squad in the 2015/16 season. For full details choose 'Academy' in the menu.
---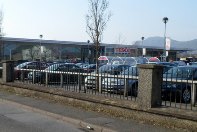 Cafodd slogan Tesco 'Every little helps' ystyr newydd ac annisgwyl yn ystod Twtio'r Traeth, gyda'r clwb yn derbyn gwasanaeth ardderchog gan pedwar aelod o staff Tesco a dreuliodd y diwrnod yn cynorthwyo gyda'r gwaith a hyn yn ffurfio rhan o bolisi'r Cwmni yn Helpu'r Gymuned. Gweithiodd y pedwar yn galed ac mae'r gefnogaeth hon yn cael ei werthfawrogi'n fawr gan y clwb.
Dymuna'r clwb ddiolch i'r gwirfoddolwyr i gyd am ei gwaith caled wrth baratoi'r Traeth ar gyfer y tymor newydd.

The Tesco slogan 'Every little helps' was given a whole new meaning during the Traeth Clean-up with the club receiving the excellent services of four members of the Tesco staff who spent the day assisting the sprucing of the ground as part of the company's Community Support Project. They proved to be excellent workers and this unexpected backing was very much appreciated by the club.
The club wishes to thank all volunteers for their hard work getting the Traeth ready for the new season.
---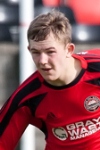 Mae Craig Papirnyk, a phawb sy'n gysylltiedig â'r clwb, yn estyn eu llongyfarchion i Iwan Lewis a Gruffydd John, dau chwaraewyr sydd wedi ennill graddau er anrhydedd o'u prifysgolion yn ystod yr haf.
Graddiodd Iwan gyda gradd Dosbarth Cyntaf yn Chwaraeon a Gwyddoniaeth Ymarfer o Brifysgol Loughborough. Hefyd enillodd wobr arbennig am sicrhau y marciau uchaf mewn blwyddyn o 220 o fyfyrwyr. Tipyn o gamp.
Graddiodd Gruffydd John mewn Chwaraeon, Iechyd ac Addysg Gorfforol o Brifysgol Bangor gyda anrhydedd 2:2. Dymuniadau gorau i'r ddau yn eu gyrfaoedd yn y dyfodol.

Craig Papirnyk and everyone associated with the club wish to congratulate players, Iwan Lewis and Gruffydd John on gaining honours degrees from their universities over the summer.
Iwan has graduated with a first class honours in Sport and Exercise Science from Loughborough University. He has also won a special award, graduating with the highest mark in a year consisting of 220 students. An outstanding achievement.
Gruffydd John has graduated in Sport, Health and Physical Education at Bangor University with a 2:2 honours degree. Best wishes to both players in their future careers.
---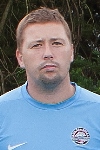 Wrth edrych ymlaen at y gyntaf yn y gyfres o gemau cyn dymor pwysleisiodd Craig Papirnyk ochr dyngarol y digwyddiad: "Rwy'n edrych ymlaen at gêm pnawn Sadwrn gan fod adnabod Greg a theulu'r Smithies yn gwneud y gêm yn fwy arbennig. Llynedd mwynhawyd y gêm gan bwyllgor y clwb a'r cefnogwyr gyda phawb yn awyddus i ddychwelyd eleni eto. Yn anffodus methais y gêm ond roedd gweld Dilwyn yn rhwydo'r gic o'r smotyn yn rhywbeth i bawb gofio!
"Mae Greg wedi bod yn rhoi carfan gryf gydau gilydd, sydd yn golygu y byddwn, yn ogystal â chymryd rhan mewn achlysur dyngarol, hefyd yn defnyddio'r gêm yn rhan o'r rhaglen cyn dymor. Bydd y gêm yn un gystadleuol a diolch i Greg am drefnu hyn.
"Bu bob hwylddydd yn llwyddiant ac mae'n wych y ffordd mae'r pobl leol yn cefnogi'r achlysur er cof am David. Mae'r anodd coelio'r arian sy'n cael ei gasglu i gymaint o achosion da er cof amdano . Rwyf i a'r teulu bob amser yn falch o fod yn rhan o'r diwrnod. Mae'n achlysur arbennig a byddaf yn ei gefnogi bob amser.
Byddwn heb Ceri James pnawn Sadwrn oherwydd galwadau gwaith ac mae Gwydion yn stryglo efo anaf i linyn y gar. Heblaw am hynny bydd gennym garfan lawn o chwaraewyr y tymor diwethaf a rhai ar dreial."

Looking ahead to the first of a series of pre-season games manager Craig Papirnyk looks forward in particular to the charitable aspect of the game:
"I am looking forward to the game on Saturday and knowing Greg and the Smithies family makes bringing my side to play that bit more special. Last year the club committee and fans really enjoyed the day and were all keen to return again this year, unfortunately I was unable to attend but seeing Dilwyn take and score a penalty was something for everyone to remember!!
"Greg has been putting together a very strong squad which means that as well as being part of the occasion my team will also be using the game as part of our pre-season schedule, the game will be competitive for us and I must thank Greg for organising this.
"Every year is a great success and how the local people get together and support the day in David's memory is fantastic, the amount that is generated in his memory for different, wonderful charities is unbelievable. I have always been very proud to be part of the day with my family; it is such an amazing thing and one that I will always support in the future.
"We will be without Ceri James due to work commitments, Gwydion is struggling with a hamstring injury but we will travel with otherwise a full squad from last season's team along with added trialists".
---