11/06/15
Cynghrair Ail dimau / Reserve League Info
Dyma ychydig o wybodaeth am fformat Cynghrair Ail Dimau'r Welsh Alliance.
Bydd gan y gynghrair 16 o dimau wedi'u rhannu'n ddwy –Gorllewin a Dwyrain. Dyma dimau'r Gorllewin:
Amaturiaid y Blaenau
Llanrug
Llanberis
Llangefni
Bae Trearddur
Hotspyrs Caergybi
Pwllheli.
Bydd rhanbarth y dwyrain yn cynnwys Bae Colwyn, Dinbych, Glan Conwy, Cyffordd Llandudno, Llanrwst, Llandyrnog, Prestatyn Sports ac un arall.
Yn ôl y fformat bydd bob clwb yn chwarae'r clybiau eraill yn y rhanbarth ddwy waith (14 o gemau). Yn ail rhan y tymor bydd y 4 uchaf o'r ddwy adran yn chwarae eu gilydd ddwywaith (14 gêm eto). Cyn cychwyn yr ail ran o'r tymor bydd cyfanswm pwyntiau y timau yn dychwelyd i 0. Bydd yr un fath yn digwydd gyda'r pedwar ar y gwaelod yn ffurfio grwp tebyg. Bydd yna hefyd gystadleuaeth Gwpan.
Disgwylir i'r tymor gychwyn ar 22 Awst. Mae Port i ofyn am gael chwarae eu gemau adref o dan y goleuadau ar nos Iau. Ond bydd y mwyafrif o'r gemau oddi cartref ar bnawn Sadwrn.

Here is some information regarding the format of the Welsh alliance Reserve League.
The league will have sixteen teams split into two regions –West and East. The teams in the West region are:
Blaenau Amateurs
Llanrug
Llanberis
Llangefni
Porthmadog
Treaddur Bay
Holyhead Hotspurs
Pwllheli
The east region comprises of Colwyn Bay, Denbigh, Glan Conwy, Llandudno Junction, Llanrwst, Llandyrnog, Prestatyn Sports, and one other.
The format of the league means each team play each of the clubs in the region home & away (14 matches) and on completion of that, the top 4 clubs from each region then go on to play each other home and away ( a further 14 matches) It has been agreed that the points totals will revert to zero at the start of the second part of the season.
The bottom 4 clubs in each region will form a similar group and play 14 matches.There will also be a cup competition.
The season is expected to start on Saturday 22 August. Porthmadog FC have expressed a desire to play their home matches under floodlights on a Thursday evening. But most of our away games will be on a Saturday.
---
10/06/15
'Nabod Stuart Rogers / Getting to know Stuart
Y chwaraewr diweddara i ateb cwestiynau Paps ydy'r chwaraewr canol cae Stuart Rogers a greodd gryn argraff yn ei dymor cyntaf ar Y Traeth.

Stuart Rogers, a midfielder who created a big impression in his first season at the Traeth, is the latest to respond to Craig's questions.

1 - Stu, tell us about yourself - work, hobbies, supporter for? etc
I'm 27 look about 17 and I'm a painter and decorator, I enjoy a pint and a night out now again, I'm a supporter of the biggest club in the world Man Utd, despite what Cai nose says !!

2 – What's your playing History i.e clubs, honours etc
I represented North Wales centre of excellence up until 16 and was also part of the Aberystwyth Academy which during that time we won the Ian Rush tournament. I then started senior football with Penrhyncoch and went on to play for Tywyn & Bryncrug; I have spent the last 2 years playing for Barmouth & Dyffryn FC before joining Port last season.

3 – This is your 1st year at Port, how has it been for you?
It's been great, it's the best club I've played for from the players and staff, right down to the people who do a lot behind the scenes. Everyone has been so welcoming from the start and it's a club on the up and is constantly progressing on & off the pitch.

4 – Last season you where very much unknown to the fans, but as the season went on you grew and became a regular starter, what was that down too?
I knew before signing it was going to be tough as there's so much quality in the team, but when I got my chance I just worked hard and did things simple, I always try to take on board as much as possible from Guy, Psycho and yourself which has really helped me develop my game.

5 – What would you like to achieve this coming season?
Personally, just to kick on and keep putting in good performances for the team. If we can add consistency to our game we will really push for the league this season, although we are under no illusions that this will be the toughest the league has been for a long time, it is a challenge that we look forward to and a nice cup run wouldn't go amiss either!!

6 - The banter in the dressing room is becoming clearer after each interview! Is it all fun and who has the best banter?!
Honestly, it's the best dressing room I've been in, there's a real good togetherness but as for best banter Jamo wins hands down, the stuff he says to Cai is top notch! haha

7 - Worst trainer and why ?
BANKSY!!!! Without a doubt the laziest person ever, I don't think I've ever seen him go into a full sprint once….. he's not going to like me saying this but Hartrick loves a little moan as well.

8 - Best & Worst Dancer?
Best dancer for me has to be Hartrick he's got some naughty moves .. Bob from Dol is the worst, some of the moves I've seen from him are awful!!

9 - Who's the funniest player and why?
There's a few to be honest Jamo, Josh Davies and Cai all like a joke and Harvey because of the obvious! But I'm going to go for Squiz he absolutely took Banksy to the cleaners in Cardiff about his crossing....Banksy was nearly crying bless him!!

10 - Finally , do you have a message for the fans ?
I'd just like to thank them for their support this season; they are there week in week out and especially at away games. It means a lot to the players and is really appreciated.

Cheers mate,
Paps
---
09/06/15
Port i gael Ail Dîm / Port to join Reserve League
Mae CPD Porthmadog i ymuno â Chynghrair Ail Dimau y Welsh Alliance. Dywedodd y cyfarwyddwr Clive Hague, "Y prif resymau am wneud hyn yw:
"I gynnig cyfle i chwaraewyr sydd wedi bod yn ein Academi i barhau i chwarae yn lleol.
"I barhau datblygiad y chwaraewyr yma er mwyn iddynt fedru chwarae i'r tîm cyntaf maes o law.
"I fod yn gefn i'r tîm cyntaf pan fydd yna angen
"I alluogi chwaraewyr o'r garfan gyntaf adfer eu ffitrwydd a cynnig amser ar y cae i eraill yn dilyn gwaharddiad.
"I gyflawni elfen bwysig o'n bwriadau fel clwb cymunedol.
"Mae Craig yn cefnogi'r amcanion yma," ychwanegodd, "ac mae'n cynorthwyo wrth inni geisio apwyntio rheolwr i'r ail dîm. Bydd angen i'r person a apwyntir i gydweithio efo Craig ac i sicrhau fod dulliau chwarae'r tîm cyntaf hefyd yn treiddio i'r ail dîm."
Bydd carfan yr ail dîm yn cynnwys nifer ddigonol o chwaraewyr Dan-19 i Port gael cystadlu mewn cystadlaethau cwpanau ieuenctid.
Bydd manylion pellach am y gynghrair newydd yn dilyn yn fuan.

Porthmadog FC have joined the Welsh Alliance Reserve League. Commenting after yesterday's board meeting director Clive Hague said, "The primary reasons for doing so are:
"To provide a Porthmadog based solution for those players who have been with the academy to carry on playing for a local team, who currently have to join other teams to carry on playing.
"To continue the development of those players to hopefully join the first team at a later date.
"To provide back-up to the first team should need arise.
"To provide a facility for first team players to regain fitness or have their fitness assessed in a match environment, get game time if coming back from suspension, and assist with the development of the younger players.
"To support our commitment to being a community club.
Craig whole heartedly supports the initiative," he added, "and is assisting with the search for a reserve team manager, who would need to work closely with Craig to ensure that there is a synergy between the playing style of the first team and the reserve team."
The reserve team squad will be structured around having enough under 19 players to have a squad to represent PFC in the Youth Cups, which is a domestic licence criteria.
Further details of the Welsh Alliance League will follow shortly.
---
07/06/15
CYFLE HYSBYSEBU A NODDI / ADVERTISING AND SPONSORSHIP OPPORTUNITIES
Mae na gyfle i unigolion neu fusnesau gefnogi y Clwb yn nhymor 2015-2016 drwy hysbysebu a noddi yn:
Y Cerdyn Rhestr Gemau - £60
Yn y Rhaglen Swyddogol - Chwarter Tudalen £55, Hanner Tudalen £90, Tudalen Llawn £170
Hysbysfwrdd ar ochr y cae £100 + (£70 Costau cynhyrchu am y tymor 1af yn unig.)
Noddi Pêl - £30 y gem neu £400 am y tymor.
Noddi Gem £60
Noddi Chwaraewr £30
Noddi Goliau - Unrhyw swm (e.e.£1 y gol)
Os oes gennych ddiddordeb yna cysylltwch a Dylan Rees (Swyddog Marchnata) drwy e-bost rees48wesla@gmail.com neu drwy ffonio 07900512345.

There are opportunities for individuals and businesses to support the Club through Advertising and Sponsorship:
Fixture Card Advert - £60
Match Programme - Quarter Page £55, Half Page £90, Whole Page £170
Perimeter Advertising Board £100 + ( £70 one-off Production costs)
Match Ball Sponsorship £30 per match or £400 for the season. Match Sponsorship £60
Player Sponsorship £30
Sponsor a Goal - Any sum (e.g. £1 per Goal)
If interested please contact Dylan Rees (Marketing Officer) by e-mail rees48wesla@gmail.com or by phone 07900512345.
---
06/06/15
Gwaith ar Y Traeth / Work at the Traeth
Mae'r gwaith wedi cychwyn ar ochr y prif Eisteddle ar Y Traeth, gyda'r wal ar ei hyd ar yr ochr honno o'r cae yn cael ei thynnu. Yn ei lle fydd yna ffens fetel yn cael ei gosod, a fel y gwelir fydd hon yn agosach at y cae chwarae na'r wal. Hefyd bydd angen ehangu ar y llain caled ac adleoli'r 'dugouts'.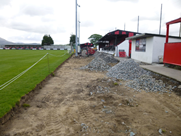 Work has commenced on ground works on the Main Stand side of the Traeth. The perimeter wall along that side of the ground is being removed and replaced by metal fencing which, as can be seen, will be closer to the pitch. The work will also involve the provision of further hard standing and the re-citing of the dugouts.
---
05/06/15
Dyddiau Twtio / Clean-up Days
Mae dau ddiwrnod wedi'u nodi eleni ar gyfer twtio'r Traeth. Ni fydd y tasgau yn rhy anodd na thrwm ond yn dilyn y gwaith sydd wedi cymryd lle ar Y Traeth ers ddiwedd y tymor, mae angen twtio cyffredinol, peintio ac yn y blaen er mwyn sicrhau fod y Traeth ar ei orau erbyn cychwyn y tymor.
Trwy gynnig dau ddyddiad y gobaith yw fydd yn siwtio fwy o gefnogwyr ac byddant yn medru dewis y dyddiad mwyaf addas iddynt.
Y ddau ddyddiad ydy: Sadwrn, 27 Mehefin a Sadwrn, 4 Gorffennaf.
"Da ni'n gwerthfawrogi pob cynnig o gymorth", meddai Phil Jones. "Byddwn yn ddiolchgar am awr neu ddwy o help, neu shifft fore neu phrynhawn, yn union fel mae pobl yn gallu. Edrychwn ymlaen i weld ein cefnogwyr ar un o'r ddau ddyddiad."

Two clean-up days have been lined up for the Traeth during the next few weeks. None of the tasks this year will be too physically demanding but following the renovation work carried out since the end of the season there is a need for general clearing up and painting etc to ensure that the Traeth is looking at its best ahead of the new season.
It is hoped that having two dates will enable volunteers to select the date which is most suitable for them.
The two dates are: Saturday, 27 June and Saturday 4 July.
Club chairman Phil Jones said, "We appreciate any offers of help. If volunteers can turn up for an hour or two or for a morning or an afternoon shift it will be a great help and we look forward to seeing as many of our supporters as possible on one of these dates."
---
02/06/15
Dyddiad newydd i gêm Penrhyn / New date for Penrhyn game

Mae ein gêm gyfeillgar yn erbyn ein cymdogion o Benrhyndeudraeth wedi cael ei ail-drefnu. Bydd y gêm bellach yn cael ei chwarae ar nos Fawrth, 14eg Gorffennaf, ar Y Traeth.
Mae rhestr llawn o'r gemau cyn-dymor ar y dudalen Gemau/Canlyniadau.

Our pre-season friendly match against neighbours Penrhyndeudraeth has been rescheduled. The match will now take place on Tuesday evening, 14th July, at Y Traeth.
A full list of fixtures is available on the Fixtures/Results page.
---
01/06/15
Newyddion trist / Sad news of Chris Evans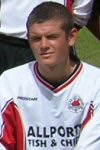 Daeth y newyddion dros y penwythnos am farwolaeth Chris Evans. Derbyniwyd y newyddion am ei farwolaeth yn 28 oed gyda thristwch mawr gan bawb ar Y Traeth.
Ymunodd Chris a Phorthmadog o glwb Wrecsam yn haf 2006 gan chwarae 8 (+3) o gemau UGC dros y clwb. Aeth ymlaen i chwarae dros Llangefni a'r Drenewydd. Y tymor diwethaf bu'n chwarae i Llanerchymedd.
Mae'r clwb yn estyn eu cydymdeimlad llwyraf a theulu Chris.

The sad news of the death of former Porthmadog player Chris Evans was announced over the weekend. His passing at the young age of 28 years was received with great sadness by all at the Traeth.
Chris, a former trainee at Wrexham, signed for Porthmadog in the summer of 2006 and went on to play 8 (+3) WPL games for the club. He later signed for Llangefni and then Newtown FC. This season he played for Llanerchymedd.
The club extends sincere condolences with the family of Chris Evans.
---
01/06/15
Taith i Fangor yn Mis Awst / A trip to Bangor in August

Rydym yn falch o gyhoeddi gêm cyn-dymor ddiddorol arall! Y gwrthwynebwyr ar Awst 1af fydd Bangor - gyda'r gêm i'w chwarae ar faes Nant Porth; cic-gyntaf am 2:30. Hwn fydd y tro cyntaf i Port ymweld a stadiwm newydd Bangor, a'r tro cyntaf i ni chwarae yn eu herbyn ers Ebrill 2010.
Mae rhestr llawn o'r gemau cyn-dymor bellach ar y dudalen Gemau/Canlyniadau.

We're pleased to announce yet another interesting pre-season friendly! Our opponents on the 1st August will be Bangor - with the game to be played at the Nant Porth ground; kick-off at 2:30. This will be our first visit to their new ground - indeed, it'll be our first match against Bangor since April 2010.
A full list of fixtures is now available on the Fixtures/Results page.
---
30/05/15
Enillydd Tote Mai / May Tote Winner
Y rhifau lwcus yn y Tote mis Mai oedd 32 a 37. Roedd 1 enillydd, hyn i'w gadarnhau, sef Paul Morris, Cricieth, yn ennill y wobr £660! Bydd rhaid gwneud unrhyw gais erbyn 8yh nos Wener 5ed Mehefin. Bydd y rhifau ar gyfer Tote mis Mehefin yn cael eu tynnu nos Wener 26ain Mehefin, yn sesiwn Bingo wythnosol Clwb Cymdeithasol Clwb Pêl-Droed Porthmadog yn Y Ganolfan. Amlenni Tote ar gael o Kaleidoscope, Y Ganolfan, Clwb Pêl-Droed Porthmadog neu Dylan 07900512345.

The winning numbers in the Porthmadog Football Social Club monthly Tote for May were 32 and 37. Subject to confirmation there was 1 winner, Paul Morris, Criccieth, winning the £660 jackpot! Any claims must be made by 8pm on Friday 5th June. The June Tote will be drawn on Friday 26th June at the weekly Porthmadog F.C. Social Club Bingo held at Y Ganolfan. Tote envelopes available from Kaleidoscope, Y Ganolfan, Porthmadog F C Clubhouse or Dylan 07900512345.
---
29/05/15
Port ydy enillwyr Cynghrair Chwarae Teg / Port are Fair Play Winners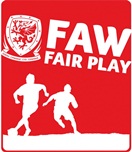 CPD Porthmadog ydy enillwyr Gwobr Chwarae Teg y Gymdeithas Bêl-droed yn yr HGA am 2014/15. Cyhoeddwyd y gwobrau heddiw (29 Mai) a bydd enillydd pob cynghrair yn derbyn gwobr o £1,000. Caiff y clwb ddefnyddio'r arian ar gyfer gwelliannau i'r cae neu i brynu offer pêl-droed.
Yn eu datganiad dywedodd y Gymdeithas Bêl-droed, "Mae'r enillwyr wedi dangos ymroddiad i neges Chwarae Teg y Gymdeithas drwy gael y nifer lleiaf o pwyntiau disgyblaeth yn eu cynghreiriau."
Mae tîm Craig Papirnyk yn haeddu clod uchel am fynd drwy gydol y tymor heb dderbyn yr un cerdyn coch.
Llongyfarchiadau hefyd i'n cymdogion yn CPD Penrhyndeudraeth sydd wedi ennill y wobr yn y Welsh Alliance.

CPD Porthmadog are the FAW Fair Play Award winners for the 2014/15 season in the Huws Gray Alliance. The awards have been announced today (29 May) and each winner of their respective league can look forward to receiving £1000 in prize money. The prize money for winning can be used towards ground improvements or the purchasing of any football equipment.
The FAW statement congratulating the winning clubs said, "The winning clubs have shown commitment to the FAW Fair Play Message by having the least number of disciplinary points in their respective Leagues."
Craig Papirnyk's team deserve high praise for going through the season without receiving a single red card.
Well done also to our neighbours CPD Penrhyndeudraeth who picked up a similar award for the Welsh Alliance.
---
29/05/15
Hatric i Celt / Celt's hatrick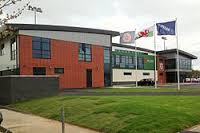 Treuliodd Aled Williams, Celt Fôn Owen ac Osian Jones dau ddiwrnod (27 a 28 Mai) ym Mharc y Ddraig, Casnewydd. Roedd y tri o Academi Porthmadog yn cynrychioli Canolbarth Cymru yng nghystadleuaeth y Cymru Cup a chwaraewyd dros y ddeuddydd rhwng rhanbarthau Cymru. Anodd iawn ydy dod o hyd i wybodaeth am y gemau ar wefan y Gymdeithas Bêl-droed na gwefan yr Ymddiriedolaeth Pêl-droed, a oedd yn trefnu'r achlysur, ond deallwn fod y Canolbarth wedi ennill dwy o'u tair gêm yn curo rhanbarthau'r De a'r Gogledd.
Ond yn sicr cafwyd un darn o newyddion gwirioneddol wych fod Celt Fôn Owen wedi sgorio hatric yn y fuddugoliaeth o 4-3 dros rhanbarth De Cymru. Tipyn o gamp a llongyfarchiadau mawr i Celt a oedd hefyd yn brif sgoriwr yr Academi am y tymor diwethaf.
Da iawn Aled, Osian a Celt a pluen yn het yr academi a'u hyfforddwyr.

Aled Williams, Celt Fôn Owen and Osian Jones spent two days (27and 28 May) at Dragon Park in Newport. The three from the Porthmadog Academy represented Central Wales in the Cymru Cup, a competition played over two days between the Welsh regions. Getting information of the games themselves from the FAW website or that of the Welsh Football Trust, who organised the competition, has drawn a blank. But it is understood that the Central Wales team won two of their three games, those against the North and South Regions.
But one great piece of news was the fact that Celt Fôn Owen scored a hatrick in the 4-3 victory over South Wales. Congratulations Celt, brilliant! Celt was also the Academy's top scorer for last season.
Well done to Aled, Osian and Celt and a great credit to the academy and their coaches.
---
28/05/15
'Nabod Richard Harvey / Getting to know Harvey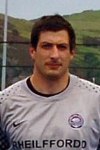 Tro'r golwr Richard Harvey, capten y clwb a chwaraewr y tymor 2014/15, ydy hi i gael ei holi gan Paps.

Its keeper Richard Harvey, club captain and Player of the Season 2014/15 who responds to Paps's questioning.

1 - Rich, tell us about yourself - work, hobbies, supporter for? etc
I'm 32 (Ceri James!) I live in Penrhyndeudraeth with my fiancée Lucy and our beautiful daughter Scarlett! I am an electrician and I work for Jason Jones from Nefyn who had a season at Porthmadog! I support Liverpool and Wrexham who are both not very good at the moment!

2 – What's your playing History i.e clubs, honours etc
As a youth player I played for Porthmadog until I was 17! I made my debut for Porthmadog when I was 16, then after I played for the reserves, Holywell, Llanberis, Cemaes Bay, Llangefni, then back to Porthmadog! I have played for Wales U18, Welsh colleges, trials for Manchester City and a couple of reserve games for Wrexham and Macclesfield.

3 – This is your 10th year at Port now I believe , how has it been for you playing under different managers, players and seeing the club develop?
There has definitely been change in the last 10 years notably the club house and the bypass which has made the ground more noticeable! The pitch has always remained excellent, also with the improvement of 'cae tatws' we are able to train in Port!!! The stadia has improved and it seems the committee are always looking to improve facilities which is fantastic and a huge thank you should be mentioned to everyone connected!
All the mangers have given something different. I think for awhile it was difficult to replace what Viv and Osian had installed over the years! Gareth Parry produced an exciting team a couple of years ago but I like what Craig is trying to do especially with a team of local players.

4 – What does it mean to you playing for and Captaining Port?
It means everything to me! I used to watch Port on every occasion as a youngster, becoming Captain for the 1st time in my career last season was a great feeling , the lads are great and I do my best to offer advice and support where needed. I am proud to have been able to play for this great club!

5 – Can you name your best ever Port X1 … (tough one)
Cheers Paps this is a tough one! Seeing as I made my debut in 1998 I'm going on the players from then to now. Harvey (obviously) John G Jones, Colin Saynor, Rio, Mike Foster, Chris Banks, Twm, Dafydd Evans, Les Davies, Carl Owen, Paul Roberts. (Wow quite a team! Web Ed.)
And a massive subs bench - been some good players at the club!

6 - The banter in the dressing room is becoming clearer after each interview ! Is it all fun and who has the best banter?!
The banter has been the best I've seen it, such a good laugh, loads of characters with different humour!

7 - Worst trainer and why?
Ceri has to be the worst 'cos I've never seen him hardly! Hartrick likes a good moan and Cai spends half the night looking for the footballs after shooting them out the ground!

8 - Best & Worst Dancer?
Don't know about the best because we are all pretty rubbish but Eilir seemed to enjoy himself on the dance floor of the gay bar at Christmas doo!

9 - Who's the funniest player and why?
Physico naturally is one of the funniest! One of his classic quotes of last season was " Which mars are you on!" I just need to look at Cai and I burst out laughing! Stuart looks like a funny bloke too (odd looking)!

10 - Finally, can you tell us who's the longest in the shower ?! Ha
Cai and I have noticed while having a cigar in the shower, Iwan seems to mop the floor with his!

Cheers mate,
Paps
---
27/05/15
Dwy gêm cyn-dymor / Two attractive fixtures

Cadarnhawyd dwy gêm gyfeillgar arall ac mae'r ddwy yn erbyn timau o Uwch Gynghrair Cymru.
Sadwrn 25 Gorffennaf – GAP Cei Conna ar Y Traeth.
Sadwrn 8 Awst – Aberystwyth ar Y Traeth
Bydd y ddwy gêm yn erbyn gwrthwynebwyr cryf ac yn cynnig prawf anodd ar gyfnod pan fydd y tymor newydd yn prysur agosáu. Cafodd Aberystwyth dymor ardderchog yn 2014/15 ac roeddynt yn anffodus i fethu allan ar Ewrop. Gorffennodd Cei Conna y tymor yn gryf i sicrhau'r 7fed safle.

Two more pre-season fixtures have been confirmed and both are against WPL opposition.
Saturday July 25th - GAP Connah's Quay FC at the Traeth
Saturday August 8th -Aberystwyth Town FC at the Traeth
These games will provide stiff opposition and an excellent test as the new season will be fast approaching by that time. Aberystwyth enjoyed an excellent season in 2014/15 and were unlucky to miss out on European qualification while the Nomads ended last season strongly to finish in 7th place in the table.
---
26/05/15
Gethin gyda Chymru / Gethin gets call-up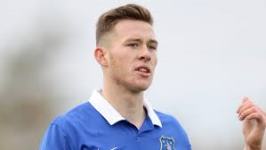 Llongyfarchiadau i Gethin Jones, cyn chwaraewr ifanc Academi Porthmadog, sydd wedi'i ddewis yn un o bedwar o chwaraewyr ifanc (Declan John, Tyler Roberts a Harry Wilson ydy'r lleill) sydd wedi derbyn yr alwad wrth reolwr Cymru, Chris Coleman, i ymarfer gyda'r brif garfan wrth iddyn nhw baratoi at y gêm holl bwysig yn erbyn Gwlad Belg. Mae'r amddiffynnwr ifanc, sydd gyda Everton, eisoes wedi bod yn gapten ar dîm Cymru Dan-21 ac yn ddiweddar dychwelodd i'w glwb wedi cyfnod ar fenthyg gyda Plymouth Argyle. Da iawn a phob lwc, Gethin.

Congratulations to Porthmadog Academy product Gethin Jones who is one of four young players (Declan John, Tyler Roberts and Harry Wilson are the others) who have received a call-up, from Wales' manager Chris Coleman, to train with the Wales senior squad ahead of the all important Euro Qualifier with Belgium. The Everton defender has captained the Wales U-21 team and recently returned to his club after a loan spell at Plymouth Argyle. Well done and best of luck, Gethin.
---
25/05/15
Triawd yr Academi / The Academy Three
Dymuniadau gorau i dri o chwaraewyr Academi Porthmadog, Aled Williams, Celt Fôn Owen ac Osian Jones, a fydd yn chwarae yn y Cymru Cup ym Mharc y Ddraig, Casnewydd ddydd Mercher a ddydd Iau yr wythnos hon. Cystadleuaeth rhwng rhanbarthau Academïau Cymru ydy'r Cymru Cup. Dewiswyd y tri chwaraewr ifanc i garfan Academi Rhanbarth Canolbarth Cymru.

Best wishes to Aled Williams, , who play for the Porthmadog Academy and will be taking part in the third annual Cymru Cup to be played at Dragon Park, Newport on Wednesday and Thursday of this week. The Cymru Cup is a tournament played between regional academy teams. The three Port youngsters have been selected to play for the Central Wales Academy squad.
---
25/05/15
Cwpan Cymru / Welsh Cup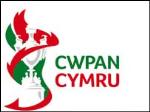 Mae Ffurflenni Cais ar gyfer cael mynediad i gystadlaethau'r Gymdeithas Bêl-droed ar gael i'w llawrlwytho –gan gynnwys rhai Cwpan Cymru a'r Cwpan Ieuenctid Dan-19. Y dyddiad cau pendant ydy 30 Mehefin 2015.
Meddai Andrew Howard, Pennaeth Cystadlaethau'r Gymdeithas, "Mae'n bleser gennym rhyddhau'r ffurflenni at y tymor nesaf ac anogwn pob clwb i fynd am o leiaf un cystadleuaeth.
"Mae niferoedd y clybiau, o bob rhan o'r wlad, sy'n cymryd rhan yn cynyddu'n flynyddol ac yn ddiweddar wedi arwain at nifer ddigwyddiadau cofiadwy a straeon tylwyth teg."

The FAW Cup Competition Entry Forms are now available to download including FAW Welsh Cup and FAW Youth Cup U-19. Strict deadline for return of forms is 30 June 2015.
The FAW's Head of Competitions, Andrew Howard, said: "We are pleased to release the entry forms for next season's Cup Competitions and encourage all clubs to enter at least one competition.
"The engagement from clubs spanning the length and breadth of Wales is growing annually and this has been the catalyst for some memorable, almost fairytale stories of late."
---
23/05/15
Noddwyr yn parhau / Sponsors to continue
Mae CPD Porthmadog wedi derbyn y newyddion ardderchog fod y ddau brif noddwr yn mynd i barhau a'u cefnogaeth hael i'r clwb.
Meddai Dylan Rees, rheolwr marchnata'r clwb "Mae'n wych medru cyhoeddi fod y ddau brif noddwr yn mynd i'n cefnogi eto yn 2015/16,".
"Bydd Andrew Kime -sydd yn gyfrifol am llawer o'r ffotograffau a welir yn y rhaglen a hefyd ar y wefan- unwaith eto yn noddi crys y clwb drwy ei gwmni 'Agweddau Eryri'. Mae'r cwmni wedi ei leoli yng Nghricieth. Bydd y crys yn cario'r logo- 'Agwedd'. Hefyd mae gan gwmni Andrew ddwy oriel yng Nghricieth sef Oriel yr Eryr Aur ac Oriel Castell. Ceir gwybodaeth pellach am y cwmni ar www.imagesofsnowdonia.com
"Plesiwyd ni'n fawr hefyd fod y cysylltiad hir gyda Rheilffordd Ffestiniog ac Eryri yn mynd i barhau," ychwanegodd Dylan Rees.
"Mae'n deg dweud fod CPD Porthmadog a'r byd enwog Rheilffordd Ffestiniog yn ddau o sefydliadau mwyaf adnabyddus tref Porthmadog ac yn dda gweld y bartneriaeth yma'n parhau. Gellir cael fwy o wybodaeth am y Rheilffordd ar www.festrail.co.uk

Porthmadog FC have received the excellent news that their joint main sponsors will continue their generous support next season.
"I am delighted to announce that our two main sponsors will once again be backing the club in 2015/16," said club marketing officer, Dylan Rees.
"Andrew Kime -who has been responsible for much of the photography connected with the club on both match programme and website-, will again be a shirt sponsor via his Cricieth based 'Aspects of Snowdonia.' Andrew's company also has two galleries at Cricieth, The Golden Eagle Gallery and The Castle Gallery. Further information can be found on www.imagesofsnowdonia.com
"Last season the sponsor used the logo of 'Castle Framing' but this season it will be done via the 'Aspects of Snowdonia' logo.
"We are very pleased that our lengthy relationship with the Ffestiniog and Welsh Highland Railway will continue," added Dylan.
"It is fair to say that our two organisations, CPD Porthmadog and the world famous Ffestiniog Railway are two of the town's most readily recognisable organisations and it is good to see that the partnership will continue. Further details of the 'Ffestiniog' can be found on www.festrail.co.uk
---