19/03/15
Newyddion Academi / Academy News
Y penwythnos diwethaf yn y gemau yn erbyn Academi Derwyddon Cefn roedd yna fuddugoliaethau da i'r timau Dan12 a Dan14. Sgoriodd Deion Hughes (4), Dafydd Roberts a Sion Evans ym muddugoliaeth y tîm Dan12 o 6-2. Rhwydodd Cedri Jones a Thomas Collins i'r tîm Dan14 gyda'r prif sgoriwr Celt Fôn Owen hefyd yn sgorio mewn buddugoliaeth o 3-1.
Y penwythnos nesaf bydd y ddau oddi cartref ym Mae Colwyn.

Last weekend there were good wins for both the U12s and U14s over the Cefn Druids Academy. The U12s recorded a convincing 6-2 victory with Deion Hughes (4), Dafydd Roberts and Sion Evans on the score sheet. The U14s were 3-1 winners, the goals coming from Cedri Jones and Thomas Collins and top scorer Celt Fon Owen was again on target.
Next weekend both teams will be away to Colwyn Bay.
---
15/03/15
Chwaraewr y Flwyddyn Pleidleisio / Player of the Season Voting
Bydd y bleidlais yn cael ei chymryd ar gyfer Chwaraewr y Flwyddyn yn y gêm nos Fercher yn erbyn Conwy. Os na fedrwch fod yn bresennol i bleidleisio cewch bleidleisio drwy gwblhau'r manylion isod:

You will be able to cast your vote for the 2014/15 Player of the Season at Wednesday's game against Conwy. If you are unable to be present on the night you can cast your vote by entering the details above:
---
17/03/15
Rhagolwg / Preview: v Conwy
A hithau ond yn ganol Mawrth daw'r llen i lawr ar dymor 2014/15 Port gydag ymweliad Conwy â'r Traeth nos yfory(Mercher). Un a fydd yn hapus â thymor pêl-droed sydd wedi manteisio ar aeaf heb ohiriadau ydy ysgrifennydd y gynghrair Chas Rowland!
Teg dweud fod ein gwrthwynebwyr nos Fercher yn edrych ar y tymor hwn fel un o dan gyflawni ar ôl gorffen yn yr ail safle y tymor diwethaf.
Ond wrth gymryd golwg ymlaen at y gêm, ni fydd Craig yn disgwyl unrhyw beth ond gêm anodd wrth i'r ddau glwb geisio gorffen y tymor ar nodyn uchel.
"Bydd y gêm yn erbyn Conwy yn un anodd dywedodd Craig. Mae canlyniadau diweddar y ddau glwb wedi bod yn anghyson ond bydd Aden (Shannon) yn edrych i sicrhau tri phwynt a bydd angen i ni wneud yn siwr mai Port sydd yn gorffen ar nodyn uchel.
"Rwy'n disgwyl gêm ddeniadol. Mae Conwy, fel Port, yn hoff o chwarae pêl-droed ac, er fod y canlyniad y tro diwethaf rhwng y ddau yn 0-0, doedd dim diflas am y gêm gyda'r ddau dîm yn creu cyfleoedd. Er fod pwynt oddi cartref bob amser yn dderbyniol medrem fod wedi cipio'r tri phwynt."
Amdani Port. Gorffen yn gryf.

It is mid March and already the curtain is coming down on Port's 2014/15 season with the visit of Conwy Borough on Wednesday evening. It has been a winter with the minimum of postponements giving the league secretary Chas Rowland an unusually worry free season.
It is fair to say that our final opponents of the season will consider 2014/15 as a one of under achievement after finishing as runners up to Cefn Druids last season.
But looking ahead to Wednesday's game Craig won't in any way be under estimating the task as both teams will be looking to end the season on a high.
"Conwy as always will be a tough game they like us of late have been inconsistent with results but Aden (Shannon) will be looking for 3pts and we have to make sure it is us that ends the season on a high.
"I expect an entertaining match, Conwy like to play football just as we do, and even though the score was 0-0 earlier on in the season, it was definitely not your typical boring 0-0 as both teams created chances and on the day I felt we could've come away with the win but a point away from home is never a bad thing."
Go for it Port. Finish strongly.
---
16/03/15
Golwg yn ôl i Paps / Paps takes stock
Isod mae Paps yn cymryd golwg yn ôl i at y gêm yn Rhaeadr ac ar y tymor.

Below Paps takes a look back at the Rhayader game and the season in general.

"The season has been one that started brightly and due to results, rather than performances, has turned into a frustrating campaign of late. Last week in Rhayader we had more of the performance that this squad is capable of, Rhayader are a difficult team to play as proven when they snatched a point at the Traeth earlier in the season. It's a long journey which can effect players but thankfully on the day this was not the case for us, the pitch played well and we controlled play early on but did not create as many clear cut chances as I would've liked in the 1st period. Rhayader defended well and were very direct, a big side and a threat on set pieces. We went in at 1-0 and based on possession stats I'd say we deserved to be in the lead although Rhayader had created some chances. Second half we attacked with more belief, we moved the ball quickly and found space to hurt the home side, it was pleasing to see and the 4 goals we did score could've been doubled but the home keeper was fantastic.
"Congratulations to Josh Davies for hitting the 20 goals mark – let's hope he extends that on Wednesday evening !! It has been a fantastic season for the young 20 year old man who is still learning his trade !!
"I mentioned last week that overall I'm happy with how this year has gone for me and my squad, we have learnt a lot. Looking back to the job I was gratefully given and the frantic pre-season I had which was scheduled in and around my wedding !! I am pleased in the way we have developed, I rebuilt a squad last summer (we had 8 remaining from the previous season) young local players and many who have not ever played at this standard have more than matched up to what's been asked of them. I will look to strengthen again come this pre-season and we will compete again next season for a top finish."
---
12/03/15
Rhagolwg / Preview: Rhaeadr

Pnawn Sadwrn bydd Port yn teithio i'r Rhaeadr i chwarae'r gêm olaf oddi cartref o'r tymor ac yn edrych i dorri ar rhediad siomedig yn ennill ond un pwynt o'r naw diwethaf. Mae'r math yma o ganlyniadau yn wahanol iawn i'r hyn a ddigwyddodd ynghynt yn y tymor. Er waethaf y canlyniadau rhaid dweud unwaith eto fod safon y perfformiadau wedi aros yn uchel gyda digonedd o gyfleoedd yn cael eu creu yn ystod y dair gêm hon fel yng ngweddill y tymor.
Yn y gêm rhwng y ddau ar Y Traeth lluchiodd Port dwy gôl o fantais ac yn y diwedd roedd rhaid bodloni ag un pwynt mewn gêm gyfartal. Os ydy Port i orffen y tymor ar nodyn uchel bydd angen gwella'r canlyniadau diweddar ar Y Weirglodd lle gollwyd ar y ddau ymweliad diwethaf.
Ond mae Rhaeadr hefyd ar rhediad gwael yn colli 5 gêm yn olynol (er iddynt guro Llandrindod o 4-2 yng Nghwpan y Canolbarth nos Fercher) sydd wedi eu tynnu i'r frwydr am y pwyntiau fyddai'n eu codi o'r pedwar isaf.
Amdani Port, gorffen yn gryf!

On Saturday Port travel to Rhayader for their last away fixture of the season and will be looking to break the run of disappointing recent results which has seen them pick up just one point out of the last nine. This is not the form shown in the first half of the season. Despite this it must be repeated yet again that the quality of performance has remained high and the chances created were plentiful in all of these three games as well as throughout the season.
When the two clubs met at the Traeth, Port threw away a two goal advantage and in the end had to accept the one point for a draw. If Port are to end on a high, they will need to improve their results on a ground where they have lost on their last two visits.
Rhayader are also on a poor run of form having lost all of their last five games (though they beat Llandrindod 4-2 in a Central Wales Cup tie on Wednesday) which means they have dropped into the fourth relegation spot which also means that they will be battling for the points on Saturday lift them out of the bottom four.
Go for it Port, finish strongly!
---
10/03/15
Newid dyddiad / Change of date
Mae'r Gynghrair wedi cadarnhau mai ar NOS FERCHER, 18 MAWRTH fydd y gêm yn erbyn Conwy, sef gêm olaf y tymor, yn cael ei chwarae gyda'r gic gyntaf am 7.45 pm.

The League has confirmed that the last game of the season against Conwy Borough will now be played on WEDNESDAY, 18 MARCH with a 7.45 pm kick off.
---
09/03/15
Ffeinal ar Y Traeth / Final at the Traeth
Bydd Ffeinal Cwpan Cynghrair Huws Gray yn dychwelyd i'r Traeth ar bnawn Sadwrn, 25 Ebrill pan fydd dau glwb o'r canolbarth, sef Cegidfa a Chaersws, yn cystadlu am y gwpan. Bydd yr anrhydedd o groesawu'r ffeinal i'r Traeth yn wobr am lwyddiant ffeinal llynedd, ar Y Traeth, pan gododd Caernarfon y gwpan drwy guro'r Fflint.

The Huws Gray League Cup Final returns to the Traeth on Saturday, 25th April. It will be an all mid-Wales final between Guilsfield and Caersws. This follows the success of Porthmadog FC's hosting of last season's final when Caernarfon Town lifted the trophy with a win over Flint Town United.
---
06/03/15
Sylwadau Craig / Craig's Comments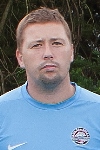 Isod gweler sylwadau Craig o flaen y gêm yn erbyn Bwcle.
Below are Craig's comments ahead of the game against Buckley

On the road
"It has been a long and somewhat frustrating 4 weeks away, picking up 4 pts from a possible 9 just isn't good enough by the standards I set and the club / fans deserve! I do not mean to disrespect any of our opposition but my opinion is that we should be beating these teams in and around us in the league as we did earlier on in the season. We haven't adapted well to the poor surfaces that winter brings and we've struggled to pick up momentum before the end of the season, which is disappointing for me as I am sure it is for the fans.
"I am happy with how they reacted to playing poorly in Rhydymwyn but got the result in the end. In Holyhead I felt from the off we controlled play and as so often this season had we taken the clear cut chances we created then I have no doubt we would've come away from that game comfortable winners, but our mistakes cost us and we again conceded cheap goals. Mold last week was different, we didn't get going for the opening 20mins and found ourselves 2 behind and rightly so, it was really pleasing to see the lads react positively and get themselves back in the game. We, I felt, controlled play for the remainder of the 70mins and again had ample chances to go on and win the game.
The Season
"Overall I'd say we have had a good season considering I, and most of my squad were new. The aim was to re-build after Gareth and develop a squad to compete at this level. Based on early results it became clear that the squad had the potential to be a real threat in the league, their performances echoed across the league and they earned the respect from teams for the way they play their football. I am learning just as they are and as I've said together we will get stronger without doubt.
"We of late have been conceding poor goals. If we start taking our chances earlier, then mistakes that will inevitably happen as the game goes on won't cost us as much when we are ahead. When we have scored earlier the whole dynamics of the match change, the opposition team go behind so they have to then chase the game to get back into it. This is when we are at our best as space opens for our players to play. The longer the game stays at 0-0 the better for teams against us, who sit back with men behind the ball and hit us on the break or get goals from our own mistakes and this is how most games we have lost have gone this season."
Saturday
"Buckley who have games in hand on us can potentially finish higher , so Saturday's game is what they call a 6 pointer , the players understand the importance of finishing as high as possible and the standard we set is always reached, so today I'll be hoping for a more complete performance from my side, back on the best pitch in the league and playing the football that we all enjoy.
The aim now is to finish as high as possible by taking maximum points from the remaining 3 games which won't be easy but is achievable."
Supporters
"I would like to say a huge thank you to all the travelling supporters this season, you know who you all are!! It's fantastic to see so many of you behind the lads each week and more often than not, outnumber the homes fans !! It doesn't go un-noticed and is very much appreciated.

Paps
---
05/03/15
Rhagolwg: v Bwcle / Preview: v Buckley

Bwcle fydd yn ymweld â'r Traeth pnawn Sadwrn am gêm rhwng y 4ydd a'r 7fed. Dychwelyd yno fydd Port wedi tair gêm oddi cartref â chanlyniadau cymysg. Yng Nghaergybi crëwyd ddigon o gyfleoedd i fod wedi ennill y gêm ac yr un fath yn Y Wyddgrug lle bu angen brwydro nol i rhannu'r pwyntiau. Bydd rhaid rwan anelu i orffen y tymor yn gryf a chymryd mwy o'r cyfleoedd yna.
Bydd y ddau dîm yn brwydro er mwyn sicrhau gorffen yn y chwech uchaf. Ar hyn o bryd mae gan Port 5 pwynt o fantais dros y gwrthwynebwyr ond mae gan Bwcle tair gêm yn fwy yn weddill. Mae hyn yn gwneud gêm pnawn Sadwrn yn un chwe pwynt. Gohiriwyd gêm Bwcle y penwythnos diwethaf oherwydd fod y cae yn rhy wlyb ond y penwythnos blaenorol cafwyd perfformiad maw ganddynt yn curo Penycae o 7-1. Cyfartal oedd eu tair gêm flaenorol. Sylw bach distaw -mae record ddiweddar Bwcle yn erbyn Port yn un dda. Amdani felly!

Buckley Town will be the visitors on Saturday for a game between the 4th and 7th in the table. Port will be returning to the Traeth after three games on the road and a mixed bag of results. At Holyhead enough chances were created to have won the game and the same was the story at Mold where a fight back was needed to share the spoils. The aim now must be to end the season on a high and convert some of those excellent chances.
Both sides will be battling to ensure a top six finish come the end of the season. Currently Port hold a five point advantage over their opponents but Buckley have played three fewer games, so Saturday's clash is something of a six pointer. Buckley's game last weekend was postponed because of a waterlogged pitch but they put in a storming performance the previous weekend to beat Penycae by 7-1 after having drawn their previous three games. Mention it quietly but Buckley do have rather a good recent record against Port!! But after all records are made to be broken!
---
04/03/15
Colli Gwyn a Moss / Passing of Gwyn and Moss
Trist oedd clywed am farwolaeth diweddar dau a fu yn gysylltiedig â'r Clwb. Bu farw Gwyn Davies (Gwyn Borth) ar y 22 Chwefror a bydd y cynhebrwng ddydd Gwener hwn (6ed o Fawrth) am 1.30pm yng nghapel Bethel, Borth-y-Gest. Gwasanaethodd Gwyn ar bwyllgor y clwb yn y gorffennol a bu'n rhedeg yr ail dim a thîm ieuenctid am rai tymhorau. Bu'n gefnogwr brwd ar hyd y blynyddoedd, tan yn ddiweddar iawn ac 'roedd yn Is-Lywydd hael. Daeth ei farwolaeth yn 72 oed a braw i ni oll.
Yn 82 oed bu farw Moses neu Moss Griffiths a fu'n aelod o dim amatur chwedlonol y 50egau. 'Roedd yn un o 3 brawd o Abersoch a oedd yn rhan annatod o'r tîm llwyddiannus hwnnw. O bosib y tro diwethaf i ni weld Moss ar y Traeth oedd gyda'i ddau frawd Ieuan (Ieus) a Bill (Bilws) mewn aduniad a drefnwyd yn 2006 i ddathlu 50 mlynedd ers i'r tîm ennill Cwpan Amatur Cymru am y tro cyntaf yn 1956. Bellach mae y tri wedi ein gadael. Bydd y cynhebrwng am 1 o'r gloch prynhawn dydd Gwener yng Nghapel y Graig, Abersoch.
Cydymdeimlwn gyda teuluoedd y ddau.

It was with a great degree of sadness that we heard of the recent passing of two people who had very close connections with the club. Gwyn Davies (Gwyn Borth) died on the 22 February and his funeral will be this Friday (6 March) at Capel Bethel, Borth-y-Gest at 1.30pm. Gwyn served as a committee member in the past and had also managed the Reserves and Youth Team. He was always an enthusiastic supporter of the club and continued to do so until very recently. He was also a generous Vice President of the Club. His untimely death at the age of 72 has shocked us all.
At 82 years of age Moses (Moss) Griffiths, one of the members of the legendary 1950's amateur team, has also died. Moss was one of three Abersoch brothers who played in the team that won the Welsh Amateur Cup in two successive seasons in 1956 and 1957 and were beaten finalists in 1958. Possibly the last time we saw Moss at the Traeth was in 2006, together with his two brothers Ieuan (Ieus) and Bill (Bilws), when the Club organised a reunion of that famous team to celebrate 50 years on from that first triumph in the Welsh Amateur Cup. Unfortunately all three brothers have now left us. Moss's funeral will take place at Capel y Graig, Abersoch at 1pm on Friday 6th.
Our condolences go to the families of both Gwyn and Moss.
---
28/02/15
Tote Chwefror / February Tote
Y rhifau lwcus yn y Tote mis Chwefror oedd 13 + 40. Nid oedd enillydd, hyn i'w gadarnhau. Bydd y Wobr £345 yn cael ei ychwanegu at gyfanswm mis Mawrth. Bydd rhaid gwneud unrhyw gais erbyn 8yh nos Wener 6ed Mawrth. Bydd y rhifau ar gyfer Tote mis Mawrth yn cael eu tynnu nos Wener 27ain Mawrth, yn sesiwn Bingo wythnosol Clwb Cymdeithasol Clwb Pêl-Droed Porthmadog yn Y Ganolfan.

The winning numbers in the Porthmadog Football Social Club Monthly Tote for February were 13 + 40. Subject to confirmation there were No Winners, and therefore the prize £345 will be added to the March total. Any claims must be made by 8pm on Friday 6th March. The March Tote will be drawn on Friday 27th March at the weekly Porthmadog F. C. Social Club Bingo at Y Ganolfan.
---
24/02/15
2 o'r gloch pnawn Sadwrn / 2pm kick off Saturday
Bydd y gic gyntaf yn y gêm ar Barc Alyn, Y Wyddgrug pnawn Sadwrn nesaf am 2 o'r gloch.

Supporters travelling to Saturday's game against Mold Alex at Alyn Park should note that it will kick off at 2pm.
---
26/02/15
Rhagolwg: Y Wyddgrug / Preview: v Mold Alex (Sat Nav: CH7 1FT)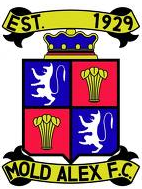 Pnawn Sadwrn bydd Port yn teithio eto, y tro yma i Barc Alyn, Y Wyddgrug, a hynny am y tro cyntaf ers mis Tachwedd 2002. Canlyniad y gêm honno oedd buddugoliaeth o 3-0 i Port gyda Tony Williams, Lee Webber a Carl Owen yn rhwydo. Ar ddiwedd yr un tymor hefyd chwaraeodd Port rownd cynderfynol Cwpan y Gynghrair yn Y Wyddgrug yn erbyn Llandudno –dewis daearyddol rhyfedd!
Ynghynt y tymor hwn achoswyd peth syndod pan enillodd Y Wyddgrug ar Y Traeth cyn mynd ar rhediad a gododd y clwb o Sir Fflint i fyny'r tabl. Yn ddiweddar ond un o'u pum gêm y llwyddwyd i'w hennill. Sadwrn diwethaf collwyd o 2-1 yn erbyn y Cegidfa, y clwb sy'n ail, ond eu perfformiad gorau yn 2015 oedd y fuddugoliaeth ysgubol o 4-1 dros Caernarfon. Ers i'r Wyddgrug gyfarfod Port ddiwethaf maent wedi colli chwaraewr allweddol yn Lewis Buckley sydd wedi ymuno â Llandudno ond yr wythnos hon mae'r rheolwr Sean Rogers wedi arwyddo Darren Torpey o AFC Liverpool.
Dydd Sadwrn diwethaf yng Nghaergybi colli o 3-2 oedd hanes Port er waethaf creu llond het o gyfleon ardderchog. Mae'r golled hon a phedair o'r chwech gêm ddiwethaf yn golygu fod Port wedi llithro i bumed ar ôl aros yn y pedwar uchaf drwy'r tymor. Un ffactor sy'n nodweddu'r chwarae diweddar –methu troi perfformiadau da yn fuddugoliaethau. Y gobaith yw y pnawn Sadwrn y ddaw'r ddwy elfen at eu gilydd a wedyn cawn orffen y tymor ar rhediad da.

On Saturday Port are on the road again travelling to Mold's Alyn Park ground for the first time since November 2002. That game resulted in a 3-0 win for Port with Tony Williams, Lee Webber and Carl Owen the scorers. At the end of the same season they played a League Cup semi-final in Mold against Llandudno –what an odd choice of venue!
Earlier this season the Flintshire club caused something of an upset defeating Port convincingly at the Traeth before going on a good run which enabled them to move up the table. They have however won only one of their last five league games. Last Saturday they were edged out by the odd goal against second placed Guilsfield but their stand out result since the turn of the year was a 4-1 victory over Caernarfon Town. Since they last played Port, key player Lewis Buckley has transferred to Llandudno but manager Sean Rogers has this week announced the signing of Darren Torpey from AFC Liverpool.
Port, last Saturday at Holyhead, found themselves on the wrong end of a 3-2 scoreline despite creating a hatful of excellent chances with some excellent approach play. This defeat and the loss of four of the last six games means that Port have relinquished a long held top four position now slipping to fifth. The common factor in all these games has been a failure to turn good performances into results. Let's hope on Saturday that the two come together and we can end the season with a good run of results.
---
19/02/15
Dim Cwpan yr Arfordir / No Coast Cup
Mae David Jones o'r Daily Post yn adrodd fod yna benderfyniad wedi'i gymryd na fydd cystadleuaeth Cwpan Arfordir y Gogledd eleni. Dim ond chwe clwb oedd am gystadlu eleni a felly bu'n rhaid rhoi'r gorau iddo am y tro. Y bwriad yn ôl Alun Foulkes ydy ail wampio'r gystadleuaeth at y flwyddyn nesaf.
Bu'r gystadleuaeth yn boblogaidd iawn yn y gorffennol ac mae Port wedi'u hennill ar saith achlysur a'r tro diwethaf oedd yn 2010. Bu llawer o drafferthion yn flynyddol wrth sicrhau dyddiadau ar gyfer gemau ac o ganlyniad nid yw Port wedi cystadlu yn ddiweddar. Bwriad Cymdeithas y Gogledd i'r dyfodol ydy canfod noddwr i'r gystadleuaeth.

David Jones of the Daily Post reports that a decision has been taken to suspend this season's North Wales Coast Challenge Cup. With only six entries the competition was considered to be non-viable and should be put aside for this season. Alun Foulkes suggests that there will be a revamp of the competition for next year.
The completion was once very popular and Port have won the Challenge Cup on seven occasions, and the last of these was in 2010. There have been regular difficulties in fixing dates for fixtures and Port have not taken part in recent seasons. Looking to the future the Association intends to search for a sponsor.
---
19/02/15
Rhagolwg: v Caergybi / Preview: v Holyhead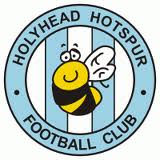 Bydd Port yn teithio i Gaergybi pnawn Sadwrn yn ceisio trydedd buddugoliaeth yn olynol. Yn ôl ym mis Tachwedd pan gyfarfu'r ddau glwb ddiwethaf Port oedd yr enillwyr o 3-0, gan rhoi un o'u perfformiadau gorau o'r tymor. Ond ers hynny mae'r clwb o Ynys Môn wedi bod ar rhediad ardderchog yn colli ond dwywaith mewn 11 o gemau ac heb golli yn eu pedair gêm ddiwethaf. Pnawn Sadwrn rhoddwyd curfa i'r Wyddgrug o 4-0 ac yn ddiweddar mae Jay Gibbs yn ôl o Gaernarfon ac yn cryfhau'r garfan.
Y Sadwrn diwethaf bu'n rhaid i Port weithio i dorri tîm wedi'u threfnu i amddiffyn mewn niferoedd. Bu'n rhaid aros am y cyfle i Rob Evans rhwydo i ennill y gêm ac roedd angen pêl dreiddgar gan Gwydion Ifan i agor yr amddiffyn. Yr un modd cafwyd pêl dda gan Cai Jones ar gyfer gôl Josh Davies. Gyda Chaergybi heb ildio gôl yn eu pedair gêm ddiwethaf bydd angen mwy o beli treiddgar pnawn Sadwrn nesaf. Yn y frwydr am y pump uchaf fydd y gêm hon yn un chwe pwynt ac yn un gystadleuol fel pob gêm rhwng y ddau.

Port will travel to Holyhead on Saturday looking for a third straight victory. But they will be facing a revived Hotspurs who are currently one of the HGA's form teams. When the two clubs met back in early November Port were 3-0 winners, producing one of their best performances of the season. Since that date Campbell Harrison's team have lost only twice in 11 games and are unbeaten in their last four. Last Saturday they convincingly beat Mold Alex by 4-0. The return of Jay Gibbs to the island club from Caernarfon has proved a considerable boost as he has been regularly finding the net.
Last Saturday Port were made to work hard to break down the resistance of a team set up to defend in numbers plus hoping to hit on the break. Both Port goals needed to be, and were, well worked. Thanks to quality assists from Gwydion Ifan and Cai Jones scoring opportunities were created for Rob Evans and Josh Davies. We will need final balls of a similar quality to disrupt a Hotspurs defence which has not conceded in their last four games. This game is a six pointer in the battle for a top five finish and is sure to be keenly contested as are all games between the two clubs.
---
17/02/15
Chwarae Teg / Fair Play
Yn ôl y ffigyrau a rhyddhawyd gan y Gymdeithas Bêl-droed at ddiwedd Ionawr mae Port bellach yn y pedwerydd safle yn y Tabl Chwarae Teg. Yn ddiweddar casglwyd nifer o gardiau melyn –sawl un ohonynt braidd yn hallt- ond mae Port yn dal yn un o ond dau o glybiau HGA sydd heb dderbyn yr un cerdyn coch. Llandudno ydy'r llall a hwy sydd yn arwain y tabl hwnnw hefyd!

Disciplinary figures released by the FAW to the end of January show that Port are now in fourth place in the Fair Play Table. They have picked up a clutch of yellow cards recently –not all deserved by any means- but they remain one of only two HGA clubs yet to pick up a red this season. Llandudno are the other club and they head this table too!
---
16/02/15
Newyddion Academi /Academy News
Roedd y timau Dan 12 a Dan 14 yn chwarae bore Sul yn erbyn Academi Prestatyn. Colli o 3-2 gwnaeth yr hogiau Dan 12 ond cafwyd perfformiad da iawn mewn gêm gystadleuol. Cyfartal oedd hi yn y gêm Dan 14 gyda'r timau yn rhannu'r pedair gôl â Celt Fon Owen yn sgorio'r ddwy i Port. Aeth hyn a chyfanswm Celt i 21 o goliau mewn 10 gêm –gwych! Un arall a rhwydodd ddwywaith oedd Deion Hughes i'r tîm Dan 12. Am fwy o hanes yr Academi dewiswch 'Academi' yn y fwydlen.

The U12s and U14s were in action at the Traeth on Sunday when Prestatyn were the visitors. Despite a good performance the U12s went down to a narrow 3-2 defeat while a good all round performance by the U14s secured a 2-2 draw. Both goals for Port U14s were scored by leading scorer Celt Fon Owen taking his season's total to an outstanding 21 goals in 10 matches! Another to secure a double was Deion Hughes scoring both the U12s goals. For more Academy news select 'Academy' in the menu.
---
13/02/15
Enillydd y £2k / Record Tote Win
Cyflwynwyd siec i Martin Hills o'r Bermo cyn y gêm pnawn Sadwrn ar Y Traeth. Martin oedd unig enillydd y wobr fwyaf yn hanes Tote CPD Porthmadog sef £2535 yn mis Ionawr. Yn cyflwyno'r siec mae Clive Hague, un o gyfarwyddwyr y clwb, a Craig Papirnyk rheolwr y tîm.
Os hoffech chi drio'ch lwc mae Amlenni Tote ar gael yn Kaleidoscope, Y Traeth, Dylan 07900512345, Station Inn neu Siop Ffrwythau Pritchard, Stryd Fawr. Bydd y rhifau ar gyfer Tote mis Chwefror yn cael eu tynnu nos Wener 27ain,yn sesiwn wythnosol Bingo Clwb Cymdeithasol Clwb Pêl-droed Porthmadog yn Y Ganolfan.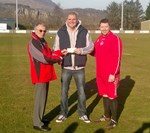 A cheque was presented to Martin Hills of Barmouth ahead of last Saturday's game at the Traeth. Martin was the sole winner of the record prize of £2535 in the Porthmadog FC Monthly Tote for January. Making the presentation were club Director Clive Hague and team manager Craig Papirnyk.
If you would like to try your luck Tote envelopes are available from Kaleidoscope, the Clubhouse at Y Traeth, Dylan 07900512345, Station Inn or Pritchards Fruit & Veg. High Street. The February Tote will be drawn on Friday 27th,at the weekly Porthmadog F C Social Club Bingo at Y Ganolfan.
---
12/02/15
2 o'r gloch yn Rhyd / 2pm kick off
Atgoffir cefnogwyr fod y gic gyntaf am 2 o'r gloch yn Rhydymwyn pnawn Sadwrn.

Supporters are reminded that the game at Rhydymwyn on Saturday will kick off at 2pm.
---
12/02/15
James yng Ngharfan Cymru / James in the Wales squad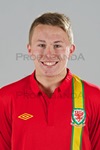 Llongyfarchiadau i James Papirnyk sydd wedi'i ddewis yng ngharfan 17 chwaraewr Academi Cymru Dan 18 i chwarae Gweriniaeth Iwerddon ar ddiwedd mis Chwefror. Mae James yn aelod o garfan Port a hefyd yn chwarae i dîm Dan 19 TNS.
Diddorol ydy nodi fod dau arall o gyn chwaraewyr Academi Port yn y garfan sef Cai Parry (bellach gyda Bala) ac Ifan Emlyn Jones (bellach gyda Bangor). Mae hyn yn tanlinellu mor bwysig ydy hi i CPD Porthmadog sefydlu tîm Dan 19 erbyn y tymor nesaf er mwyn cadw'r chwaraewyr ifanc gorau yn y clwb.
Edrychwn ymlaen i weld gwireddu ôl nodyn Craig Papirnyk, "Byddai'n dda cael chwaraewyr o CPD Porthmadog yn y garfan blwyddyn nesaf!!"

Congratulations to James Papirnyk who has been selected in the 17-player Welsh Academy U18s squad to play the Republic of Ireland at the end of February. James is a Port squad player and also plays for TNS U19s.
It is interesting to note that two other former Port Academy players, Cai Parry (now with Bala) and Ifan Emlyn Jones (now with Bangor) have also been selected in the squad. It shows how important it is for Porthmadog FC to have their own U19s team up and running next season so that we can keep the best young academy players in the club.
We look forward to see the fulfilment of Craig Papirnyk's postscript," It'll be nice to have some Porthmadog U19s players in it next season!!"
---
12/02/15
Rhagolwg / Preview: v Rhydymwyn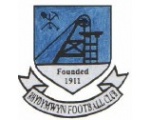 Bydd Port yn teithio i Rhydymwyn pnawn Sadwrn am y gyntaf o dair o gemau oddi cartref yn olynol. Byddant yn teithio'n hyderus ar ôl rhwydo saith gôl y penwythnos diwethaf. Goliau a ddaeth a'r cyfnod hesp i ben. Wrth drafod y broblem yn ei nodiadau cyn y gêm ddiwethaf dywedodd Craig Papirnyk:
"Bydd angen steil mwy uniongyrchol i agor timau sydd yn eistedd yn ôl gan edrych i'n taro ni drwy gwrth ymosod.
"Rwy'n credu 'n sicr, ychwanegodd, fod y gôl gyntaf mewn unrhyw gêm yn holl bwysig, a hyd yn oed yn fwy felly i ni, gan fod rhaid i dimau fynd amdani wedyn, gan newid y ffordd mae nhw'n chwarae a hyn yn siwr o adael y lle i ni chwarae drwyddyn nhw ac o'u cwmpas yn y draean olaf."
Roedd gôl gynnar Dave Edwards yn gwneud yn union hyn, ac yn arwain at agor y llif ddorau i'r goliau a ddilynodd. Bydd Port yn edrych i ail adrodd hyn pnawn Sadwrn yn erbyn clwb arall sydd mewn trafferthion. Mae Rhydymwyn ar y gwaelod, wedi ennill ond un gêm a wedyn cael yn pwyntiau yna wedi'u tynnu oddi arnynt. Mae 101 o goliau wedi'u sgorio yn eu herbyn ac y Sadwrn diwethaf colli o 3-0 yng Nghaergybi oedd eu hanes. Sioc byddai i Port fethu sicrhau'r pwyntiau pnawn Sadwrn ond, fel y gwyddom, gwirion fyddai cymryd unrhyw beth yn ganiataol mewn pêl-droed. Rhaid gweithio'n galed am bob buddugoliaeth. Amdani Port!

Port travel to Rhydymwyn on Saturday for the first of three consecutive away fixtures. They will travel buoyed by their seven goals last weekend which brought to an end a worrying lack of goals. Discussing the problem in his pre-match programme notes Craig Papirnyk identified the problem saying;
"A more direct style is needed to break down these teams who are sitting back and countering us.
"I do honestly believe, he added, that the opening goal in any game is massive, even more so for us as teams will then have to come at us and change their style of play which inevitably will allow more space for us to play in and around them in the final third."
Dave Edwards' early goal did exactly this on Saturday and opened the floodgates for the goals that followed. They will be looking to continue in this vein on Saturday against another club who are struggling. Rhydymwyn are rooted to the bottom of the table with only one win all season but remain pointless as they had the three points deducted. They have conceded 101 goals and last time out they lost 3-0 at Holyhead. Given this record it would indeed be a shock if Port failed to collect the points but, as we all well know, nothing can be taken for granted in football and victories always have to be earned. C'mon Port!
---
10/02/15
Cychwyn yn Academi Port / A start at the Port Academy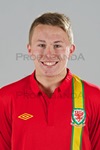 Roedd James Papirnyk yn Parc y Ddraig y penwythnos diwethaf yn paratoi gyda charfan Academïau Cymru. Wrth sgwrsio gyda Eddie Blackburn (cyn weinyddwr yr Academi) amdano yn y gêm yn erbyn Llandrindod pnawn Sadwrn fe gododd fater diddorol ynglyn â James.
Meddai Eddie, "Dwi heb weld yn y rhaglen nac ar y wefan unrhyw sylw fod James Papirnyk wedi dod drwy Academi Porthmadog. Chwaraeodd i'r academi Dan11, Dan12 a Dan 14 cyn derbyn gwahoddiad i ymuno â Academi lwyddiannus Wrecsam."
Wedyn dangosodd Eddie rhaglen o Ffeinal Cwpan Academïau Cymru a chwaraewyd ar Barc Latham, Y Drenewydd ac ynddo roedd llun o dîm Port yn cynnwys James yng ngharfan Dan12 Porthmadog. Y tîm hwnnw enillodd yn y ffeinal gan guro Hwlffordd ar ddydd Sul, 16 Mai 2010. Diolch i Eddie am y wybodaeth.
O.N. Roedd yn ddiddorol sylwi ar sawl enw yng ngharfan Port y diwrnod hwnnw sydd wedi ail ymddangos yng ngharfan bresennol Dan19, Academi 'r Bala â'r clwb hwnnw yn cyrraedd rownd cyn derfynol Cwpan Ieuenctid Cymru a gwrthwynebu Abertawe. Mae hyn yn tanlinellu'r angen i CPD Porthmadog sicrhau fod ganddynt dîm Dan 19 erbyn dechrau'r tymor nesaf er mwyn pontio rhwng yr academi a phêl-droed tîm cyntaf. Bydd hyn yn sicrhau ein bod yn cael gwerth ein buddsoddiad yn yr Academi. Hefyd yn chwarae yn yr un tîm Dan 12 a James roedd Leo, sef mab is-reolwr Port, Steve Smith. Mae Leo bellach gyda Wrecsam.

Whilst talking to Eddie Blackburn (former Academy Administrator) at the home game against Llandrindod he raised an interesting point concerning James Papirnyk. James missed Saturday's match as he was with the Wales Academies squad at Dragon Park, Newport.
Eddie's point was this, "I haven't seen it mentioned in the match programme or on the website, but James Papirnyk came through the Porthmadog Academy playing at U11s, U12s and U14's before being invited to join the successful Wrexham Academy. "
He then produced a programme of the Academy Cup Finals Day at Latham Park, Newtown and there was a team photograph which included James in the Port U12s team that won the Final against Haverfordwest County on Sunday 16 May 2010! Thanks Eddie point taken and glad to put the record straight.
P.S. Interesting to note that there were several names in the squad list on that day who have now re-emerged in the current U19 Bala Academy team that has reached the semi-final of this season's FAW Youth Cup and have been drawn to play Swansea City. This underlines the need for Porthmadog to get their U19 team up and running by next season, to bridge the gap between academy and senior football and to ensure that WE reap the benefits of the investment in our own Academy. Also playing in that U12s team was Leo, son of our assistant manager Steve Smith. Leo is now at Wrexham.
---
09/02/15
Gadael dros-dro / Temporary Leave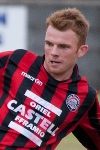 Mae Eilir Edwards, Chwaraewr Flwyddyn yn 2013/14, wedi penderfynu gadael y clwb dros dro i ymuno â Llanuwchllyn am weddill y tymor.
Eglurodd Craig Papirnyk gan ddweud, "Nid yw Eilir wedi ail ddarganfod y safon a ddangosodd y tymor diwethaf am ei fod wedi dioddef nifer o anafiadau yn ystod y tymor, ac yn methu adfer ei ffitrwydd. Mae hyn wedi effeithio'i hyder ac mae'r ddau ohonom o'r farn bydd y newid o'r fath am weddill y tymor yn fantais iddo. Ond bydd yn dychwelyd atom ar gyfer y cyfnod cyn y tymor nesaf a gan mai ond 6 gêm sy'n weddill o'r tymor hwn rwy'n parchu ei benderfyniad.
"Mae Squiz yn chwaraewr arbennig o dda ac mae'n gymeriad yn yr ystafell newid. Bydd pawb yn gweld ei golli. Ond fel y dywedais bydd yn ôl y tymor nesaf ac yn barod i fynd unwaith eto. Rwy'n ddiolchgar am ei onestrwydd ac yn dymuno'n dda iddo am weddill y tymor gyda Llanuwchllyn."

Last season's Player of the Year Eilir Edwards has decided to leave the club temporarily to join Llanuwchllyn for the remainder of this season. Craig Papirnyk commenting on the decision said;
"Eilir has struggled to find form this season and has had injuries throughout the year which haven't helped his fitness and sharpness. His confidence has been affected due to this and we both feel that he will benefit in the move for the remainder of the season but will return pre-season for us and with only have 6 games left, I respect his decision.
"Squiz is a top lad and a great player; he is also a character in the changing room so he will be missed by myself and his team mates. However he will be back as I've mentioned and ready to go pre-season for us. He has been nothing but honest with me and I wish him well for the remainder of this season with Llanuwchllyn."
---
08/02/15
Datblygiadau ar Y Traeth / Ground Developments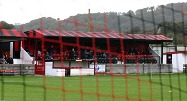 Gyda Port yn paratoi i wneud ymgais y tymor nesaf i adennill eu lle yn Uwch Gynghrair Cymru, mae'r Bwrdd wedi bod yn brysur er mwyn sicrhau fod y Traeth yn cyrraedd safon y Drwydded Ddomestig. Meddai Gerallt Owen ar ran y Bwrdd:
"Mae cais wedi'i wneud i Gwella Meysydd Cymru i adeiladu Prif Eisteddle newydd a hefyd gosod llain galed o flaen yr eisteddle, o'r hen siop hyd at Eisteddle Pike.
"Mae angen gwneud y gwaith yma er mwyn sicrhau fydd CPD Porthmadog yn cyfarfod â gofynion isadeiledd y Drwydded Ddomestig. Bydd yna 163 o seddau yn yr eisteddle newydd a tri lle ar gyfer cadeiriau olwyn. Gobeithiwn dderbyn ateb ynglyn â'r cais o fewn yr wythnosau nesaf."

With Port looking to make a challenge next season to regain their place in the WPL the Board are actively preparing to bring the Traeth up to Domestic Licence standards. Secretary Gerallt Owen states on behalf of the Board that:
"An application has been made to the Welsh Ground Improvements to replace the Main Stand and lay new concrete hard standing in front of the Main Stand to the length of the pitch from in front of the old shop all the way to the front of the Pike Stand.
"All this work is necessary to ensure Porthmadog FC meet the infrastructure requirements of the Domestic Licence. The new stand will have 163 seats and three wheelchair positions. It is hoped that a decision on our application will be obtained in the next couple of weeks."
---
05/02/15
Da iawn James /Well done James
Llongyfarchiadau i chwaraewr canol cae Port, James Papirnyk sydd hefyd yn chwarae i dîm Dan19 TNS. Y penwythnos diwethaf bu'n chwarae yn erbyn tîm proffesiynol ifanc Caerdydd yng Nghwpan Ieuenctid Cymru. Llwyddodd TNS Dan 19 i'w dal i gêm gyfartal 0-0 ar ôl 90 munud ac amser ychwanegol ond wedyn colli ar ciciau o'r smotyn.

Congratulations to Port midfielder James Papirnyk, who also represents TNS U19s. Last weekend they played Cardiff City in the FAW Youth Cup quarter final and held the professional outfit to a 0-0 draw at the end of 90 minutes and extra time and only bowed out after a penalty shoot out.
---
05/02/15
Rhagolwg/Preview: v Llandrindod

Pnawn Sadwrn byddwn yn croesawu Llandrindod i'r Traeth a hynny am y tro cyntaf ers i'r ddau gyfarfod yn Rownd 4 Cwpan Cymru yn nhymor 1995/96. Ar y pryd hynny roedd Port yng Nghynghrair Cymru a Llandrindod yn y Cymru Alliance. Ar y dydd bu'n rhaid i Port weithio'n galed i sicrhau y fuddugoliaeth o 2-1.
Enillodd Llandrindod ddyrchafiad o Gynghrair Spar y Canolbarth llynedd. Treuliodd y clwb dri tymor yn flaenorol yn y Cymru Alliance rhwng 1995/98. Ar hyn o bryd maent yn 15fed yn y tabl ac ond wedi ennill un gêm (yn erbyn Llanidloes) a dwy gêm gyfartal (yn erbyn Y Fflint a Penycae) i sicrhau eu cyfanswm o 5 pwynt.
Roedd yn bleser ymweld â Llandrindod ynghynt yn y tymor lle er waethaf eu record gorfodwyd Port i weithio'n galed iawn am y fuddugoliaeth. Diolch i goliau gan Stuart Rogers a Josh Davies yn yr ail hanner sicrhawyd y tri phwynt. Mae'n siwr bydd angen brwydro yn erbyn yr un ysbryd ac ymroddiad ddydd Sadwrn.
Yn ddiweddar mae Port wedi dioddef creisis hyder pan yn cyrraedd y traean olaf o'r cae a byddant yn edrych i dorri ar y rhediad siomedig. Mae angen gôl, unrhyw fath o gôl ac unwaith y ddaw honno efallai cawn gweld Port eto yn manteisio ar y nifer fawr o cyfleoedd sy'n cael eu creu. Dewch i'r Traeth i helpu sugno'r bêl i'r rhwyd!

On Saturday we welcome Llandrindod to the Traeth for the first time since the two clubs met in a Welsh Cup 4th Round tie in season 1995/96. At that time Port were in the League of Wales and Llandrindod in the Cymru Alliance. Port ran out winners that day by 2-1.
Llandrindod gained promotion from the Spar Mid-Wales League last season having previously spent three seasons in the Cymru Alliance between 1995 and 1998. They currently lie in the relegation places winning only once (against Llanidloes) and drawing twice (against Flint and Penycae) for their total of five points.
We enjoyed our visit to Llandrindod earlier in the season where, despite their record, the Mid-Wales made us work very hard for the three points. Second half goals from Stuart Rogers and Josh Davies secured the 2-1 victory. We can expect the same kind of effort and team spirit from our opponents again on Saturday.
Port are currently suffering a crisis of confidence in the final third of the pitch and will again be looking to break the first poor run of the season. A goal, any kind of goal will do to end this disappointing run and once it comes we will again start scoring a fairer percentage of the excellent chances we are creating. Down to the Traeth and cheer the lads on!
---
31/01/15
Cyfweliad gyda Lee Wright / Interview with Lee Wright
Yn dilyn y golled o 2-0 yn erbyn Dinbych bnawn Sadwrn, bu Tommie Collins yn sgwrsio gydag un o gefnogwyr Port, Lee Wright sy'n teithio'r holl ffordd o Gaerlŷr i gefnogi'r tîm:



Following the defeat against Denbigh Town on Saturday, Tommie Collins chatted with Port supporter, Lee Wright, who travels all the way from Leicester to support the team.
---
31/01/15
Gwobr Fawr yn mynd / Record Tote Win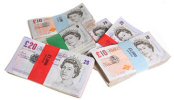 Y Rhifau lwcus yn y Tote Mis Ionawr oedd 7 + 25. Roedd UN enillydd, sef Martin Hills, Gorsaf Bwer Trawsfynydd, hyn i'w gadarnhau, yn ennill £2535 (y wobr uchaf yn hanes y Tote!) Bydd rhaid gwneud unrhyw gais erbyn 8yh nos Wener 6ed Chwefror. Bydd y rhifau ar gyfer Tote mis Chwefror yn cael eu tynnu nos Wener 27ain,yn sesiwn wythnosol Bingo Clwb Cymdeithasol Clwb Pêl-droed Porthmadog yn Y Ganolfan.

The winning numbers in the Porthmadog Football Social Club Monthly Tote for January were 7 + 25. Subject to confirmation there was ONE winner, Martin Hills, Trawsfynydd Power Station, winning £2535 (the biggest prize in the Tote's history!) Any claims must be made by 8pm on Friday 6th February. The February Tote will be drawn on Friday 27th,at the weekly Porthmadog F C Social Club Bingo at Y Ganolfan.
---
29/01/15
Newyddion am y Garfan / Squad News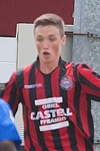 Bydd gan Craig Papirnyk mwy o opsiynau at bnawn Sadwrn wrth iddo croesawu nifer o chwaraewyr yn ôl i'w garfan yn erbyn Dinbych. Mae'n dweud:
"Byddwn yn croesawu Iwan Lewis yn ôl. Mae wedi gwella o'i anaf ac hefyd bydd Dilan Lomas a Josh Stadnicki yn ôl ar ôl bod i ffwrdd yn sgïo.
"Ond byddwn heb James Papirnyk gan fydd y chwaraewr ifanc yng Nghaerdydd yn chwarae i dîm Dan 19 TNS yng Nghwpan ieuenctid Cymru yn erbyn clwb Dinas Caerdydd a dwi'n dymuno'n dda iddo.
"Mae Gerwyn yn dal allan, ond wedi gwneud camau mawr tuag at ffitrwydd a gobeithiwn ei weld yn ôl cyn ddiwedd y tymor. "Gyda charfan dda i ddewis ohono, gobeithio cawn weld perfformiad cyflawn tebyg i'r un a gafwyd yn y gêm flaenorol draw yn Ninbych. Rwyf am ein gweld yn gorffen y tymor yn gry gan gychwyn pnawn Sadwrn!"

Craig Papirnyk has several players back in his squad which increase his options for Saturday's game at the Traeth against Denbigh Town. He reports:
"We welcome back Iwan Lewis to the side. He has overcome his calf injury and both Josh Stadniki and Dilan Lomas return to the squad from a skiing holiday.
"We will be without young James Papirnyk who is down in Cardiff representing TNS U19s in the FAW Youth Cup against Cardiff City and I wish him luck in Sunday's game.
"Gerwyn is still out with injury but has taken massive strides to regain fitness and we hope to see him back before the end of the season.
"So a full squad to choose from and let's hope for a complete performance like the previous game with Denbigh. I'd like to see us finish the season strongly now, starting with Saturdays game!!"
---
29/01/15
Craig ar Ddail y Post / Craig's Q&A with Dave Jones
Mae Craig Papirnyk yn ateb cwestiynau Dave Jones yn y Daily Post a cewch ei weld yma
Mae'n sesiwn ddiddorol, yn symud o gefndir Craig ei hun, ei deimladau am gyfrifoldebau'r rheolwr, ei obeithion a'i amcanion i glwb Porthmadog, yn ogystal a'r hyn mae'n feddwl am gynghrair gyfredol Huws Gray a mwy. Cymrwch olwg arno.

Craig Papirnyk answers to Dave Jones' questions in the Daily Post and can be found here
It is an interesting session moving from Craig's own background, his thoughts about management, his hopes and aims for Porthmadog FC's future together with his views on the current Huws Gray League and more. Check it out.
---
29/01/15
Rhagolwg: v Dinbych / Preview: v Denbigh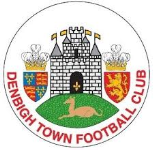 Ar Y Traeth fydd Port pnawn Sadwrn yn croesawu Dinbych. Er eu perfformiad arbennig ar y cae 3G yn Llandudno dod adre yn waglaw wnaeth Port gyda'r methiant i ganfod y rhwyd yn parhau. Mae'r record bellach yn ymestyn yn ôl, gan fethu sgorio mewn tair o'r bedair gêm ddiwethaf.
Cael gwared o'r record hon fydd blaenoriaeth y rheolwr Craig Papirnyk. "Mae'n rhaid dod dros y broblem," meddai wrth Tommie Collins, "medrwn ni ddim cadw i wneud hyn bob wythnos. Mae'n datblygu'n batrwm lle 'da ni'n chwarae pêl-droed eithriadol o dda ond heb gael ein gwobrwyo."
Wrth edrych ymlaen at ymweliad Dinbych meddai, "Gobeithio fydd yna adwaith. Mae Dinbych yn dîm da sy'n gallu curo unrhyw un yn y gynghrair ar eu dydd. Yn Ninbych ynghynt yn y tymor oedd ein perfformiad gorau yn sicrhau buddugoliaeth o 4-1"
Cafodd ein gwrthwynebwyr dymor arbennig yn 2013/14 yn ennill y Welsh Alliance yn gyfforddus ac adennill eu lle yn yr HGA, a fawr o syndod felly eu bod wedi creu argraff y tymor hwn. Yn ddiweddar maent wedi llithro rhywfaint i'r 9fed safle ac yn ennill ond un o'u 5 gêm ddiwethaf. Cyfartal oedd eu gêm ddiwethaf adre i Gonwy. Bydd digon o rheswm felly gan y ddau glwb i fynd amdani pnawn Sadwrn.

Port will return to the Traeth on Saturday, when Denbigh Town will be the visitors. Unfortunately an outstanding performance last time out on Llandudno's 3G pitch was not enough to claim the three points, as Port's goal famine continued. That unwanted record which has seen them score just once from open play during the last four games.
Getting rid of this record is now manager Craig Papirnyk's number one challenge. "We've got to fix it," he said speaking to Tommie Collins, "we can't keep doing this each week. It seems to be a pattern arising, playing exceptional football and not getting our rewards."
Looking forward to Denbigh he says, "Hopefully a backlash. Denbigh are a good side and on their day they can beat anyone in this league. We played our best game at Denbigh earlier in the season and came away with a 4-1 win."
Denbigh Town enjoyed an outstanding season in 2013/14, when they won the Welsh Alliance at a canter to regain their place in the Huws Gray Alliance and it is little surprise that they have made a big impression on this League this season. They have recently however slipped to 9th place in the table having won only one of their last five games. They drew their last game at home to Conwy Borough. Clearly both clubs will be very keen to get back to winning ways on Saturday.
---
25/01/15
Cyfweliad gyda Craig / Interview with Craig
Yn dilyn y golled o 1-0 yn erbyn Llandudno bnawn Sadwrn, dyma sylwadau Craig Papirnyk mewn cyfweliad gyda Tommie Collins:



Following the narrow 1-0 defeat against Llandudno on Saturday afternoon, here are Craig Papirnyk's comments in a interview with Tommie Collins.
---
22/01/15
Dau yn arwyddo i Llandudno / Two join Llandudno
Mae gwrthwynebwyr Port pnawn Sadwrn nesaf wedi ychwanegu dau chwaraewr at eu carfan. Sgoriodd y blaenwr Lewis Buckley ar y Traeth i'r Wyddgrug yn ôl ym mis Medi a bellach mae wedi arwyddo i Llandudno. Yr ail i ymuno ydy'r amddiffynnwr Corey Jones o glwb Bangor.

Port's opponents next Saturday have made two additions to their squad. Forward Lewis Buckley, who netted at the Traeth back in November, has signed from Mold Alex and defender Corey Jones has joined from Bangor.
---
22/01/15
Rhagolwg / Preview: v Llandudno

Bydd Port yn teithio i Llandudno pnawn Sadwrn, yr ail gêm oddi cartref yn olynol ac yr ymweliad cyntaf i Maesdu ers i'r cae 3G gael ei osod. Mae Llandudno wedi bod ar y brig ers cychwyn y tymor ac wedi ennill eu saith gêm gynghrair ddiwethaf. Yn y cyfnod hwnnw ers 15 Tachwedd dim ond un gêm a gollwyd honno yn erbyn Caersws yng Nghwpan y Gynghrair. Ar gae Maesdu mae'r clwb wedi ennill 10 o'u 11 gêm ac yr unig glwb i gymryd tri pwynt ar y cae 3G ydy Cegidfa. Yr unig gêm gynghrair arall a gollwyd oedd yng Nghaergybi. Yn y gêm yn erbyn Llandudno ar Y Traeth cafwyd gêm gyfartal ddi-sgôr ond gêm llawn cyffro a mwynhad i'r cefnogwyr.
Record Port dros y chwe gêm ddiwethaf ydy ennill dwy, colli dwy a dwy yn gyfartal. Mewn tair o'r gemau methwyd a sgorio. Efallai bydd pnawn Sadwrn a'r cae 3G yn cynnig ychydig o newid o'r caeau trwm a gafwyd mewn gemau oddi cartref yn ddiweddar. Gyda naw gêm yn weddill o'r tymor mae Port ond 5 pwynt yn brin o'r cyfanswm am y tymor a gafwyd llynedd. Mae hyn yn arwydd clir o'r datblygiad mae carfan ifanc Craig Papirnyk wedi gwneud. Bydd yn dipyn o sialens ond gobeithio am ychwanegiad at y pwyntiau pnawn Sadwrn.

Port travel to Llandudno on Saturday a second consecutive away fixture and their first visit to Maesdu since the introduction of the 3G surface. Llandudno have been league leaders from the start and are now on a seven match winning streak in the league with their only loss during that period since 15 November coming in the League Cup at Caersws. They have won 10 of their 11 games on the new 3G pitch with Guilsfield being the only club to take all three points at Maesdu. Their only other league defeat came at Holyhead. When Port and Llandudno met at the Traeth it ended in a goalless draw, a game which despite its lack of goals was a keen contest which entertained from start to finish.
Port's record over the last six games shows two wins and two draws but of more concern is that they failed to score in three of these games. On Saturday it will perhaps be something of a relief to play on 3G and escape from the heavy away grounds of recent weeks. With nine games still remaining Port are just five points short of last season's total which is a clear sign of the progress made by Craig Papirnyk's young team. It will be quite a challenge but let's hope we can add to the ppints tally on Saturday.
---
20/01/15
Gwobr Fawr y Tote / Bumper Tote Prize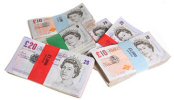 Cofiwch ddewis eich rhifau lwcus ar gyfer Tote Mis Ionawr bydd yn cael eu dynnu nos Wener 30 Ionawr, yn sesiwn wythnosol Bingo Clwb Cymdeithasol Clwb Pêl-Droed Porthmadog yn Y Ganolfan. Bydd yna wobr fawr gan na fu enillydd am y 5 mis yn olynol !!
Amlenni Tote ar gael o Kaleidoscope,Y Traeth, Dylan 07900512345,Station Inn neu Siop Ffrwythau Pritchards,Stryd Fawr.

Don't forget to select your lucky numbers for the January Tote which is to be drawn on Friday 30th January, at the weekly Porthmadog Football Social Club Bingo at Y Ganolfan. There will be a bumper prize as there have been five consecutive Rollovers!!
Tote envelopes available from Kaleidoscope, the Clubhouse at Y Traeth, Dylan 07900512345, Station Inn or Pritchards Fruit & Veg.,High Street.
---
20/01/15
Dyddiad cau am geisiadau / Closing date for applications
Mae'r dyddiad cau (5pm ar 23 Ionawr) ar gyfer ceisiadau am 'Swyddog Datblygu Busnes' yn agosáu. Am y manylion gweler y dudalen 'CARTREF'.

The closing date for applications for the post of 'Business Development Officer' is at 5pm on 23 January. For further details got to the 'HOME' Page.
---
16/01/15
James yn ymuno / James signs on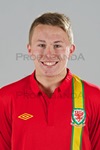 Mae James Papirnyk wedi arwyddo i Port. Yn dod o'r Bermo mae yn nai i Craig a bydd yn cael ei gynnwys yn garfan yn Fflint yfory.
16 oed ydy James ac ar ysgoloriaeth chwaraeon yng Ngholeg Croesoswallt ac yn chwarae i dîm Dan-19 TNS gan gael ei enwi yng ngharfan Academi Dan-18 Cymru. Eisoes mae James wedi bod yng ngharfan Dan-16 Cymru a sgoriodd y gôl i ennill y gêm i Gymru Dan-15 yn erbyn Gwlad Belg.
Mae'n chwaraewr ifanc addawol gyda dyfodol disglair. Chwaraewr canol cae, mae wedi bod yn chwarae i'r Bermo hyd yma'r tymor hwn. Bydd yn gyfarwydd a'r garfan gan iddo dreulio cyfnod yn ymarfer gyda Port a chwarae mewn gemau cyfeillgar i'r clwb.
"Bydd Josh Hartrick, Dilan Lomas a Josh Stadnicki ddim ar gael y penwythnos yma, meddai Craig.
"Bydd cael James yn cynnig cymorth ychwanegol ac rwy'n siwr, er ei fod yn ifanc iawn, bydd yn cyrraedd y safon sydd ei angen.
"Rwy'n edrych ymlaen i weithio efo fo a chroeso i Port, James!"

James Papirnyk is Port's latest recruit. He is Craig's nephew and will be available for the game at Flint tomorrow.
James is 16yrs old and currently on a sports scholarship at Oswestry College. He represents TNS U19s on Sunday's and he has recently been selected for the Welsh Academies U18s squad who will face other national teams this year. James has a Welsh Cap and was in the Wales U16 Victory Shield squad. He also represented Wales U15s in Poland and against Belgium down in Barry where James scored the winner.
"He is undoubtedly a very talented young man with a bright future if he continues to progress as he is, commented Craig.
"James plays in midfield and has gained a lot of experience at senior level playing for Barmouth FC in the Welsh Alliance so far this season. He spent pre-season training and appearing in some friendlies for us so he is familiar to the squad and will fit straight in.
"James will add cover for the remainder of the season, We are without Iwan & Gerwyn who are still recovering from injury, Josh Hartrick, Dilan Lomas and Josh Stadniki will also be missing for this week, having that extra cover will help and I am sure when called upon James will be able to meet the level required even at his given age.
"I look forward to working with him and welcome to Port James!"
---
15/01/15
Rhagolwg / Preview: v Fflint

Bydd Port yn teithio i'r Fflint pnawn Sadwrn yn chwilio am driphwynt i'w cadw yn y tri uchaf. Yn y gêm rhwng y ddau ar Y Traeth sicrhawyd buddugoliaeth o 4-1 ond bu'n rhaid aros yn hwyr cyn gwneud y fuddugoliaeth yn sicr gyda Dave Edwards yn sgorio ddwywaith yn y munudau olaf. Cyfartal 1-1 oedd y sgôr y tro diwethaf i Port ymweld a Chae y Castell.
Pnawn Sadwrn diwethaf wrth guro Rhydymwyn o 3-1 torrodd Fflint ar rhediad siomedig yn colli pump o gemau'n olynol. Roedd y rhediad yma yn cynnwys gemau anodd yn erbyn Caernarfon a Llandudno. Erbyn hyn mae Fflint wedi disgyn i 11eg yn y tabl a byddant yn chwilio am bwyntiau i gychwyn rhediad gwell.
Er cael digon o feddiant yn erbyn Llanidloes bu'n broblem i Port wrth geisio torri amddiffyn penderfynol ac roedd angen y gic o'r smotyn i fynd efo gôl wych Cai Jones i sicrhau'r triphwynt. Y dasg ydy dal i berfformio fel tîm yn erbyn clybiau sy'n cael 9/10 amddiffynwyr tu ôl y bêl ac yn siwr fe ddaw'r goliau eto. Bydd Eilir Edwards yn ôl yn dilyn gwaharddiad o un gêm. Amdani Port.

Port will travel to Flint on Saturday searching for another three points to keep themselves in the top three. In the game between the clubs at the Traeth Port secured a good win by 4-1 but to make the victory a certainty we had to wait for two very late goals from Dave Edwards. The last time we visited Cae y Castell it ended in a 1-1 draw.
Last Saturday Flint defeated Rhydymwyn by 3-1 to end a 5-match losing run where they faced some difficult games which included Caernarfon and also Llandudno. Flint have now slipped to 11th place in the table and will be keen to pick up points to stem this slide.
Although Port enjoyed huge amounts of possession against Llanidloes they found breaking a stubborn defence a problem and it needed a penalty to go with Cai Jones's super strike to ensure the three points. Port will look to continue the type of all round team performances which makes them hard to beat and sooner rather than later the goals will flow again. Eilir Edwards will return on Saturday after serving a one-match suspension. C'mon Port.
---
14/01/15
Atgofion am Oes Aur / Memorabilia from a Golden Era
Mae CPD Porthmadog wedi derbyn casgliad o dlysau o oes aur y 1950au a'r 1960au. Enillwyd rhain gan Arwel Jones un o amddiffynwyr cadarn y cyfnod a fu farw yn ddiweddar. Dymuniad gweddw Arwel, Mrs Elsi Jones, ydy i'r clwb dderbyn y tlysau personol yma a bwriad y clwb ydy eu harddangos yng Nghlwb y Traeth.
Dyma rhestr o'r tlysau o eiddo Arwel a dderbyniwyd, rhai a gyflwynwyd i chwaraewyr unigol:
Cwpan Amatur Cymru 1955/56 Enillwyr
Cwpan Amatur Cymru 1956/57 Enillwyr
Cwpan Amatur Cymru 1957/58 Rownd Derfynol
Cwpan Amatur Gogledd 1958/59 Enillwyr
Cynghrair Cymru Cwpan Cookson 1960/61 Enillwyr
Cynghrair Cymru Adran Gyntaf 1960/61 Ail yn y Tabl
Cwpan Her yr Arfordir 1962/63 Rownd Derfynol
Cwpan Amatur y Gogledd 1962/63 Enillwyr
Cwpan Alves 1965/66 Enillwyr
Cynghrair Cymru Adran Un 1966/67. Pencampwyr.
Dymuna'r clwb ddiolch i Mrs Jones a bydd eu harddangos yn arwydd o barch i un o sêr y gorffennol ac i gyfnod anhygoel yn hanes y clwb.

Porthmadog FC have been presented with a large collection of mementoes of the club's golden era of the 1950s and 1960s. They were won by Arwel Jones a stalwart Port defender who died recently. It was the wish of his widow Mrs Elsi Jones that the club should receive these trophies and the club intends to place them on display in the Clubhouse.
Here are the trophies received –replicas awarded to individual players:
FA of Wales Amateur Cup 1955/56 Winners
FA of Wales Amateur Cup 1956/57 Winners
FA of Wales Amateur Cup 1957/58 Runners-up
NWCFA Amateur Cup 1958/59 Winners
Welsh League Cookson Cup 1960/61 Winners
Welsh League Division One 1960/61 Runners-up
NWCFA Challenge Cup 1962/63 Finalists
NWCFA Amateur Cup 1962/63 Winners
Alves Cup 1965/66 Winners
Welsh League Division One 1966/67 Champions.
The club wishes to thank Mrs Jones and having them on display will be a fitting mark of respect to an outstanding past player and a remarkable era in Porthmadog FC history.
---