15/09/14
OVAL ETO! / OVAL AGAIN!
Bydd Port yn chwarae Caernarfon yn Rownd Un o Gwpan Cymru . Bydd y gêm yn cael ei chwarae ar benwythnos 4 Hydref ar yr Oval. Cyfarfu'r ddau llynedd hefyd yn ail rownd y gwpan.

Porthmadog have been drawn to play Caernarfon Town in Round One of the Welsh Cup. This is a repeat of the Round 2 meeting last season. The games will be played on the weekend of 4 October.
---
14/09/14
Rhagolwg / Preview: v Llandudno
Bydd Port yn chwarae Llandudno nos Fawrth, yr ail gêm anodd mewn ychydig ddyddiau. Cafwyd buddugoliaeth dda iawn yn y gyntaf yn curo tîm dawnus Y Fflint o 4-1. Y newyddion da i bob cefnogwr Port ydy fod y goliau yn ôl! Sgoriwyd 10 gôl mewn tair buddugoliaeth olynol, gyda ond un yn eu herbyn. Mae'r blaenwyr Josh Davies a Dave Edwards wedi rhwydo pedair yr un a nid y blaenwyr yn unig sy'n sgorio ond hefyd y cefnwyr canol. Mae'r ddau o Fanceinion wedi sgorio pum gwaith rhyngddynt gyda Dilan Lomas ar ôl cael ei gôl gyntaf i'r clwb yn Llanidloes yn sgorio gôl wych iawn pnawn Sadwrn. Daliwch ati i rhwydo hogiau! Yr unig siom pnawn Sadwrn oedd yr anafa gafodd, y capten a 'r chwaraewr ganol cae allweddol, Rob Evans.
Mae'n gwrthwynebwyr hefyd wedi bod ymysg y goliau y tymor hwn. Mewn chwe gêm mae Llandudno wedi rhwydo 22 o weithiau gyda Toby Jones a cyn flaenwr Port Marc 'Loggs' Evans yn arwain y ffordd. Enillodd clwb Maesdu eu 5 gêm gyntaf cyn colli pnawn Sadwrn diwethaf i Gaergybi, clwb sy'n cael ei reoli gan Campbell Harrison. Hyd yma ond un gêm gynghrair a gafwyd ar y cae 3G newydd ac yn curo Caersws o 4-3. Byddai buddugoliaeth i Port nos Fawrth yn eu rhoi yn gyfartal ar bwyntiau gyda Llandudno. Dylai hon fod yn gêm gyffrous arall, dewch i lawr i'r Traeth a sicrhau torf sylweddol.

Port will take on Llandudno on Tuesday evening in the second of two tough fixtures in the space of 4 days. The first hurdle was cleared on Saturday with an excellent 4-1 win over a very skilful Flint team. The great news for Port supporters is that the goals are back! Scoring 10 in their three straight wins and conceding just the one. Strikers Josh Davies and Dave Edwards have both scored four this season and not only are the forwards finding the net but also those at the back. The Manchester Two have between them provided five goals and Dilan Lomas after scoring his first for the club at Llanidloes scored a sensational goal on Saturday. Keep the goals coming lads! The only downside is that skipper and key midfielder Rob Evans had to leave the field on Saturday with a nasty ankle injury.
Our opponents have also been amongst the goals this season. Llandudno have netted 22 goals in their six games with Toby Jones and former Port forward Marc 'Loggs' Evans leading the way. Tudno won their first five games and suffered their only defeat by 1-0 against Campbell Harrison's Holyhead team last Saturday. As yet they have played only once on their new 3G pitch defeating Caersws 4-3. A win for Port on Tuesday will put them level on points with Llandudno. Should be another cracker get down to the Traeth and make it a bumper gate.
---
14/09/14
Cyrsiau Technoleg Gwybodaeth / IT Courses
A ydych yn dymuno ennill sgiliau TG neu eu gwella? Os bydd digon o ddiddordeb mae yna bosibilrwydd sefydlu sesiynau ymarferol TG yn RHAD ac am DDIM a'u cynnal yn y Clwb ar Y Traeth. Mae'r Clwb mewn trafodaethau gyda Canolfan Cydweithredol Cymru parthed y posibilrwydd o sefydlu gwasanaeth. Os bydd digon o ddiddordeb bydd cyfrifiaduron glin, argraffydd a theclynnau TG eraill yn cael eu paratoi ar eich cyfer. Bydd hyfforddwr profiadol ar gael i helpu. Nid cyrsiau ffurfiol academaidd fydd rhain ond help i bobol sydd a dim neu ychydig bach iawn o ddealltwriaeth o dechnoleg. Os cewch flas gallwn eich cyfeirio at gyrsiau mwy uchelgeisiol. Bydd y gwasanaeth yn cynnwys galluogi y di-waith, er enghraifft, ddefnyddio'r cyfrifiaduron ar gyfer chwilio am swyddi.
Os oes gennych ddiddordeb yn y cyrsiau TG gysylltwch â Dafydd Wyn Jones ffon isod neu drwy e-bost dafyddwynjones@hotmail.co.uk neu ar y ffôn 07810057444 /01766762775

Would you like to gain or improve your basic IT skills? If there is sufficient interest a FREE service could be established with training sessions held in the Clubhouse at the Traeth. The Club is currently in discussion with the Wales Co-operative Centre regarding the possibility. If there is a sufficient response then IT equipment will be supplied including lap tops, printer and other related devices. A professional trainer will be available to help participants. These are not formal and academic training sessions but rather hands on help to develop basic IT skills. Those who take to it can be signposted to more ambitious training schemes. The service would be available, for instance, to the unemployed who would want to undertake job search on line.
If you are interested in the IT courses get in touch with Dafydd Wyn Jones by e-mail dafyddwynjones@hotmail.co.uk Or by phone on 07810057444 /01766762775.
---
11/09/14
RHAGOLWG / PREVIEW: FFLINT

Bydd Porthmadog yn wynebu dipyn o brawf wrth chwarae gemau yn erbyn y cyntaf a'r ail yn y tabl mewn cyfnod o 4 diwrnod. A hyn yn cychwyn gyda ymweliad Y Fflint â'r Traeth pnawn Sadwrn. Mae'r Fflint wedi cychwyn y tymor yn dda gan ennill pedair a colli ond unwaith. Cychwynnodd y clwb y tymor ar dân yn creu sioc wrth ennill ar yr Oval yn eu gêm gyntaf. Diolch i Stuart Hayes a Jamie McDonald aethant ddwy gôl ar y blaen erbyn yr hanner a wedyn dal ati yn erbyn y ffefrynnau i ennill y teitl a sicrhau buddugoliaeth o 2-1. Yr unig gêm iddynt golli oedd honno yn erbyn Llandudno a hynny o 1-0.
Bydd Port yn edrych i barhau â'r steil o chwarae a'r ymwybyddiaeth tactegol sydd wedi dod â dwy fuddugoliaeth yn olynol a hefyd digonedd o goliau yn Llanidloes. Roedd y ffordd wnaeth Cai Jones a Kristian Pierce ffitio i'r tîm, siwr o fod yn plesio Craig Papirnyk, a byddant yn sicr o ychwanegu at eu opsiynau ymosodol.
Mae gan Port record dda yn ddiweddar yn erbyn Y Fflint gan ennill o 2-0 ar Y Traeth y tymor diwethaf a wedyn sicrhau gêm gyfartal yn Cae y Castell. Ond mae'n edrych fod yna ysbryd newydd yn Y Fflint eleni a gallwn ddisgwyl gêm gyffrous. Cefnogwch yr hogiau a dewch i weld pêl-droed o safon uchel.

Porthmadog will face a testing few days taking on the HGA's first and second placed clubs. This will start with the visit of 2nd placed Flint on Saturday. Flint have started the season well winning four and losing just one of their games. They got their season off to a flying start with a surprise win at the Oval and thanks to Stuart Hayes and debutant Jamie McDonald they were two goals up at the interval against the title favourites and held out in the second period for the game to finish 2-1 winners. Their only defeat came at home to current leaders Llandudno and that by a narrow 1-0 margin.
Port will look to continue the style of play and the tactical awareness which has given them successive wins and also a glut of goals last Saturday at Llanidloes. The way Cai Jones and Kristian Pierce fitted into the team must have pleased manager Craig Papirnyk and they will certainly increase the attacking options available to him.
Port have a good record against Flint in recent seasons and last season won at the Traeth by 2-0 and drew 1-1 at Cae y Castell. But there appears to be a new spirit at the Flint club and we could be in for an exciting encounter. Support the lads they are playing some top quality football.
---
10/09/14
HYFFORDDWR NEWYDD / NEW COACH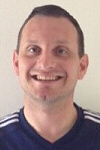 Mae Craig Papirnyk wedi symud i gryfhau ei staff hyfforddi gan wneud apwyntiad arwyddocaol. Derbyniodd Guy Handscome, sy'n hyfforddwr gyda'r Ymddiriedolaeth Bêl-droed ac yn Swyddog Datblygu yn y Gogledd, wahoddiad Craig i ymuno a fo ar Y Traeth.
Meddai Craig, "Fel fi mae Guy yn 30 oed ac yn dangos uchelgais a brwdfrydedd ac mae ganddo'r enw o fod ymysg yr hyfforddwyr ifanc gorau yn yr ardal. Rwyf wir yn edrych ymlaen i weithio gyda Guy ac yn credu y bydd yn gymorth i ddatblygu'r clwb gan ei fod yn dod a gwybodaeth a dealltwriaeth o'r gêm i ddatblygu y garfan bresennol ymhellach."
Mae Guy wedi gweithio gyda Wrecsam, Derwyddon Cefn (Cyfarwyddwr Academi, Rheolwr ail dîm a Swyddog Cymunedol), Y Bala (Hyfforddwr Tîm Cyntaf, Rheolwr Ail Dîm, Cyfarwyddwr Academi a Swyddog Cymunedol ). Bu Guy hefyd yn hyfforddi carfannau Gogledd Cymru. Mae'n Addysgwr Hyfforddwr FAW Lefel 1 a 2 ac ar fin cwblhau ei Drwydded Hyfforddi 'A' Uefa.
Fel chwaraewr bu Guy gyda Penley, Rhos Aelwyd , Gresffordd, Llangollen ac Ysgolion Wrecsam a hefyd yng ngharfan y Gogledd Ddwyrain. Cafodd dreialon gyda'r Amwythig. Croeso Guy!!

Craig Papirnyk has moved to strengthen his coaching staff and made a significant appointment. Guy Handscombe, a coach with the Welsh Football Trust and the Football Development Officer covering the NWCFA area, has accepted Craig's invitation to join him at the Traeth.
Craig said of Guy, "At 30 years of age like me, he shows ambition, enthusiasm and brings an excellent reputation as one of the best upcoming top coaches / assistants in the area. I am really looking forward to working with him and believe that Guy will help in the development of the club as he brings his knowledge & understanding of the game to further develop our current squad."
Guy has worked at Wrexham FC, Cefn Druids (roles included- Academy Director, Community Officer, Reserve Team Manager}, Bala Town (First Team Coach, Reserve Team Manager, Academy Director, Community Officer). Guy also coaches with the North Wales Regional Squads, He is a level one and level two FAW Coach Educator and has nearly completed his UEFA A Licence.
As a player Guy has represented , Penley, Rhos Aelwyd, Gresford, Llangollen [player/coach], Wrexham Schoolboys, NEWFA Rep Squad, and had trials at Shrewsbury Town. Welcome Guy !!
---
10/09/14
Jamie yn gadael / Jamie Departs
Bydd Jamie Steele yn gadael y clwb heb chwarae yr un gêm! Yn anffodus mae teithio wedi bod yn broblem iddo a fo heb gar yn y Brifysgol. Dymunwn yn dda i Jamie a pob llwyddiant yn y dyfodol.

Jamie Steele will be leaving before even playing for us ! Unfortunately transportation has been the problem and Jamie hasn't got a car with him at University. I wish Jamie every success with whoever signs him and all the best in the future.
---
04/09/14
Rhagolwg/Preview: LLANIDLOES
Ni chafodd Llanidloes y cychwyn gorau i'r tymor gyda un pwynt yn unig o'r bedair gêm. Daeth y pwynt hwnnw yn yr olaf o'u pedair gêm yn erbyn Penycae. Ond cafwyd canlyniad agos iawn mewn dwy o'r gemau a gollwyd. Yr unig gweir oedd o 4-1 yn erbyn Caersws. Ond wedi profiad llynedd lle cafwyd un pwynt ar Gae Fictoria diolch i gôl hwyr gan Eilir Edwards sylweddolwn fod y clwb o'r canolbarth yn barod i frwydro. Hefyd maent yn glwb a digon o ysbryd fel y gwelwyd yn y gêm ar Y Traeth ar ddiwedd y tymor diwethaf. Mae ganddynt ymosodwyr peryglus yn Gareth Mansell a Jamie Breese, y ddau wedi canfod y rhwyd yn barod y tymor hwn.
Bydd Craig Papirnyk yn dod i'r gêm ar gefn wythnos brysur yn cryfhau'r garfan. Ychwanegodd Cai Jones i'r garfan er mwyn rhoi mwy o goliau a pwer yn y blaen a hefyd Kristian Pierce, chwaraewr canol cyflym, sydd hefyd a record dda am ganfod y rhwyd. Y trydydd yw arwyddo ydy Jamie Steel sydd yn trefnydd yng nghanol cae yn rheoli'r bêl yn dda ac yn pasio'n gywir . Bydd y wynebau newydd yn cynyddu opsiynau Craig ac yn rhoi mwy o ddewis iddo wrth geisio dylanwadu yn ystod gemau fel mae o wedi gwneud mor llwyddiannus yn barod. Bydd Port yn disgwyl brwydr am y pwyntiau ond gyda dwy fuddugoliaeth a pedwar perfformiad da bydd yn bwysig ceisio troi'r gwaith adeiladu yn goliau.

Llanidloes have not had the best of starts picking up just one point from their four games. That point came in their last game at Penycae. However in two of their previous games they were beaten only by the odd goal, only Caersws, winning 4-1, have given them a beating. From our experience against Llanidloes last season we realise that they are a club who know how to fight and only a late Eilir Edwards set piece gave Port a share of the points at the Victoria Ground. That they are also a club with a great spirit was clear in the return match at the Traeth at the back end of last season. They have dangerous attackers in Gareth Mansell and Jamie Breese who have already found the net this season.
Craig Papirnyk has had a busy week further strengthening his squad bringing in Cai Jones to add goal power to the team's outstanding approach play also Kristian Pierce a pacy midfielder who has a good record of finding the net. The third addition to the squad is Jamie Steel who can direct from midfield with his good control and accurate passing game. These fresh faces will increase Craig's options and give him further scope to influence games by making tactical changes as he has successfully done already this season. Port will be expecting a fight for the points but, with two wins and four good performances under their belts, they will be looking to turn good approach play into goals.
---
03/09/14
WYTHNOS DDA i CRAIG / A GOOD WEEK for CRAIG
Mae Craig bellach wedi arwyddo ei drydydd chwaraewr newydd dros y dyddiau diwethaf gan ychwanegu niferoedd a safon at y garfan. Eisoes roedd wedi dod a Cai Jones yn ôl i Port ar ôl iddo gael profiad yng Nghaernarfon a helpu'r clwb hwnnw i ennill dyrchafiad. "Bydd yn rhoi pwer a goliau i'r tîm," meddai Craig.
"Chwaraewr ymosodol ar ochr dde canol cae ydy Kristian Pierce, meddai Craig, bydd yn cynnig cyflymdra yn ogystal a goliau ac rwy'n hapus iawn i fedru ei arwyddo, bydd yn rhoi mwy o safon inni wrth ymosod."
Y trydydd newydd ddyfodiad ydy Jamie Steel sydd yn fyfyriwr ym Mhrifysgol Bangor. "Bydd Jamie yn chwarae yng nghanol y canol cae, meddai Craig, mae o'n drefnydd ac yn gwneud digon o siarad. Cynt bu'n chwarae y ail dîm Grimsby a hefyd cafodd brofiad yng Nghynghrair Sweden. Treuliodd y tymor diwethaf gyda Chaergybi."
Casgliad Craig am y tri oedd, "Mae'r tri yn chwaraewyr cyffrous, yn ychwanegu safon mewn rhannau gwahanol o'r cae ac rwy'n edrych ymlaen at weithio gyda nhw."

Craig Papirnyk has now added a third signing in just a few days, adding numbers and quality to his previously small squad. He has already added power up front by bringing Cai Jones back to his home town club after gaining experience at Caernarfon and helping them to gain promotion.
He describes Kristian Pierce as an "Attacking right sided midfielder who offers raw pace and gets goals, a really pleasing signing who will add real quality going forward."
His third signing is Bangor University student Jamie Steel. "Jamie plays in central midfield, said Craig, and he is a good talker who likes to organise. He is a former Grimsby Town reserve player and has had experience in the Swedish League. Last season he was at Holyhead."
Summing up Craig added, "All three are very exciting signings, they will add quality in different areas of the field for us, I am really looking forward to working with them."
---
03/09/14
CROESO KRISTIAN / WELCOME KRISTIAN

Mae Craig Papirnyk yn dal ati i gryfhau ei garfan ac yn dilyn arwyddo Cai Jones o Gaernarfon mae wedi trwy arwyddo Kristian Pierce o glwb Dinbych. Mae Kristian yn chwaraewr ganol cae ifanc, addawol a dreuliodd y ddau dymor diwethaf gyda Dinbych yn y Welsh Alliance. Mae ganddo lygad am gôl ac yn 2012/13 sgoriodd 15 o goliau. Cynt chwaraeodd i dimau ieuenctid Y Bala ac ail ymunodd â'r clwb hwnnw dros dro ar gyfer eu gemau yng Nghynghrair Ewropa yn 2013. Daeth o'r fainc yn erbyn FC Levadia Tallinn.
Meddai Kristian neithiwr "Medrau ddim aros i gychwyn dros CPD Porthmadog, sialens newydd imi ac rwy'n edrych ymlaen iddo." Croeso Kristian.

Craig Papirnyk continues to strengthen his squad and follows up the signing of Cai Jones by bringing in Kristian Pierce, who joins from Denbigh Town. Kristian has spent the past two seasons at Central Park playing in the Welsh Alliance. The young midfielder has an eye for goal and scored 15 goals in 2012/13. He previously played at youth level for Bala Town, a club he re-joined for their Europa League campaign of 2013 making a sub appearance against FC Levadia Tallinn.
Kristian said last night, "I can't wait to get going at Porthmadog a new challenge for me and I look forward to it. Bring on Saturday." Welcome to the Traeth Kristian.
---
02/09/14
Erthygl IAN LOMAS / The IAN LOMAS article
Mae'n bosib darllen y sgwrs rhwng Tommie Collins ac Ian Lomas a ymddangosodd yn Rhaglen y Clwb (ac y cyfeiriwyd eisoes ato ar y wefan hon) ar
http://tommiecymro.blogspot.co.uk/2014/09/ian-was-oval-o-borthmadog-i-mi.html
Mae o werth ei ddarllen ac y gwrthwyneb llwyr i orffwylledd Dydd y Gwario Gwirion.

The match programme article with Tommie Collins chatting to Ian Lomas (Dilan's dad) a feature previously highlighted on this website can now be seen on
http://tommiecymro.blogspot.co.uk/2014/09/ian-was-oval-o-borthmadog-i-mi.html
Well worth reading and the complete antidote to the madness which is Deadline Day.
---
30/08/14
CAI YN ÔL / CAI RETURNS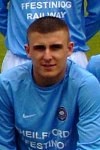 Mae'r blaenwr Cai Jones yn dychwelyd i'r Traeth. Dywedodd Craig Papirnyk heno "Rwy'n hapus iawn i gyhoeddi fod Cai Jones wedi arwyddo i Port. Croeso yn ôl Cai a diolch i glwb Caernarfon am hwyluso'r trosglwyddiad.
Ymateb Cai oedd ei fod yn edrych ymlaen i ddychwelyd i'r Traeth ac yn methu aros i gael cychwyn. Cafodd ffarwel arbennig gan glwb yr Oval yn dymuno "Pob lwc yn Porthmadog . Wedi bod yn bleser gweld chdi'n chwarae ar yr Oval."
Chwaraeodd Cai ei gêm UGC gyntaf dros Port yn 17 oed gan ddod o'r fainc yn erbyn Bangor yn Chwefror 2009 yng ngêm gyntaf Tomi Morgan yn rheolwr. Cynt roedd wedi bod yn aelod o dîm llwyddiannus Academi Port a hefyd yr Ail Dîm. Aeth ymlaen i chwarae 11 (+10) o gemau UGC i'r clwb ac yn 2010/11 18 (+18) o gemau HGA. Gadwodd Cai y Traeth yn 2011 i ymuno a Chaernarfon lle bu dros y tri thymor diwethaf. Croeso yn ôl Cai a gobeithio am dipyn o goliau!

The forward Cai Jones is back at the Traeth rejoining his hometown club. Tonight Craig Papirnyk said "I'm happy to announce that Cai Jones has signed for Port. Welcome back Cai and thanks to the Caernarfon club for facilitating the transfer.
Cai's response has been to welcome the move and is now looking forward to return to the Traeth, looking forward to get started. He received a good send off from the Oval club who said, "Good luck at Porthmadog. It has been a pleasure seeing you play at the Oval."
Cai made his WPL début for Port as a 17 year-old coming from the bench in Tomi Morgan's first game in charge against Bangor City in February 2009. He had previously impressed in a successful Porthmadog Academy team and for the Reserves. He went on to make 11 (+10) WPL appearances for the club. In the 2010/11 season he made 18 (+18) HGA appearances for Port before signing for Caernarfon Town where he has played for the last three seasons. Now we welcome him back and look forward to a few goals!
---
31/08/14
TOTE mis AWST / AUGUST TOTE
Y rhifau lwcus yn y Tote Mis Awst oedd 12 + 33. Nid oedd enillydd, hyn i'w gadarnhau. Bydd y wobr £279 yn cael ei ychwanegu at gyfanswm Mis Medi. Bydd rhaid gwneud unrhyw gais erbyn 8yh nos Wener 5ed Medi. Bydd y rhifau ar gyfer Tote mis Medi yn cael eu tynnu nos Wener 26ain Medi, yn sesiwn Bingo Clwb Cymdeithasol Clwb Pêl-Droed Porthmadog yn Y Ganolfan.

The winning numbers in the Porthmadog Football Social Club Monthly Tote for August were 12 + 33. Subject to confirmation there were No Winners, and therefore the prize £279 will be added to the September total. Any claims must be made by 8pm on Friday 5th September. The September Tote will be drawn on Friday 26th at the weekly Porthmadog F C Social Club Bingo at Y Ganolfan.
---
29/08/14
APÊL am GYMORTH / A PLEA for HELP
Yn ddiweddar ymddangosodd yr apêl isod gan Gerallt Owen, ysgrifennydd y clwb, yn y Rhaglen. Sylwch nad yw'n gofyn am i neb ysgwyddo'r holl faich o rhedeg y clwb ond i wneud cyfraniad bach a fyddai'n rhyddhau eraill rhag gwegian dan y pwysau ac yn helpu'r clwb i symud ymlaen.

"Porthmadog Football Club has a long and interesting history. Long considered to have been established in 1884, recent research has concluded that the first football club in the town was indeed set up 12 years earlier in 1872 making Porthmadog one of the oldest clubs in Wales. During those 142 years the club has endured highs and lows, triumphs and calamities. One of those calamities without doubt was in 1984 when the club was not able to raise a team to enter the Welsh League and as a result there was no football in the town for a whole season. I fear that a similar crisis point is looming for the club, not because of a lack of players but because of a desperate lack of volunteers to help run the club.
"I joined the committee at Porthmadog FC after an invitation from the then Chairman Ioan Jones. The club then was just about to embark on an exciting new adventure as founder members of the first ever national league in Wales. That was the summer of 1992. If anyone had suggested then that I would still be involved 22 years later I would have suggested a phone call to the men in white coats. My involvement with the club has been life changing and almost all consuming. With sufficient helpers on board it does not have to be like this. Nobody should be expected to devote almost all their spare time to running a football club at this level. Many hands make light work!
"I feel that the club is at a crossroads. The current 5 directors have been in place for a significant number of years and all are over 50 and two are well into their 60's. There is a desperate need for younger blood to take the club forward. Some of the current helpers are even older and one or two are not in particularly good health. Their dedication and commitment is an inspiration to the rest of us. Numerous appeals on the club website, in match programmes and in the press for people to come forward to help have largely fallen on deaf ears, however the situation is slowly but surely becoming critical. It is not just at director level that new blood is required but throughout the club. Helpers are required in the canteen and the clubhouse on match day. Additional stewards would be most welcome especially following the recent accident to Ifor Roberts which has robbed us of his assistance, at least for the foreseeable future. Helpers are also required to run the Academy from coaches to an administrator.
"However your commitment does not have to be at a level where you feel it is taking over your life. The club needs someone who could open the clubhouse on mornings when it is hired out to various organisations and or close it later in the day. A minimal commitment to do this would be valuable and take this burden off the current over stretched and over stressed small band of volunteers who are trying to keep things going. And that is all we are doing. Once we we were considered to be a pioneering and innovating club who others emulated but today we have been surpassed by many clubs, even some at Huws Gray Alliance level. The main thing that is holding us back is the lack of personnel at the club to move things forward and to make us a force for good in the community once again.
As someone who has been involved with the club for so long it would be heart breaking to see all the hard work and all the potential go to waste should the club die. Don't let it happen - get involved."

Above is an appeal by club secretary Gerallt Owen which first appeared in the Matchday Programme. It is an appeal not to take on the entire burden of running the club but to contribute in a small and valuable way and so take some of the weight off the shoulders of those who are really feeling the strain. This would then make it possible for the club to progress.
---
29/08/14
ERTHYGL DDIDDOROL / PROGRAMME FEATURE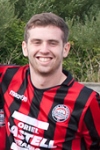 Bydd rhaglen pnawn Sadwrn yn cynnwys eitem ddiddorol lle mae Tommie Collins wedi cyfweld Ian Lomas. Daeth Ian yn wyneb cyfarwydd ar Y Traeth ers i Dilan ymuno â'r clwb gan ffurfio partneriaeth 'Dau Manceinion' yng nghanol yr amddiffyn. "Sylwadau gwerth eu darllen," meddai Tommie am yr erthygl.
Bydd y rhaglen hefyd yn cynnwys yr amrywiaeth arferol o ffeithiau, ffigyrau a barn, a hynny heb sôn am gyfraniad diweddaraf Craig Papirnyk gyda'i dîm ifanc –er waethaf colli yn anheaddiannol yng Nghaernarfon- yn dod yn destun sgwrs o gwmpas Cynghrair Huws Gray.

Saturday's programme will include an interesting feature developing from Tommie Collins' interview with Ian Lomas. Ian has become a Traeth regular since Dilan joined the club and formed the impressive 'Manchester Two' partnership with Josh Stadnicki . Tommie says "Ian's thoughts are well worth reading."
The programme will contain the usual mix of facts, figures and opinions notwithstanding the latest missal from Craig Papirnyk whose young team -despite the undeserved loss at Caernarfon- are beginning to make waves around the HGA.
---
28/08/14
Rhagolwg: CEGIDFA / Preview: GUILSFIELD

Pnawn Sadwrn bydd Port yn croesawu Cegidfa i'r Traeth. Y tymor diwethaf curwyd Port i'r 6ed safle gan Gegidfa o drwch blewyn. Y ddau glwb ar 42 o bwyntiau ond Cegidfa ar y blaen ar wahaniaeth o un gôl. Cychwynnodd y clwb o'r canolbarth y tymor hwn gyda buddugoliaeth o 4-1 dros y newydd ddyfodiaid, Llandrindod a dilyn hyn gyda gêm gyfartal yng Nghaergybi ond wedyn dipyn o sioc yn colli adref 3-5 yn erbyn Penycae. Gadawodd Matt Burton rheolwr llwyddiannus llynedd y clwb ac yn ei le daeth Mike Parry yn cael ei brofiad cyntaf yn y gadair boeth.
Cryfder y clwb o'r canolbarth dros y blynyddoedd diwethaf yw eu carfan sefydlog ac un o'u chwaraewyr pwysicaf ydy'r blaenwr Danny Barton prif sgoriwr yr HGA llynedd gyda 20 o goliau.
Yn 2013/14 buddugoliaeth yr un gafodd y ddau glwb. Port yn ennill o 2-1 yng Nghegidfa yn ôl ym mis Awst ond mewn tywydd ofnadwy ym mis Rhagfyr y tîm oddi cartref enillodd. 2-0 i Gegidfa.
Er fod Port wedi colli eu dwy gêm ddiwethaf -yn erbyn Caersws a Chaernarfon- gwelwyd yr addewid mawr sydd yng ngharfan Craig Papirnyk gyda'r chwarae gwych a gafwyd ar yr Oval. Y gobaith am bnawn Sadwrn yw y bydd y chwarae adeiladol arbennig yn cael ei goroni efo goliau.

On Saturday we welcome Guilsfield to the Traeth. Last season The Guils edged out Port for the 6th spot in final HGA table by an incredibly narrow margin. Both clubs finished level on 42 points but the Guils clinched 6th place by a difference of one solitary goal! The mid-Wales club started the season with a 4-1 win over league newcomers Llandrindod and followed it up with a draw at Holyhead but a 3-5 home reverse at home to Penycae was a shock result. Last season's successful manager Matt Burton has left the club with Mike Parry stepping into the hot seat for his first managerial appointment.
The mid-Wales club's strength over the last few seasons is that they have maintained a fairly settled squad of players with key striker Danny Barton topping the HGA scoring list last season with 20 goals.
In 2013/14 honours were even in the league encounters between the two clubs with Porthmadog coming out on top by 2-1 in an August clash at Guilsfield while in some horrendous weather at the Traeth it was once again the away side that triumphed. This time it was 2-0 to Guilsfield in a pre-Christmas meeting.
Though Port were beaten at both Caersws and Caernarfon all present at the Oval saw the huge promise of Craig Papirnyk's young squad. Let's hope on Saturday that their marvellous approach play will be rewarded with goals.
---
26/08/14
TOMMIE gyda'r casglwyr caeau / Tommie at the GROUNDHOP
Byddwch wedi clywed mae'n siwr am y 'Groundhop' o gaeau'r Welsh Alliance a drefnwyd dros y penwythnos. Chwaraewyd nifer o gemau yn lleol ar nos Sadwrn a dydd Sul –yn Y Bermo, Blaenau Ffestiniog, Penrhyn a Dyffryn Nantlle. Chwyddwyd y torfeydd gan bresenoldeb y casglwyr caeau gyda rhwng 300 a 400 ym mhob gêm. Roedd awyrgylch arbennig hefyd ar y caeau yma.
Bu Tommie Collins yn Penrhyn ac mae wedi gwneud podlediad arbennig o'r achlysur. Gwrandewch ar eu sgyrsiau ar Soundcloud

You will no doubt be aware of the Welsh Groundhop which was organised over the weekend. Several games were played locally on Saturday and Sunday at Barmouth, Blaenau Ffestiniog, Penrhyndeudraeth and Nantlle Vale. Visiting groundhoppers boosted attendances and gates on each occasion were between 300 and 400. Also a great sense of occasion was created.
Tommie Collins was at Penrhyn and has recorded a great podcast of the event. You can listen to his interviews on Soundcloud
---
25/08/14
GÊM DDARBI GWYNEDD / GWYNEDD DERBY NIGHT

Gyda'r gemau'n dod yn gyflym un ar ôl y llall bydd Porthmadog yn cymryd y daith fer i'r Oval nos Fercher i chwarae Caernarfon. Chwaraewyd dwy gêm rhwng y ddau ar yr Oval llynedd gyda Caernarfon yn fuddugol yn y Gynghrair a Port yn ennill yng Nghwpan Cymru. Bu Lee Dixon yn brysur yn cryfhau ei garfan eleni eto gan arwyddo'r hogyn lleol, a chyn chwaraewr Everton, Nathan Craig, Jay Gibbs o Gaergybi a prif sgoriwr Port llynedd Carl Owen. Mae Lee McCardle erbyn hyn hefyd wedi ail ymuno â'r clwb.
Y Cofis ydy ffefrynnau nifer fawr i ennill Cynghrair Huws Gray eleni ar ôl eu perfformiadau y tymor diwethaf. Tipyn o sioc oedd colli adref yn erbyn Y Fflint yn y gêm gyntaf a bu'n rhaid brwydro gyda 10 dyn wedi'i Nathan Craig dderbyn cerdyn cochi sicrhau gêm gyfartal yn Penycae. Ond un peth sy'n sicr gyda'r profiad sydd yng ngharfan Lee Dixon bydd Caernarfon ymysg y ceffylau blaen eleni eto.
Disgwyliwn weld carfan gryfach ar gael i Craig Papirnyk nos Fercher wedi'i Gwydion Ifan fethu yng Nghaersws oherwydd gwaharddiad, Eilir Edwards ac anaf a Dilan Lomas ddim ar gael. Bydd hon yn gêm anodd arall felly cefnogwch yr hogiau nos Fercher. Cic gyntaf 7.30pm.

With the games coming thick and fast Porthmadog will make the short journey to the Oval on Wednesday night to play Caernarfon. The two clubs met twice on the Oval last season with Caernarfon winning the League match and Port the Welsh Cup tie. Lee Dixon has again strengthened his squad bringing in local hero and former Evertonian, Nathan Craig as well as Jay Gibbs from Holyhead and Carl Owen, Port's leading scorer last season. Lee McCardle has also returned to the club.
The Cofis are favourites for many to take the HGA title this season following their performances last time round. They suffered a shock opening day defeat at the hands of Flint and last Saturday they fought back with 10 men -after Nathan Craig was red carded- to draw 3-3 at Penycae.
Craig Papirnyk will hopefully have a stronger squad at his disposal than at Caersws where Gwydion Ifan missed out through suspension, Eilir Edwards injured and Dilan Lomas unavailable. It will be another tough game so support the lads on Wednesday kick off 7.30pm.
---
24/08/14
GEIRIAU CAREDIG / KIND WORDS
Isod gwelwch e-bost a dderbyniwyd wrth un a fu ar Y Traeth am gêm Cwpan Word yn erbyn Y Seintiau Newydd. Da bob amser ydy derbyn gair o gymeradwyaeth i waith y criw bach sy'n cynnal pethau ar Y Traeth. Diolch yn fawr i Wayne ac Emma a da clywed bod y teulu wedi mwynhau eu gwyliau yng Ngwynedd.

Hi
Just wanted to pass on my thanks for a wonderful evening spent at your superb football ground on Tuesday evening. As part of a family holiday at Greenacres Holiday Park, my Daughter Emma & I ventured down to The Traeth to watch the local side take on TNS. We arrived in plenty of time for a drink in your welcoming Clubhouse as well as taking in the the wonderfully scenic setting.
The home support is a credit to your club especially the noisy band behind the goal.
The match programme was excellent & is there a way of purchasing future editions online?
On the pitch it was always an uphill task against a very well drilled TNS side but again full credit to the team for the way they kept plugging away despite being on the wrong end of a couple of dubious refereeing decisions.
My Daughter & I are season ticket holders at Wycombe Wanderers so I am no expert on Welsh football but I left the Traeth on Tuesday with the impression that Porthmadog will do well this season & I will follow your fortunes through this great website.
We arrived back home to Maidenhead last night with long lasting memories of Caernarfon, Beddgelert, Snowdon (successfully climbed on Wednesday!), Bala & Porthmadog.
We can also add the Traeth to that list-thank you.
Kind regards
Wayne Newton

Above is an e-mail received from a visitor to the Traeth for the Word Cup tie against TNS. For the small band who maintain things at the Traeth it is good to receive this kind of commendation. Thanks to Wayne and Emma. It is good to hear that the family has enjoyed their holiday in Gwynedd.
---
22/08/14
Sylwadau CADARNHAOL / COMPLIMENTARY comments

Roedd yn dda clywed y geiriau cadarnhaol a ddaeth o gyfeiriad Neuadd y Parc yn dilyn y gêm yng Nghwpan Word yn erbyn TNS nos Fawrth. Gan gofio am y goliau a sgoriwyd gan Y Seintiau yn erbyn rhai clybiau UGC roedd y potensial i bethau fynd o chwith go iawn i Port hefyd.
Isod mae'r neges, o gyfri trydar swyddogol TNS, yn bositif iawn am berfformiad Port . Bydd y sylwadau Craig Harrison ar ôl y gêm hefyd yn galondid i Craig Papirnyk:
"Fe chwaraeon nhw'n dda yn yr hanner awr cyntaf. Nhw oedd y tîm gorau, yn well na ni, yn gynt i'r bêl ac yn pasio'r bêl yn well na ni. Wedi i ni setlo ni wnaeth reoli'r gêm."
Ei sylw am gerdyn coch Gwydion Ifan oedd, "Difethwyd y gêm yn llwyr gan y gyrru ffwrdd."
Ond roedd hyd yn oed colli Gwydion yn gyfle i Port ddangos cymeriad ac yn ogystal a peidio ildio goliau yn yr hanner awr olaf llwyddwyd i a 10 dyn i greu cyfleoedd.

The New Saints FC @tnsfc • Aug 20
@CPDPorthmadogFC @royal_sportsman @hafandeg the game was very competitive Porthmadog played very well would be comfortable in @WPL_Official

It has been good to hear the complimentary comments coming from Park Hall following last Tuesday's Word Cup tie against TNS at the Traeth. In view of some of the defeats inflicted by the full time outfit on some WPL clubs, there was the potential for the tie to go pear shaped from a Port point of view.
Above is twitter message on the official TNS account which is very positive about the club's performance. Manager Craig Papirnyk can also take great heart from some of the comments of TNS manager Craig Harrison who said post match: "They played well in the first half hour. They were the better team, better than us, quicker to the ball and passed the ball better than us. After that we settled down and controlled the game."
On Gwydion Ifan's dismissal he added "The send-off spoiled it completely."
Even the dismissal however provided an opportunity for Port to show their quality and, as well not yielding further goals, in the last half hour they did manage to create several chances of their own.
---
20/08/14
Rhagolwg/Preview: v CAERSWS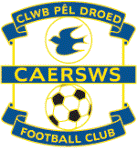 Yn dilyn y cychwyn da a gafwyd i'r tymor yn erbyn Penycae bydd Port yn teithio i'r canolbarth pnawn Sadwrn ar gyfer gêm anodd yn erbyn Caersws. Dilynwyd y fuddugoliaeth o 4-1 gyda perfformiad da iawn yn erbyn chwaraewyr llawn amser TNS nos Fawrth, a hynny, er waethaf treulio'r hanner awr olaf gyda 10 dyn yn unig. Pnawn Sadwrn yn anffodus bydd Port heb Gwydion Ifan a Dilan Lomas.
Fel Port, ennill eu gêm gyntaf wnaeth Caersws, a hynny oddi cartref yn Rhydymwyn a wedyn mynd allan o Gwpan Word yn erbyn Llandudno. Mae'r ddau glwb wedi newid dipyn ar eu carfannau dros yr haf. Bydd John Owen ac Iwan Williams, dau o gyn chwaraewyr Port, yn nhîm Caersws, tra symudodd Iwan Lewis i'r cyfeiriad arall ac ymuno gyda Rob Evans a Dave Edwards ar Y Traeth.
Graham Evans a Hugh Clarke sy'n rheoli yn Caersws y tymor hwn ac wedi ychwanegu nifer at y garfan. Steve Blenkinsop, cyn flaenwr Y Derwyddon, fydd partner newydd Marc Griffiths yn y blaen. Bu newidiadau hefyd oddi ar y cae ar Y Rec gyda cam cyntaf yr Eisteddle wedi'i orffen, a gwaith ar ddraeniad y cae wedi 'i gwblhau.
Ers dipyn siomedig fu ein canlyniadau yn erbyn Caersws, ac yn wir rhaid edrych yn ôl i 17 Mawrth 2012 am y fuddugoliaeth ddiwethaf dros y tîm o'r canolbarth. Ar y diwrnod hwnnw sgoriodd Iwan Williams i Port! Hen bryd cael newid!!

Following their good start in the season's opener against Penycae, Port will travel to Caersws for a difficult away fixture this weekend. The 4-1 win on Saturday was followed by an excellent performance against the full-timers of TNS and that despite going down to 10 men for the last half hour. On Saturday however they will be without Gwydion Ifan and Dilan Lomas.
Caersws like Port took three points from their first HGA game away at Rhydymwyn. Both clubs have seen changes to their squads over the summer. John Owen and Iwan Williams, two former Port players, now line-up for Caersws while Iwan Lewis has moved the other way joining Rob Evans and Dave Edwards at the Traeth.
The mid-Wales club are now managed by Graham Evans and Hugh Clarke and they have made a number of other additions to their squad. The pacy striker Marc Griffiths now has a new partner in Steve Blenkinsop who has switched from Cefn Druids. There have been changes off the pitch too at the Recreation Ground with the first phase of the Grandstand being completed as well as drainage work on the pitch.
Results against Caersws in recent seasons have been disappointing to say the least and we need to look back to the 17 March 2012 for our last victory against them. On that day Iwan Williams scored for Port! It must be time for a change!!
---
20/08/14
BRASLUNIAU wedi'i diweddaru / PENPICS updated
Mae brasluniau'r chwaraewyr yn y garfan gyfredol wedi eu diweddaru ar gyfer y tymor hwn gan gynnwys y chwaraewyr newydd mae Craig wedi arwyddo. Ewch i'r dudalen yma.

The player penpics of all the current squad have been updated for the 2014/15 season. These include the new players Craig has brought to the club. Go to the page here.
---
20/08/14
Diolch i'r hysbysebwyr a'r noddwyr / Thanks Sponsors and advertisers

Dywedodd Dylan Rees, swyddog marchnata'r clwb, ei fod wedi blesio'n arw gyda ymateb noddwyr y clwb, a hefyd hysbysebwyr ar gyfer tymor 2014/15.
"Rym yn ddiolchgar iawn i'n hysbysebwyr, hen a newydd, am eu hymateb gwych a carwn ddiolch iddynt am eu haelioni a'u parodrwydd i gefnogi'r clwb," meddai Dylan.
"Mae'r clwb hefyd yn ddyledus i'r cyd noddwyr, Oriel Castell Cricieth a Rheilffordd Ffestiniog ac Eryri am barhau a'u nawdd hael eto eleni. Gobaith y clwb ydy y bydd ein partneriaeth gyda'r ddau yn elwa'r ddwy ochr.
"Cafwyd ymateb ardderchog am hysbysebwyr ar gyfer y rhaglen, ac o ganlyniad mae'r lle ar gael i gyd wedi ei gymryd. Mae'r un fath yn wir am noddi chwaraewyr gyda bob un o'r chwaraewyr sydd wedi arwyddo i'r clwb yn cael eu noddi. Bydd y peli ar gyfer gemau cynghrair drwy'r tymor yn cael eu noddi gan Garej Elim ac ar gyfer gemau cwpan gan Meirion Evans Terfynau.
"Ar gyfer y byrddau hysbysebu ar hyd y cae bu ymateb da unwaith eto ac erbyn hyn ychydig iawn o le sy'n weddill. "Dim ond dwy gêm sy'n dal i aros am noddwr sef y gêm yn erbyn LLANDUDNO ar 16 Medi a honno yn erbyn CAERGYBI ar28 Hydref. Os oes gennych ddiddordeb mewn noddi un o'r gemau yma cysylltwch a mi Dylan Rees drwy e-bost:rees48wesla@gmail.com neu drwy ffonio 07900512345"
Mae'r clwb hefyd yn ddyledus iawn i Dylan am ei waith cyson, a hynny drwy gydol yr haf, yn cysylltu â rhai oedd â diddordeb mewn hysbysebu neu noddi.

Club marketing officer Dylan Rees declared himself delighted with the response of club sponsors and advertisers for the 2014/15 season.
"We are very grateful to both new and old advertisers for their magnificent response and would like to thank them for their generosity and ready support of the club," said Dylan.
"The club is indebted to our joint main sponsors, Castle Framing of Cricieth and the Ffestiniog and Welsh Highland Railway for their continued and generous support. It is the club's hope that the partnership with our sponsors will bring genuine benefits to both partners.
"The excellent take-up of match programme advertising space means that all the space available is now full. The same is true for player sponsorship with all currently signed players already having a sponsor. Match balls are being sponsored throughout the league season by Elim Garage. Cup match balls are being sponsored by Meirion Evans Terfynau. "There is now only a small amount of space left for perimeter board advertisers as once again take-up has been excellent.
"There are only two games still looking for a sponsor. They are the visit of LLANDUDNO on 16 September and HOLYHEAD HOTSPUR on 28 October. If you are interested in sponsoring these games at a cost of £60nshould contact me Dylan Rees by e-mail: rees48wesla@gmail.com or by phone 07900512345."
The club would like to thank Dylan for all his hard work over the summer contacting potential advertisers and securing sponsorships.
---
13/08/14
SEINTIAU ar y Traeth (nos Fawrth) / SAINTS at the Traeth (Tuesday)

Nos Fawrth nesaf, 19 Awst bydd pencampwyr Uwch Gynghrair Cymru, Y Seintiau Newydd yn ymweld â'r Traeth. Y tro diwethaf iddynt chwarae ar Y Traeth oedd ar 15 Rhagfyr, 2009 pryd yn annisgwyl gorffennodd y gêm yn gyfartal 1-1 gyda Jamie Wood yn sgorio i TNS ar ôl 21 munud ac Aden Shannon o'r smotyn yn ei gwneud yn gyfartal wedi 64 o funudau. Byddai ail adrodd y sgôr hwn nos Fawrth yn achosi dipyn o sioc i ddilynwyr pêl-droed yng Nghymru!
Gêm yn Rownd Gyntaf Cwpan Word fydd nos Fawrth. Cwpan Cynghrair estynedig Uwch Gynghrair Cymru ydy Cwpan Word gyda Port yn cymryd rhan yn un o chwe chlwb o'r HGA. Ers y gêm honno yn 2009 mae'r clwb o Groesoswallt wedi mynd o nerth i nerth ac yn dominyddu UGC. Llynedd enillodd y clwb deitl UGC am y 7fed tro gyda blaenoriaeth anferth o 14 pwynt gan ennill 22 o'u 32 o gemau gan colli ond tair gêm. Yn ogystal cwblhawyd y dwbl wrth i TNS hefyd ennill Cwpan Cymru gyda buddugoliaeth o 3-2 dros Aberystwyth. Llynedd aeth y clwb allan o Gwpan Word yn colli i Airbus yn Rownd 3.
Mae Craig Harrison a Carl Darlington wedi adeiladu carfan a ddigon o dalent i gystadlu â chlybiau Ewrop. Mae ganddynt sgorwyr rheolaidd fel Greg Draper a Mike Wilde gyda Sam Finley a Ryan Fraughan yn chwaraewyr canol cae creadigol a Phil Baker yn trefnu yn y cefn. Yn ogystal ychwanegwyd cyn chwaraewyr cyflym Wrecsam, Adrian Cieslwicz, i'r garfan.
Y gêm rhwng y ddau sy'n dod ac atgofion melys i gefnogwyr Port ydy honno yng Nghwpan Cymru yn Chwefror 2007. Dwy gôl gan Ryan Davies yn mynd â'r gêm i amser ychwanegol a wedyn ciciau o'r smotyn a sôn am sioc, Port yn fuddugol yn y diwedd. Ynghynt y tymor hwnnw roedd Port hefyd wedi curo TNS yng Nghwpan y Gynghrair draw yn Llansantffraid!!
Ond yn y gorffennol oedd hynny a rwan ydy rwan ac mae pawb ar Y Traeth yn ymwybodol o maint y dasg.

Next Tuesday, 19 August the Welsh Premier League champions The New Saints will visit the Traeth. Their last visit was on the 15 December, 2009 when against all expectations the scores were level 1-1 at the end of the 90 minutes. Jamie Wood had put TNS ahead after 21 minutes and Aden Shannon, from the penalty spot, levelled the scores in the 64th minute. Now a repeat of that result would certainly send shock waves running through Welsh football!
On Tuesday the two clubs meet in Round One of the Word Cup which is the Welsh Premier League's extended League Cup. Port qualify for a place in this competition as one of six HGA clubs. Since that last league meeting in 2009 the Oswestry club have gone from strength to strength dominating the WPL. Last season they won the league title for the 7th time by a massive 14 points winning 22 of their 32 games and losing only three games. In addition they completed a league and cup double also winning the Welsh Cup by 3-2 against Aberystwyth Town. Last season they went out of the Word Cup in the third Round at Airbus UK.
Craig Harrison and Carl Darlington have built a talented squad capable of competing on a European level. They have proven goalscorers in Greg Draper and Mike Wilde, strong creative midfielders like Sam Finley and Ryan Fraughan and a defence marshalled by the experienced Phil Baker. In addition they have now added an extra threat by signing former Wrexham wideman, the speedy Adrian Cieslwicz.
The game between the two clubs which t Port supporters are happiest to recall was the Welsh Cup tie in February2007. Two Ryan Davies goals forced the game into extra time and penalties and against all the odds it was Port who proceeded to the next round. Earlier in the same season Port had travelled to Llansantffraid and also put TNS out of the Welsh Premier League Cup!
That was then and this is now and no one at the Traeth will be under any illusions as to the size of the task.
---
13/08/14
JOSH arall yn ARWYDDO / Another JOSH SIGNS!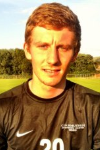 Yn amlwg iawn yr hoff enw ar y Traeth y tymor hwn ydy 'Josh' gyda Josh Davies rwan yn ymuno o Ddinbych. Mae'n ymosodwr ifanc llawn potensial ac wedi ennill cap Dan-19 i dîm lled broffesiynol Cymru. Hefyd mae wedi chwarae dros Rhuthun a Llandyrnog. Enwyd yn chwaraewr y mis yr HGA tra gyda Rhuthun pan sgoriodd 7 gôl mewn pedair gêm.
Wrth gyhoeddi ei fod yn ymuno dywedodd Craig, "Rwy'n hapus iawn i arwyddo Josh gan fy mod wedi chwarae efo fo yn Rhuthun ac yn gwybod am ei botensial. Rwy'n edrych ymlaen i'w weld yn creu argraff gyda Port ac yn dal i wella. Croeso i'r clwb Josh!

The favoured name at the Traeth this season is obviously 'Josh' with Port now having completed the signing of Josh Davies who has transferred from Denbigh Town FC. He is a young promising striker whose potential is underlined by the fact that he has been capped for Wales at U-19 semi professional level. He has also played for Ruthin Town and Llandyrnog. He was named HGA Player of the Month while at Ruthin as recognition for scoring 7 goals in four games.
Announcing his arrival manager Craig Papirnyk said, "I am really pleased to have signed Josh, having played alongside him at Ruthin FC I know his potential. I am now really looking forward to seeing him impress and improve at Port. Welcome to the club Josh!
---
12/08/14
FFWRDD A NI ETO / HERE WE GO AGAIN

Dyma ni ar ddechrau tymor newydd ac ar yr adeg honno o'r tymor lle fydd pob clwb yn cael hyd i rheswm am fod yn optimistaidd. Hon ydy'r un fawr i Craig wrth gychwyn ei dymor cyntaf yn sedd y rheolwr. Mae'r gemau di bwynt (ond nid di-bwrpas) drosodd, gyda'r frwydr am y pwyntiau ar ddechrau.
Penycae ydy'r ymwelwyr ac yn teithio i'r Traeth am y 4ydd tro ers iddynt sicrhau dyrchafiad i'r Huws Gray. Er eu bod heb ennill ar Y Traeth eto, bydd ddim angen atgoffa cefnogwyr o'r ymweliad a Ffordd Afoneitha 12 mis yn ôl pan sgoriodd Penycae 5 gol wrth rhoi curfa i Port. Llynedd, yn y 10fed safle orffennodd Penycae a hyn yn welliant ar y 13eg yn y ddau tymor cynt ar y lefel yma.
Wrth edrych ar rhai o'r chwaraewyr newydd mae wedi arwyddo bydd y rheolwr Steve Walters yn sicr o anelu'n uwch y tro yma. Y profiadol Nicky Ward ydy ei chwaraewr hyfforddwr a hefyd arwyddwyd dau o gyn chwaraewyr profiadol Bangor, sef Dave Morley a Craig Garside. Bydd hyn yn ei gwneud yn wrthwynebwyr dipyn gwahanol eleni.
Bydd Paps am weld y garfan mae wedi'u hail strwythuro yn dod at eu gilydd a bydd yn cael hyder o'r perfformiad yn erbyn carfan brofiadol Dinas Salford. Wedi mynd tu ôl o ddwy gôl brwydrodd y tîm yn ôl ac, yn yr ail hanner, cyflymwyd y chwarae gan ddod yn ôl a sicrhau gêm gyfartal haeddiannol.
Pnawn Sadwrn dewch i gefnogi'r hogiau.

Here we go again as a new season starts and it's that time of year when all clubs can find a reason for optimism. This is the big one for Craig Papirnyk starting his first season in the Port hot seat. With the sparring of pre-season over now it's the real thing.
Penycae are the visitors on day one making their fourth visit to the Traeth since being promoted to the Huws Gray. Though they are yet to win at the Traeth few will need reminding of our last visit to Afoneitha Road almost exactly 12 months ago when Port were well beaten and conceded five goals. The Wrexham area club finished in 10th place last season and this represented an improvement on their 13th place in their previous two seasons at this level.
But manager Steve Walters is undoubtedly aiming higher this season, judging by some of his signings. He has the experienced Nicky Ward as his player coach and has brought in two more highly experienced players in the former Bangor City pairing of Dave Morley and Craig Garside. All of this could make this season's Penycae a very different prospect.
Paps will be looking to see his reconstructed squad gelling and the performance against a strong Salford City side, with their experienced squad, will have given him some confidence that this will happen. Having gone two goals down the squad was well tested and especially in the second period found an extra yard of pace which brought them back into the game to gain a well deserved draw. On Saturday why not get down to the Traeth and support the lads.
---
08/08/14
Cyfle HYSBYSEBU a NODDI / ADVERTISING and SPONSORSHIP
Mae na gyfle i unigolion neu fusnesau gefnogi y Clwb yn nhymor 2014-2015 drwy hysbysebu a noddi yn:
Y Cerdyn Rhestr Gemau am £60.
Yn y Rhaglen Swyddogol : chwarter tudalen £55, hanner tudalen £90,tudalen llawn £170.
Hysbysfwrdd ar ochr y cae £100 + ( £80 cost cynhyrchu am y tymor 1af yn unig)
Noddi gem £60
Noddi Chwaraewr £30
Os oes gennych ddiddordeb yna cysylltwch a Dylan Rees (Swyddog Marchnata) drwy e-bost: rees48wesla@gmail.com neu drwy ffonio 07900512345

There are opportunities for individuals and businesses to support the club in the new season 2014-2015 through advertising or sponsorship:
Fixture Card Advert £60
Match Programme : Quarter Page £55, Half Page £90, Whole Page £170
Perimeter Advertising Board £100 + (£80 one-off Production Costs)
Match Sponsorship £60
Player Sponsorship £30
If interested please contact Dylan Rees (Marketing Officer) by e-mail: rees48wesla@gmail.com or by phone 07900512345.
---
07/08/14
Salford pnawn Sadwrn (2.30pm) / Class92 tonight, Port Saturday!! (2.30pm)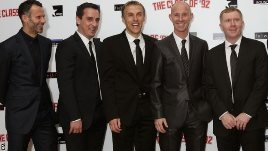 Heno roedd ein gwrthwynebwyr Dinas Salford yn croesawu Dosbarth 92 i'w cae yn Moor Green Lane. Roedd pob tocyn wedi'i werthu gyda 11,500 yn y stadiwm. Yn rheoli tîm Dosbarth 92 am y noson oedd cyn hyfforddwr Man Utd a Chymru, Eric Harrison. Y canlyniad oedd buddugoliaeth i Salford o 5-1 gyda Ryan Giggs yn sgorio gôl Dosbarth 92 o'r smotyn.

Tonight our opponents on Saturday, Salford City, hosted the Class of 92 at their home ground of Moor Green Lane. The game was a complete sell out with 11,500 packed into the ground. Former Man Utd and Wales coach, Eric Harrison was in charge of The Class of 92 team. The game ended in a 5-1 win for Salford City with Ryan Giggs scoring a penalty for the Class of 92.
---
07/08/14
Paul yn ôl i Bermo / Paul returns to Barmouth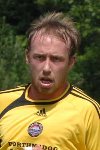 Bydd Paul Lewis yn gadael Port i ail ymuno â'r Bermo.
Dywedodd Craig Papirnyk, "Oherwydd galwadau gwaith mae diffyg amser wedi bod yn broblem iddo wrth baratoi at y tymor. Hefyd mae'n bwriadu dilyn cwrs plymar gan symud i Gaer ym mis Medi felly nid oedd yn gallu ymroi i'r clwb ac rwy'n gwerthfawrogi ei onestrwydd.
"Rwy'n parchu ei benderfyniad a'i onestrwydd ac yn dymuno'n dda iddo, pob lwc Lewis. Bydd y drws yn agor iddo ddychwelyd yn y dyfodol os bydd ei amgylchiadau yn newid."
Yn ogystal a Paul a Carl Owen eraill sydd wedi gadael y clwb ydy Gareth Jones Evans, i Gaergybi, a John Owen i Gaersws. Bu Gareth gyda Port am sawl tymor ond gafodd llawer o lwc gyda anafiadau. Mae'n chwaraewr ifanc talentog ac mae'r clwb yn dymuno'n dda i'r ddau yn y dyfodol.
Ychwanegodd Craig., "Byddaf yn arwyddo un neu ddau yn fwy o chwaraewyr yn ystod y dyddiau nesaf i gryfhau carfan ifanc, dalentog a chyffrous."

Paul Lewis will be leaving Port this week to rejoin Barmouth and Dyffryn.
Manager Craig Papirnyk said, "Commitment has been an issue for him as work hasn't allowed Paul to give his time over pre-season. He is also enrolling on a plumbing course and moving to Chester this September so with this in the back of his mind he has been very honest and said he cannot fully commit to us.
"I respect his decision and honesty and wish him all the very best, good luck Lewis. The door has been left open for him for a return in the future should his circumstances change."
In addition to Paul and Carl Owen others who have left the club are Gareth Jones Evans, who has joined Holyhead, and John Owen who joins Caersws. Gareth was with the club for several seasons but has not had the best of times with injury. He is a talented young player and the club wishes him and John all the very best in the future.
Craig added, "I will be announcing a few new signings in the next week to bolster what we already have, which is a young, talented and very exciting squad."
---
06/08/14
Croeso i Salford (cic gyntaf 2.30pm) / Welcome Salford City (K.O.2.30pm)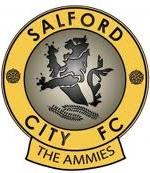 Pnawn Sadwrn bydd CPD Porthmadog yn croesawu clwb Dinas Salford i'r Traeth. Roedd hon yn addo bod yn gêm ddiddorol o'r cychwyn ond erbyn hyn mae'r diddordeb ar gynnydd wedi i'r clwb Adran Un, Uwch Gynghrair y Gogledd sicrhau cefnogaeth y 'Dosbarth 92,' a hyn yn eu taflu i sylw'r wasg genedlaethol.
Mewn cyfweliad diweddar dywedodd Phil Neville ar rhan ei frawd Gary Neville, Nicky Butt, Phil Scholes a Ryan Giggs eu bod i gyd yn uchelgeisiol iawn i'r clwb.
"Ein bwriad ydy aros efo hyn am y tymor hir. Mae yna stori dylwyth teg yn fan yma. Fedrwn ni gyrraedd Cynghrair Lloegr? A allwn fynd a Salford mor uchel a phosib? Bydd yn daith ffantastig.
"Mae potensial y clwb yn fawr. Rym yn sylweddoli y bydd yn cymryd nifer o flynyddoedd i gyrraedd y lle da ni am fod ynddo ond rhaid cael breuddwydion."
Wedi gorffen yn 19eg safle llynedd bydd y clwb, sy'n cael eu reoli gan Phil Power gynt o Crewe, yn edrych i godi i fyny'r tabl yn ystod y tymor hwn ac mae buddugoliaeth ganddynt dros Bury mewn gêm gyfeillgar cyn dymor yn barod. Edrychwn ymlaen i groesawu Salford i'r Traeth gan ddisgwyl prawf gwirioneddol i dîm Craig Papirnyk.

Next Saturday Porthmadog FC have the pleasure of welcoming Salford City to the Traeth. What was a very interesting fixture, breaking new ground for both clubs, has become even more so with the Northern Premier League Division One club gaining the backing of the Class of 92 which has catapulted the club into the national headlines.
In a recent interview Phil Neville speaking on behalf of his brother Gary Neville, Nicky Butt, Paul Scholes and Ryan Giggs said they have big ambitions for the club.
"We are in this for the long haul, not the short term. But there is a fairytale story to this. Can we get into the Football League? Can we take Salford City as high as we possibly can? It is going to be a fantastic journey.
"The club has massive potential. We know it is going to take a good few years to get where we want to be but you have got to have dreams."
After last season 19th place finish the club managed by former Crewe Alexandra player Phil Power will be looking to move up the table and their pre-season programme has seen them gain a victory over Bury. We look forward to welcoming Salford to the Traeth and expect a stern test for Craig Papirnyk's team.
---
03/08/14
Mwy yn arwyddo /More signings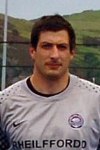 Mae Craig Papirnyk yn dal i adeiladu ei garfan ac mae tri chwaraewr arall wedi arwyddo. Mae Josh Banks a Richard Harvey, dau aelod o garfan llynedd, wedi arwyddo. Ar hyn o bryd mae Richard yn dal i wella o law driniaeth i'w gefn. Hefyd mae'r asgellwr/cefnwr Gwydion Ifan wedi ymuno â'r clwb ar ôl perfformiadau da mewn gemau cyn dymor.. Ymysg clybiau blaenorol Gwydion mae'r Bala a Rhuthun.

Craig Papirnyk continues to build his squad for the new season with three more players signing. Josh Banks and Richard Harvey both members of last season's squad have signed. Richard is currently recovering after his back operation. Gwydion Ifan a winger/wing back whose former clubs include Bala Town and Ruthin Town also signd after strong pre-season performances.
---
03/08/14
Dyddiad CWPAN WORD / WORD CUP date
Bydd y gêm yn erbyn TNS yng Nghwpan Word yn cael ei chwarae ar nos Fawrth 19 Awst gyda'r gic gyntaf am 7.30pm.

The Word Cup tie against TNS will be at the Traeth on Tuesday, 19 August with a 7.30pm kick off.
---
02/08/14
Chwaraewyr yn arwyddo / Players sign on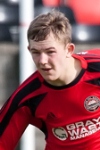 Mae Craig Papirnyk wedi cyhoeddi ei rhestr gyntaf o chwaraewyr sydd wedi arwyddo i'r clwb.
Mae Rob Evans, Paul Lewis, Ceri James, Eilir Edwards a Gruff Williams o garfan llynedd eisoes wedi ail arwyddo i'r clwb a bydd mwy yn gwneud yr un fath yn ystod y dyddiau nesaf.
Mae'r newydd ddyfodiaid yn cynnwys Iwan Lewis chwaraewr canol cae talentog, blaenwr Dave Edwards a chwaraeodd i'r Bermo a Chaersws llynedd, Darren Andrews (golwr) a Stuart Rogers (canol cae) , y ddau yn ymuno o'r Bermo. Hefyd mae'r chwaraewr canol cae profiadol Josh Hartrick wedi ymuno o Benrhyn-coch. Mae ganddo brofiad UGC i Aberystwyth, Y Drenewydd a Hwlffordd.
Cewch fanylion pellach am y chwaraewyr newydd yn fuan.

Craig Papirnyk has announced his initial list of players who have signed forms for 2014/15.
Rob Evans, Paul Lewis, Ceri James, Eilir Edwards and Gruff Williams of last season's squad have all signed and will be followed very shortly by several other s who played last season.
Newcomers whom Craig has already brought to the club are talented midfielder Iwan Lewis, forward Dave Edwards, who played last season for Barmouth and for Caersws, Darren Andrews a goalkeeper and midfielder Stuart Rogers both of whom played for Barmouth last season. Josh Hartrick is an experienced midfielder who joins from Penrhyncoch and he also has WPL experience with Aberystwyth, Newtown and Haverfordwest.
Further details and penpics of the new signings will appear shortly.
---
02/08/14
Damwain Ifor / Ifor's Accident
Gyda gofid derbyniodd swyddogion, chwaraewyr a chefnogwyr y newyddion a hynny yn ystod y gêm yn erbyn Pwllheli, am ddamwain Ifor Roberts yn ei gartref heddiw. Deallwn fod Ifor wedi disgyn a gwneud niwed drwg i'w benglog. Mae pawb ar Y Traeth yn anfon eu cofion ato ac at Angela ar gyfnod poenus ac yn dymuno adferiad llwyr i un a fu'n gyfaill, cefnogwr a gweithiwr dygn dros y clwb, a hynny am flynyddoedd lawer.

During today's game against Pwllheli officials, players and supporters were very concerned to receive the news of Ifor Roberts' accident at his home in Llanystumdwy. Ifor, a tremendous servant of the club, has suffered a serious head injury. All at the club send Ifor our very best wishes for his recovery and our thoughts are with him and Angela at this worrying time.
---