03/03/14
Dim Gêm pnawn Sadwrn / No game on Saturday
Mae gêm pnawn Sadwrn yn erbyn Rhaeadr yn symud i nos Fercher, 9 Ebrill gan fod swyddogion y clwb o'r canolbarth yn gysylltiedig â threfniadau rownd cynderfynol Tlws CBDC sydd yn cael eu chwarae ar y Weirglodd ar 8 Mawrth.

Saturday's home fixture against Rhayader has been switched to Wednesday, 9 April as officials of the mid-Wales club will be involved with arrangements for the FAW Trophy semi-final to be played at the Weirglodd on 8 March.
---
02/03/14
Penrhyn v Llanrug / Traeth Semi-final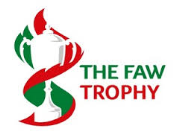 Bydd CPD Penrhyndeudraeth a Llanrug yn cyfarfod yn rownd gynderfynol Tlws y Gymdeithas Bêl-droed ar y Traeth nos Fawrth (04 Mawrth). Bydd y gic gyntaf am 7.30pm. Edrychwn ymlaen at chwip o gêm rhwng y ddau glwb.
Cyrhaeddodd Penrhyn y rownd yma yn dilyn buddugoliaeth 2-0 oddi cartref yn erbyn Trefelin clwb o ardal Port Talbot. Sgoriwyd goliau Penrhyn gan Paul Roberts a fu'n ffefryn ar y Traeth am nifer o dymhorau. Aeth Llanrug drwodd diolch i fuddugoliaeth o 3-2 dros glwb FC Nomads. Bydd enillwyr gêm nos Fawrth yn chwarae Y Waun neu Ton&Gelli yn y ffeinal.

CPD Penrhyndeudraeth and Llanrug United will meet in the semi final of the FAW Trophy at the Traeth on Tuesday (04 March). The kick off will be at 7.30pm. We can look forward to a cracking cup-tie.
CPD Penrhyndeudraeth reached the semi-final stage with a 2-0 win over Port Talbot area club Trefelin. Former Traeth favourite Paul Roberts scored both Penrhyn goals. Llanrug went through thanks to a 3-2 win over FC Nomads. The winners of Tuesday night's game will take on Chirk AAA or Ton&Gelli in the final.
---
28/02/14
Datganiad Treffynnon / Holywell Statement
Rhyddhawyd y datganiad isod gan glwb Treffynnon heddiw ynglyn a'r gêm fawr 'fory.

'Holywell Town Football Club believe that tomorrow's massive Welsh Cup game could see the biggest crowd at Halkyn Road for a number of years and the club are urging supporters to arrive at the ground early to alleviate congestion at the main gate in the minutes leading up to kick off.
This will enable supporters to see all of the game and will reduce queues at the gate as 2.30pm approaches. Supporters are also reminded that there is limited number of car parking spaces behind the main stand and once the car park is full, Supporters will have to use the car park on top of the track leading to the ground parallel to the Hospital Car Park. Once the car park is full, the track will be coned off. The Porthmadog Supporters Bus will have to park on top of the track and supporters will have to walk down to the main gate on foot due to the height barrier on top of the track.
Saturday's game should be a great day for Officials, Players and Supporters of both clubs, and with supporters urged to get to the ground as early as 2.00pm, this will not spoil the enjoyment for supporters as both clubs aim to reach the semi-final of the Welsh Cup for the first time in their history.'

Holywell Town FC have released the above statement with reference to parking arrangements for tomorrow's Welsh Cup Quarter Final.
---
27/02/14
Bws i Dreffynnon / Coach to Holywell
Cadarnheir y bydd bws cefnogwyr/chwaraewyr yn mynd i Treffynnon ddydd Sadwrn. Bydd yn gadael y Queens am 11am. Bydd yna dâl o £5. Os nad ydych wedi bwcio sedd cysylltwch ar unwaith gyda Phil (symudol 07816213188).

We can confirm that a supporters/players coach will be going to Holywell on Saturday. The coach will depart from the Queens at 11am. There will be a charge of £5. If you have not yet booked a seat then please get in touch asap with Phil (Mob: 07816213188).
---
27/02/14
Rhagolwg: Cwpan Cymru / Welsh Cup Preview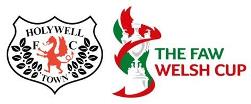 Os ydy pêl-droed yn anodd i'w ddarogan mae pêl-droed Cwpan yn aml yn amhosib. Cyrhaeddodd Treffynnon yr wyth olaf o Gwpan Cymru ar ôl lluchio dau o glybiau y Cymru Alliance o'r gystadleuaeth a wedyn creu sioc fwy wrth guro Y Drenewydd un o'r chwe uchaf yn UGC. Ond ynghynt yn y tymor cafodd Treffynnon eu hun ddeall mor anwadal ydy gemau cwpan wrth i CPD Penrhyndeudraeth -o adran is- eu curo yn Nhlws y Gymdeithas Bêl-droed. Bydd Penrhyn yn cyfarfod Llanrug nos Fawrth (7.30pm) ar Y TRAETH yn rownd cynderfynol y gystadleuaeth.
Felly y tîm sydd yn perfformio ar y dydd, yn barod am yr achlysur a chyflwr y cae aiff a hi. A barnu wrth sylwadau rheolwr Y Drenewydd Chris Hughes eu methiant i wneud hyn a gostiodd y gêm iddynt.
Meddai Hughes, "It's never nice to lose. And to lose in the manner that we did, conceding sloppy goals. "... overall I think we dominated, but we weren't good enough in both boxes.
"It is always going to be difficult when you go three goals down from giving them cheap goals. "But we were careless, it was a careless performance."
Mae Treffynnon yn wrthwynebwyr peryg ac wedi colli ond unwaith ar eu cae eu hunain y tymor hwn. Mae ganddynt chwaraewr sy'n sgorio goliau gyda Sam Jones ac 16 a Steve Thomas a chyn chwaraewr Port Graham Boylan hefyd wedi cyrraedd ffigyrau dwbl. Mae Port ddwywaith wedi dibynnu ar goliau hwyr iawn i gyrraedd y rownd yma ond pnawn Sadwrn bydd y ddau dîm yn ymwybodol iawn o'r angen i fanteisio ar y cyfleoedd wrth iddynt ddigwydd.
Gêm fawr. Cefnogwch yr hogiau!!

If football is an unpredictable game, Cup football is an absolute law unto itself. Holywell Town reached the last eight of the Welsh Cup having bounced out two Cymru Alliance clubs and then created the biggest shock of this year's competition by beating top six WPL club, Newtown. Earlier in the season however Holywell were themselves victims of this unpredictability and were put out of the FAW Trophy by, one league below, CPD Penrhyndeudraeth. Penrhyn will now take on Llanrug on Tuesday (7.30pm) at the TRAETH in the semi-final of that competition.
It has to be a case of the performance on the day, being up for the occasion and playing the conditions. Judging by their manager Chris Hughes's post match comments, failure to do this is exactly what happened to Newtown.
Hughes said, "It's never nice to lose. And to lose in the manner that we did, conceding sloppy goals.
"... overall I think we dominated, but we weren't good enough in both boxes.
"It is always going to be difficult when you go three goals down from giving them cheap goals.
"But we were careless, it was a careless performance."
Holywell are dangerous opponents having lost just once on their own ground this season. They have regular goalscorers with Sam Jones leading the way with 16 goals while Steve Thomas and former Port striker Graham Boylan have also reached double figures. In their cup run Port have twice relied on late goals to reach this stage, but on Saturday both sides will be aware that success may well depend on the need to take chances when they come.
Big game support the lads!!
---
26/02/14
Creu Hanes / Make History

"Ewch allan a chreu hanes", oedd neges Phil Jones i dîm Gareth Parry cyn y gêm yn rownd yr wyth olaf yn Nhreffynnon pnawn Sadwrn.
"Dyma'r nawfed tro inni gyrraedd rownd yr wyth olaf o Gwpan Cymru ond erioed wedi mynd ymhellach. Dyma'r cyfle. Dim ond y nawfed mewn mwy na chanrif i gyrraedd y rownd yma. Ni fydd yn hawdd ennill a bydd Treffynnon yn teimlo yn union yr un fath –cyfle rhy dda i fethu."
Y tro cyntaf inni gyrraedd yr wyth olaf oedd yn 1901/02. Gwrthwynebwyr: Carnarvon Ironopolis. Enillwyr y Gwpan: Wellington Town
1955/56 Gwrthwynebwyr: Croesoswallt (colli wedi ail, ail chwarae!) Enillwyr y Gwpan: Caerdydd
Dwywaith yn y chwedegau
1965/66: Gwrthwynebwyr: Abertawe (colli'r ail chwarae) Enillwyr y Gwpan: Abertawe.
1968/69: Gwrthwynebwyr: Henffordd. Enillwyr y Gwpan: Caerdydd.
1975/76 Gwrthwynebwyr: Henffordd. Enillwyr y Gwpan: Caerdydd.
Dwy flynedd yn olynol yn y nawdegau
1994/95 Gwrthwynebwyr: Abertawe. Enillwyr y Gwpan: Wrecsam.
1995/96 Gwrthwynebwyr: Cwmbrân. Enillwyr y Gwpan: Llansantffraid.
2006/07 Gwrthwynebwyr: Caerfyrddin(ciciau o'r smotyn). Enillwyr y Gwpan: Caerfyrddin.
(Diolch i Gerallt Owen am yr ystadegau)

"Go out and make history" was Phil Jones's message to Gareth Parry's team ahead of Saturday's huge quarter-final tie at Holywell.
"This is our ninth appearance in the quarter-finals of the Welsh Cup but we have never made it to the semi-finals. This is our opportunity. This squad of players is only the ninth in over a century to reach this stage. Winning will not be easy and Holywell will be feeling exactly the same as we do –a chance too good to miss."
The club first reached the QF in 1901-02. Opponents: Carnarvon Ironopolis. Cup Winners: Wellington Town
1955/56 Opponents: Oswestry Town (beaten after 2nd replay) Cup winners: Cardiff City
Twice in the sixties
1965/66 Opponents: Swansea Town (beaten after replay) Cup Winners: Swansea Town
1968/69 Opponents: Hereford United. Cup Winners: Cardiff City.
1975/76 Opponents: Hereford United. Cup Winners: Cardiff City.
Twice in the nineties in successive seasons
1994/95 Opponents: Swansea City. Cup winners: Wrexham.
1995/96 Opponents: Cwmbran Town. Cup Winners: Llansantffraid
2006/07 Opponents: Carmarthen Town (lost on penalties) Cup Winners: Carmarthen Town
(Thanks to Gerallt Owen for the stats)
---
26/02/14
Dangos eich lliwiau / Show your Colours
Mae'r gêm fwyaf ers blynyddoedd yn ein haros pnawn Sadwrn ac mae'r chwaraewyr yn ymwybodol o hynny a neb angen mwy o ysbrydoliaeth. Byddai presenoldeb carfan gre o gefnogwyr i gyd yn codi lleisiau yn medru gwneud gwahaniaeth. Felly dangoswch eich lliwiau ac ewch tu cefn i'r tîm. Byddai'r chwaraewyr wrth eu boddau i dderbyn cefnogaeth ein ffrindiau o dros y ffin rhai sydd wedi bod mor driw yn y gorffennol gan obeithio fod gêm yn Treffynnon yn gyfleus o ran pellter.
Os oes angen y lliwiau cywir arnoch –crysau, sgarffiau, hetiau ayb- medrwn sicrhau eu fod ar gael i'w prynu pnawn Sadwrn. Prisiau i'w gweld ar siop y wefan. Gadewch inni wybod a fel Oscar dangoswch eich lliwiau.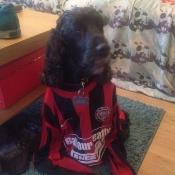 The biggest game for many years awaits on Saturday and the players are well aware of that and will not need lifting. But the presence of a strong contingent of supporters in good voice could help to tip the balance. So wear your colours on Saturday and get behind the team. The players would be delighted to see and hear our cross border supporters, old friends who have provided tremendous backing in the past and hope that a game in Holywell will provide a convenient venue.
If anyone needs the right colours to wear -replica shirts, scarves, hats etc - we can make them available for sale on Saturday. Prices as per website club shop. Let us know and like Oscar wear your colours.
---
25/02/14
Hogiau'r Ffynnon / The Wellmen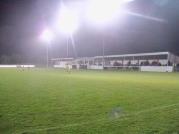 Rheolwr Treffynnon ydy'r cyn chwaraewr John Haseldin ac yn ei gynorthwyo mae John James, sef tad chwaraewr canol cae allweddol Port, Ceri James. Cysylltiad arall rhwng y ddau glwb ydy'r blaenwr Graham Boylan a chwaraeodd hefyd dros Port rhwng 2012-13. Roedd y ddau glwb hefyd yn aelodau gwreiddiol o'r Cymru Alliance a Chynghrair Cymru. Apwyntiwyd Haseldin yn reolwr yn 2012/13. Collodd y clwb allan ar ddyrchafiad i'r Cymru Alliance llynedd o drwch blewyn i Gaernarfon ac yn edrych yn debygol iawn o fethu eto eleni , y tro yma i Ddinbych.
Ond mae'r clwb o'r Welsh Alliance wedi mynd a'u tymor i lefel wahanol wrth guro Y Drenewydd. Mewn rowndiau blaenorol curwyd dau glwb o'r Cymru Alliance yn gyfforddus sef Penrhyncoch a Penycae. Bydd hyn i gyd yn ogystal a'u record adre dda yn rhoi mantell y ffefrynnau iddynt ar gyfer pnawn Sadwrn.
Y tro diwethaf i'r ddau glwb gyfarfod yng Nghwpan Cymru oedd ym mis Hydref 1998 a Treffynnon aeth drwodd o 2-0 ar y Traeth. Hefyd enillodd y clwb o Sir y Fflint gêm gyfeillgar yn ein herbyn cyn ddechrau'r tymor hwn. Ond i gadw'r ddysgl yn wastad y tro diwethaf i'r ddau gyfarfod mewn gêm gynghrair gystadleuol ym Mawrth 2003 –tymor dyrchafiad Port- Port cafodd y fuddugoliaeth a hynny o 8-1 ar y Traeth gyda Carl Owen a Gareth Parry ymysg y sgorwyr.
Un o gyfnodau gorau Treffynnon oedd dan rheolaeth un o hogiau Port, Glyn Griffiths, pan fu'r clwb yn agos at sicrhau lle yn Ewrop. Yn 1992/93 gorffennodd y clwb yn 6ed yn UGC a 5ed yn 1993/94.

Holywell Town are managed by former player John Haseldin who is assisted by John James the father of key Port midfielder Ceri James. Another link between the two clubs is forward Graham Boylan who played for Porthmadog in 2012-13. Both clubs were also founder members of both the Cymru Alliance and the League of Wales. Haseldin was appointed manager for the 2012/13 season. The club missed out on promotion to the Cymru Alliance last season, pipped by Caernarfon, and look set to miss out this season again this time to Denbigh Town.
But the Welsh Alliance club have taken their season to a different level with their super victory over Newtown. In previous rounds they have also comfortably dispatched Cymru Alliance clubs, Penrhyncoch and Penycae. This together with their home record will surely give them the favourite's mantle on Saturday.
The last time the two clubs met in the Welsh Cup was back in October 1998 and Holywell went through by 2-0 at the Traeth. The Flintshire club also won a pre-season encounter back in July. But to restore the balance a little the last time for the two clubs to meet in a competitive league match was in March 2003 –Port's promotion season- with Port winning by 8-1 at the Traeth with Carl Owen and Gareth Parry among the scorers.
One of Holywell's most successful periods was under the management of Porthmadog's Glyn Griffiths when they almost qualified for Europe. The club achieved a LoW placing of 6th in the 1992–93 and 5th in 1993–94.
---
25/02/14
Anrhydedd i Josh Stadnicki / Honour for Josh Stadnicki
Llongyfarchiadau i Josh Stadnicki sydd wedi'i ddewis i garfan pêl-droed Prifysgolion Cymru. Myfyriwr ym Mhrifysgol Bangor ydy Josh a fydd yn rhan o'r garfan i chwarae gweriniaeth Iwerddon a'r Alban.
Mae Josh a hefyd Dilan Lomas yn rhan o dîm Prifysgol Bangor sydd yn cael tymor llwyddiannus iawn ac wedi ennill eu holl gemau yn eu cynghrair prifysgolion.

Congratulations to Josh Stadnicki who has been selected to play for the Welsh Universities representative team. Josh is a student at Bangor University and will be part of the squad to play the Republic of Ireland and Scotland.
Both Josh and Dilan Lomas are part of a successful Bangor University team who have a 100% record in their University League for this season.
---
24/02/14
Bws Cefnogwyr / Supporters Coach
Os fydd yna ddigon o ymateb bydd bws i gefnogwyr yn cael ei drefnu ar gyfer gêm Cwpan Cymru -Rownd yr Wyth Olaf- yn Nhreffynnon ddydd Sadwrn nesaf, 1af Mawrth. Pa ffordd well i dreulio Gwyl Ddewi . Cysylltwch a Kaleidoscope 01766 514343 neu Symudol: 07816213188 neu ar e-bost: gwefeistr@cpdporthmadog.com

If there is a good response there will be a supporters coach for Saturday's (1st March) Welsh Cup Quarter Final at Holywell. What better way to enjoy St David's Day! Contact: Kaleidoscope 01766 514343 or Mob; 07816213188. You can also contact on e-mail: webmaster@porthmadogfc.com
---
22/02/14
Treffynnon nesaf / Holywell Town next

Gwrthwynebwyr nesaf Port yng Nghwpan Cymru fydd Treffynnon. Cafodd y clwb o'r Welsh Alliance fuddugoliaeth nodedig dros Y Drenewydd, sydd yn chwe uchaf yr Uwch Gynghrair. Roedd Treffynnon 3-0 ar y blaen ar yr hanner diolch i goliau Paul Williams, Sam Jones a Steve Thomas. Er i'r clwb Uwch Gynghrair frwydro 'nol yn yr ail hanner a dod a'r sgôr yn ôl i 3-2 nid oedd angen amser ychwanegol gyda Treffynnon yn mynd drwodd.
Edrychwn ymlaen i deithio i Ffordd Halkyn pnawn Sadwrn nesaf i chwarae am y wobr fawr – lle yn y rownd cynderfynol. Pa delerau fyddech wedi cael gan y bwci ar ddechrau'r gystadleuaeth am i Dreffynnon neu Port fod un rownd o'r ffeinal???

Port's next Welsh Cup opponents will be Holywell Town. The Welsh Alliance club gained a notable victory over Newtown, top six finishers in the WPL. The Wellmen were 3-0 up at half-time thanks to goals from Paul Williams, Sam Jones and Steve Thomas. Though the WPL club staged a second half fight back and reduced the arrears scoring twice, they failed to force the game into extra-time.
We now look forward to visiting Halkyn Road next Saturday with a semi-final place as the prize. What odds I wonder could we have had at the start of the competition for either Holywell or Port reaching the semi-final???
---
21/02/14
Capten ifanc Port / Port's young captain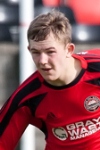 Llongyfarchiadau i Gruffydd John Williams a ddewiswyd yn gapten ar Port ar gyfer gêm bwysig yng Nghwpan Cymru ddydd Sadwrn diwethaf. Gyda Neil Thomas, capten arferol y clwb, yn derbyn cerdyn coch yng Nghonwy, cymrodd y chwaraewr ifanc y cyfrifoldeb mewn gêm o'r pwys mwyaf . Nid oedd angen ysbrydoli neb pnawn Sadwrn ond arweiniodd Gruff drwy esiampl gyda perfformiad cadarn yn safle'r cefnwr de.
Meddai'r cadeirydd Phil Jones, "Rwy'n siwr mai Gruff, yn bedair ar bymtheg oed, ydy'r capten ieuengaf yn hanes y clwb a gwnaeth sioe dda ohoni hefyd. Os oes rhywun yn gwybod am gapten ieuengach carwn glywed amdano."

Congratulations to Gruffydd John Williams who at just 19 years old was the Port captain on Saturday for the vital Welsh Cup tie. With usual club captain Neil Thomas receiving a straight red card at Conwy the new young captain could not have had a more important game to make the step up. The team were not lacking inspiration but Gruff led by example putting in a great stint at right back.
Chairman Phil Jones says "'I'm sure Gruff, at nineteen, must be the youngest captain in the history of the club and what a fine job he did. If anyone knows of a younger Port captain then we would like to hear from you."
---
21/02/14
Bwcle pnawn Sadwrn / Buckley on Saturday

Pnawn Sadwrn bydd Port yn teithio i Fwcle ar gyfer y gêm gynghrair ar Globe Way. Yn dilyn llwyddiant yn y Gwpan pnawn Sadwrn diwethaf mae sylw Gareth Parry yn troi at y gynghrair, "Rwan rhaid troi at wella ein safle yn y tabl gan ddechrau yn Bwcle. Da ni ddim yn agos at lle ddylem fod yn y tabl. Mae yna saith gêm yn weddill i ddringo'r tabl. Bydd yn anodd bellach i orffen yn y pump uchaf ond dyna ddylem ni anelu ato."
Bydd Port yn gorffen y tymor gyda pump o'r chwe gêm olaf ar Y Traeth ond bydd angen gwella'r perfformiad yno ar ôl colli'n wael yn erbyn Bwcle o 3-1. Dim ond un gêm gynghrair mae Bwcle wedi chwarae ers troad y flwyddyn a gan eu bod yn dal yn y tri isaf byddant yn edrych i wneud y dwbl er mwyn gwella eu safle. Nos Fercher curodd Bwcle eu gêm yn erbyn Y Wyddgrug, gêm cwpan rhanbarthol, o 4-3.

On Saturday Port will travel to Buckley for a league fixture at Globe Way. Following their Welsh Cup success last Saturday Gareth Parry said "We now must turn to improving our league position starting with the visit to Buckley. We are nowhere near where we should be in the table. We have seven games remaining and must start climbing the table. Though it is difficult now to achieve a top five finish it is still something we must aim for."
Port end the season with five of their last six games at home but they will need to improve on the home form shown against Buckley going down badly by 3-1. Buckley have only played one league game since the turn of the year and still placed in the bottom three, they will be looking for a double to improve their position. On Wednesday Buckley defeated Mold Alex by 4-3 in their regional cup tie.
---
20/02/14
Dail y Post ar y marc! / Daily Post spot on!

Roedd yn wych gweld y sylw ardderchog, ddydd Llun ddiwethaf, yn y DAILY POST o'r fuddugoliaeth arbennig yng Nghwpan Cymru pnawn Sadwrn. Mae'r diolch yn ddyledus fel arfer i Dave Jones ffrind mawr i bêl-droed yn yr ardal, ar bob lefel. Cafwyd y stori ar draws dwy dudalen gyda thri llun lliw i gyd yn gwneud cyfiawnhad â gêm wirioneddol gyffrous. Gwych, da iawn a diolch!

It was great to see the superb DAILY POST coverage on Monday of Port's outstanding Welsh Cup victory at the Traeth last Saturday. Thanks, as ever, are due to Dave Jones the great friend of football at all levels in the area. A double page spread with three colour action photos did justice to what was a thrilling encounter. Brilliant, well done and thanks!
---
20/02/14
Taro'r Post / Radio Cymru

Mae llais y cadeirydd Phil Jones wedi 'i glywed yn reolaidd ar Radio Cymru yn ddiweddar! Heddiw cafodd ei holi ar yr effaith mae'r tywydd yn cael ar y rhestr gemau. Ond gyda'r Traeth yn draenio mor sydyn ni bu'n rhaid gohirio gêm oherwydd glaw ers 2005. Gwahanol iawn ydy'r hanes gyda eraill a holwyd. Roedd un clwb a 26 o gemau yn aros i'w trefnu cyn ddiwedd y tymor ac eraill heb lwyddo i chwarae gêm o gwbl ers cyn 'Dolig. Manteisiodd Phil ar y cyfle, hefyd, i atgoffa Sgorio eu bod wedi methu gêm ardderchog pnawn Sadwrn, un a fyddai wedi llenwi ychydig ar y sylw braidd yn denau o bêl-droed Cymru a oedd yn anorfod ar rhaglen nos Lun.

Our chairman, Phil Jones has been something of a regular on Radio Cymru recently. Today he was quizzed on the effect the weather is having on fixtures. The speed at which the Traeth drains, even after the heaviest rain, means that the last time the ground became waterlogged was back in 2005. Several others interviewed had a very different tale to tell with one club having as many as 26 fixtures to arrange before the end of the season with others reporting that they had been unable to fulfil a single fixture since before Christmas. Phil did not miss the opportunity either to remind Sgorio that they missed out on an excellent game, last Saturday, to pad out their enforced thin coverage of Welsh football in Monday's programme.
---
20/02/14
Dim Sgorio / No Sgorio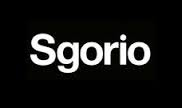 Synnwyd a siomwyd cefnogwyr Port gan absenoldeb camerâu Sgorio o'r Traeth ar achlysur y gêm yng Nghwpan Cymru. Cyrhaeddodd y clwb wyth olaf y gystadleuaeth wrth guro Trefynwy o 3-2. Roedd cefnogwyr wedi disgwyl i'r camerâu fod yna gan i Sgorio fynd ati i adeiladu sgaffaldau i'w camerâu ar gae Trefynwy at y gêm wreiddiol.
Pan cwestiynwyd -drwy'r Trydar- eu diffyg presenoldeb ar Y Traeth –lle mae yna Gantri Deledu- ymatebodd swyddogion Sgorio a dweud, "Nid oes gan y gantri y gwaith papur perthnasol –rhy hwyr i'w wneud ddoe."
Y synod efallai ydy nad oedd ystyriaeth wedi bod ynghynt na'r diwrnod cyn y gêm. Y canlyniad oedd mae gêm TNS yn unig oedd ar gael ar gyfer y rhaglen. "O ystyried y tywydd diweddar ,meddai'r Cadeirydd, Phil Jones, rwy'n synnu nad oedd dod i gae a record wych o beidio ildio i'r tywydd, ddim yn opsiwn i'w ystyried yn gynnar yn wythnos y gêm."
Byddai cael y camerâu yno wedi bod yn wobr am waith caled y tirmyn ac hefyd i chwaraewyr y ddau dîm am gracyr o gêm.

Port supporters were both surprised and disappointed that 'Sgorio' decided not to send their cameras to cover the Welsh Cup tie at the Traeth on Saturday when the club reached the quarter finals of the competition beating Monmouth Town by 3-2. Many supporters had expected a visit, given the fact that the S4C sports programme had gone to the trouble of erecting scaffolding for their cameras at Monmouth's ground for the original tie.
When their lack of presence at the Traeth -where there is a TV Gantry- was queried via Twitter Sgorio officials' responded saying, "The gantry doesn't have relevant H&S paperwork - too late to sort it out yesterday."
It is perhaps surprising that consideration had not been given to covering the game sooner than the day before. As it happened Sgorio ended up with just the TNS game on their programme. "Given the weather, said Chairman Phil Jones, I am very surprised that covering a game at the Traeth, given the ground's record for getting games played, was not an option considered early in the week leading up to the weekend matches."
The presence of the cameras would have been a just reward for the hard work put in by the ground staff and the players of both sides who put on a cracker of a game.
---