09/01/14
Newid i'r rhestr gemau / Changes to fixture list
Gyda chytundeb y ddau dîm a hefyd y gynghrair chwaraeir y gêm rhwng CAERNARFON a PORTHMADOG ar nos Wener 17 Ionawr gyda'r gic gyntaf am 7.30pm.
Hefyd mae newidiadau wedi'i gwneud i rhestr y gemau ar gyfer mis Chwefror. Gwnaed hyn o ganlyniad i'r ffaith fod Port yn dal yng Nghwpan Cymru ac fod angen gwneud newidiadau oherwydd y gohiriadau yn dilyn y tywydd gwael. Dyma rhestr gemau Chwefror:
01/02/14 Trefynwy v Porthmadog
08/02/14 Porthmadog v Derwyddon Cefn
11/02/14 Conwy v Porthmadog
15/02/14 Porthmadog v Llanidloes
22/02/14 Bwcle v Porthmadog
Mae'r Rhestr GEMAU ar y wefan wedi'i addasu i ddangos y newidiadau.

With the agreement of both teams and the league the fixture between CAERNARFON Town and PORTHMADOG will now be played on Friday, 17 January kick off 7-30 pm.
The league has also announced some changes to the fixture list for February. These are necessary in response to Port's continued Welsh Cup involvement and the need to make changes after the cancellations some clubs have suffered resulting from adverse weather conditions. Here are Port's rearranged February fixtures.
01/02/14 Monmouth v Porthmadog
08/02/14 Porthmadog v Cefn Druids
11/02/14 Conwy Borough v Porthmadog
15/02/14 Porthmadog v Llanidloes
22/02/14 Buckley v Porthmadog
The FIXTURE list on the website has been adjusted to reflect the changes.
---
09/01/14
Rhagolwg / Preview: v Caersws

Caersws bydd yn ymweld â'r Traeth pnawn Sadwrn. Gall Caersws ar eu dydd guro unrhyw dîm yn y gynghrair. Dangoswyd hyn wrth iddynt fod y cyntaf yn y tymor hwn i guro Derwyddon Cefn. Fel Port mae'r clwb o'r canolbarth drwodd i 4ydd rownd Cwpan Cymru yn dilyn buddugoliaeth dda dros Gei Conna. Os fuoch yn gwylio'r uchafbwyntiau ar 'Sgorio' fe welsoch berfformiad arbennig gan Neil Mitchell, chwaraewr a achosodd ddigon o broblemau i Port hefyd dros y blynyddoedd.
Y tro diwethaf i'r ddau glwb gyfarfod yn ôl ym mis Medi cafodd Caersws y fuddugoliaeth o 4-3. Ond hanner y stori ydy'r sgôr gan i Caersws fynd ar y blaen o 4-0 cyn i ymdrech hwyr Port ddod a'r sgôr yn ôl i 4-3 diolch i dair gôl mewn 12 munud. Mae Caersws yn medru bod yn fygythiad o flaen y gôl wrth iddynt dorri'n sydyn. Mae ganddynt record dda oddi cartref hefyd ac wedi ennill 8 o'u deg gêm ar y ffordd.
Yn eu 5 gêm ddiwethaf mae Port wedi sicrhau tair buddugoliaeth ac un gêm gyfartal ac felly yn fwy optimistaidd wrth geisio dringo'r tabl. Cafwyd hwb wrth groesawu Gareth Jones Evans yn ôl ac mae sawl perfformiad unigol da wedi bod ond yn bennaf mae'r gwelliant yn dod o'r gwaith tîm cyfan. Bydd yna brawf anodd yn aros y tîm cartref pnawn Sadwrn ond fel mae Treflyn yn dweud ar y fforwm "Amdani rwan yn erbyn Caersws. Mae 'n hen bryd i ni guro'r rheiny!!! "

Caersws will be the visitors to the Traeth on Saturday. The mid-Wales club are capable of beating any team in this league on their day as they showed when they inflicted a first defeat of the season on league leaders Cefn Druids at the Rock. Like Port, the mid-Wales side have secured their place in the last 16 of the Welsh Cup with an excellent win over Connah's Quay Nomads. Those who saw the highlights on 'Sgorio' will have seen an outstanding performance from Neil Mitchell, a player who over the years has also caused Port their fair share problems.
The last time the two clubs met was back in September when the mid-Wales club triumphed by the odd goal in seven. But that does not tell the whole story of a game where Caersws romped into a 4-0 lead and despite a late fight back scoring three goals in 12 minutes, Port fell just short of squeezing a point from the game. Caersws possess plenty of goal threat and pose a real danger on the break. They have a good record on the road, winning eight of their ten away games this season.
Three good wins and a draw in the last five games have made Port more optimistic that they can make a push up the table. The return of Gareth Jones Evans has provided a timely boost and there have been other good individual performances but above all the progress has come from good all round team performances. This progress will be put to the test on Saturday though as Treflyn says on the forum "Let's beat Caersws for once!!!"
---
07/01/14
Sylwadau Gareth Parry/ Gareth Parry's views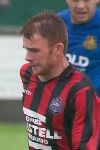 "Dwi'n hapus iawn efo'r perfformiad," meddai Gareth Parry yn edrych yn ôl ar y fuddugoliaeth o 3-0 pnawn Sadwrn.
" Y tro yma cafodd ein perfformiad y canlyniad roedd yn haeddu ond rwy'n teimlo ein bod wedi chwarae cystal yn y gemau yn erbyn Cegidfa a'r Fflint. Yn wir mae'n deg dweud ein bod wedi creu gymaint, os nad mwy o gyfleoedd, yn y ddwy gêm yna nac yn erbyn Caergybi. Y gwahaniaeth mawr pnawn Sadwrn oedd ein bod wedi cymryd y cyfleoedd.
"Gwnaeth gôl gynnar Neil ein setlo a wedyn gwelwyd darnau o'r hyn mae Gareth Jones Evans yn medru gwneud. Dwi'n edrych ymlaen i'w weld pan fydd wedi adennill ffitrwydd llawn!!
"Cafodd Eilir Edwards ei gêm orau i'r clwb. Nid yn unig am ei waith ar y bêl ond hefyd oddi ar y bêl gan ein rhoi ar y droed flaen drwy'r gêm. Roedd gwaith caled Carl yng nghanol cae yn allweddol ac unwaith eto cafwyd perfformiad da gan yr hogiau ifanc yn y cefn yn rhwystro Caergybi rhag sgorio.
"Byddwn yn ôl yn ymarfer nos yfory yn paratoi am gêm anodd yn erbyn Caersws. Os cawn berfformiad tebyg i'r rhai a cafwyd yn ddiweddar bydd yna siawns dda i sicrhau canlyniad boddhaol."

"I was very pleased with our performance," said Gareth Parry taking a look back at Saturday's 3-0 victory.
"It was a case of our performance getting the result it deserved. We played equally well when we lost at home to Guilsfield and drew at Flint. In fact it is probably fair to say that we created more chances in those two games than we did against Holyhead. The real difference was that on Saturday we took our chances.
"Neil Thomas steadied us down with an early goal and Gareth Jones Evans started to show us just a part of what he is capable of producing. I look forward to seeing him operating when he gets to full fitness!!
"I thought Eilir Edwards had his best game to date for us. Not only his work on the ball but also his covering and work off the ball which put us on the front foot throughout. Carl Owen got through a great deal of work in midfield with the young lads at the back again performing well and deserving their clean sheet.
"We will be training tomorrow night, preparing for a difficult challenge against Caersws but if we continue to play as we have in recent weeks we have a good chance of getting a result."
---
07/01/14
Un gêm yn unig / One game only
Fel hyn mae gwefan swyddogol Huws Gray Alliance yn adrodd am ein gêm ar y Traeth ddydd Sadwrn.
"Dim ond un gêm llwyddodd i guro'r tywydd mewn rhaglen gyfyngedig o gemau cwpan a chynghrair. Clod mawr i Borthmadog am lwyddo i chwarae eu gêm gartref yn erbyn Caergybi . Cawsant eu gwobrwyo gyda buddugoliaeth o 3-0. Aethant ar y blaen ar yr hanner, diolch i goliau Neil Thomas a Gareth Jones Evans gyda Thomas gyda'i ail yn yr ail hanner yn sicrhau'r pwyntiau."
Felly da iawn i'n tirmon /gadeirydd Phil Jones am wneud yn siwr fod y cae yn cyrraedd safon dda er waethaf y tywydd. Roedd yn cael ei werthfawrogi gan y chwaraewyr gyda Craig Papirnyk yn trydar ei ddiolch i Phil (gwelir isod). Mae lluniau o'r gêm ar y wefan. Edrychwch ar wynebau'r hogiau yn yr eisteddle wrth iddynt weld gôl wych Gareth Jones Evans yn mynd am y rhwyd!

The Huws Gray Alliance official website reports on our game last Saturday like this:
"Only one game beat the weather in a restricted league and cup schedule. Great credit must go to Porthmadog for getting today's game on at home to Holyhead Hotspur and they were rewarded with a three nil victory. Goals from Neil Thomas and Gareth Evans-Jones had them ahead at the break and a second for Thomas in the second have gave them the points. "
So it's well done to our chairman /groundsman Phil Jones for producing what was an excellent surface in very difficult weather conditions. The players also appreciated the work done with Craig Papirnyk tweeting "thanks to Phil and all the team @CPDPorthmadogFC for getting the game on ! #GreatEffort "
Photos of the game have now been uploaded on the website. Check out the faces of the lads in the stand as they watch Gareth Jones Evans' goal bound superchip!
---
04/01/14
Dyddiad newydd: Llandudno / New Date: Llandudno
Adrefnwyd y gêm yn erbyn Llandudno ar gyfer nos Fawrth, 21 Ionawr. Gohiriwyd y gêm yn wreiddiol oherwydd y tywydd eithafol ar Sadwrn 14 Rhagfyr.

The fixture at Maesdu against Llandudno Town has been re-arranged for Tuesday evening, 21 January. This game was postponed due to extreme weather conditions on 14 December.
---
04/01/14
Gêm ymlaen / Game ON
Mae'r gêm yn erbyn Caergybi heddiw YMLAEN.

Today's game at the Traeth against Holyhead is ON.
---
02/01/14
Rhagolwg: Caergybi / Preview: Holyhead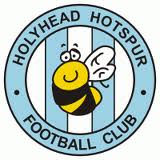 Caergybi fydd yr ymwelwyr a'r Traeth pnawn Sadwrn. Hon fydd y cyntaf o dair gêm anodd i Port. Rheolir Caergybi wrth gwrs gan cyn ffefryn y Traeth, Campbell Harrison. Yn ei ail gyfnod gyda chlwb yr Ynys mae yn cynnal eu gobeithion i orffen yn chwech uchaf y Gynghrair.
Cafwyd gêm dynn iawn y tro diwethaf i'r ddau gyfarfod ac roedd y canlyniad o 2-2 yn un teg. Jay Gibbs sgoriodd ddwywaith i Gaergybi yn yr hanner cyntaf gyda Ceri James a Leon Newell yn ymateb i Port. Mae Gibbs ymysg y prif sgorwyr yn yr adran gyda 12 gôl. Ers y gêm yn erbyn Port cafodd Caergybi gêm gyfartal rhyfeddol o 5-5 yn erbyn Penrhyncoch a hefyd un darn o anlwc mawr. Ymlaen o 2-0 yn Llandudno pan ffrwydrodd un set o oleuadau gan daflu gwydr ar y cae. Bu'n rhaid gohirio'r gêm a phan gafodd eu hail chwarae cyfartal di-sgôr oedd y canlyniad a tri phwynt yn mynd yn un.
Bydd Port yn edrych i ail adrodd y math o berfformiad a gafwyd yn y Fflint y Sadwrn diwethaf ond gyda'r gobaith y tro yma bydd mwy o'r cyfleoedd gwych a grëwyd yn cael eu rhwydo.

Holyhead Hotspurs are the visitors to the Traeth, on Saturday, 4th January. This will be the first of three difficult games for Port. The Hotspurs are managed by former Traeth favourite Campbell Harrison. He is in his second spell in the Hotspurs' hot seat and the club are continuing to challenge strongly for a place in the League's top six.
It was a tight game when the two clubs last met and the 2-2 result was probably a fair one. Jay Gibbs scored both of the Hotspurs' goals during the opening half with Ceri James and Leon Newell responding for Port. Gibbs is amongst the HGA's leading scorers with 12 goals. Since their game against Port, the Hotspurs have been involved in a bizarre 5-5 draw with Penrhyncoch and in another game they suffered a huge piece of bad luck. They were leading Llandudno 2-0 after an hour at Maesdu when a set of lights exploded scattering glass on to the pitch which meant that the game had to be abandoned. When the game was replayed recently the game ended goalless and a likely three points was transformed into just one.
Port will be looking to repeat the kind of performance shown at Flint last Saturday but hopefully this time some of the excellent chances are put away.
---
01/01/14
Newyddion HGA / HGA News

Mae naw o glybiau o'r cynghreiriau is wedi dangos diddordeb mewn ennill dyrchafiad i'r HGA. Mae caeau clybiau Dinbych a Treffynnon wedi pasio'r archwiliad. Bydd Aberriw, Llandrindod a Llanfair o Gynghrair y Canolbarth a Borras, Llangollen, Y Wyddgrug a Rhuthun o ardal Wrecsam i gyd yn cael eu harchwilio erbyn 1 Chwefror.
Apwyntiwyd chwaraewr/rheolwr newydd yn Llanrhaeadr-ym-Mochnant sef George Hughes yn lle'r ecsentrig Mario Iquinta. Ymunodd Hughes o Dderwyddon Cefn llynedd fel chwaraewr. Ynghynt chwaraeodd 100 (+ 14) o gemau UGC i'r Trallwng.

Nine clubs from the feeder leagues have expressed an interest in being promoted to the HGA. Welsh Alliance clubs Denbigh Town and Holywell Town have already passed inspections. Berriew, Llandrindod and Llanfair United of the Mid Wales League and Wrexham area clubs; Borras, Llangollen, Mold and Ruthin are all to be inspected by 1 February.
Llanrhaeadr-ym-Mochnant have appointed George Hughes as their player/ manager in succession to the eccentric Mario Iquinta. Hughes joined Llanrhaeadr from Cefn Druids last season as a player. He previously made 100 (+ 14) WPL appearances for Welshpool Town.
---
01/01/14
Rhys i gymryd toriad / Rhys to take a break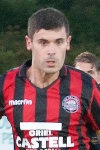 Ar ddechrau blwyddyn newydd daeth newyddion drwg i Port y bydd rhaid gwneud heb wasanaeth Rhys Roberts am gyfnod. Yn wir bydd yn annhebygol o chwarae'r tymor hwn eto. Penderfynodd Rhys fod rhaid iddo gymryd toriad o bêl-droed am y tro, a hynny am fod ganddo ymrwymiadau pwysig eraill na fydd yn caniatáu yr amser iddo deithio, chwarae ac ymarfer.
Daeth Rhys i Port am y tro cyntaf yn haf 2005 pan oedd Viv Williams yn rheolwr. Yn ei wythfed dymor ar y Traeth, cyfnod a dorrwyd gan un tymor yn Airbus yn 2009/10. Yn ystod pedwar tymor yn Uwch Gynghrair Cymru chwaraeodd 123 (+1) o gemau a hyd yma 94 (+6) o gemau HGA. Mae ei chwarae penderfynol yn ei wneud yn un o ffefrynnau'r cefnogwyr ar y Traeth. Mae wedi chwarae yn y cefn dros y clwb, yng nghanol cae ac yn y blaen. Yn 2011/12 pan gofynnwyd iddo chwarae yn y blaen gwnaeth hynny a sgorio 10 gôl.
Meddai'r cadeirydd, Phil Jones, "Ar ran pawb yn y clwb rwy'n dymuno'n dda i Rhys gan obeithio fydd yn bosib iddo ddychwelyd eto i'r Traeth. Bydd yn gadael bwlch ar ei ôl ond rwyf am ddiolch o galon iddo am ei ymroddiad a'i deyrngarwch."

There is bad news for Port at the start of the New Year that they will be without the services of Rhys Roberts for a lengthy period. He is unlikely to play again this season. Rhys has had to come to this decision due to other important commitments which will mean that he will be unable to afford the time needed for playing, travelling and training.
Rhys was first brought to Porthmadog from Llangefni by manager Viv Williams in the summer of 2005. He is in his eighth season at the Traeth, broken only by one season away at Airbus in 2009/10. In four WPL seasons he made 123 (+1) appearances and to date has also made 94 (+ 6) HGA appearances. His committed play has made him a supporters' favourite at the Traeth. He has played at the back in midfield and up the front for the club. In 2011/12 when pressed into service as a striker he responded by scoring 10 goals.
Chairman Phil Jones said, "On behalf of all at the club I wish Rhys well and hope that later on he will feel able to return again to the Traeth. He will be badly missed but I sincerely thank him for his commitment and loyalty."
---
30/12/13
Adolygiad y Rheolwr/ The Manager's Review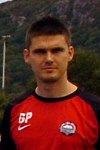 Wrth adolygu'r gêm yn Fflint ddydd Sadwrn dywedodd Gareth Parry ei fod yn hapus iawn â pherfformiad y tîm.
"Dwi'n hapus iawn â'r perfformiad ddydd Sadwrn a hynny drwy'r gêm yn gyfan, er wrth gwrs yn siomedig braidd inni beidio cymryd fwy o'r nifer fawr o gyfleoedd a grëwyd. Ond mae'r holl gyfleoedd sy'n cael eu creu yn addawol iawn a mater o amser ydy hi cyn bydd y goliau yn dod.
"Cafodd John Owen gêm ardderchog unwaith eto ac roedd ei chwarae dros y 90 munud yn haeddu mwy nac yr un gôl. Er mai dyma'r tro cyntaf i'r 4 yn y cefn chwarae efo'u gilydd cafwyd perfformiad da iawn ac yn delio'n dda gyda nifer fawr o giciau gosod. Rhaid cofio fod eu oed cyfartalog ond yn 19. Addawol hefyd ydy'r ffaith mae 22 oed oedd oed cyfartalog y tîm cyfan, a gyda nifer o chwaraewyr eraill ifanc yn y garfan mae yna ddigon o addewid at y dyfodol.
"Roedd yn grêt i gael Gareth Jones Evans yn ôl, yn dod ymlaen yn gynnar yn lle Leon Newell sydd heb ei anafu yn rhy wael. Os ydy Gareth yn chwarae fel y gwnaeth o pnawn Sadwrn tra yn dal i adennill ei ffitrwydd sut fydd o ar ôl mis!"

Gareth Parry reviewing last Saturday's game at Flint declared himself very happy with the team's performance.
"I was very pleased with the performance from start to finish, though naturally disappointed that we weren't able to convert more of the numerous chances we created. But the large number of chances we are creating is very encouraging. It is only a matter of time before the goals start going in.
"We had another excellent performance from John Owen and his play during the 90 minutes deserved more than just the one goal. The back four playing together for the first time performed very well, dealing well with a large number of set pieces. We need to remember too, that the back four have an average age of just nineteen. In fact the team as a whole which played on Saturday had an average age of just 22 and having several other young players in the squad it promises well for the future.
"It was great to have Gareth Jones Evans back, coming on instead of Leon Newell whose injury is not too serious. If he plays like this now while trying to regain fitness what will Gareth be like in a month's time!"
---
30/12/13
Oddi cartref yn y Fflint / Away day at Flint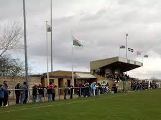 Dyna ichi gêm i'w mwynhau oedd pnawn Sadwrn ar Gae y Castell, un o fy hoff gaeau oddi cartref. Cefnogwyr brwd iawn a phobl pêl-droed go iawn. Roedd y gêm yn chwa o awyr iach gyda'r ddau dîm yn mynd ati i ennill yn lle ista nol gan obeithio am ychydig o lwc a gôl yn erbyn rhediad y chwarae. I gefnogwyr sydd am farn wahanol am y gêm ewch i adroddiad gwefan Fflint ar http://www.pitchero.com/clubs/flinttownunited/s/match-centre-33913/1-807367
Mae clwb y Fflint yn cynhyrchu adroddiad teg yn wythnosol ar y penwythnos. Mae hyn yn wahanol i ambell glwb sydd ag adroddiad yn syth ar ôl ennill ond un tua dydd Iau neu ddim o gwbl pan yn colli.
Roedd yn dda cael cefnogaeth wych y Pathfinders unwaith eto, yn arbennig Oscar yn ei sgarff goch a du yn mwynhau'r gêm ac yn edrych ymlaen at yr un nesaf.

What an enjoyable game on Saturday at one of my favourite away grounds, Cae y Castell the home of Flint Town United. Partisan supporters they maybe but also good football people. The game itself was in many ways a breath of fresh air with two teams going for it hammer and tongs and not parking the bus and hoping for a lucky break.
Supporters who like an alternative view of the game can take a look at the Flint website's report on http://www.pitchero.com/clubs/flinttownunited/s/match-centre-33913/1-807367
The Flint club produce a fair report win lose or draw promptly every week, which makes a change from some others who produce a report promptly when they win or by Thursday or not at all when they lose.
It was great to have the backing of our magnificent supporters the Pathfinders once again, especially Oscar displaying his red and black scarf. It is good to know that he enjoyed his day out and is already looking ahead to the next visit.
---
24/12/13
Rhagolwg/Preview: v Fflint

Pnawn Sadwrn bydd Port yn teithio i'r Fflint ar gyfer gêm gynghrair olaf 2013. Er iddynt fynd 5 gêm heb fuddugoliaeth, mae'r Fflint wedi dod yn ôl a sicrhau tair buddugoliaeth o'u pedair gêm ddiwethaf a hynny er waethaf llithro adref a cholli i Llanrhaeadr, y clwb ar waelod yr adran. Yn ystod y tymor rhoddwyd y gorau i'r bartneriaeth rheoli rhwng Paul Davies a Gareth Thomas. Aeth Thomas yn ôl i Fwcle, ei gyn glwb, gyda nifer o'r chwaraewyr yn ei ddilyn allan o Gae Castell. Y newyddion da diweddar i'r clwb ydy fod yr ymosodwr Shaun Beck yn ffit unwaith eto i ymuno â chyn chwaraewr Y Waun, Gareth Roberts yn y blaen. Chwaraewyr cyfarwydd eraill ydy'r amddiffynwyr James Davies a John Hill ac yn y gôl mae'r profiadol Ben Jones.
Ar ôl colli ar y Traeth pnawn Sadwrn diwethaf bydd Port yn awyddus i roi'r math o berfformiad a gafwyd ar eu ymweliad diwethaf a Sir y Fflint pan gurwyd Rhydymwyn o 4-0. Yn y gêm rhwng Port a Fflint ar Y Traeth, Port enillodd o 2-0 diolch i berfformiad da a goliau gan Leon Newell a Carl Owen.

On Saturday Port will travel to Flint for the final HGA game of 2013. Having gone five games without a victory Flint have recovered to win three of their last four games. They however slipped to a surprise home defeat to bottom club Llanrhaeadr. Flint went through something of a managerial upheaval in mid-season when the joint managerial partnership of Paul Davies and Gareth Thomas broke up with the latter re-joining his former club Buckley Town with a number of players following him out of Cae Castell. But good recent news for Flint is the return of prolific scorer Shaun Beck who joins Gareth Roberts, a summer signing from Chirk, up front. Other familiar names are defenders John Davies and John Hill while Ben Jones is their experienced keeper.
Port will be looking to bounce back after last Saturday's home defeat to Guilsfield and return to the form they showed on their last visit to Flintshire when they chalked up a 4-0 win at Rhydymwyn. When these two clubs met at the Traeth a good Port performance gave them a 2-0 win thanks to goals from Leon Newell and Carl Owen.
---
23/12/13
Barn y Rheolwr / The Manager's Views
Gyda gêm olaf 2013 ar y Traeth wedi'i chwarae, mae Gareth Parry wedi rhannu ei feddyliau am y gêm bnawn Sadwrn a hefyd y tymor hyd yma.
"Roedd pnawn Sadwrn yn un rhwystredig iawn wrth inni reoli'r meddiant a chwarae tri chwarter o'r gêm yn hanner Cegidfa o'r cae ond eto yn colli. Methu gwneud i'r meddiant yna dalu yn nhraean olaf holl bwysig y cae oedd yr hanes. Er ein bod yn creu digon o gyfleoedd, mae'n anodd cofio golwr Cegidfa yn gorfod gwneud unrhyw arbediad o bwys. Llwyddon ni fynd tu ôl i'w hamddiffyn ond roedd y peli i mewn ddim yn ddigon da.
"Mae methu cymryd mantais o'r cyfleoedd yn arwain at rwystredigaeth ac yn y diwedd at 'switsio ffwrdd' yn y cefn. Roedd y ddwy gôl yn rhai meddal iawn ac yn ganlyniad i gamgymeriadau. Roedd mynd gôl i lawr mor gynnar yn gadael i'r gwrthwynebwyr amddiffyn mewn niferoedd. Yn eironig, llwyddwyd i greu fwy o gyfleoedd pnawn Sadwrn nac y gwnaethom yn Rhydymwyn wrth ennill 4-0 ond y tro yna cafodd y cyfleoedd eu cymryd. Mae angen inni wneud y rhediad ychwanegol yna i'r bocs neu yn ôl i amddiffyn.
"Ond wrth edrych yn ôl dros y tymor, mae'n deg dweud fod y canlyniadau'n anghyson ond nid y perfformiadau. Heblaw am berfformiad gwarthus yn Rhaeadr ac y gêm ar Y Traeth lle roedd Caernarfon yn well na ni, mae ein chwarae wedi bod o leiaf gystal â'n gwrthwynebwyr drwy'r adeg.
"Er mod i'n poeni am y canlyniadau, does yna ddim byd eithriadol o fawr i o'i le ar ein chwarae ond bydd rhaid gweithio'n galed iawn i dorri allan y camgymeriadau yn y cefn a gwneud ychydig o 'fine tuning' yn y blaen.
"Carwn ddiolch i bawb am eu cefnogaeth yn ystod y flwyddyn a phob dymuniad da ichi a'ch teuluoedd dros y Nadolig."

With the last home game of 2013 having being played Gareth Parry has shared some of his thoughts on Saturday's game and the season so far.
"Saturday's game was another very frustrating afternoon where we dominated possession with three quarters of the game being played in the Guilsfield half and yet we ended up losing. We failed to make our superior possession tell where it matters most and that is in the final third of the pitch. We created enough openings yet I cannot recall the Guilsfield keeper having to make any worthwhile saves. We got behind their defence but too often the ball played in was not good enough.
"This failure to take advantage of our opportunities leads to frustration and eventually switching off at the back. Both Guilsfield's goals were extremely soft and were gifted by defensive lapses. Conceding an early goal, like we did on Saturday, also allows the opposition to defend in larger numbers. Ironically we created more chances on Saturday than we did against Rhydymwyn when we won 4-0 but on that occasion we took our opportunities. We need players to be making that extra run into the box and to support at the back.
"But looking back at the season so far it is true to say our results have been inconsistent but not our performances. Apart from the awful performance at Rhayader and the night we were outplayed at the Traeth against Caernarfon, we have always, at the very least least, matched all of our opponents.
"Though I am concerned about the results there is nothing major wrong but we will work harder to eradicate errors at the back and fine tune things at the front.
"Let me also thank you all for your continued support and wish you and your families a Happy Christmas."
---
22/12/13
Ydy'r ras am y teitl yn ail agor? / Has the title race re-opened?

Yn sydyn ddigon mae Caersws wedi ail-agor y ras am bencampwriaeth yr HGA, nid lled y pen ond yn ddigon efallai i rhoi llygedyn o obaith i tri sy'n dilyn, Caernarfon, Conwy a Chaersws eu hun. Er rhediad gwych Y Derwyddon eleni gyda record amddiffynnol ffantastig o golli ond 9 gôl mewn 18 gêm, nid oedd yn syndod llwyr mai Caersws oedd y tîm i ddod a'r record ddiguro i ben. Er eu bod wedi dioddef ambell sioc eu hunain mae'r clwb o'r canolbarth hefyd wedi chwarae'n arbennig ar dro ac mae ganddynt chwaraewyr fel Neil Mitchell -a sgoriodd y ddwy ddoe- Mark Griffiths ac Adam Jenkins, sydd â'r doniau i agor yr amddiffyn gorau.
Pe byddai Caersws a Chaernarfon yn ennill eu gemau mewn llaw wedyn dim ond 4 pwynt fydd rhyngddynt a'r Derwyddon, y clwb roedd y mwyafrif ohonom wedi hen goroni'n bencampwyr. Mae Conwy ychydig yn bellach yn ôl ond efallai fod y sibrydion am dorri'r gyllideb yna wedi bod braidd yn gynamserol. Y Derwyddon ydy'r ffefrynnau pendant yn dal, ond fedrai'r wythnosau nesaf fod yn fwy diddorol rwan.

Caersws have suddenly re-opened the HGA title race, not wide open, but at least enough for a glimmer of light for the chasing three of Caernarfon, Conwy and Caersws themselves. Despite their outstanding form this season, with a truly amazing defensive record of having conceded just nine goals in their 18 games, it is not a surprise that Caersws should be the team to end the unbeaten record. Though they suffer some surprise defeats themselves the mid-Wales club can also produced some quality performances and have outstanding players like Neil Mitchell –who scored twice yesterday- Mark Griffiths and Adam Jenkins, players who can open the best defences.
Should Caersws and Caernarfon win their games in hand it will put them 4 points adrift of the Druids, whom most of us had already long crowned as champions. Conwy are only slightly further back but maybe the rumours of budget cuts there have been premature. Druids remain firm favourites to lift the title but now, the next few weeks could be interesting.
---