13/10/13
Canlyniadau Academi / Academy results
Cafodd yr Academi fore Sul anodd yn erbyn Academi gryf Airbus. Brwydrodd y garfan Dan 16 i sicrhau gêm gyfartal 1-1. Airbus enillodd o 4-0 yn y gêm Dan 12 a hefyd Dan14 o 7-2.

A difficult morning for the Academy against their strong counterparts from Airbus. The U16s gained a creditable 1-1 draw while Airbus were winners by 4-0 at U12 and 7-2 at U14.
---
10/10/13
Rhagolwg Cwpan Cymru / Welsh Cup Preview
Pnawn Sadwrn bydd clybiau'n troi at Gwpan Cymru a'r freuddwyd am gael rhediad da ynddo. Ar gyfer y Rownd Gyntaf croesawn clwb Y Wyddgrug i'r Traeth, a hwn fydd y tro cyntaf i'r ddau gyfarfod ers 3 Mai 2003 pan chwaraewyd gêm rhyngddynt yng Nghwpan y Gynghrair. Port enillodd, y tro yna o 3-0 a'r sgorwyr oedd Dave Farr, Tony Williams ac ein rheolwr presennol Gareth Parry, a fo sgoriodd y gyntaf. Yn nhymor 2002/03 sicrhaodd Port ddyrchafiad i Uwch Gynghrair Cymru gan fynd ymlaen, ar ôl curo'r Wyddgrug, i ennill Cwpan y Gynghrair yn Llangefni gyda buddugoliaeth dros Bwcle.
Fel Port, roedd y clwb o Sir Fflint yn un o glybiau gwreiddiol Cynghrair Cymru gan aros yna am dri thymor cyn colli eu lle yn 1994/95. Erbyn hyn mae'r Wyddgrug yn chwarae yng nghynghrair ardal Wrecsam ac yn y 4ydd safle yn y tabl, yn colli ond unwaith mewn saith gêm. Pan wrthododd Y Waun y cyfle am ddyrchafiad i'r Cymru Alliance llynedd, cynigiwyd y lle i'r Wyddgrug a orffennodd yn yr ail safle. Ond yn y diwedd gwrthod oedd hanes Y Wyddgrug hefyd a felly ddaeth neb i fyny o ardal Wrecsam. Mewn amgylchiadau gwahanol felly medrai'r gêm pnawn Sadwrn fod rhwng dau glwb o'r Cymru Alliance.
Mae gan y ddau glwb peth hanes o gyfarfod yng Nghwpan Cymru hefyd, ond rhaid i'r Wyddgrug fynd yn ôl i 1888 i ddod o hyd i fuddugoliaeth tra fod Port wedi ennill y dair gêm chwaraewyd ers 1974. Hon fydd yn tro cyntaf i'r ddau gyfarfod yn y gwpan yn yr 21ain ganrif!

On Saturday clubs turn their minds from the bread and butter of the league to dreams of a Welsh Cup run. We welcome Mold Alexandra to the Traeth for the first time since 3 May 2003 when the two clubs played a Cymru Alliance League Cup tie. Port were 3-0 winners that day, the scorers were Dave Farr, Tony Williams and also our manager Gareth Parry, who opened the scoring. 2002/03 was the year Port were promoted from the Cymru Alliance and went on after beating Mold Alex to also win the League cup defeating Buckley Town at Llangefni.
Like Port, the Flintshire club were founder members of the League of Wales and remained there for three seasons until being relegated 1994/95.The Mold club now play in the Wrexham area, Welsh National League. They are in 4th spot in the table having been beaten only once in their seven games. When Chirk, last season's WNL champions, turned down the opportunity of promotion to the Cymru Alliance, their place was offered to Alex who were the runners-up. In the end, Mold also felt unable to accept the chance of promotion and no club was therefore promoted from the Wrexham area. Had they accepted promotion, then Saturday's game would be between two clubs from the HGA, and somehow we might be viewing the game differently.
The two clubs have some history of meeting in the Welsh Cup but Mold Alex need to look back to 1888 to find a win, while Port have come out on top on the three occasions they have met since 1974. But this will be the first meeting of the 21st century!
---
08/10/13
Derwyddon v Port / Druids v Port
Am 'ongl wahanol' ar y gêm rhwng Y Derwyddon a Port ddydd Sadwrn darllenwch yr adroddiad ar eu gwefan.

For an 'alternative' view of Saturday's game at The Rock read the match report on their website.
---
06/10/13
Canlyniadau Academi / Academy results
Teithiodd y tri tîm Academi i'r Drenewydd heddiw. Arweiniwyd y ffordd gan yr hogiau Dan-12 gyda buddugoliaeth dda iawn o 5-1. Roedd y gemau Dan-14 a Dan-16 yn rhai agos iawn. Ennill o 4-3 wnaeth y tîm Dan-14 ond colli o 3-2 wnaeth yr hogiau Dan-16. Penwythnos arall o berfformiadau da gan yr hogiau.

Three Academy teams travelled to Newtown today. The U12s led the way with an excellent 5-1 win. The games at U14 and U16 level were close affairs with the U14s winning by 4-3 while the U16s went down by 3-2. Well done lads for another weekend of good performances.
---
06/10/13
Deg gêm wedi mynd / 10 games played

Gyda 10fed gêm y tymor wedi'i chwarae eisoes, mae traean o'r tymor yn barod wedi mynd, a ni ond yn wythnos gyntaf mis Hydref. Roedd yn dda gweld a chlywed grwp o gefnogwyr brwd o'r 'Pathfinders' yn cefnogi'r hogiau yn Cefn. Roedd Alex Gordon wedi hysbysu pawb ar y Trydar ei fod yn trefnu trip ac er fod y tîm wedi methu cael y fuddugoliaeth gobeithio fod y perfformiad wedi bod yn galondid.
Sut y byddwch chi yn pwyso a mesur y sefyllfa ar ôl deg gêm? Mae hynny'n ddibynnol ar eich disgwyliadau ar ddechrau'r tymor. Ers canol y tymor diwethaf bu Gareth Parry yn ail adeiladu'r garfan gan arwyddo chwaraewyr ifanc addawol i gymryd lle nifer o chwaraewyr profiadol a adawodd. Mae dau o'r chwaraewyr yma yn 19 oed,un yn 20 a dau arall yn 21. I gyd mae saith ohonynt dan 24 oed. Cafwyd perfformiad da ddydd Sadwrn ond yn erbyn amddiffyn cadarn Cefn nid oedd yn ddigon. Er hynny gwelwyd dipyn o hyder a steil yn y chwarae sydd yn elfen obeithiol wrth edrych ymlaen.Ar yr un adeg llynedd roedd gennym 10 pwynt, felly y tro yma mae gennym dri yn fwy.
Gwelir adroddiad llawn o'r gêm yn Cefn yn yr adran 'Adroddiadau'.

With Port completing their 10th league game of the season it means that already, by the first week in October, a third of the league season has already gone by. It was good to see and hear a group of the Pathfinders present to support the lads at The Rock. Alex Gordon had announced via Twitter that he was arranging for a group of loyal fans to come along on Saturday and the players must have been more than pleased to hear their support. Though the team failed to provide them with a win let's hope they could take heart from the performance on the day.
How we look back at the ten games will depend on our expectations at the start of the season. Since the middle of last season Gareth Parry has been re-building his squad. Many experienced players left to be replaced mainly by younger promising players. Two of the current squad are 19 year olds, one aged 20 and two more are under 21. This means seven altogether are under 24. There was a good performance on Saturday which unfortunately was not quite enough against a resilient Cefn defence. They did however show a growing confidence and style which gives plenty of hope as we look ahead.At the same stage last season we had 10 points so this time round we are 3 points better off
A full report of Saturday's game appears in the 'Reports' section.
---
04/10/13
Gemau Academi / Academy Weekend Fixtures
Bydd y tri tîm Academi Dan-12, Dan-14 a Dan-16 yn chwarae bore Sul (6 Hydref) ar Barc Latham (SY16 1EN) yn erbyn Academi'r Drenewydd. Gobeithio am fwy o'r math o chwarae a gafwyd yn Cefn y Sul diwethaf.

All three Academy teams U12/U14/U16 will be in action on Sunday morning (6 Hydref) when they travel to Latham Park (SY16 1EN) to take on their counterparts from the Newtown Academy. They will hope to continue the good form shown at Cefn last week.
---
03/10/13
Rhagolwg: v Derwyddon Cefn / Preview: v Cefn Druids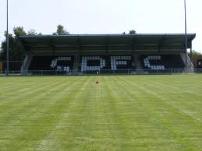 Bydd Port oddi cartref yn y 'Y Graig' ddydd Sadwrn i chwarae'r Derwyddon, clwb sy'n ddiguro y tymor hwn ac ar ben y tabl. Mae tactegau uniongyrchol Huw Griffiths wedi bod yn bwnc trafod cyson, ond yn sicr maent wedi bod yn effeithiol iawn ac yn ddigon anodd i chwarae yn eu herbyn. Mae Griffiths wedi ychwanegu at ei garfan ers y tymor diwethaf gyda Scott Quigley, ar fenthyg o TNS, yn sgorio'n rheolaidd a Gavin Cadwallader yn cryfhau canol cae ac, ymysg nifer o wynebau newydd eraill, mae tri o gyn chwaraewyr Wrecsam. Bydd y chwaraewyr yma yn ychwanegu at y problemau arferol sy'n dod wrth chwarae yn erbyn y Derwyddon. Rhai yn deillio o dafliadau hir Adam Hesp a hefyd taldra Gareth Edwards, chwaraewr sydd wedi bod yn broblem i Port ar nifer o adegau o giciau cornel a chiciau rhydd.
Y tymor hwn mae tactegau wedi bod yn bwnc trafod, gyda nifer o glybiau yn tueddu i eistedd yn ôl, amddiffyn mewn niferoedd, a wedyn gobeithio fydd un gic hir lawr y cae yn arwain at gôl. Wedyn ar ôl i dîm fynd ar y blaen, fel y ddigwyddodd pnawn Sadwrn diwethaf yn Llanidloes, mae ganddynt rhywbeth i'w amddiffyn ac maent yn gwneud hynny drwy dynnu pawb tu ôl i'r bel. Nid yn unig y timau sy'n brwydro yn y gwaelod sy'n gwneud hyn ond hefyd mae clybiau mwy lwyddiannus wedi datblygu fersiwn ychydig yn fwy soffistigedig o'r un dacteg, sef eistedd yn ôl a gwrth ymosod. Y sialens i reolwyr ac hyfforddwyr ydy canfod ateb i'r math yma o chwarae a fydd yn caniatáu i'w clybiau chwarae gêm basio ac hefyd ennill gemau.

Port will be away at the Rock on Saturday to take on the unbeaten league leaders Cefn Druids. The Druids route one tactics under Huw Griffiths have routinely been a matter for discussion but for sure they have proved effective and difficult to play against. Griffiths has added to his squad since last season with Scott Quigley, on loan striker from TNS, providing additional goal power, and experience in midfield from Gavin Cadwallader. Also three former Wrexham youth players are amongst a number of new faces signing, in a strong push for promotion. These are in addition to the usual problems caused by long throw expert Adam Hesp and the tall figure of Gareth Edwards, who has been such a threat from set pieces in the past for the Port defence.
Tactics have become something of a talking point this season with so many teams sitting back, defending in numbers, and hoping that a long punt upfield will produce a goal. When a team does go ahead, as happened last Saturday to Port, the opposition then has something to defend and they make themselves difficult to break down. But it is not only the lower placed clubs who pose this kind of challenge for as we have seen in recent matches successful clubs use a slightly more sophisticated version of the same basic tactic and hit on the break. The challenge for managers and coaches is to find an answer to this trend, one which will allow clubs to play their passing game and also win matches.
---
01/10/13
Dau yn gadael / Two players leave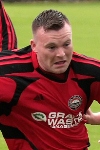 Mae dau o garfan gyfredol Porthmadog wedi penderfynu symud clwb er mwyn cael mwy o gyfle am bêl-droed rheolaidd. Bydd Ryan Connolly, sydd wedi cychwyn un gêm a dod i'r cae 5 o weithiau fel eilydd eleni, yn dychwelyd i glwb Bae Trearddur sy'n chwarae yn Adran 2 y Welsh Alliance.
Am y golwr ifanc Ceiron Hall meddai Gareth Parry, "Mae'n bwysig i golwr addawol fel Ceiron gael gemau rheolaidd er mwyn datblygu ei gêm ond heb ail dîm medrwn ni ddim cynnig hyn iddo." Mae Ceiron yn ymuno a Dyffryn Nantlle, clwb arall o Adran 2 y Welsh Alliance.
Dymunwn yn dda i'r ddau chwaraewr.

Two of the current Porthmadog squad have decided to switch clubs in search of regular football. Ryan Connolly, who has made 1 start and 5 substitute appearances this season, is returning to a former club Trearddur Bay, who play in the Welsh Alliance Division 2.
Of teenage keeper Ceiron Hall, Gareth Parry says "It is important that a promising young keeper like Ceiron plays regularly so that his game can develop and as we have no reserve team we cannot provide this for him." Ceiron, who appeared in several pre-season matches, has joined Nantlle Vale also a club in the Welsh Alliance Division 2.
Both players leave with the best wishes of the club.
---
29/09/13
Buddugoliaethau Academi /Academy victories
Perfformiadau da iawn gan y carfannau Dan/14 a Dan/16 oddi cartref yn erbyn Academi Derwyddon Cefn. Y bore yma enillodd y tîm Dan/14 o 4-0 a cafwyd buddugoliaeth dda hefyd o 5-1 gan y tîm Dan/16. Cafodd y gêm Dan/12 ei gohirio.

Well done to the Academy U/14 and U/16 squads who both recorded excellent wins when they travelled to play the Cefn Druids Academy this morning. The U14s won their game by 4-0 and the U16s gained an equally emphatic 5-1 victory. The U/12 game was postponed.
---
27/09/13
Tote Mis Medi / September Tote
Y rhifau lwcus yn y Tote mis Medi oedd 16 + 17. Roedd un enillydd, Meryl Owen, Cricieth, yn ennill y wobr o £290. Hyn i'w gadarnhau. Bydd rhaid gwneud cais erbyn 8yh nos Wener 4 Hydref. Bydd y rhifau ar gyfer Tote mis Hydref yn cael eu tynnu nos Wener 25ain yn sesiwn Bingo Clwb Cymdeithasol CPD Porthmadog yn Y Ganolfan.

The winning numbers in the Porthmadog Football Social Club monthly Tote for September were 16 + 17. Subject to confirmation there was one winner, Meryl Owen, Cricieth, winning the prize £290. Any claims must be made by 8pm on Friday 4th October. The October tote will be drawn on Friday 25th at the weekly Porthmadog F.C. Social Club Bingo at y Ganolfan.
---
27/09/13
Academi oddi cartref yn Cefn / Academy at Cefn
Bore Sul bydd y garfan Dan/14 a charfan Dan/16 Academi Port yn teithio i Cefn Mawr i chwarae yn erbyn Academi Derwyddon Cefn ym Mhlaskynaston LL14 3AT.

On Sunday morning the Academy U14s and U16s travel to Cefn Mawr where they take on their counterparts from Cefn Druids at Plaskynaston LL14 3AT.
---
26/09/13
Rhagolwg / Preview: v Llanidloes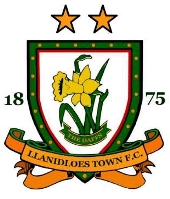 Pnawn Sadwrn bydd Port yn teithio i Lanidloes am y tro cyntaf ers 1992/93 pan chwaraeodd y ddau glwb ei gilydd yn nhymor cyntaf Cynghrair Cymru. Ond collodd y Daffs eu lle ar ôl un tymor ac ers hynny ni groesodd llwybrau'r ddau tan rwan. Bydd yn dda i ail gydio yn y berthynas, wrth i Port gyfarfod pencampwyr llynedd yng Nghynghrair y Canolbarth.
Yn y tymor cyntaf hwnnw bu pedair gêm rhwng y ddau glwb, dwy gêm gynghrair a dwy gêm grwp yng Nghwpan y Gynghrair. Roedd yr ymweliad diwethaf un â Pharc Fictoria ar 23 Ionawr 1993 pan gafwyd gêm gyfartal 1-1, gyda Marc Lloyd Williams yn sgorio i Port. Cyfartal hefyd oedd y gêm gynghrair ar y Traeth ond Port oedd yn fuddugol yn y ddwy gêm Cwpan y Gynghrair, 3-1 ar y Traeth ac, ar 3 Tachwedd 1992, buddugoliaeth o 3-0 yn Llanidloes.
Llanidloes ydy'r clwb cyntaf yn y tymor presennol i newid rheolwr, gyda Clive McNamee yn cymryd lle Anthony Griffiths. Sicrhawyd pwyntiau Llanidloes i gyd mewn gemau cartref ac yn y ddwy ddiwethaf rhwydwyd 11 o goliau i guro Penycae a Llanrhaeadr. Mae Wil Thomas, cyn ymosodwr Cegidfa, wedi rhwydo bum gwaith ac mae Jamie Breese hefyd yn fygythiad o flaen gôl. Daeth pwynt arall y clwb o'r canolbarth mewn gêm ddi-sgôr yn erbyn Penrhyncoch.
Bydd Port yn edrych i ail adrodd y math o berfformiad a gafwyd yn erbyn Penrhyncoch ganol wythnos a cheisio cadarnhau eu safle yn y chwech uchaf.

On Saturday Port will travel to Llanidloes for the first time since the 1992/93 season, when the two clubs met in the inaugural season of the then League of Wales. The Daffs were however relegated after one season at that level and since then the paths of the two clubs have not crossed. It will be good to renew rivalries with last season's Spar Mid Wales League champions.
In that inaugural season Port met Llanidloes four times, twice in the League and twice also in the League Cup at the group stage. Our very last visit to Victoria Avenue was on 23 January 1993 when we played a 1-1 draw, with Marc Lloyd Williams scoring the Port goal. The league game at the Traeth also ended in a draw. But Port were victorious in both League Cup encounters, 3-1 at the Traeth and, on 3 November 1992, a 3-0 away win.
Llanidloes were the first HGA club to change their manager this season with Clive McNamee replacing Anthony Griffiths. All their 7 points have been gained at home and certainly worth noting is that in their last two they scored 11 goals to defeat Penycae and Llanrhaeadr. Prolific former Guilsfield goalscorer, Will Thomas, has netted five times and Jamie Breese also provides a goal threat. Their other point came from a goalless draw with Penrhyncoch.
Port will look to continue the excellent form shown at home in midweek and consolidate a top six position.
---
25/09/13
Dymuniadau gorau Ben / Best of luck Ben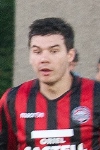 Wedi i Port dderbyn newyddion da ynglyn ag anafiadau meddai Gareth Parry, "Fel arfer mae newyddion siomedig yn dilyn newyddion da, ac inni y newyddion fod Ben Vangucci yn ein gadael ac yn mynd i astudio am radd milfeddygaeth mewn Prifysgol yn Llundain yw hwnnw. Dymunwn yn dda i Ben a diolch iddo am berfformiadau cadarn yn safle'r cefnwr de dros y mis diwethaf."
Cafodd Ben ysgoloriaeth chwaraeon i Goleg Belmont Abbey yn yr Unol Daleithiau a bu hefyd am gyfnod o ddwy flynedd gyda chlwb Rotherham. Chwaraeodd pump o gemau HGA dros Port. Mae pawb yn y clwb yn dymuno'n dda iddo.

Following the good news on the injury front Gareth Parry says "As always good news is followed by some disappointing news and ours comes in the form of Ben Vangucci leaving for University in London to study for a veterinary degree. We wish Ben all the best and thank him for his solid performances at right back over the past month."
Ben who attended Belmont Abbey College in the USA on a sports scholarship, as well as two years with Rotherham United made 5 HGA appearances for Port. All at the club wish him well.
---
25/09/13
Anafiadau'n gwella / Better news on injuries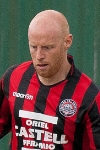 Roedd llawer wedi synnu i weld Neil Thomas yn y tîm yn erbyn Penrhyncoch ac yn chwarae am y '90 cyfan. Y newyddion da ydy fod Neil heb dorri asgwrn a hyn yn dilyn ymchwiliadau pellach i'r anaf. Bydd ar gael i ychwanegu ei brofiad a helpu'r garfan ifanc.
Da hefyd oedd gweld ymddangosiad byr gan Paul Lewis a hynny am y tro cyntaf ers iddo anafu yn ystod y gêm gyn dymor yn erbyn Aberystwyth. Meddai Gareth Parry (yn y rhaglen) am Gareth Jones Evans, "Mae wedi cymryd mwy o ran yn yr ymarfer yn ddiweddar wrth iddo adennill ei ffitrwydd a pharatoi i ddychwelyd wedi anaf tymor hir."

Many will have been surprised to see Neil Thomas in the line- up against Penrhyncoch last night and even going on to play a full '90. But the good news is that after further medical investigation it was found the Neil had not suffered a fracture. He will now be available to use his experience and boost Port's young squad.
It was good also to see Paul Lewis appearing briefly for the first time since suffering a groin injury in the pre-season friendly against Aberystwyth. Gareth Parry in his programme notes says of Gareth Jones Evans, "He has been involved more in recent training sessions as he builds his recovery from long term injury."
---
25/09/13
Gwersi golff / Golf lessons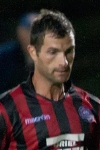 Yn ei sylwadau yn y rhaglen meddai Gareth Parry, "Roedd y ffaith fod gêm Penrhyncoch wedi newid dyddiad yn rhoi cyfle i'r hogiau dreulio amser yn 'bondio' efo'u gilydd ar y cwrs golff gyda noson allan i ddilyn."
Ychwanegodd "Mae gennym garfan gyda nifer o wynebau newydd ifanc ac mae digwyddiadau fel hyn yn bwysig i ddatblygiad y garfan. Gobeithio nad oedd y ffaith fod y ddau 'profiadol', sef Carl Owen a mi, yn dangos iddynt sut i chwarae ddim wedi rhoi ormod o ddiflastod ar yr achlysur! Gobeithio bydd dod i adnabod ein gilydd oddi ar y cae yn arwain at lwyddiant arno."
Fe weithiodd yn dda neithiwr (gol).

Gareth Parry in his programme notes says "The fact that the Penrhyncoch game was moved to last night allowed the lads to spend 'bonding' time together on the golf course followed by a night out."
He added, "We have a squad with many new and young faces and events like this are important to the development of a squad. I hope the fact the 'experienced' Carl Owen and I showing them how to play didn't put a downer on events! Getting to know each other better off the pitch will pay dividends on it."
Well seemed to do the trick last night anyway (ed).
---
22/09/13
Rhagolwg/Preview: v Penrhyn-coch

Wedi cael Sadwrn i ffwrdd bydd Port yn neidio yn ôl ar y beic nos Fawrth wrth i Benrhyn-coch ymweld â'r Traeth.
Cafwyd cryn lwyddiant yn erbyn Fflint yn y gyntaf o'r gyfres o gemau anodd. Aeth y tîm o Lannau Dyfrdwy adref heb bwynt ac heb sgorio ac roedd dim i awgrymu beth oedd am ddigwydd nesaf. Gadael goliau cynnar i fewn oedd y broblem a wedyn roedd yna fynydd i ddringo. Ar y llaw arall sgoriwyd 5 gôl yn y ddwy gêm, digon i ennill gemau mewn amgylchiadau gwahanol. Bydd rhaid i'r garfan ifanc hon gael amser i ddatblygu a byddant yn elwa wrth i rhai o'r chwaraewyr profiadol ddychwelyd. Yn ei sylwadau call ar y fforwm meddai Ger Evans, "...we are a work in progress and will be comfortable in mid to upper table; we will get stronger and are capable of causing an upset ..." Mae o'n iawn; yn y tîm presennol mae o leiaf wyth o chwaraewyr o dan 24 oed a dim ond gwella y wnawn wrth gael profiad, a gyda'r gefnogaeth iawn.
Gemau tynn iawn a gafwyd yn y gorffennol rhwng Port a Penrhyn ar y Traeth. Un o gryfderau'r clwb o'r canolbarth ydy eu bod yn llwyddo i gadw yr un garfan o dymor i dymor. Mae nifer â phrofiad yn UGC gyda Aberystwyth. Un enw adnabyddus i gefnogwyr Port ydy Mark Gornall a fu ar y Traeth yng nghyfnod Tomi Morgan. Mae o'n chwaraewr peryg gyda'i giciau rhydd, a gall sgorio o bellter gyda ergydion pwerus. Enwau eraill adnabyddus ydy'r chwaraewr rheolwr Gari Lewis, yr amddiffynnwr Aneurin Thomas, y chwaraewyr canol cae Jon Foligno a'r blaenwyr Josh Hartrick a Jonathan Evans.

Without a game over the weekend Port resume HGA action when Penrhyncoch visit the Traeth on Tuesday evening. The game hardly represents an easy ride but is an opportunity to get straight back on the bike.
The first in a series of difficult games went really well, as Flint went home pointless and, with Port keeping a clean sheet there was little suggestion of what was to come. Conceding early goals has been their undoing in the last two games giving themselves a mountain to climb. On the other hand five goals scored is hardly an insignificant return over two games. Port's young squad will need time to develop and will benefit from getting the more experienced players back. As Ger Evans wisely comments on the website forum, "... we are a work in progress and will be comfortable in mid to upper table; we will get stronger and are capable of causing an upset..." He is right; the current team contains at least eight players U/24 and will only get better with experience and the right support.
Games at the Traeth between Port and Penrhyn have always been tight affairs. One of the strengths of the mid-Wales club is that they have kept together a strong nucleus of players from season to season. Many of their squad have gained WPL experience with nearby Aberystwyth. One name known to Port supporters is that of Mark Gornall, who spent a season at the Traeth with Tomi Morgan. He is a danger with his free kicks and can score in open play with shots from distance. Other familiar names in their squad include player manager Gari Lewis, defender Aneurin Thomas, midfielder Jon Foligno and forwards Josh Hartrick and Jonathan Evans.
---
22/09/13
Cyfle i noddi gêm / Match sponsorship opportunity
Mae cyfle ar gael i unrhyw Fusnes neu Unigolyn i noddi gêm neu noddi'r bêl yn erbyn Y Wyddgrug yn Rownd 1 Cwpan Cymru ar ddydd Sadwrn 12 Hydref. Am fwy o fanylion cysylltwch â Dylan Rees, Swyddog Marchnata'r Clwb, drwy e-bost: rees9ba@btinternet.com neu drwy ffonio 07900512345.

An opportunity has arisen for a Business or Individual to be match sponsor or match ball sponsor against Mold Alex in Round 1 of the Welsh Cup on Saturday 12 October. For further details contact Dylan Rees, the Club's Marketing Officer, via e-mail: rees9ba@btinternet.com or by phoning 07900512345.
---
20/09/13
Cyflwyno prif noddwyr 2013/14 / Presenting the 2013/14 main sponsors
Cyn y gêm yn erbyn Caernarfon ar y Traeth nos Fercher, cafwyd cyflwyniad i ddau brif noddwyr y clwb sef Rheilffyrdd Ffestiniog ac Eryri a Fframio Castell o Gricieth. Mae'r llun isod yn dangos Clare Britton ac Oliver Bennet o Reilffyrdd Ffestiniog ac Eryri (ar y chwith) ac Andrew ac Alison Kime o Fframiau Castell – Agweddau Eryri (ar y dde) yn ymuno â Dylan Rees, Rheolwr Marchnata'r clwb a Ben Vangucci, Carl Owen, Rhys Roberts, Gareth Parry a Ceri James. Hoffai'r clwb ddiolch yn fawr i'r ddau gwmni am eu cefnogaeth hael.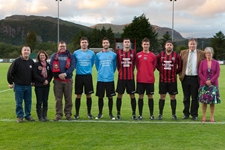 Ahead of the match against Caernarfon on the Traeth on Wednesday evening, there was a presentation for the club's two main sponsors, Ffestiniog and Welsh Highland Railways and Castle Framing of Criccieth. The above picture shows Clare Britton and Oliver Bennet of Ffestiniog and Welsh Highland Railways (on the left) and Andrew & Alison Kime of Castle Framing – Aspects of Snowdonia (on the right) joining Dylan Rees, the club's Marketing Manager and Ben Vangucci, Carl Owen, Rhys Roberts, Gareth Parry and Ceri James. The club would like to thank both companies for their generous support.
---
20/09/13
Gemau'r Academi wedi'u gohirio /Academy matches postponed
Mae gemau timau dan 12, dan 14 a dan 16 yr Academi yn erbyn y Drenewydd, a oedd i fod i gael eu chwarae ar y Traeth fore Sul wedi cael eu gohirio.

The under 12, under 14 and under 16 Accademy matches against Newtown, to be played at the Traeth on Sunday morning have been postponed.
---
17/09/13
Pwy Sgoriodd? / Who scored?
Roedd ychydig a o amheuaeth ddydd Sadwrn ynglyn a sgoriwr trydedd gôl Caersws. Daeth o ganlyniad i gic rhydd gan Jack Hughes i fewn i'r bocs o'r asgell dde. Er fod golwr Port, Gareth Barker yn y lle iawn i'w dal cymrodd y bêl gyffyrddiad bach a bu'n rhaid iddo newid cyfeiriad yn sydyn iawn. Llwyddodd i ddal y bêl a dwy law ond wrth gwblhau'r arbediad aeth ei fomentwm a fo dros y llinell. I gychwyn y teimlad oedd mae gôl yn erbyn Gareth fyddai hi ond mae gwefan swyddogol y gynghrair yn ei rhoi i Jack Hughes a gymrodd y gic rhydd. Nid yw materion o'r math yma yn hawdd eu penderfynu ond yn sicr nid oedd Gareth Barker yn teilyngu i'r gôl fod yn erbyn ei enw.

There was some doubt on Saturday regarding the third Caersws goal. It came as a result of a Jack Hughes free kick whipped into the penalty area from wide right. Port keeper Gareth Barker was well placed to deal with it, when it took a late deflection inside the area, but the keeper did really well to readjust and gather the ball at full stretch in both hands. However his momentum carried him over the line and the goal was given. At first it was thought to have been adjudged an own goal but the official Huws Gray website gives the goal to the free kick taker Jack Hughes. These are always contentious issues but Gareth Barker certainly does not deserve to have it awarded against his name.
---
16/09/13
Port v Wyddgrug / Port v Mold Alex

"Hwn fydd y pumed tro i Port a'r Wyddgrug gyfarfod yng Nghwpan Cymru," meddai hanesydd y clwb Gerallt Owen, a dyma ganlyniadau'r gemau hynny:
14 Hydref 1955 (Traeth) Ennill 2-1
10 Medi 1988 (Traeth) Ennill 2-0
26 Hydref 1974 (oddi cartref) Ennill 4-0
Mae'n debyg fod y gem arall wedi'i chwarae yng Nghorwen yn 1888 a colli o 3-0 oedd yr hanes. Pam Corwen tybed?" Medrai'r ddau fod wedi chwarae eu gilydd y flwyddyn cynt, 1887/88, hefyd ond tynnodd Port yn ol o gem yn rownd yr wyth olaf!

"This will be the 5th meeting between Port and Mold Alex in the Welsh Cup," says club historian Gerallt Owen, and the previous results were:
14 October 1995 (H) Won 2-1
10 September 1988 (H) Won 2-0
26 October 1974 (A) Won 4-0.
The other game was played at Corwen way back in 1888 and was lost 3-0.Why Corwen I wonder?"They could also have met the previous season 1887/88 had Port not withdrawn from a quarter final against Mold.
---
16/09/13
Cwpan Cymru Rownd Gyntaf / Welsh Cup Round One
Daeth enw Porthmadog o'r het i chwarae'r Wyddgrug ar y Traeth yn y Rownd Gyntaf Cwpan Cymru.Tynnwyd yr enwau y bore yma yn y Pencadlys yng Nghaerdydd. Bydd y gêm yn cael ei chwarae ar bnawn Sadwrn, 12 Hydref.
Gemau eraill o ddiddordeb lleol:

Nefyn v Penrhyndeudraeth
Caernarfon v Llanrug
Fflint v Llanberis
FC Nomads v Pwllheli
Coedpoeth v Bermo/Barmouth

Porthmadog have been drawn to play at the Traeth against Mold Alexandra in the Welsh Cup Round One matches which were drawn this morning at FAW Headquarters. The game will be played on Saturday, 12 October.
Other matches of local interest above.
---
16/09/13
Rhagolwg/Preview: Caernarfon

Caernarfon fydd yn ymweld â'r Traeth nos Fercher nesaf (18 Medi).Pan rhyddhawyd y rhestr gemau ar gyfer 2013/14 dyma'r gêm roedd cefnogwyr y ddau glwb yn edrych amdani.
Croeso nôl i Gaernarfon, clwb sydd wedi ei drawsnewid, a llongyfarchiadau i Arfon Jones a'i wirfoddolwyr am newid holl gyfeiriad y clwb a dangos yr hyn sy'n bosib pan fod cefnogwyr yn torchi llewys ac yn gwneud eu rhan dros y clwb lleol.
Hyd yma mae'r Cofis yn ddiguro. Ar ôl agor y tymor gyda gêm gyfartal dda yng Nghaersws maent wedi mynd ymlaen i ennill y 5 gêm nesaf a hynny'n cynnwys buddugoliaeth o 6-1 dros Caergybi. Mae nifer o gyn chwaraewyr Port yng ngharfan Lee Dixon gan gynnwys Darren Thomas, Graeme Austin a Steve Kehoe tri oedd hefyd gyda'r rheolwr yn Llangefni.
Wedi iddynt ennill tair gêm yn olynol cafodd Port eu hun yn colli o 4-0 ar ôl awr yng Nghaersws. Er codi eu pennau a brwydro nôl gyda tair gôl mewn 12 munud a gwneud y sgôr yn fwy parchus bydd Gareth Parry yn poeni am y ddau beniad a aeth i'r rhwyd wrth y postyn cefn. Mae'r anaf i Neil Thomas yn siom fawr a Ceri James hefyd yn dod oddi ar y cae efo anaf yng Nghaersws. Bydd Josh Banks hefyd yn methu'r gêm.

The much missed local derby against Caernarfon will be played on Wednesday (18 September) at the Traeth. When the HGA fixtures for 2013/14 were announced this was the game that supporters of both clubs looked out for.
A warm welcome back to Caernarfon Town, a club that has undergone a major transformation, and congratulations to Arfon Jones and his band of volunteers for the way they have turned the club around. They provide an example of what can be achieved when supporters roll up their sleeves and get involved in their local club.
The Cofis remain unbeaten, winning five of their six games. They opened their season with a good draw away against Caersws and have followed it with five straight wins. The 6-1 thumping of Holyhead Hotspur marks them out as dangerous opponents. The current Caernarfon squad contains many who have also played for Porthmadog with three of them, Darren Thomas, Graeme Austin and Steve Kehoe having previously played with manager Lee Dixon at Llangefni.
Port, after three straight wins, found themselves 4-0 down at Caersws after an hour. Though they got their heads up and scored three times in 12 minutes giving the final scoreline a more respectable look, Gareth Parry will be concerned at the way two goals were given away to back post headers. The injury to Neil Thomas shows that the two year injury jinx is not yet over. Ceri James was withdrawn with a dead leg on Saturday and Josh Banks is unavailable again.
---
15/09/13
Brysia wella Neil / Best wishes Neil
Mae'r newyddion am Neil Thomas yn ymddangos yn fwy gobeithiol. Aeth i Ysbyty Gwynedd yn dilyn y gêm yn Caersws a clywed ei fod wedi dioddef toriad 'hairline' i'r tibia. Ond ni fydd yn siwr o faint yr anaf yn iawn tan iddo fod yn y clinig esgyrn ddydd Gwener. Gobeithio yn wir na fydd mor ddrwg ac yr ofnwyd a da clywed fod Neil mewn hwyliau da ac yn trydar, "Mi fyddai nôl mewn dim yn gryfach ac yn fwy ffit!"
Gobeithio yn wir ei fod yn iawn, gan iddo ddangos ei ddylanwad yn yr adfywiad hwyr ddydd Sadwrn. Hefyd sgoriodd ei gôl gyntaf i'r clwb ers ei gyfnod byr ar y Traeth yn 2005/06 pan sgoriodd unwaith i Port gyda ergyd isel o 20 llathen mewn gêm gyfartal 3-3 yn erbyn –ie wir- Caersws!!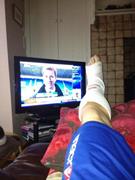 The news of Neil Thomas appears to be rather more hopeful. Following his visit to Ysbyty Gwynedd, after the game in Caersws, it appears that he has hairline fracture of the tibia. He will only fully know the extent of the injury when he attends a fractures clinic on Friday. We all hope that it does not turn out to be quite as bad as first feared and despite the obvious disappointment it is good to know that Neil is in good spirits and able to tweet, " I'll be back in no time, stronger and fitter!"
Let's hope he is right as he showed what a great acquisition he is when he came on in the second half and proved an influential figure in Port's late revival. He also scored his first goal for the club since a previous spell at the Traeth in season 2005/06 when he scored once for the club with a low shot from 20 yards in a 3-3 draw at the Traeth against –would you believe it- Caersws!!
---
14/09/13
Llongyfarchiadau Angela / Congratulations Angela
Llongyfarchiadau i Angela Roberts ar ei hapwyntiad yn Rheolwr Cyffredinol tîm y merched gyda chlwb Lerpwl. Cafodd Angela ei phrofiadau cychwynnol ar y Traeth, cyn mynd ati i weithio dros glwb Port fel Swyddog Trwyddedu a Swyddog Gweinyddol yr Academi. Symudodd wedyn i Gaerdydd i weithio yn swyddog llawn amser gyda'r Gymdeithas Bêl-droed yn adran pêl-droed y merched gyda'r timau cenedlaethol. Yn y swydd hon teithiodd i bob rhan o Ewrop. Dymunwn yn dda iddi yn ei uchel swydd gyda chlwb Lerpwl.

Congratulations to Angela Roberts on her appointment as General Manager of the women's team at Liverpool. Angela whose early interest was kindled at the Traeth and went on to serve her local club as Licensing Officer and Academy Administrator before moving into full time administration with the FA of Wales as an Administrative Officer with the Wales women's international team. In this post she has travelled widely all over Europe. We wish her well in her new high ranking post at Liverpool.
---
14/09/13
Rhys yn dychwelyd i Llanrug / Rhys returns to Llanrug
Mae Rhys T Roberts wedi penderfynu dychwelyd i'w gyn glwb CPD Llanrug. Ymunodd Rhys â Porthmadog yn Ionawr 2013. Chwaraewr llawn ymdrech a rhedeg, a'i chwarae penderfynol yn cael ei werthfawrogi gan y cefnogwyr. Ymddangosodd 7 (+3) o weithiau i'r clwb. Mae pawb yn dymuno'n dda iddo yn ôl gyda chlwb yr Eithin Duon.

Rhys T Roberts has decided to move back to his former club Llanrug United. Rhys joined Porthmadog in January 2013. A hard working player, full of running, whose determined play was always appreciated by supporters. He made 7 (+3) appearances for Porthmadog. All at Porthmadog wish him well on his return to the Eithin Duon club.
---
13/09/13
Jamie Hulse yn arwyddo / Jamie Hulse signs
Mae Gareth Parry wedi ychwanegu golwr newydd i'w garfan. Cadarnhawyd heddiw fod Jamie Hulse wedi ymuno o glwb Dinbych. Chwaraeodd bob gêm i dîm Richard Williams-Cooke yn ystod 2013/14, tymor a welwyd y clwb yn rhoi sialens am ddyrchafiad i'r Cymry Alliance. Chwaraeodd Jamie hefyd rhan bwysig i'r tîm a enillodd pencampwriaeth y Welsh Alliance yn 2007. Mae ei gyn clybiau yn cynnwys Bwcle -yn nhymor 2010/11- a cafodd hefyd gyfnod gyda clwb Rhuthun yn 2011/12 a chynt bu gyda Llandyrnog.
Wrth groesawu Jamie i'r Traeth dywedodd Gareth Parry, "Bydd arwyddo Jamie yn rhoi cystadleuaeth ychwanegol i Gareth Barker a Ceiron Hall, y ddau golwr sydd gennym yn barod."

Gareth Parry has added a new goalkeeper to his squad with the confirmation today of the signing of Jamie Hulse who joins from Denbigh Town. He was an ever present in Richard Williams-Cooke's team during 2013/14, when the club put in a strong challenge for promotion from the Welsh Alliance. He is best remembered at Denbigh for his contribution to the Welsh Alliance Championship winning team of 2007. His previous experience includes a season at Buckley Town in 2010/11 and at Ruthin Town in 2011/12. He has also played for Llandyrnog.
In welcoming Jamie to the Traeth, Gareth Parry commented, "Signing Jamie means that it will provide Gareth Barker and Ceiron Hall, our two current keepers, with some additional competition."
---
12/09/13
Newid dyddiad / Fixture change
Dylai cefnogwyr nodi fydd y gêm yn erbyn Penrhyn-coch ar y Traeth yn cael ei chwarae ar nos Fawrth, 24 Medi gyda'r gic gyntaf am 7.30pm. Ni fydd gêm gan Port ar y Sadwrn cynt.

Supporters should note that the home fixture against Penrhyn-coch has been re-arranged for Tuesday, 24 September with a 7.30 kick off. There will be no fixture on the previous Saturday.
---
11/09/13
Rhagolwg/Preview: v Caersws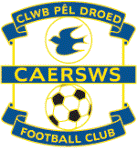 Bydd Port yn teithio i Gaersws ddydd Sadwrn am gêm yn erbyn y gwrthwynebwyr cryfaf iddynt wynebu y tymor hyd yma. Fel Port, colli fu eu hanes mewn gêm yr oedd disgwyl eu hennill wrth iddynt ymweld â Rhaeadr yn ddiweddar. Colli hefyd yn erbyn y Derwyddon ffefrynnau llawer am ddyrchafiad. Ond wedyn codi eu gêm a sicrhau buddugoliaeth dda dros Gonwy, clwb a fu'n gwario'n sylweddol, ac un arall o'r clybiau sy'n ennill ffafriaeth llawer i fod yn y ras am ddyrchafiad eleni.
Mae'r bartneriaeth tad a mab rhwng Mickey a Graham Evans wedi bod yn rhan allweddol o gynlluniau Caersws dros gyfnod hir ac yn dechrau tymor arall i'r clwb. Mae cadw cnewyllyn o chwaraewyr talentog gyda'u gilydd yn sail i lwyddiant Caersws. Cafwyd goliau yn rheolaidd gan Mark Griffiths a Neil Mitchell ac mae'r ddau wedi achosi digon o broblemau i Port dros y blynyddoedd. Mae gwrth ymosodiadau cyflym Mark Griffiths yn beryg iawn ac mae Adam Jenkins hefyd wedi bod yn sgorio yn barod y tymor hwn. O leiaf rym wedi llwyddo i ddod o hyd i un ffordd o waredu problem o garfan Caersws – ei arwyddo i Port!
Dwy funud cymrodd Rob Evans i rhwydo yn ein herbyn llynedd, a gobeithio gwelwn yn gwneud rhywbeth tebyg DROS Port ddydd Sadwrn. Gyda Port ar rhediad da allai gêm pnawn Sadwrn fod yn un gyffrous gyda'r ddau glwb, fel bob amser, yn awyddus i chwarae pêl-droed deniadol.

Port will travel to Caersws on Saturday, to meet the strongest opposition of the season this far. Like Port they suffered a defeat in a game they were expected to win when they visited Rhayader. They also went down at home to Cefn Druids, the early favourites for promotion. However they bounced back in style for a good win over serious spenders Conwy, another side favoured by many to be strong runners in this season's promotion race.
The father and son combination of Mickey and Graham Evans has been a key part of the Caersws strategies over many years and it remains so this season. The mid-Wales club has flourished by keeping a strong nucleus of talented players together. Mark Griffiths and Neil Mitchell always provide a good supply of goals and both have been a thorn in our sides on a regular basis. Mark Griffiths with his dangerous counter attacks and this season Adam Jenkins has already been among the goals. At least we have found a way of removing one problem from the Caersws line-up –by signing him!
It took Rob Evans only two minutes before finding our net at the Recreation Ground last season let's hope he can do something similar for us on Saturday. With Port on a good run of form, Saturday's game could well be a cracker and with both clubs having a liking for getting the ball down and playing it around we could be in for a treat.
---
09/09/13
Penwythnos cymysg i'r Academi / Mixed weekend for Academy

Penwythnos cymysg gafodd yr Academi yn eu gemau yn erbyn academi pentref Llansantffraid. Y tîm Dan12 oedd y mwyaf llwyddiannus yn ennill eu gêm o 1-0, tra cyfartal a di sgôr oedd canlyniad y tîm Dan16. Ond colli'n drwm wnaeth y tîm Dan14, a bydd rhaid iddynt felly ddilyn esiampl prif dîm y clwb a gychwynnodd yn siomedig ond sydd erbyn hyn wedi mynd ar rhediad da o fuddugoliaethau. Cewch fwy o newyddion yr Academi drwy wasgu 'Academi' yn y Fwydlen ar y chwith.

It was a mixed weekend for the Academy squads in their games against Llansantffraid Village Academy. The U12s proved the most successful winning their game by 1-0 while the U16s drew in a goalless encounter. The U14s went down to a heavy defeat and need to follow the example of the club's senior team who started badly but are now on a winning run. You can find all Academy news by pressing 'Academy' in the menu on the left.
---
06/09/13
Gemau Academi / Academy Fixtures
Bydd y timau Dan12/Dan 14 /Dan16 i gyd yn chwarae ar y Traeth ddydd Sul nesaf (8 Medi, 11.15am) yn erbyn Pentref Llansantffraid. Bydd y timau yn chwarae ei gemau gynghrair cyntaf o'r tymor. Pob lwc hogiau.
Cynt chwaraeodd carfannau Dan 14 a Dan 16 gemau cyfeillgar. Enillodd y tîm Dan 16 ei gêm yn erbyn Penycae o 4-3 a chyfartal 2-2 oedd y gêm Dan14 yn erbyn Canolfan Rhagoriaeth Bae Colwyn.

The Academy U12/U14/U16 will all be involved in home fixtures next Sunday (8 September, 11.15am) against Llansantffraid Village. All three squads teams will be playing their first league fixtures of the season. Best of luck lads.
The U14s and U16s have played previous friendly fixtures. The U16s defeated Penycae by 4-3 while the U14s drew 2-2 with the Colwyn Bay Centre of Excellence.
---
04/09/13
Rhagolwg / Preview: v Fflint

Pnawn Sadwrn Fflint fydd yn ymweld â'r Traeth. Hon fydd y gyntaf o dair yn erbyn gwrthwynebwyr ddigon anodd. Cychwynnodd Fflint y tymor drwy guro Llanidloes o 2-0 a mynd ymlaen wedyn ac ennill ei gemau yn erbyn Llanrhaeadr a Rhydymwyn -y tîm a gurodd Port yng ngêm gynta'r tymor. Collwyd y gêm arall yn erbyn Conwy -clwb sydd wedi cychwyn y tymor yn cryf.
Mae'r clwb o Lannau Dyfrdwy yn edrych i roi sialens wirioneddol am y brig eleni. Yn ystod yr haf achoswyd dipyn o sioc pan symudodd Gareth Thomas o Fwcle i ymuno â John Davies yn gyd reolwr ar Gae'r Castell. Aeth a hanner dwsin o chwaraewyr Bwcle efo fo gan gynnwys y Derek Taylor addawol a'r amddiffynnwr profiadol Mark Allen. Mae eraill sydd wedi ymuno yn cynnwys Lee Davey o Fae Colwyn, yn ogystal a Craig Whitfield a Scott Beckett o Gonwy. Fydd hyn yn rhoi digon o opsiynau ymosodol.
Yn dilyn cychwyn gwael mae Port wedi sicrhau dwy fuddugoliaeth dda dros Llandudno a Chegidfa ac yn edrych i barhau a'r gwelliant. Daeth y ddwy fuddugoliaeth o berfformiadau tîm cyfan ac mae perfformiadau Leon Newell yn ei rôl newydd yn y blaen wedi bod yn agoriad llygad. Sgoriodd cyn chwaraewr Birmingham goliau arbennig yn erbyn Llandudno a Cegidfa. Ychwanegodd Gareth Parry brofiad i'w dîm ifanc wrth arwyddo Neil Thomas ac mae yn dal i geisio cryfhau ei garfan.
Edrychwn ymlaen at gêm mor gyffrous ac un llynedd ar y Traeth.

On Saturday Flint Town United will be the visitors to the Traeth. This will be the first of three difficult games against strong opposition. Flint, who opened their season with a 2-0 home win over promoted Llanidloes, went on to record wins against Llanrhaeadr and Rhydymwyn, opening day winners at the Traeth. Against stiffer opposition they lost at home to Conwy Borough.
The Deeside club look intent on mounting a serious challenge at the top of the HGA this season. Early in the close season they showed their hand when Gareth Thomas made a surprise move from Buckley to join John Davies as joint manager at Cae'r Castell. With him, he has taken half a dozen Globe Way players including the talented Derek Taylor and stalwart defender Mark Allen. Other newcomers, Lee Davey from Colwyn Bay together with Craig Whitfield and Scott Beckett, from Conwy, will give them plenty of attacking options.
Port, after such a poor start, have recovered well to defeat both Llandudno and Guilsfield and will look to maintain their improvement. Both wins were excellent all round team performances with former Birmingham City youth player Leon Newell, a revelation since switching to a free role at the front, scoring outstanding goals against both Llandudno and Guilsfield. Gareth Parry has added the experience of Neil Thomas to his young squad and continues his search to strengthen his squad further.
We look forward to a game as exciting as last season's clash between the two at the Traeth.
---
02/09/13
Rôl newydd i Paps / New role for Paps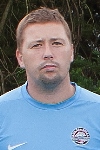 Mae Craig Papirnyk wedi cytuno i gynorthwyo'r clwb mewn rôl newydd. Bydd Craig yn cefnogi Gareth Parry a Matthew Bishop fel Chwaraewr/Hyfforddwr.
"Er na fydd yn chwarae rhan mewn dewis y tîm, meddai Gareth Parry, rwy'n hynod o falch fod o wedi cytuno i wneud y rôl hon. Mae wedi fy nghefnogi i ers y diwrnod iddo gytuno i arwyddo, ac mae o'n gymeriad dylanwadol yn yr ystafell newid."
Ychwanegodd Gareth, "Cyn ddiwedd yr wythnos hon rwy'n gobeithio cwblhau un neu ddau o ychwanegiadau i'r garfan." Felly nid yw arwyddo Neil Thomas yn ddiwedd ar fwriadau Gareth Parry i gryfhau'r tîm.

Craig Papirnyk has agreed to assist Gareth Parry in a new role within the club. He will be taking on the role of player/coach and will be assisting Gareth and the assistant manager Matthew Bishop.
"Though not involved in team selection, said Gareth Parry, I am very pleased that he has agreed to take on this role. He has assisted me from day one when he signed for the club and is a very influential character in the dressing room."
Gareth added, " I am still building my squad and hope to bring in one or two more players before the end of the week. "All of which means that adding the experience of Neil Thomas does not mark the end of team strengthening.
---