14/10/09/12
Port yn codi pedwar safle / Port up four places
Mae buddugoliaeth pnawn Sadwrn yn codi Port o waelod y tabl ac i fyny pedwar safle i ddeuddegfed ychydig fwy parchus. Bu'r wythnosau diwethaf, a ni yng ngwaelodion y tabl, yn gorfodi pawb sy'n gysylltiedig â'r clwb i wynebu cwestiynau anodd. Roedd ennill ddydd Sadwrn o'r pwys mwyaf, ac aeth ochenaid o rhyddhad o gwmpas y Traeth pan aeth peniad eiliad olaf Graham Boylan i'r rhwyd.
Tanlinellir pwysigrwydd y fuddugoliaeth gan y ffaith mae dyma'r tro cyntaf y tymor hwn i Port beidio ildio gôl. Mae'r clwb hefyd mewn cysylltiad â'r chwe clwb sy'n union uwch ei pennau. Un gôl yn unig oedd yn rhannu'r ddau ddydd Sadwrn ond rhaid cofio am y nifer sylweddol o gyfleoedd da a grëwyd, a gyda hyder yn dychwelyd mae yn y garfan hon ddigon o dalent i droi cyfleoedd yn goliau.
Ni fyddai gêm yn gyflawn heb rhyw elfen o anlwc a siomedig oedd gweld Josh Banks yn cael ei helpu o'r cae gyda anaf, a hyn wedi perfformiad disglair yn ei gêm gyntaf i'r clwb.
Gobeithio fod yr enfys a oleuodd yr awyr uwch y Traeth ar ddiwedd gêm ddydd Sadwrn (gwelwch lluniau'r gêm) yn ernes o'r hyn sydd i ddod i'r clwb!

Saturday's victory lifts Port from the bottom of the table and up four places to a somewhat more respectable 12th spot. It has been something of a reality check for all connected with the club to find themselves in such a lowly position. Winning on Saturday was vital and brought a huge sigh of relief all around the Traeth when Graham Boylan's last gasp goal went in.
The win is also important as it gave Port their first clean sheet of the season and keeps the club in touch with six clubs immediately above them. They are now no more than two points adrift of these clubs. The narrow scoreline should not detract from the large number of excellent chances created and with confidence returning we have in the squad the calibre to convert these chances.
No Port game would be complete without an element of bad luck and it was disappointing to see Josh Banks being helped off the pitch after being injured in what was an outstanding debut performance.
Let's hope that the rainbow which lit up the Traeth skyline at the end of Saturday's clash (see the website's photo section) has more than accidental significance!
---
11/10/09/12
Banks yn arwyddo / Banks joins Port
Mae Josh Banks wedi arwyddo i Port o Bwllheli. Perthynas i Chris Banks, a fu'n chwaraewr canol cae amlwg gyda Port am nifer o flynyddoedd, ydy Josh.
Dywedodd Gareth Parry amdano, " Cefnwr chwith cryf a sydyn ydy Josh ac mae o wedi gwneud yn dda yn yr ymarfer dros y pythefnos ddiwethaf. Fydd Josh yn rhoi fwy o opsiynau lawr yr ochr chwith a bydd yn y garfan at ddydd Sadwrn."

Josh Banks has signed for Porthmadog from Pwllheli. He is related to Chris Banks who played in midfield for Port over a number of seasons.
Gareth Parry says of him, "Josh is a powerful and pacy left back who has impressed during training with us over the past fortnight. He will give us more options down the left side and will be in the squad for Saturday."
---
10/10/09/12
Rhagolwg/Preview: v Rhuthun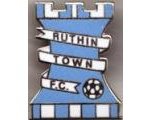 Bnawn Sadwrn bydd Rhuthun yn ymweld â'r Traeth gyda'r sylw yn dychwelyd at faterion bara menyn y gynghrair a cheisio codi o waelod y tabl. Un pwynt sy'n gwahanu Port a Rhuthun yn y gwaelodion gyda'r clwb o Sir Ddinbych yn 14eg yn y tabl. Golyga hyn y bydd ennill ddydd Sadwrn yn codi Port o'r gwaelod, tra byddai colli yn eu hynysu mewn safle siomedig iawn ac yn bell o'r hyn roeddem yn ddisgwyl yn ôl ym mis Awst ar gychwyn y tymor.
Roedd colli ddydd Sadwrn yng Nghwpan Cymru yn siom enfawr yn dilyn y fuddugoliaeth dda o 3-1 yn y Fflint lle roedd y perfformiad yn agosach at y math o berfformiadau a gafwyd ar y cyfan llynedd. Yn y rhaglen yr wythnos ddiwethaf amlinellodd y rheolwr Gareth Parry y math o baratoi trwyadl mae'r garfan yn cael eu rhoi drwyddo ar gyfer gemau. Ond sylw Mike Foster ar ôl y canlyniad siomedig oedd "Di hyfforddwyr ddim yn medru paratoi ar gyfer camgymeriadau unigol." Mae camgymeriadau'n gostus pan fyddant yn digwydd yn y cefn, wrth rhoi'r bêl i ffwrdd yng nghanol y cae neu wrth fethu cyfleoedd ar gôl. Y tymor hwn mae'n ymddangos fod canran uchel o'r camgymeriadau yma yn cael eu cosbi.
Un o'r elfennau positif i Rhuthun y tymor hwn ydy llwyddiant eu blaenwr ifanc Joshua Davies sydd wedi rhwydo 7 gôl gynghrair, gan gynnwys hat tric yn erbyn Rhydymwyn.
Rhaid i Port anelu i ail adrodd y fuddugoliaeth a gafwyd dros Rhuthun y tymor diwethaf a cychwyn ddringo'r tabl o ddifri.

Next Saturday Ruthin Town will be the visitors to the Traeth and attention will return to the bread and butter business of getting off the bottom of the table. One point separates Port and Ruthin at the foot of the table with next Saturday's visitors occupying 14th spot in the table. This of course means that a win will lift Port off the bottom while a defeat will help to isolate them in what is, as unenviable a position as it was unexpected when the season kicked off in mid August.
Last Saturday's Welsh Cup defeat came as a massive disappointment following on as it did a 3-1 victory at Flint when the performance more nearly reflected the performances of last season. Manager Gareth Parry, in last week's match programme, outlined the kind of very thorough preparation the squad goes through ahead of matches. But Mike Foster commented after last week's disappointing result, "Coaches cannot prepare for individual errors." Mistakes are costly whether they occur at the back giving the ball away cheaply in midfield or missing chances on goal. It seems this season that a high percentage of these mistakes are being punished.
One of the big pluses for Ruthin this season has been the form of young striker Joshua Davies who has netted 7 times (including a hat-trick at Rhydymwyn) and was the HGAs early leader in the goal scoring chart.
Port must now look for a repeat of last season's win and hope the climb up the table can begin in earnest.
---
10/10/09/12
Tymor yr Academi yn cychwyn / Academy season starts
Cychwynnodd yr Academi eu rhaglen gyda gemau yn erbyn Academi Bangor ar y Traeth bore Sul diwethaf. Cafodd y tîm Dan 16 fuddugoliaeth o 3-2, tra colli o 7-1 oedd hanes y tîm Dan 12. Bydd y ddau dîm yn y Bala ddydd Sul nesaf, 14 Hydref. Cewch fwy o newyddion o'r Academi drwy wasgu 'Academi' yn Cynnwys ar y chwith.

The Academy started their programme with games against the Bangor Academy at U-12 and U-16 at the Traeth last Sunday morning. The U16s gained a hard fought 3-2 victory while the U12s went down by 7-1. The U12s and U16s will be at Bala next Sunday, 14 October. Further details of these games and all Academy news can be found by pressing 'Academy' in the Menu on the left.
---
08/10/09/12
Newid dyddiad / Fixture Change
Mae clybiau Porthmadog a Chonwy wedi cytuno i newid dyddiad y gêm fydd yn cael ei chwarae rhyngddynt ar y Morfa. Adrefnwyd y gêm ar gyfer nos Wener, 21 Rhagfyr. Bydd y gic gyntaf am 7.30pm.

By mutual agreement between the two clubs there has been a change to the date of the fixture between Conwy and Porthmadog to be played at Conwy's Morfa ground. The game has been rearranged for the Friday evening, 21 December. The game will kick off at 7.30pm.
---
04/10/09/12
Darren yn Chwaraewr y Mis / Darren is Player of the Month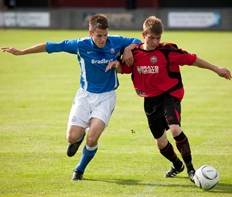 Llongyfarchiadau i Darren Thomas sydd wedi'i enwi yn 'Chwaraewr y Mis Gwobrau Charisma' yn yr HGA am fis Medi. Er waethaf cychwyn gwael Port i'r tymor mae Darren wedi bod ar dân ac heb adael i safon ei berfformiadau lithro o gwbl. Cafodd Darren ei enwi yn chwaraewr y gêm ym mhob un o'r 5 gêm yn ystod y mis. Ar ddiwedd y tymor diwethaf fe'i enwyd yn 'Tîm y Tymor' yn yr HGA. Cafodd ei enwi yn 'Chwaraewyr y Mis' hefyd yn flaenorol am fis Mawrth 2012. Mae yr enwebiadau yma i gyd yn hollol haeddiannol i un o chwaraewyr gorau'r HGA.

Congratulations to Darren Thomas on being named Charisma Trophies, Player of the Month for September in the HGA. Despite Port's poor start to the season Darren has been on fire and his performances have remained of the highest standard. Darren was named player of the match in each of the 5 games during the month. At the end of last season Darren was also named in the HGA 'Team of the Season'. He was previously named 'Player of the Month' in March 2012. These are deserved tributes to one of the HGAs outstanding players.
---
04/10/09/12
Rhagolwg: v Llandudno / Preview; v Llandudno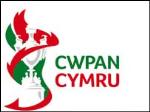 Bydd Port yn troi at Gwpan Cymru bnawn Sadwrn pan fydd Llandudno yn ymweld â'r Traeth. Cymysg fydd y teimladau wrth wneud hyn gan fyddai'n well ganddynt efallai ganolbwyntio, wedi'r perfformiad yn y Fflint, ar ddringo'r tabl. Ond ar y llaw arall gall rhediad yn y gwpan rhoi hwb ffres i'r tymor ac mae ffactor ariannol y gwpan hefyd yn bwysig. Byddai fawr neb wedi gallu rhagweld y byddai Port, os yn chwarae Llandudno yn y gwpan, yn gwneud hynny o safle ar waelod y tabl a Llandudno ond un safle'n uwch. Mae hon yn un o ond ddwy gêm yn y rownd rhwng dau glwb o'r HGA –y llall rhwng Cegidfa a'r Fflint.
Mae'r ddau wedi cyfarfod unwaith yn barod y tymor hwn yn ôl ym mis Awst ar gae Maesdu. Cyfartal 2-2 oedd hi bryd hynny. Aaron Richmond a Gruff Williams oedd y sgorwyr i Port tra na fydd angen ein hatgoffa fod gôl gyntaf Llandudno wedi dod o gic gornel gyda pheniad ar y postyn cefn –digwyddiad rhy gyffredin y tymor hwn.
Mae Llandudno fel Port –ac yn syndod i bawb- wedi cael eu hunain mewn trafferthion eleni ond wedi ennill dwy gêm, un yn Rhuthun a'r llall adref dros Cegidfa. Yn eu gêm ddiwethaf colli oedd yr hanes yn Rhydymwyn o 1-0. O ddiddordeb i gefnogwyr Port ydy fod cyn flaenwr Port, Iwan Williams, wedi ail ymuno â Llandudno o Llanfairpwll.
Newyddion da i Port, yn ogystal a'r gwelliant a ddangoswyd yn y Fflint, yw fod Ceri James, allan ers y gêm yn Cefn, wedi ymddangos fel eilydd hwyr ddydd Sadwrn. Bydd yna amser ychwanegol a chiciau o'r smotyn os bydd angen ddydd Sadwrn, er mwyn sicrhau canlyniad.

Port interest turns to the Welsh Cup on Saturday when Llandudno are visitors to the Traeth. They do so with mixed feelings as they would no doubt, given a choice, have preferred to build on last week's season's best performance at Flint and attempt to start the climb up the table. But a good run in the Welsh Cup could give fresh impetus to the season and the financial incentives cannot be scorned at either. Few if any would have predicted that, should Port and Llandudno meet in the first round of the Welsh Cup, they would do so as bottom and next to bottom in the HGA. This game is one of only two all HGA games in the round, the other being the game between Guilsfield and Flint.
The two clubs have already met once this season and that back in August at Maesdu in the season opener which ended in a 2-2 draw. Aaron Richmond and Gruff Williams netted for Port while Port will not need reminding that one of the goals they conceded came from a corner, a back post header –an all too frequent occurrence this season.
Llandudno like Port have surprisingly struggled this season recording only two wins which came at Ruthin and at home to Guilsfield. Last time out they went down 1-0 at Rhydymwyn. Of interest to Port supporters is that former Port forward Iwan Williams has rejoined Llandudno from Llanfairpwll.
Good news for Port, apart from the return to form at Flint, was a late on sub appearance by Ceri James, out since the game at Cefn. Saturday's game will be played to a conclusion with extra time and penalties if necessary.
---
04/10/09/12
Tote Medi / September Tote
Y Rhifau lwcus yn Tote Mis Medi oedd 30 a 35, nid oedd enillydd, gyda hyn i'w gadarnhau. Bydd y wobr o £335 yn cael ei ychwanegu at cyfanswm mis Hydref. Bydd rhaid gwneud unrhyw gais cyn 8pm nos Wener 5 Hydref. Bydd y rhifau ar gyfer Tote mis Hydref yn cael ei dynnu nos Wener 27ain yn sesiwn Bingo Clwb Cymdeithasol CPD. Porthmadog yn Y Ganolfan.

The winning numbers in the September Monthly Tote were 30 and 35. Subject to confirmation there were No Winners, and therefore the prize of £335 will be added to the October total. Any claims must be made by 8pm on Friday 5th October. The October Monthly Tote will be drawn on Friday 27th at the weekly Porthmadog F.C. Social Club Bingo at Y Ganolfan.
---
27/09/12
Rhagolwg v Ffint / Preview v Flint

Dydi Cae y Castell yn Fflint byth yn le hawdd i'w ymweld, ac mae hynny'n arbennig o wir pan mae'r tîm cartref yn eistedd yn yr ail safle a Port yn y safle gwaelod un yn chwilio am fuddugoliaeth i ddod a diwedd ar rediad o 6 colled yn olynol.
Yn anffodus eleni, mae Port wedi rhoi mynydd i'w hunain ddringo drwy roi un gôl wael ar ôl y llall ar blât i'n gwrthwynebwyr, a phan mae lwc yn mynd yn eich erbyn mae'n ymddangos nad oes unrhyw beth yn mynd yn iawn, gydag anafiadau a chardiau coch gwneud pethau hyd yn oed yn anoddach i Gareth a'r hogiau.
Mae pethau wedi bod yn wahanol iawn i'r Fflint y tymor yma, gyda'r fuddugoliaeth o 5-1 yn erbyn Conwy yn sefyll allan fel eu canlyniad gorau. Dim ond y Rhyl sydd wedi cymryd y pwyntiau llawn oddi wrth hogiau Paul Davies eleni, ac heb law am gemau cyfartal yn erbyn y ceffylau blaen eraill Derwyddon Cefn yn eu gêm ddiwethaf a Penrhyn-coch, mae'r gweddill i gyd wedi bod yn fuddugoliaethau.
Bydd rhaid i Port fod ar eu gorau os ydynt am droi'r gornel ar eu canlyniadau diweddar. Un dyn bydd yn rhaid iddynt wylio amdano yw Aaron Edwards sydd wedi sgorio 7 gôl yn barod eleni – dim ond dau yn brin o gyfanswm tîm cyfan Port am y tymor, sef 9 gôl.

Flint's Cae y Castell is never the easiest place to visit, and that's particularly true with the home side sitting prety in second place and Port occupying the bottom place, looking for a victory to bring an end to the run of 6 straight defeats.
Unfortunately, Port have this season created mountains for themselves to climb by handing out goals on a plate to the opposition, and when your luck's out it seems that nothing goes your way, with the injuries and red cards making things even more difficult for Gareth and the boys.
Things have been very different for Flint this season, with their 5-1 victory against Conwy Borough standing out as their best result. Only Rhyl have taken maximum points against Paul Davies' boys this season, and apart from the draws against fellow front runners Cefn Druids in their last match and Penrhyncoch , the rest have all been victories.
Port will have to be at their best if they are to turn the tables on their recent run of form. One man they'll have to look out for is Aaron Edwards who already has 7 goals to his name this season – only two short of Port's haul for the season, 9 goals.
---
25/09/12
Merched Cymru Dan-16 ar y Traeth / Wales U16 Girls at the Traeth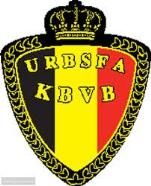 Isod gwelir y garfan a ddewiswyd i gynrychioli merched Cymru Dan-16 mewn gêm rhyngwladol yn erbyn Gwlad Belg ar y TRAETH, Porthmadog nos Lun nesaf, 1af Hydref. Mae'r rheolwr James Rowberry wedi cynnwys dwy ferch o Wynedd, Chloe Hughes (Ysgol Dyffryn Ogwen) and Lois Regan (Ysgol Brynrefail), yn ei garfan o 18.
Dywedodd Rowberry, "Mae'n gyfle ffantastig i'r merched i chwarae gwrthwynebwyr mor gryf a Gwlad Belg, a bydd y gemau yma yn sialens iddynt ym mhob agwedd o'r gêm. Bydd y gyntaf o'r ddwy gem yn cael ei chwarae ar y Traeth, Porthmadog ac rwy'n siwr bydd pawb y edrych ymlaen at chwarae yng Nghymru o flaen torf dda."
Bydd y gic gyntaf am 7pm, ac mae mynediad yn rhad ac AM DDIM.

Erin Brennan (Cardiff City Ladies FC, Cathedral High School), Megan Roberts (Prestatyn Girls FC, Prestatyn High), Olivia Fuller, (Liverpool FC, Prestatyn High), Fiona Dodge, (Mardy Tigers FC, West Monmouth Comprehensive), Hannah Bluck, (Garw FC St Clare's High), Shauna Pentney, (Mardy Tigers FC, West Monmouth Comprehensive), Sophie Cardy, (Cardiff City Ladies, Dyffryn High), Charlie Etcourt, (Chelsea FC Chiltern Edge High), Kelsey Davies, (Kinmel Bay Girls FC, Aberconwy High), Francesca Curteis, (Liverpool FC, Llanfyllin High), Mollie Jones, (Troedyrhiw B&G FC, Cyfarthfa High), Chloe Hughes, (CPD Bethel, Ysgol Dyffryn Ogwen), Nia Jones, (Talybont FC, Ysgol Penweddig), Louisha Doran, (Kinmel Bay Girls FC, Eirias High), Emily Curteis, (Liverpool FC, Llanfyllin High), Bethan Cadogan, (Leicester City COE, All Saints RC High), Lois Regan, (Llewod Llanrug FC, Ysgol Brynrefail), Laura Mitchell, (Everton COE, Llanfyllin High).

The above squad have been selected to represent Wales in a U-16s Girls Friendly International against Belgium at the TRAETH, Porthmadog next Monday, 1st October. Manager James Rowberry has included two Gwynedd girls, Chloe Hughes (Ysgol Dyffryn Ogwen) and Lois Regan (Ysgol Brynrefail), in his squad of 18.
Rowberry commented, "It's a fantastic opportunity for the girls to play against such strong opposition and the fixtures against Belgium will challenge the players in all aspects of the game. The first of the two games will be played at the Traeth, Porthmadog and I'm sure all involved are looking forward to playing on home soil in front of what hopefully will be a good crowd."
Kick-off is at 7.00pm and ADMISSION IS FREE.
---
21/09/12
Tynnu allan o'r Cwpan Ieuenctid / Youth Cup Withdrawal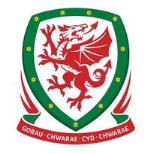 Bu'n rhaid i CPD Porthmadog dynnu allan o Gwpan Ieuenctid Cymru. Roedd Iwan Williams, rheolwr y tîm, wedi ymgynghori gyda'r Gymdeithas Bêl-droed yn ystod yr haf er mwyn derbyn eglurhad ynglyn a chymhwysedd chwaraewyr i'r gystadleuaeth. Yn dilyn sgwrs ffôn dywedodd y swyddog Tim Lane mewn e-bost fod Rheol 51.1 yn caniatáu unigolion i gofrestru fel chwaraewr ifanc i CPD Porthmadog (ar ffurflen ieuenctid) tra hefyd wedi cofrestru ar ffurflen oedolion - J3- gyda chlwb arall.
Bwriodd Iwan ymlaen i arwyddo nifer o chwaraewyr gyda chlybiau oedd heb dimau ieuenctid ei hun. Anfonwyd y ffurflenni at y Gymdeithas ond wedyn dydd Mercher derbyniwyd galwad ganddynt yn dweud nad oedd yn bosib iddynt dderbyn y ffurflenni. Eglurodd aelod arall o'r Adran ymhellach mewn e-bost at Gerallt Owen fod Tim Lane yn iawn i ddweud fod Ffurflen 51.1 yn caniatáu i chwaraewyr gofrestru gyda chlwb ar ffurflen ieuenctid tra hefyd wedi cofrestru fel oedolyn gyda chlwb arall ond hynny DIM OND os oedd y clwb hwnnw wedi cofrestru mewn cynghrair ieuenctid swyddogol.
Mae'r geiriau sy'n dilyn DIM OND yn holl bwysig ac heb eu cynnwys yn yr e-bost gwreiddiol. Mae'r ffaith nad yw Rheol 51.1 yn berthnasol i gystadlaethau cwpan yn ei gwneud yn amhosib i CPD Porthmadog gymryd rhan yn y gystadleuaeth y tymor hwn. Dymuna clwb Porthmadog ddiolch i Iwan Williams am ei frwdfrydedd a'i waith dygn, gan obeithio nad yw'r profiad hwn o'r Gymdeithas Bêl-droed wedi suro ei ddiddordeb mewn cynorthwyo pêl-droed ieuenctid at y dyfodol. Felly bu'n rhaid canslo'r gêm i'w chwarae pnawn Sul.

Porthmadog FC have reluctantly withdrawn from the Welsh Youth Cup. Team manager Iwan Williams had approached the FAW during the summer to obtain clarification regarding player eligibility for the competition. Following a telephone conversation Tim Lane of the FAW Compliance Department e-mailed Iwan to confirm that "further to our recent conversation please be advised of FAW Rule 51.1 that allows an individual to register as a Youth player for CPD Porthmadog (on a J6 Youth Registration Form) whilst holding an Adult Registration (J3 Form) with another club".
Iwan duly approached and signed a number of players playing for clubs not having youth sides. The registration forms were duly sent to the FAW last week and on Wednesday the FAW phoned to say they could not accept the forms. Another member of the Compliance Department in e-mail correspondence with Porthmadog Secretary Gerallt Owen clarified the situation further "Tim is correct that FAW Rule 51.1 allows an individual to register as a Youth player for a club (on a J6 Youth Registration Form) whilst holding an Adult Registration (J3 Form) with another club but only if the club participate in a designated youth league".
The final 11 words are the crucial element which was not included in the original e-mail to Iwan. The fact that Rule 51.1 does not apply to cup competitions makes it impossible for Porthmadog to participate in the competition this season. Porthmadog FC would like to thank Iwan Williams for his enthusiasm and hard work on this and hope his experience with the FAW has not permanently soured his interest in assisting with youth football. Sunday's match against Rhyl has therefore been cancelled.
---
21/09/12
Ffysio profiadol yn dychwelyd / Experienced Physio returns
Mae'r ffysio Andy Watling a weithiodd gyda Port yn ystod tymor cyntaf Gareth Parry wrth y llyw, yn dychwelyd i helpu'r clwb.
"Rwyf wrth fy modd i'w groesawu yn ôl," meddai Gareth," gan heb os mae'n un o'r ffysios chwaraeon gorau o gwmpas. Bydd yna rhes hir o chwaraewyr yn disgwyl amdano pan fydd yn dod i'r sesiwn ymarfer ar nos Fawrth! Bydd Andy yn cael ei gynorthwyo gan eraill sydd yn chwilio am brofiad yn y maes o drin anafiadau pêl-droed. Gyda'r holl anafiadau sydd wedi taro'r clwb yn ddiweddar gall profiad Andy wneud gwahaniaeth mawr."

The physio Andy Walling who worked with Port during Gareth Parry's first season at the helm, has returned to the club.
"I am delighted that he is back with us," said Gareth, "for without doubt He is one of the best sports physios around. There is a long line of players waiting for him and he will be present at all our Tuesday evening training sessions. He will also be assisted by a number of others who will be looking for experience in treating football injuries. With all the injury problems we have had over recent times his experience could make a huge difference."
---
20/09/12
Rhagolwg: v Caersws / Preview: v Caersws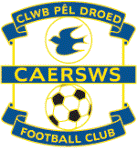 Daw Caersws i'r Traeth ddydd Sadwrn yn dilyn buddugoliaeth o 2-0 dros Derwyddon Cefn, un o'r ffefrynnau cynnar i ennill dyrchafiad. Ers iddynt golli dwy yn olynol -yn erbyn y Rhyl a Phenrhyn-coch- maent bellach ar rhediad o 4 gêm heb golli. Un o'r buddugoliaethau yna oedd o 7-0 dros Llanrhaeadr ac yn werth nodi fod yna saith o sgorwyr gwahanol!
Hon fydd y cyntaf o dair gêm rhwng y ddau glwb y tymor hwn gan fod y ddau i chwarae gilydd yng Nghwpan y Gynghrair hefyd. Llynedd Caersws oedd yn fuddugol ar y Traeth o 2-1, diolch i gôl hwyr iawn gan Scott Williams. Tra yn y canolbarth Port aeth a hi a hynny o 3-2, gyda dwy gôl gan Darren Thomas ac un gan Iwan Williams yn drech na dwy gôl Neil Mitchell. Ond mae Neil Mitchell yn chwaraewr sydd wedi achosi dipyn o broblemau i Port mewn gemau rhwng y ddau glwb. Ar wahân i Mitchell mae gan Caersws nifer o chwaraewyr profiadol a neb yn fwy na Graham Evans sydd erbyn hyn wedi symud o'r llinell flaen i rhedeg y sioe yng nghanol y cae. Yn y blaen mae Marc Griffiths yn chwaraewr profiadol iawn. Mae Caersws yn clwb sy'n barod i roi cyfle i chwaraewyr ifanc o'r canolbarth ac yn yr haf arwyddwyd Tomos Richards a dau chwaraewr ifanc arall o Garno .
Mae angen buddugoliaeth ar Port ond pan nad i'w pethau'n mynd o'ch plaid mae popeth i weld yn troi yn eich erbyn fel dydd Sadwrn yn ildio gôl hwyr ar ôl haeddu o leiaf pwynt o'r gêm. Nid gwrthwynebwyr hawdd fydd Caersws ar adeg fel hyn wrth chwilio am ond eich ail fuddugoliaeth o'r tymor . Ond nid yw'r chwaraewyr a gadwodd Port yn agos i frig y tabl y tymor diwethaf yn troi'n chwaraewyr sâl dros nos. Dewch i roi bloedd dros yr hogiau ddydd Sadwrn. Gall buddugoliaeth newid popeth.

Caersws will come to the Traeth on the back of a 2-0 win over Cefn Druids, one of the early favourites for promotion. Having lost to Rhyl and Penrhyncoch in successive games the mid-Wales club are now on a four match unbeaten run. One of those wins was a bumper 7-0 triumph over Llanrhaeadr and worth noting is the fact that there were seven different goalscorers!
This game will be the first of three meetings between the two clubs this season as they have also been drawn to meet in the Huws Gray League Cup. Last season the two clubs were separated only by an odd goal on both occasions with Caersws 2-1 winners at the Traeth thanks to a late winner from Scott Williams. At the Recreation Ground Port gained revenge with a 3-2 win as two Neil Mitchell goals were not enough. Darren Thomas with two and Iwan Williams one were the Port scorers. But Mitchell has been a big player in games between the two clubs. Graham Evans now playing in midfield is always a key player for Caersws and they are also well served by Marc Griffiths at the front. Caersws have always followed a policy of giving promising players from mid-Wales their opportunity and Tomos Richards and two other youngsters have joined from Carno.
Port are badly in need of a win but, as so often happens when your luck's out, everything tends to conspire against you, even a last minute goal when you had done enough to deserve a point at least. Unfortunately Caersws do not offer the easiest of challenges for a club seeking only its second win of the season, but the players who kept Port close to the top of the table last season have not suddenly become failures. Let's get behind the lads on Saturday for a win can change everything.
---
18/09/12
Richard Owen yn gadael / Richard Owen to leave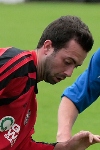 Mae Richard Owen, a ymunodd a Porthmadog ar dechrau'r tymor, i ddychwelyd i'w gyn glwb Llanfairpwll. Cychwynnodd Richard 5 o gemau dros Port gan wneud 3 ymddangosiad fel eilydd. Dywedodd Gareth Parry, "Carwn ddiolch i Rich am ei gyfraniad i'r clwb ac rwy'n dymuno'n dda iddo yn ôl yn Llanfair."
Mae Gareth wrth edrych at y gêm nesaf yn dweud ei fod yn gobeithio cwblhau arwyddo chwaraewr newydd, lleol mewn pryd ar gyfer ymweliad Caersws â'r Traeth.

Richard Owen who joined Port at the beginning of the season is to return to his former club Llanfairpwll. Richard started 5 games for the club making 3 sub appearances. Manager Gareth Parry said, "I would like to thank Rich for his contribution and wish him well back at Llanfair."
Gareth Parry, looking to the immediate future said that he hoped to have a new local player signed in time for Saturday's game at the Traeth when Caersws are the visitors.
---
17/09/12
Cwpan Ieuenctid Cymru pnawn Sul / FAW Youth Cup Sunday
Bydd Port adref ar y Traeth pnawn Sul nesaf (23 Medi) yn Rownd 1af Cwpan Ieuenctid Cymru. Rhyl fydd y gwrthwynebwyr gyda'r gic gyntaf am 2 pm. Dowch i'r Traeth i gefnogi'r hogiau ifanc. Eleni mae'r tîm ieuenctid yn cael ei hyfforddi gan Iwan Williams, cyn chwaraewr Port ac y tymor hwn yn chwaraewr/ is rheolwr gyda CPD Llanfairpwll.

Port will be at home next Sunday (23 September) in the 1st Round of the FAW Youth Cup. Their opponents will be Rhyl FC. The kick off will be at 2 pm. Come on down to the Traeth and support these young players. This season the Youth team is being coached by former Port player Iwan Williams and currently player/assistant manager at Llanfairpwll FC.
---
13/09/12
Mark i Bwllheli / Mark to Pwllheli
Mae Mark Jones yn dychwelyd i Bwllheli mewn trefniant dros dro. Trefniant tebyg i'r un aeth a Dan Pyrs yn ôl i Llanrug. Methodd Mark gychwyn y tymor oherwydd anaf, gan wneud ei ymddangosiad cyntaf fel eilydd nos Fawrth ddiwethaf. "Mae angen i Mark chwarae er mwyn adfer ffitrwydd llawn," meddai Gareth Parry, " a gobeithio fydd y trefniant hwn o fudd i'r ddau glwb."

Mark Jones will make a temporary return to his former club Pwllheli. This is a similar arrangement which earlier took Dan Pyrs back to Llanrug. Mark has missed the start of the season through injury, making his first appearance as a sub last Tuesday. Manager Gareth Parry says "Mark needs game time to get match fit and I hope this arrangement will be beneficial for both clubs."
---
13/09/12
Rhagolwg: v Cegidfa / Preview: v Guilsfield

Mae'r tabl cyfredol yn olygfa boenus i gefnogwyr Port, gyda'r clwb wedi disgyn i'r tri gwaelod. Mae'n anodd rhoi bys ar yr union rheswm am y newid ers y tymor diwethaf ond yn anffodus mae'r canlyniadau yn dweud y stori. Y tymor diwethaf dim ond chwe gwaith collodd Port, ond yn barod y tymor hwn collwyd pedair gêm allan o'r chwech a chwaraewyd. Mae'n anodd deall sut y digwyddodd hyn, gyda mwy neu lai yr un garfan ac enillodd naw gêm yn olynol at ddiwedd y tymor diwethaf.
Nid lle hawdd i sicrhau canlyniad fydd Cegidfa fel ffeindiodd Port llynedd pan roedd angen tair gôl yn yr ail hanner i sicrhau buddugoliaeth o 3-2. Ond bellach mae Will Thomas, sgoriwr y ddwy gôl i Cegidfa yn erbyn rhediad y chwarae, yn ôl gyda'r clwb wedi cyfnod yn y Rhyl. Agos oedd hi hefyd y flwyddyn flaenorol hefyd, pan oedd angen dwy gôl yn yr ail hanner i sicrhau tri phwynt. Mae'r clwb o'r canolbarth wedi cychwyn y tymor gyda un buddugoliaeth a dwy gêm gyfartal.
Bydd Port heb Dan Pyrs unwaith eto, wedi iddo dderbyn cerdyn coch yn Rhaeadr ar ôl i'r 90 munud ddod i ben. Ar gael fydd y blaenwr newydd Leon Newell, chwaraewr rhyngwladol Dan-19 Cymru a rhyddhawyd gan Birmingham City yn yr haf ac sydd ers hynny wedi bod yn chwarae i Glantraeth. Gobeithio am gôl gynnar ddydd Sadwrn!

The current HGA table makes sad reading for Port followers, with the club occupying the third relegation spot. It is difficult to put a finger on the exact reason for this turnaround in fortunes but the results unfortunately speak for themselves. Last season Port suffered only six defeats throughout, but this season they have already been beaten four times in six games. It is very hard to understand how this has come about; with what is more or less the same squad as ended last season with nine straight victories.
Guilsfield is not an easy place to get a result as Port found last season when they needed three goals in a second hand fight back to gain a 3-2 win. The scorer of a first half brace of breakaway goals for Guilsfield was Wil Thomas, and he is back with the club after a spell with Rhyl. The previous visit was also a close affair but two second half goals secured a win for Port. The mid-Wales club have started this campaign with a win and two drawn games.
Port will be without Dan Pyrs again on Saturday as he serves his suspension for a red card received after the final whistle at Rhayader. Available will be new forward Leon Newell a Wales U-19 international who was released by Birmingham City during the summer and has since been playing for Glantraeth. Let's hope for an early goal on Saturday!
---
12/09/12
Newid dyddiad gêm yr Academi/ Change to Academy fixture
Mae yna newid i rhestr gemau'r Academi. Roedd y tymor i gychwyn gyda gêm gartref yn erbyn Airbus ddydd Sul nesaf ond bu'n rhaid gohirio'r gêm hon. Cytunwyd i chwarae'r gêm ar fore Sul, 21 Hydref.
Bydd tymor yr Academi bellach yn cychwyn gyda taith i'r Bala ar Sul 23 Medi ac i ddilyn gêm gartref yn erbyn Bangor ar Sul 7 Hydref.
Dymuniadau gorau i hogiau'r Academi yn y tymor newydd.

There has been a change to Academy fixtures. The season was due to start with a home fixture against Airbus next Sunday but this has now had to be postponed. The home fixture against Airbus will now be played on 21 October.
The Academy season will now start with a trip to Bala on Sunday 23 September and continues on Sunday 7th. October when the eagerly looked forward to clash with Bangor takes place at home.
We wish the Academy youngsters well in the new season.
---
12/09/12
Leon yn arwyddo i Port / Leon signs for Port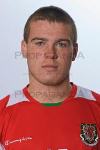 Mae Gareth Parry wedi arwyddo Leon Newell blaenwr ifanc o glwb Glantraeth ac wedi cynrychioli tîm ieuenctid Cymru. Arwyddodd Leon yn chwaraewr ifanc gyda clwb Wrecsam cyn symud ymlaen i Birmingham City lle chwaraeodd i'r tîm ieuenctid a'r ail dîm. O dan Brian Flynn cynrychiolodd Cymru ar y lefel Dan 17 a Dan 19 a cyn hynny roedd yn aelod o garfan Dan 16 yn y Victory Shield. Y tymor hwn mae wedi sgorio tair gôl mewn 5 gem gynghrair i Glantraeth. Bydd Leon ar gael ddydd Sadwrn.
Mae'r rheolwr yn edrych hefyd i ddod ac un neu ddau o chwaraewyr eraill i'r clwb.

Gareth Parry has completed the signing of young forward Leon Newell from Glantraeth. He is an 18 year old Welsh youth international. As a junior he was signed by Wrexham later transferring to Birmingham City where he played in the youth and reserve sides. Under Brian Flynn he played for Wales at U-17 and U-19 level and prior to that was a member of the U-16 Victory Shield squad. This season he has found the net three times in five appearances for Glantraeth. Leon will be available to play on Saturday.
The manager is also looking to add one or two more players to his squad.
---
11/09/12
Port ar y Traeth yng Nghwpan Cymru / Port at the Traeth in Welsh Cup
Bydd Port ar y Traeth ar gyfer y gêm yn rownd gyntaf Cwpan Cymru. Y gwrthwynebwyr fydd Llandudno. Mewn gem rhwng y ddau glwb ar gychwyn y tymor cyfartal 2-2 oedd y canlyniad. Bydd y gêm yn cael ei chwarae ar 6 Hydref.

Port have been drawn at home in the first round of the Welsh Cup when their opponents will be Llandudno. The two clubs previously met in the league in the season opener and that game ended 2-2. The tie will be played on 6 October.
---
09/09/12
Rhagolwg: v Caergybi / Preview: v Holyhead

Nos Fawrth bydd Port a Chaergybi yn chwarae ar y Traeth. Dyma gêm na ddylai fod wedi'i threfnu ar gyfer y noson hon.
Ar nos Fawrth 11 Medi bydd Cymru hefyd yn chwarae, yn erbyn Serbia yn rowndiau grwp Cwpan y Byd. Er mai gêm oddi cartref ydy hon i Gymru bydd y rhai ohonom sydd yn cefnogi'n gwlad am o leiaf ei gweld ar y teledu. Mae yna gefnogwyr i Port sydd yn teithio ar hyd a lled y byd yn cefnogi eu gwlad a dyma ni â gêm yng nghynghrair Huws Gray yn cael eu threfnu ar yr un noson a gêm bwysig i Gymru.
Nid yw'n ddibynnol ar sut mae Cymru'n chwarae - mae hynny'n amherthnasol gan nad oes gennym ddewis pa wlad fyddwn yn cefnogi. Mae'r pyramid cyfan yn rhan o bêl-droed Cymru a'u rôl ydy cefnogi datblygiad a delwedd y gêm yng Nghymru.
Mae'n rhy hwyr i bwyntio bys ond gobeithio na welwn ail adrodd y bennod anffodus hon. I orffen rhaid nodi fod Rhyl a Penycae wedi cytuno i newid eu gêm i'r noson ganlynol a Bwcle a Rhydymwyn wedi newid y gêm i'r nos Fawrth ganlynol ar 18 Medi.

On Tuesday night Port will Play Holyhead Hotspur at the Traeth. This is a game that should never have been arranged for this particular evening.
On Tuesday, 11 September Wales play Serbia in a World Cup qualifier and though this is an away fixture those who support their country will at the very least want to see the televised match. There are Port supporters who travel worldwide to see their country play and here we have a Huws Gray Alliance fixture arranged on the same night as our country plays an important qualifier.
How well or how badly Wales plays is a total irrelevance as we don't choose our country and the whole of the pyramid in Wales is part of Welsh football and should have a role, however small, in the progress and the image of Welsh football.
It is too late to point fingers of blame but let's hope we never have a repeat of this unfortunate episode. As a final point we note that Rhyl and Penycae have been able to switch their fixture to the following evening and Buckley and Rhydymwyn have agreed to move their game ahead by a week to 18 September.
---
09/09/12
Pump yn rhannu £1,000 / Five share a £1,000
Y rhifau lwcus yn Tote mis Awst oedd 02 a 05. I'w gadarnhau mae yna 5 enillydd yn rhannu'r £1,000. Billy Murray, Alvin Jones (y ddau o Borthmadog), Megan Owen, Cricieth, Val Jones Gellilydan a Shirley Wyatt, Blaenau Ffestiniog.
Bydd y tote am fis Medi yn cael ei dynnu yn y Bingo wythnosol ar nos Wener 28 Medi yn y Ganolfan, Porthmadog.

The winning numbers in the August Monthly Tote were 02 and 05. Subject to confirmation there are 5 winners sharing £1000, Billy Murray and Alvin Jones, Porthmadog, Megan Owen, Cricieth, Val Jones, Gellilydan, and Shirley Wyatt, Blaenau Ffestiniog.
The September Monthly Tote will be drawn on Friday 28th September at the weekly Porthmadog Social Club Bingo at Y Ganolfan, Porthmadog.
---
05/09/12
Rhagolwg: v Rhaeadr / Preview: v Rhayader Town

Ddydd Sadwrn bydd Port yn ymweld â'r Weirglodd, cartref Rhaeadr, clwb sydd wedi dychwelyd i gynghrair HGA wedi tymor i lawr yng Nghynghrair Spar y Canolbarth. Mae Dylan McPhee yn dal i rheoli'r clwb. Cafodd Dylan brofiad helaeth o UGC wrth chwarae 141 (+53) o gemau dros Rhaeadr, Caersws, Y Drenewydd a Chaerfyrddin.
Ennill un a colli tair fu hanes Rhaeadr hyd yma. Fel Port, maent wedi curo Llanrhaeadr ond mae'r ddau glwb wedi colli yn erbyn y Derwyddon. Colli fu hanes Rhaeadr hefyd yn erbyn Penycae a Rhydymwyn.
Ddydd Sadwrn bydd Darren Thomas, Aaron Richmond a Gruffydd John yn ôl yng nghynlluniau Gareth Parry wedi iddynt aros ar y fainc yn y gêm gwpan nos Fawrth. Bydd y rheolwr hefyd yn croesawu'r ffaith fod Grahame Austin a Dan Pyrs yn ôl yn dilyn anafiadau ac wedi chwarae 90 munud nos Fawrth. Bydd Port yn edrych am fwy o gysondeb yn ei chwarae wrth anelu i ddringo'r tabl, gan sylweddoli nad oes gemau na phwyntiau hawdd yn yr HGA eleni.

Porthmadog visit the Weirglodd , the home of Rhayader Town, on Saturday. Rhayader return to the HGA after a season in the Spar Mid Wales League. They are still managed by the experienced Dylan McPhee who made 141 (+53) WPL appearances for Rhayader, Caersws and Newtown and Carmarthen.
Rhayader have won one and lost three of their league games. Like Port they have recorded a victory over Llanrhaeadr and both clubs have also suffered defeats at the hands of Cefn Druids. The mid-Wales club also losing to Penycae and Rhydymwyn.
On Saturday Gareth Parry will have Darren Thomas, Aaron Richmond and Gruffydd John back in his plans after they sat out the WPL Cup tie on Tuesday. He will also be pleased to see Grahame Austin and Dan Pyrs, back from injury, having 90 minutes under the belt on Tuesday. Port will be looking for greater consistency than in their opening games, aiming to push up the table while realising that there are no easy games or easy points in the current HGA.
---
03/09/12
Noddwyr Port 2012/13 / Port Sponsors 2012/13
Cyn gêm Port yn erbyn Llanrhaeadr cafwyd cyflwyniad i ddiolch i brif noddwyr y clwb ar gyfer 2012/13 – Grays Waste Management a Rheilffyrdd Ffestiniog ac Eryri. Mae'r llun ar y chwith yn dangos cynrychiolwyr o'r ddau gwmni gyda'r Cadeirydd Phil Jones ac un o gyfarwyddwyr y clwb Dylan Rees ac ar y dde gwelir hanner y garfan yn y crysau coch a du a noddir gan Grays Waste Management a'r gweddill yn y crysau glas golau a noddir gan Reilffyrdd Ffestiniog ac Eryri. Diolch i'r ddau gwmni am eu cefnogaeth hael.


Before the match against Llanrhaeadr there was a presentation for the club's main sponsors for 2012/13 – Grays Waste Management and Ffestiniog and Welsh Highland Railways. The picture on the left shows representatives from both companies with Chairman Phil Jones and one of the club's directors Dylan Rees and on the right half the squad are pictured in the red and black shirts sponsored by Grays Waste Management and the other half are in the light blue shirts sponsored by Ffestiniog and Welsh Highland Railways. Thanks to both companies for their generous support.
---
02/09/12
Croeso Cynnes Cymreig / Warm Welsh Welcome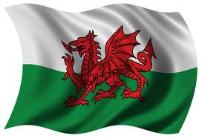 Ymddangosodd y llythyr isod wrth Chris Wilmot, Iron Acton, Caerloyw yn y Non-League Paper o dan y teitl "WARM WELSH WELCOME".
Diolch Chris am fynd i'r drafferth o ysgrifennu. Mae'n dda gan bawb yng nghlwb Porthmadog glywed fod y bobl ifanc wedi mwynhau eu hunain a rydych yn iawn i ddweud fod y chwaraewyr a'r cefnogwyr wedi mwynhau'r canu a'r bloeddio. Edrychwn ymlaen at ymweliad y gwersyllwyr pob tro ac mae ond yn profi bod modd mwynhau heb fynd yn wirion!
Diolch i Gareth Piercy am dynnu sylw at y llythyr.

"Last Saturday my daughter, who was camping at Criccieth in North Wales, attended the Porthmadog versus Llanrhaeadr match with a number of other campers.
And it was great to hear that they all reported back on the extremely warm welcome they received from the officials of Porthmadog FC. The players and spectators, I am told enjoyed the singing and the chanting by the teenagers on the sidelines, especially the visiting keeper who gave them a big clap at the end!
Thank you to the officials, players and supporters of Porthmadog and Llanrhaeadr for their positive response to the campers, you helped to make their weekend."

The above letter, from Chris Wilmot, Iron Acton, Gloucs appeared in yesterday's Non-League Paper under the heading 'WARM, WELSH WELCOME'.
Thank you Chris, for taking the trouble to write to the Non-League Paper. All at Porthmadog FC are very glad to hear that the youngsters enjoyed themselves and you are right when you say players and supporters enjoyed the singing and chanting. We always look forward to the visit of the campers and it just goes to show that it is possible to enjoy yourself without going over the top!
Our thanks to Gareth Piercy who drew our attention to the letter.
---
01/09/12
Cwpan UGC yn y Rhyl /WPL Cup at Rhyl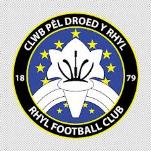 Nos Fawrth bydd Port yn teithio i'r Rhyl ar gyfer rownd gyntaf Cwpan UGC ar ei newydd wedd, cystadleuaeth a fformat sydd er cyfleuster clybiau'r Uwch Gynghrair.
Gyda'r cof am lwyddiant Derwyddon Cefn, yng Nghwpan Cymru, yn dal yn fyw mae'r Uwch Gynghrair wedi cymryd camau i sicrhau nad oes ormod o gyfle i Ddafydd yr HGA guro Goliath UGC, drwy gadael i glybiau'r HGA wneud y gwaith drostynt. Wedyn gadael 16 taclus o dimau ar gyfer yr ail rownd pan fydd clybiau'r Uwch Gynghrair yn anrhydeddu'r gystadleuaeth a'u presenoldeb!
Ond mae ymweliad â'r Belle Vue bob amser yn apelio a bydd Port yn ymwybodol iawn o'r sialens sydd yn eu wynebu. Mae gan Rhyl record cant y cant hyd yma, ac ar dân yn sgorio 12 gôl gyda ond dwy yn eu herbyn. Yng ngharfan Rhyl mae cyn chwaraewr Port, Marc Evans sy'n ymuno â Chris Williams a John Leah dau sy'n dychwelyd i'r clwb.
Ar y llaw arall mae Port heb argyhoeddi a dylent fod wedi cymryd mwy na phwynt o'u gemau yn erbyn Llandudno a Chonwy. Er fod y fuddugoliaeth gyntaf wedi dod yn erbyn Llanrhaeadr dod adre'n waglaw oedd yr hanes yn Cefn. Nid yw sôn o hyd am anafiadau yn plesio cefnogwyr ond rhaid cyfaddef mae ychwanegu enwau Ceri James a Ryan Connolly at y rhestr faith yn gwneud rhediad anhygoel o anlwc, â'r dasg o rhoi tîm ar y cae yn broblem gynyddol. Gobeithio yn wir fod chwaraewyr allweddol fel Grahame Austin yn agosáu at ffitrwydd llawn.

On Tuesday evening Port visit Rhyl for a tie in the revamped WPL Cup, a competition whose format has been has been geared to the convenience of WPL clubs.
With memories of Cefn Druids' exploits in last season's Welsh Cup still well alive, the WPL have taken steps to reduce possible 'giant' killing by getting the HGA clubs to do it for them and bring the 2nd round numbers up to a tidy 16 before the WPL twelve grace enter the competition!
But whatever the competition a visit to the Belle Vue is always appealing and Port will be well aware of the challenge which faces them. Rhyl have a 100% record and have been on fire netting 12 goals and conceding only two. In the current Rhyl squad is former Porthmadog forward Marc Evans where he joins the returning Chris Williams and John Leah.
Port have on the other hand have had an unconvincing start and should have taken more than a point from the games against Llandudno and Conwy. Though they got their win at home to Llanrhaeadr, a late goal saw them leave the Rock empty handed. Talk of injuries is not what supporters like to hear, but with Ceri James and Ryan Connolly having very worrying looking injuries it must be faced that we are in an unprecedented run of bad luck and putting a team on the pitch is becoming increasingly difficult. Let's hope that others, like Grahame Austin, are getting back to full fitness.
---
01/09/12
Gruffydd John yn llwyddo yn y Lefel A/Gruffydd John successful in A-Level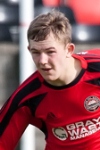 Llongyfarchiadau i chwaraewr ifanc Port, Gruffydd John, ar ei raddau ardderchog yn yr arholiadau Lefel A, gyhoeddwyd yn ddiweddar. Yn Ysgol Brynrefail fu y chwaraewr rhyngwladol Dan-18 yn ddisgybl. Dymunwn y gorau iddo yn ei yrfa academaidd a gobeithio y gwelwn yr hogyn o Fethel yn dal i ddatblygu ei yrfa pêl-droed ar y Traeth.

Porthmadog FC congratulates their young defender Gruffydd John on his excellent A-Level grades the results of which were announced recently. The young U-18 international was a pupil at Ysgol Brynrefail. Gruff is from Bethel and we wish him all the best in his future academic career and hope to see him continue developing his promising football career at the Traeth.


---